Make Your Dreams Come True With
Disney Sweepstakes
You're never too old for Disney, and you're definitely never too old to win free stuff. Disney sweepstakes are a perfect way to get both.
Learn all about entering these fairytale games—from how they work to what tricks to use to improve your odds. To skip to the happy ending, sign up for DoNotPay and swoop into numerous sweepstakes!
What You Should Know About Sweepstakes
Before you start joining Disney sweepstakes left and right, you need to understand how they work.
A sweepstake is a kind of giveaway that offers free entry to eligible participants. You don't buy raffle tickets, and you're not required to make any payment to become an entrant. The company setting up the giveaway selects a random winner and gives them the advertised prize.
Who Can Be a Disney Giveaway Entrant?
There are no unified eligibility factors for giveaway participants. Many companies organize Disney-related sweepstakes, and they set out their rules. Typically, you can take part in a Disney giveaway if you're:
At least 18 years old or older

A U.S. resident (some sweepstakes are void in Alaska and Hawaii but open to Canadian residents)
Other requirements may include having a valid email address and an account or subscription to the organizer's services.
How Many Times Can I Enter One Giveaway?
Much like most of the sweepstake rules, entry frequency varies. Some sweepstakes allow you to enter only once, while others permit daily or weekly entries. Usually, one entry refers to one submitted email or other contact info.
Can I Improve My Chances of Winning?
Although you cannot do anything to tip the scales once you enter a giveaway, you may choose sweepstakes that give you better odds to begin with. For example, you should go for:
Games that reveal and update the number of participants

Giveaways that allow multiple entries per person

Less popular games

Sweepstakes not available in all states
How Do I Know Whether I Won a Sweepstake?
When you enter a sweepstake, you provide your contact info so that the company can notify you in case you win. Someone may reach out to you by phone, email, mail, and even in person, depending on the organizer.
Once a game ends, most companies post the names of the winners or announcements that prizes have been given out.
Disney Giveaways &
Disney World Sweepstakes
Some organizers are sponsored by Disney, while others only offer Disney-related prizes. We have selected a few sweepstakes you may like so that you get a feel of what to expect:
Sweepstake
Eligible Participants
Prize
End Date

Disney—Mickey & Minnie's Runaway Railway Sweepstakes

U.S. and Canadian residents

18-year-olds or older

A four-night trip for four people to Walt Disney World Resort near Orlando, Florida, including:

Airfare

Hotel accommodation

Four 5-day resort theme park tickets with Park Hopper Option

$500 Disney gift card

Memory Maker product

May 3, 2021

Werther's Original National Caramel Day Sweepstakes

21-year-olds or older

U.S. residents

Three-night trip for two people to Orlando, including:

Airfare

Hotel accommodations

Four single park tickets per person to Walt Disney World

$300 Disney gift card

May 16, 2021

FreeForm's Cruel Summer X WDW Sweeps

Residents of the U.S.

Individuals 18 years of age or older

A trip to Walt Disney World resort in Orlando, FL:

Airfare

Resort stay

Theme park passes

$225 Disney gift card

May 14, 2021

Kernel Season's Sweepstakes

U.S. and Canadian residents

18-year-olds or older

65" TV set

Kernel Season's gift pack

One year Disney+ annual subscription

$100 Netflix gift card

Kernel Season's Gift Pack

April 25, 2021
How To Enter
Sweepstakes
With
Disney
Prizes
A sweepstake entry method depends entirely on the company setting it up. Usually, you'll find mail-in and online-entry sweepstakes. Whether you need to fill in an online form or send a letter, providing your contact info is necessary, and this can include your:
Full name

Phone number

Address

Email address
Some sweepstakes may require additional steps, such as finding a hidden picture in a magazine, watching a video, or playing a game. A company can also ask you to buy an item to enter. Still, under U.S. law, you are not obligated to make a payment to join a sweepstake. Purchasing also doesn't affect the winner-selection process anyway.
DoNotPay—Your Knight in AI-Powered Armor—Gets You Into Any
Disney Giveaway
Our app swoops in so that you don't have to jump through the hoops to enter a Disney or any other giveaway. All you have to do is sign up for our service and follow these steps:
Choose the

Free Raffle Ticket

product

Enter your name, email address, and physical address

Type in

Disney

or select a sweepstake from our list
No need to buy raffle tickets or look for a skip button—with DoNotPay, you provide your info once and enjoy getting into any giveaway within minutes.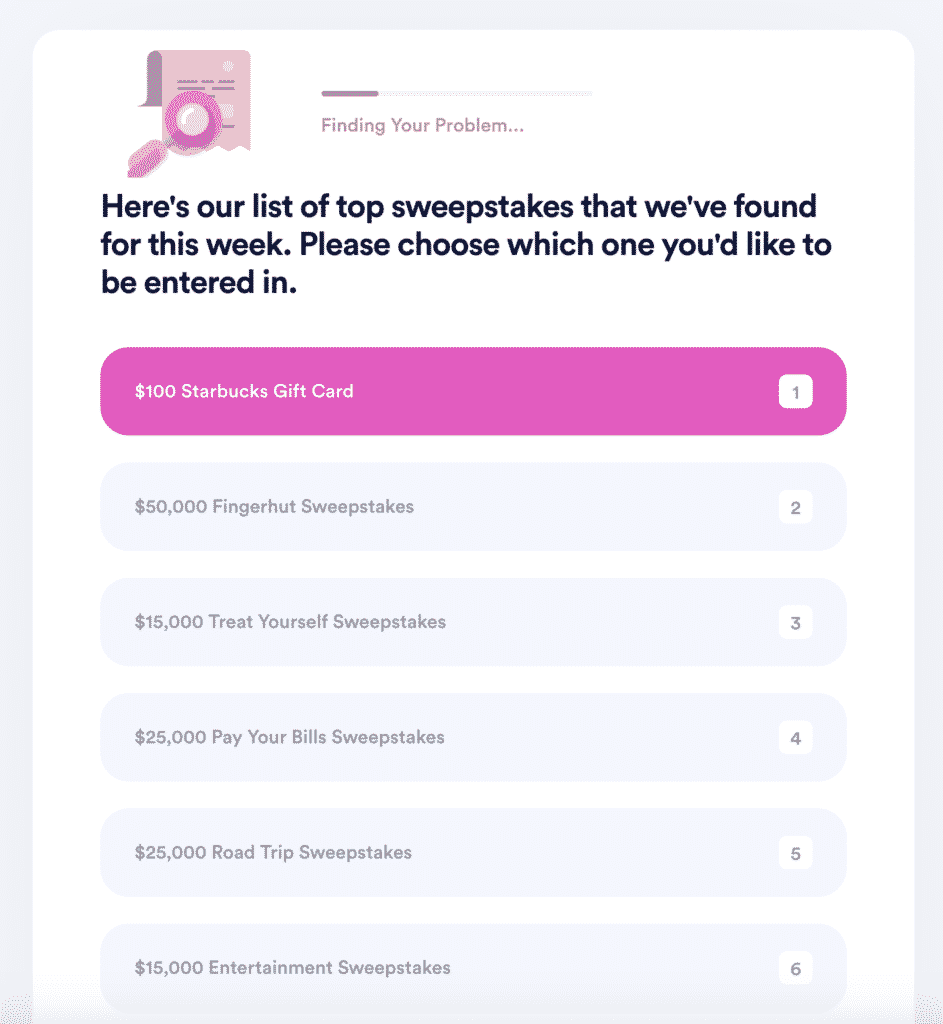 For fresh ideas on sweepstakes, read our articles on cash, car, travel, and instant win sweepstakes, or a particular organizer, such as:
With DoNotPay, It's More Than Luck
Waiting to win on a game of chance can turn into a lifetime of failed expectations. DoNotPay offers more viable solutions. We can find unclaimed money under your name anywhere in the U.S. or help you enroll in a safe clinical trial that pays really well.
All victims of ever-increasing violent crimes must get compensation, and DoNotPay rolls in to assist in this sensitive matter. Speaking of tricky topics, we can teach you how to lower your property tax or get that pricey college application fee waived.
Why Stop There?
You can save a lot of money by canceling various unwanted subscriptions. The fees are small, but they tend to pile up, so resort to DoNotPay to get rid of them easily. You can try out any service with our free trial card because we keep you safe from automated renewals.
What about parking tickets? How much do you spend on them? The good news is, we know how to fight those greedy city officials and keep that money in your pocket. It's the same with the almighty corporations. DoNotPay simplifies refunds and chargebacks, compensation for airline tickets, and warranty or insurance claim procedures.