The Easiest Method To Enter All the Cash Giveaways
While giveaways have become known as influencers' go-to move to gain more followers, many companies use cash giveaways or sweepstakes to increase their brand awareness and attract new customers.
This guide will provide insight into the workings of a cash giveaway and show you how creating a DoNotPay account can help you enter and win.
Key Details of a
Money Giveaway
A cash or money giveaway is similar to a raffle where a winner is chosen by the luck of the draw, and they get cash as a prize.
There may be some requirements for the participants to enter, such as games, questionnaires, or purchases. To save your time and money, here's what you need to know about giveaways' requirements:
If a giveaway is not a contest where you win based on merit, you should be able to skip the part with games or similar prerequisites. If you can't skip them, they shouldn't affect your chances of winning

According to the law, participants are not obligated to pay or purchase something to enter a giveaway. The organizer may offer this option, but they should also have an alternative free entry for it to be considered a legitimate sweepstake and not an illegal lottery or a scam
How To Enter
Money Sweepstakes
As there are numerous money sweepstakes available, there is no one way you can enter to win. Most of them are online, and you can participate by signing up on the company's website or submitting your personal information—most importantly, your email address.
The majority of sweepstakes have certain eligibility factors—the participants may need to:
Be 18, 21 years old, or older

Enter the giveaway only once per email, day, or week

Hold a U.S. citizenship (sometimes, not all states can participate)
For some cash sweepstakes, residents of Mexico or Canada can also be entrants.
Examples of
Cash Sweepstakes
Check out some popular cash sweepstakes:
Sweepstake
Eligibility Factors
Prize
End Date

Marriott Bonvoy Dream Day Sweepstakes

A resident of the United States or Canada (excluding QC)

At least 21 years of age

Newly married, engaged to be married, or in a serious relationship

$30,000
December 5, 2022
Hoselink Big Giveaway

A resident of the United States (excluding AK, HI)
At least 18 years of age

$500 cash + gardening prize pack

November 16, 2022

Pioneer Woman Magazine Holiday Caption Contest

A resident of the United States or Canada (excluding QC)

At least 18 years of age

$500 cash

November 30, 2022
Use DoNotPay To
Win
Some
Sweepstake Cash
Our AI-powered app is a perfect assistant for your raffle, giveaway, or sweepstake entries. No need to comb through multiple websites—we'll help you enter any mail or online-entry sweepstake once you .
All it takes is doing the following steps:
Select our

Free Raffle Ticket

product

Submit your name, address, and email address

Type in a sweepstake or pick one from DoNotPay's list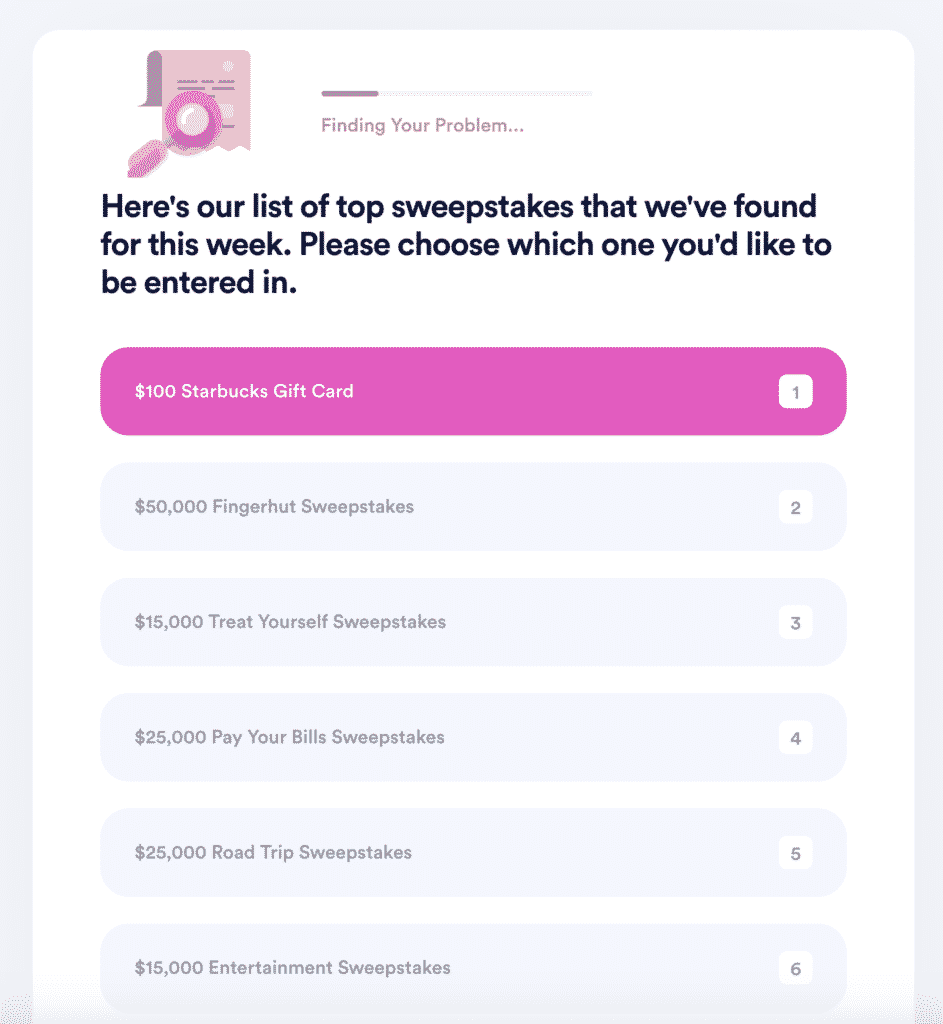 As soon as you provide us with your details, you won't have to do it again for the next giveaway you wish to enter. If you don't know what giveaway you want, you can browse our weekly-updated list of available free raffles. You may find some of the following:
If I
Win Cash Sweepstakes
, Do I Pay Taxes?
Every cash sweepstake prize is taxable. It is considered a form of income, which is why you need to pay the tax. Every year, you are required to declare your sweepstake taxes to the IRS.
Follow these tips to help you handle your winnings' taxes:
Keep a record of your won sweepstakes:

Organizer

Sweepstake's name

Dates when you won and received the prize

Advertised prize amount

Collect 1099-MISC forms from the organizers for each prize valued at more than $600—the info on these forms is necessary for taxes

Consult a tax professional

Pay taxes directly to the IRS, not the organizer. If the organizer requests money from you after you win, you should report it
Drowning in Giveaway Emails? Put an End to Them With DoNotPay
Since cash giveaways are mostly organized to collect your email address so that the companies can send you promotional newsletters, your inbox may be flooded with them.
Luckily, our app can swoop in and help you with this, too! Once you , you can use all the products that we offer, and one of them is the Spam Collector. It will save you from any email spam—all you have to do is forward the spam email to spam@donotpay.com, and the sender won't be able to bother you again.
With DoNotPay, It's More Than Luck
Waiting to win on a game of chance can turn into a lifetime of failed expectations. DoNotPay offers more viable solutions. We can find unclaimed money under your name anywhere in the U.S. or help you enroll in a safe clinical trial that pays really well.
All victims of ever-increasing violent crimes must get compensation, and DoNotPay rolls in to assist in this sensitive matter. Speaking of tricky topics, we can teach you how to lower your property tax or get that pricey college application fee waived.
Why Stop There?
You can save a lot of money by canceling various unwanted subscriptions. The fees are small, but they tend to pile up, so resort to DoNotPay to get rid of them easily. You can try out any service with our free trial card because we keep you safe from automated renewals.
What about parking tickets? How much do you spend on them? The good news is, we know how to fight those greedy city officials and keep that money in your pocket. It's the same with the almighty corporations. DoNotPay simplifies refunds and chargebacks, compensation for airline tickets, and warranty or insurance claim procedures.