The Best Way To Take Part in
Woman's World Sweepstakes
Sweepstakes are a great way to have some fun and possibly earn a quick buck or an awesome prize. Many companies⁠—including Woman's World magazine—organize them to promote their brands and attract new users. This guide will introduce you to various Woman's World sweepstakes and show you what the easiest method of participating is.
What
Woman's World Magazine Sweepstakes
Are There?
Woman's World is a weekly magazine and a website. The featured articles are mainly focused on health, food, beauty, and fashion. Although it's mainly a woman's magazine, the Woman's World sweepstakes are versatile. They are divided into the following categories:
Lifestyle

Family

Travel

Beauty and fashion

Cash

Household

Tech
There's also a special category named Ending Soon that offers various sweepstakes.
Woman's World often updates its sweepstake section, so even if you miss the deadline, you may be able to find a similar prize or the same one if it's recurring.
Here are some of the most popular Woman's World sweepstakes:
| | |
| --- | --- |
| Prize | End Date |
| $75 Macy's gift card | May 3, 2021 |
| Laura Ashley Watch | May 13, 2021 |
| $100 Best Buy gift card | May 17, 2021 |
| Rhyme Antics board game | April 29, 2021 |
Other common prizes include:
Amazon Echo Dot

NutriBullet

House Kitchen air fryer

Pet food dispenser

Corelle dinnerware set

Presto Belgian waffle maker

AmazonBasics microwave

Numerous cash gift cards—Visa, Ulta, Target, Amazon, Walmart, etc.
Who Can Enter the Sweepstakes Offered by Woman's World Magazine?
Woman's World sweepstakes are usually open to all U.S. residents—50 states and the District of Columbia. The participants must be 18 years old, older, or of the legal age of majority in the jurisdiction in question. Sometimes, children aged from 13 to 17 can also enter, but they need to get permission from their parents or legal guardians.
Employees of the sponsor, sponsor's parent companies, subsidiaries, affiliates, advertising or promotion agencies, or members of the immediate family are not allowed to enter the sweepstakes.
You should always check the requirements and eligibility factors before you play. These rules should be stated under the prize description, and you should also be able to click on the Official Rules link with a more detailed explanation.
How To Participate in
Woman's World Sweepstakes
To take part in Woman's World sweepstakes, you should follow these instructions:
Visit the Woman's World website

Scroll down and tap on

Sweeps

Click on the sweepstake category you're interested in (e.g., tech or family)

Select the sweepstake you'd like to win

Enter your email address

Tick or untick agreeing to:

Receiving periodic emails with offers and promotional marketing messages

Receiving the Woman's World daily e-newsletter

Viewing an ad or taking a survey

Bauer Publishing's privacy policy and official rules

Tap on

Enter This Drawing

Hit

Click Here To Complete Entry
Some sweepstakes may also require your phone number and mailing address.
How Are the Winners Chosen?
The Woman's World and any sweepstake winners are chosen randomly. The odds of winning depend on the number of entries, and no other external factors influence the outcome. Once the winner is selected, they will be contacted via email or other contact info that was provided. The winner has 72 hours to respond and claim their prize.
Do I Need To Pay Taxes on Sweepstake Prizes?
Every sweepstake prize is subject to taxes because it is considered a form of income. The organizer or sponsor of a sweepstake should send you a tax form to complete, either W-9 or 1099 depending on the prize and the jurisdiction.
DoNotPay Swoops In⁠—Take Part in Many Sweepstakes in a Few Clicks
Woman's World and other sweepstake organizers may ask you to watch an ad, fill in a questionnaire, or even purchase an item to enter. Legally, you are not required to do anything to take part in a sweepstake, but sometimes, it's difficult to sidestep such prerequisites.
This is where DoNotPay comes in! We have created the Free Raffle Ticket product to help you dodge marketing tricks and enter any sweepstake with zero effort.
All you have to do is create a DoNotPay account and follow these steps:
Type in

Free Raffle Ticket

in the search field

Enter your name, address, and email address

Tell us which sweepstake you're looking for or pick one from our list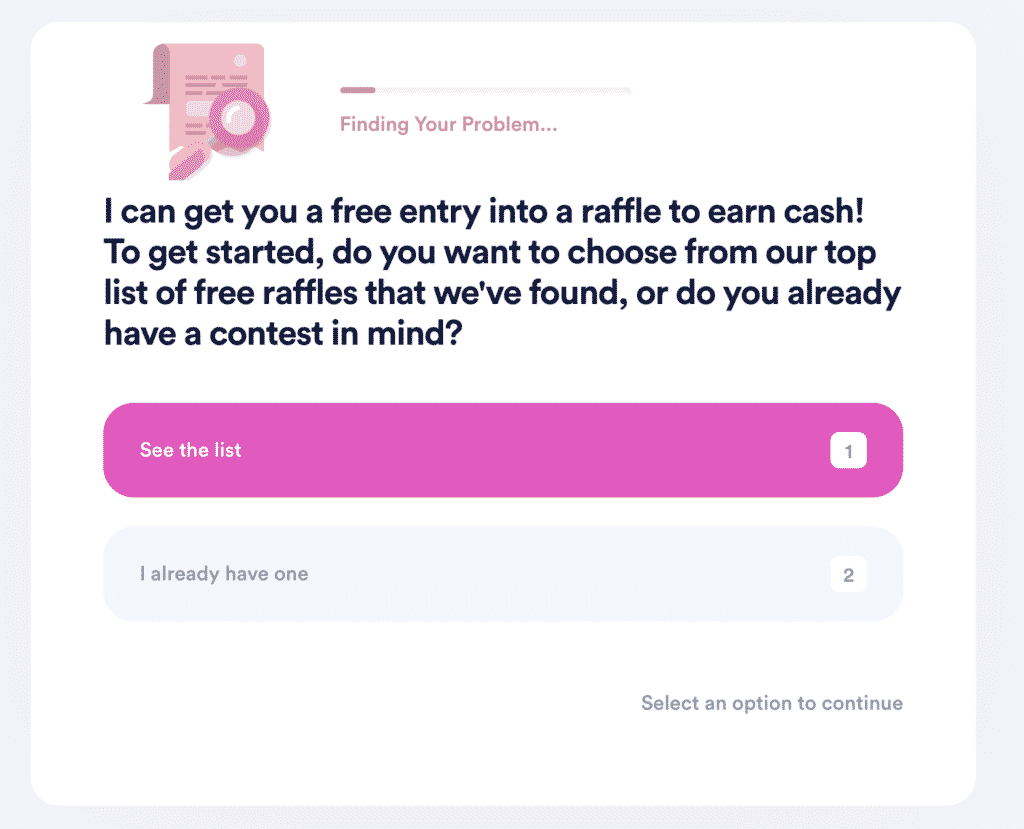 Our app requires your personal info only once. Each time after that, you just have to type in the name of the sweepstake or select one from DoNotPay's raffle list, which we update weekly.
With our help, you'll be able to enter all kinds of sweepstakes, such as:
Sweepstake Emails Giving You a Headache? We Know What To Do
Having your email address is what all companies organizing sweepstakes want. Even when you don't want to receive any promos or newsletters, a spam email might creep in. What you could do is create a separate email address for sweepstakes or skip this hassle and rely on DoNotPay! Once you sign up to enter sweepstakes, you can use everything our app has to offer. This includes the Spam Collector. Next time you receive a spam email, forward it to spam@donotpay.com, and we'll make sure the sender never bothers you again.
Why Leave It All to Luck?
Winning a sweepstake prize can be a life-changing event, but why rely on pure luck to improve your financial situation? DoNotPay encourages you to be proactive and find and save money whenever you can. Did you know that there can be thousands of dollars in unclaimed money under your name? We help you detect and claim it in no time.
What about all those unused memberships you keep and never use? We can cancel any subscription effortlessly, and you can save or spend that money on something worthwhile. With DoNotPay's free trial card, you can avoid getting stuck with unwanted services in the first place.
In case you want to participate in something that can change the world for the better and earn a handsome sum along the way, check out our list of available clinical trials because they can be a lucrative endeavor.
You Want To Know More About the Hidden Money?
DoNotPay cuts unnecessary expenses like a pro. We can help you get a refund from any unresponsive company with lousy customer care, compensation for tickets from arrogant airline carriers, or an application fee waiver from overpriced universities all over the States.
Why stop there? Let's overturn those nasty parking tickets, claim warranties and insurance, and stop wasting hard-earned money by filling the pockets of greedy corporations. If you had a bad break and went through a violent crime, we jump in to obtain the victim compensation you deserve.