Getting Into
Goodreads Giveaways
the Easy Way
Goodreads is a famous website boasting a comprehensive database of books and a vast community of readers who post book reviews, discussions, and recommendations.
Like many other companies that want to promote themselves and gain new customers, Goodreads has introduced giveaways. Besides the obvious marketing reasons, the Goodreads book giveaways help new authors get early feedback and build interest in the book in question.
We'll help you understand how Goodreads giveaways work and suggest a shortcut to entering this and many other sweepstakes.
What Are
Goodreads Giveaway
Prizes?
Goodreads giveaway prizes are books of numerous genres, mostly by completely new or up-and-coming authors. The book format can be:
A physical print book

Amazon Kindle format
The list of giveaway books gets updated frequently, as the entry period typically only lasts a month.
Check out some of the books that Goodreads has offered:
| | |
| --- | --- |
| Author | Book Title |
| Elizabeth Thompson | Lost in Paris |
| Carolyn Brown | Hummingbird Lane |
| Sarah Jakes Roberts | Woman Evolve: Break Up with Your Fears and Revolutionize Your Life |
| Caroline Mitchel | Flesh and Blood (DI Amy Winter, #4) |
| John Green | Looking for Alaska |
| John H. Cunningham (Goodreads author) | White Knight (Buck Reilly Adventure #8) |
The Terms of Goodreads Giveaways Explained
To be able to enter and win, you need to understand and follow the rules and regulations of Goodreads giveaways. Check the table below for the key info you need to become a participant:
Rule

Details

Prerequisite to enter

No purchase or payment of any kind is required

Eligibility factors

Having a Goodreads and an Amazon account

Being a legal resident of the U.S. (for Kindle-format books, Canadian residents can also enter)

Being of legal age (18, 19, or 21, depending on the jurisdiction)

Not being an employee of Goodreads or its affiliates

Entry

No more than one person or household may enter one giveaway

Winners

One or more winners are selected at random

The odds of winning depend on the number of entries and winners⁠—the number of current participants and potential winners is stated under each giveaway book

Winners are notified via email
How To Enter a Goodreads Giveaway
If you want to enter Goodreads giveaways by yourself, you should follow these steps:
Sign up or sign in to your

Goodreads

account

Go to the Sweepstakes page

Search for a book you'd like to win by:

Genre

Ending Soon

Most Requested

Recently Listed

Kindle Giveaways

Print Giveaways

Click on

Enter Giveaway

next to the book you want

Follow the prompts and submit your entry request
Once you complete the instructions, the book you selected will automatically be added to your Want-To-Read shelf in your Goodreads account. You shouldn't remove it from the list until the giveaway ends.
DoNotPay Signs You Up for Any Giveaway in a Flash
Our app makes entering a sweepstake a piece of cake⁠—no need to jump through hoops to become a participant. As soon as you create a DoNotPay account, we can assist you in entering any raffle or giveaway with an online or mail-in entry.
Here's how it works:
Type in

Free Raffle Ticket

in the search field

Submit your full name, address, and email address

Choose a sweepstake from our extensive list or write one down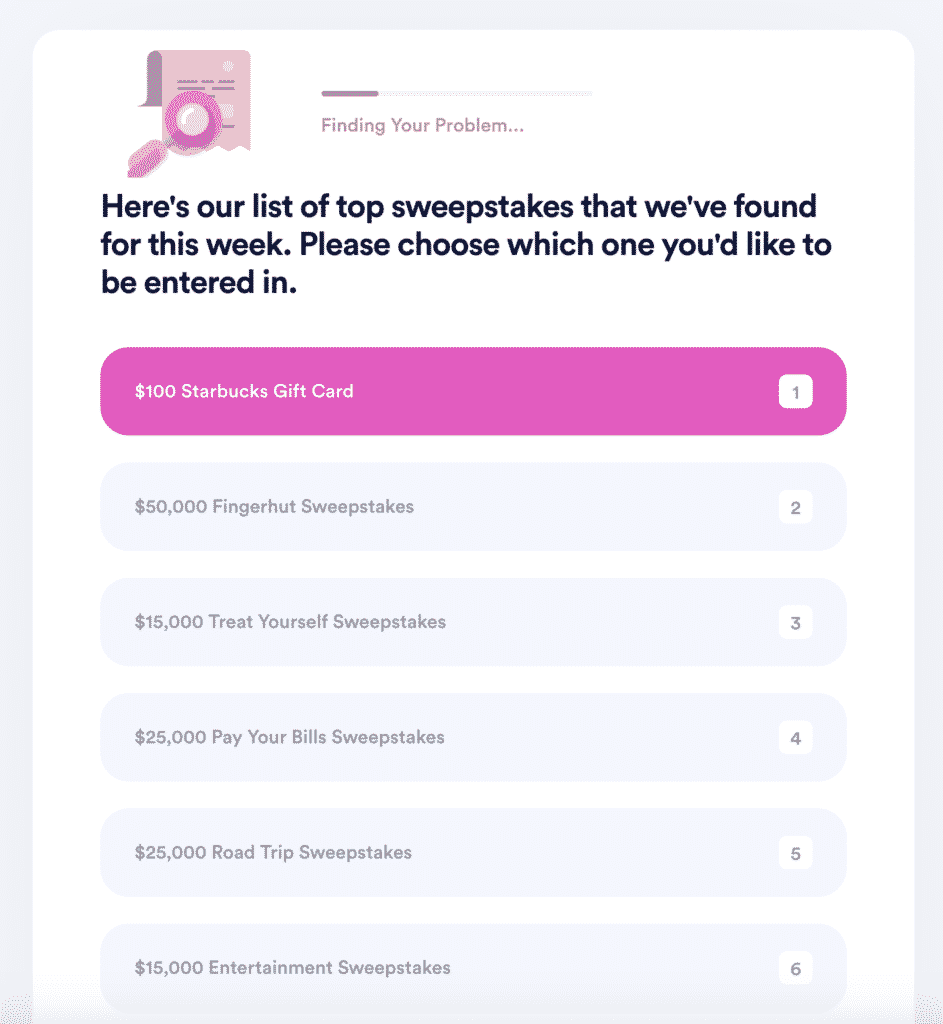 Once you tell us what sweepstake you'd like to enter, we'll let you know whether we can sign you up. As our raffle list is updated weekly, you're bound to find a sweepstake you like—perhaps a car, cash, travel, or even an instant win sweepstake.
Check out our articles to discover different sweepstake prizes you may want to win, such as those from:
Say Good Riddance to Goodreads Spam Emails
Entering a sweepstake ultimately means disclosing your email address, even if that's not the primary intent of the organizer. This way, you'll receive news, promos, and similar content via email.
If you can't seem to stop or unsubscribe from unwanted emails, you can turn to our app. When you create a DoNotPay account, you gain access to every product we offer, which includes our Spam Collector. Put an end to spam emails by forwarding them to spam@donotpay.com. Only once is enough, and your inbox will be spam-free.
Does the Giveaway Winner Have To Pay Taxes?
All sweepstake prizes are subject to taxes, and each winner is responsible for paying them. You may be required to pay the following types of taxes:
Income

Sales

Use

Value-added taxes

Goods and services taxes

Quebec sales or harmonized sales taxes
If necessary, Goodreads will ask you to provide a tax form, document, or certification.
You can consult a tax professional and check how and when you need to pay the tax on your sweepstake winnings.
How To Make the Most of Your Sweepstake Entries
To improve your chances of winning a sweepstake prize, follow these tips:
Research a sweepstake's eligibility factors—make sure you meet all the requirements so as not to enter a sweepstake you can't win

Don't spend money on entries—payments and purchases are legally not required, and they won't affect the drawing

Be careful not to fall for a giveaway scam—don't reveal your credit card info or reply with sensitive info to suspicious emails

Enter a sweepstake often if multiple entries are allowed

Go for sweepstakes with fewer participants
With DoNotPay, It's More Than Luck
Waiting to win on a game of chance can turn into a lifetime of failed expectations. DoNotPay offers more viable solutions. We can find unclaimed money under your name anywhere in the U.S. or help you enroll in a safe clinical trial that pays really well.
All victims of ever-increasing violent crimes must get compensation, and DoNotPay rolls in to assist in this sensitive matter. Speaking of tricky topics, we can teach you how to lower your property tax or get that pricey college application fee waived.
Why Stop There?
You can save a lot of money by canceling various unwanted subscriptions. The fees are small, but they tend to pile up, so resort to DoNotPay to get rid of them easily. You can try out any service with our free trial card because we keep you safe from automated renewals.
What about parking tickets? How much do you spend on them? The good news is, we know how to fight those greedy city officials and keep that money in your pocket. It's the same with the almighty corporations. DoNotPay simplifies refunds and chargebacks, compensation for airline tickets, and warranty or insurance claim procedures.