How To Enter the Dream Giveaway in 3 Steps
Dream Giveaway or Dream Giveaway Garage organizes giveaways or sweepstakes to promote and help numerous charities for children, veterans, homeless people, cancer patients, etc. By participating in these giveaways, you may win a great prize while helping the people in need—a dream come true.
Check out how these giveaways work and how you can participate.
What Prizes Does
Dream Giveaway Garage
Offer?
Dream Giveaway mostly offers car and cash giveaways. Here are some of the 2021 prizes:
Custom 1969 Camaro

2020 Lingenfelter Camaro ZL1

Fully restored 1966 Corvette convertible

1969 Hurst/Olds

$5,000 gift card

1967 Pontiac GTO 400 H.O 4-speed

Ford F-150 sport truck

640hp Cadillac CTS-V Championship Edition Sedan

Turbo-diesel 2020 GMC Sierra 3500 HD Denali truck

1966 Chevrolet Impala 427ci/425hp

1969½ Dodge Super Bee

SEMA-quality custom '61 Corvette convertible

2021 Tesla S performance with Ludicrous + Mode

Classic 1969 Ford Mustang Mach

2021 Ford Mustang Mach 1
Typically, the prize winners can opt for a cash option instead of the vehicle.
Dream Giveaway Rules Explained
Before you enter to win a prize you set your heart on, you should be familiar with the giveaway rules. Check out an overview of the important info and rules in the table below:
Regulations

Details

No purchase necessary

You don't have to pay, purchase, donate, or contribute in any way to enter. If you choose to contribute, it won't affect your chances of winning

Eligibility

Giveaways are open to:

U.S. residents except in Oregon and where prohibited

Canada residents except in Quebec

Individuals of 18 years of age or older

Persons who cannot participate are inmates of correctional facilities and employees of the organizer, sponsors, and their immediate family members

Winner selection and notification

An independent firm randomly chooses the giveaway winners. They will be notified via the contact info they provided at the entry. If the winner doesn't respond within three business days, the firm will select an alternative winner
How Can I Enter a Dream Giveaway?
Dream Giveaway's purpose is to collect donations and help out numerous charitable organizations. While you can donate to enter a giveaway, you are not required to. Here are all the available methods of entry:
Entry Method

Brief Explanation

Online

Visit the Dream Giveaway

giveaways page

Select the prize you'd like to win

Tap on

Enter Now

Type in a promotional code if you have one

Choose your ticket donation amount

Hit

Checkout

Complete the entry form with your personal details

Select the delivery method of your ticket number and entry confirmation

Click on

Continue

and follow the prompts

Phone call

Call

866-600-0646

or

1-844-235-9936

Indicate which giveaway you want to enter

Give a donation of at least $25

Provide your contact info

Mail

Mail in the giveaway entry form with a donation to:

P.O. Box 10436

Des Moines, IA

50306-0436

Free entry method

Mail one self-addressed postage-paid envelope to:

NBCH P.O. Box 1388

Cedar Rapids, IA

52406-1388
DoNotPay Works Like a Dream—Enter Any Giveaway in Minutes
Our app provides the easiest method of giveaway or sweepstake entry. When you , you can enter any sweepstake in a few clicks.
Check out how easy it is:
Navigate to our

Free Raffle Ticket

product

Type in your name, email address, and physical address

Write the sweepstake you'd like to enter or pick one from the list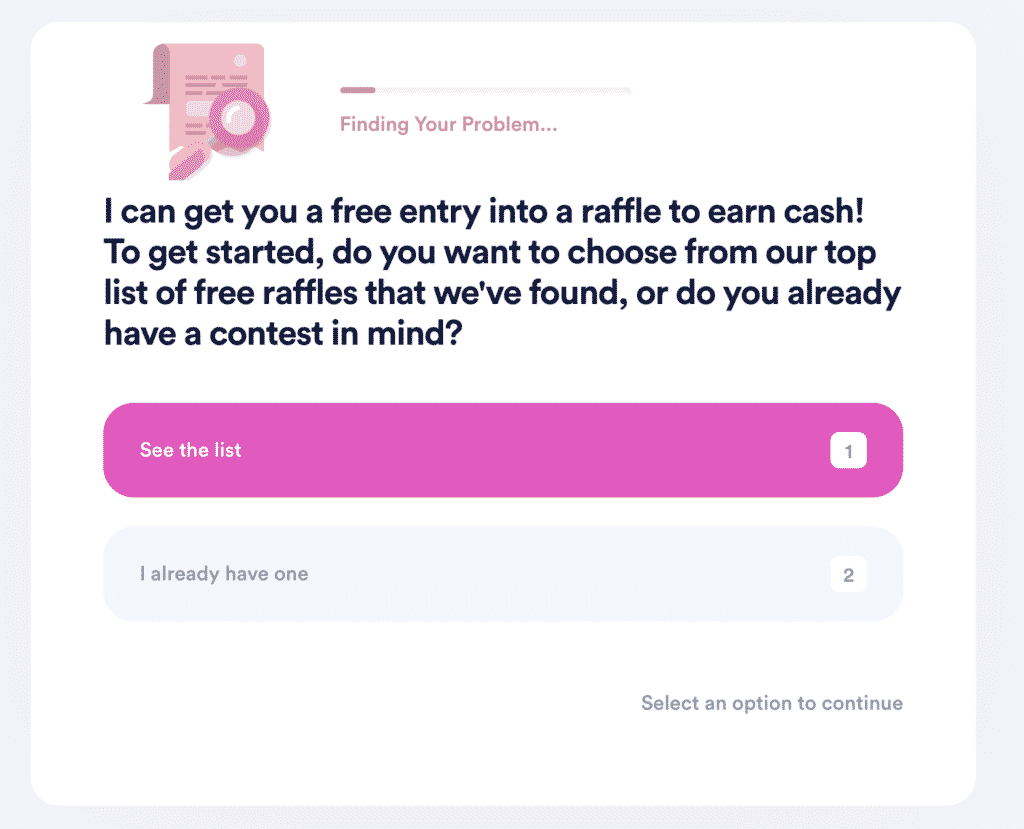 Feel free to type in any giveaway that comes to mind, and we'll check whether we can get you in. You can also browse our raffle list that we update each week with new raffles you can enter for free.
Our learning center provides valuable info on how specific giveaways work. You can learn everything about online, cash, vehicle, travel, real estate, or instant win sweepstakes. Check out our articles on a few popular sweepstake organizers:
Do I Need To Pay Taxes if I Win a Dream Giveaway Prize?
Usually, giveaway winners are responsible for all taxes, but Dream Giveaway makes an exception. For example, next to the vehicle prize—'69 Hurst Olds—you'll see a statement saying the company will also pay $25,000 for the taxes. This amount refers to the payment for IRS withholding requirement, but the winner may owe additional taxes.
What To Keep in Mind When Participating in Giveaways
To make the most of any giveaway, you should follow the rules and keep a few guidelines in mind, such as the following:
Make sure you're eligible to enter a giveaway

Find giveaways with fewer entries to improve your odds

Enter sweepstakes often to boost your chances of winning

Consult a tax professional to understand how much you need to pay if you win

Beware of sweepstake scams—don't disclose your payment info
Another issue you want to avoid is spam. Sweepstakes and spam emails go hand in hand, which is why it's a good idea to have a designated email address for them. If you , you won't have to worry about unsolicited emails. All you have to do is forward the spam email to spam@donotpay.com, and you'll be free from it.
Your Odds Are Better With DoNotPay
Luck is elusive, but DoNotPay is not. We offer effective solutions to various money-related problems. Do you need a bill-payment extension? Maybe you can't figure out how to claim warranties and insurance policies? Is an airline playing dead while owing you compensation for a canceled flight?
We are the champions of customer advocacy because we can tackle all those issues and more. Our AI-powered technology fights unfair parking tickets, cancels subscriptions, and deals with refunds from money-grabbing businesses with poor customer service.
Create Your Lucky Break!
Once you have saved some money, it's time to earn an extra dollar. DoNotPay has a few suggestions:
If you were a victim of a violent crime and ended up paying for the treatment on top of the trauma, we will help you get the compensation, so you can focus on getting better.
Sometimes, dealing with paperwork alone can cause the tidal wave. DoNotPay can take over drafting legal documents and assist in getting them notarized.