Get the Lowdown on
Martha Stewart's Daily Sweepstakes
Martha Stewart has made a name for herself in the culinary and the business world. Besides offering recipes and articles on gardening, organizing, and weddings, her website is home to numerous sweepstakes.
This article will give you an insight into Martha Stewart's daily sweepstakes and other types of raffles. To enter these and many other sweepstakes, you can create a DoNotPay account and participate in all kinds of giveaway games in a few clicks.
What Types of Sweepstakes Does Martha Stewart Offer?
Martha Stewart offers different kinds of sweepstakes, including:
Cash giveaways

⁠—usually ranging from $15,000 to $25,000

Garden equipment

Furniture

Cookware

Kitchen appliances

Dinnerware sets

Toys

Fitness gadgets
There are sweepstakes that are open for longer periods and those that last for a day.
Daily Sweepstakes and Other Raffles Organized by Martha Stewart
To get an idea of what prizes you may win by participating in Martha Stewart's sweepstakes, check out the table below:
Sweepstake Name

Prize

End Date

Outdoor Oasis $25,000 Sweepstakes

$25,000

June 30, 2021

Pay Off Your Bills $25,000 Sweepstakes

$25,000

June 30, 2021

Your Best Yard With John Deere Sweepstakes

A John Deere S24048-in lawn tractor

$1,000 cash prize

July 31, 2021

Organize in Style $15,000 Sweepstakes

$15,000

June 30, 2021

Outdoor Entertaining $25,000 Sweepstakes

$25,000

June 30, 2021
Entry Rules for
Martha Stewart Sweepstakes
To be a sweepstake participant, you need to meet certain criteria. You have to be:
A legal resident of the U.S.

At least 18 or 21 years old, depending on the sweepstake
As one of the main purposes of sweepstakes is to collect your email address, you need to have a valid one. Usually, by entering a sweepstake, you automatically agree to receive emails from the website, but you should be able to unsubscribe at any moment.
Every sweepstake has a clear start and end date. Daily sweepstakes typically start at 1:00 a.m. and end at 12:59 a.m. Any entry received after the end date and time will not be processed.
Another rule you must follow is to enter a sweepstake once per email.
How To Take Part in Martha's Sweepstakes
You can participate in Martha Stewart's sweepstakes by following these instructions:
Go to the Martha Stewart

website

Tap on

Sweepstakes

in the top right corner

Scroll down and select a sweepstake you like or click on

Daily

to choose from daily sweepstakes

Click on

Enter Now

Tick or untick the newsletter subscriptions

Enter your email address

Type out the code word you see on your screen

Hit

Finish
You may also find the same sweepstake on some of the affiliate websites and fill in an online entry form there. The websites that may hold the same sweepstakes as the ones that Martha Stewart offers are:
How Is the Sweepstake Winner Chosen?
The prize winners are chosen by a random drawing of eligible entries supervised by the sponsor. If the sweepstake in question is available on multiple websites, the winner will be chosen from the combined entries. The odds of winning depend solely on the number of participants.
Martha Stewart representatives will inform the winner via email and deliver the prize in 30 days at the latest.
DoNotPay Takes the Cake⁠—The Best Way To Enter Any Sweepstake
Taking part in a sweepstake can be easier than sifting through a website and completing many steps. With DoNotPay, sweepstakes become fun and easy—you only use one app to enter many raffles, and you don't have to fill in any forms or type in codes.
All you have to do is sign up for DoNotPay and do the following:
Search for our

Free Raffle Ticket

product

Provide your personal details, such as your name, address, and email address

Select a sweepstake from our list or type in any other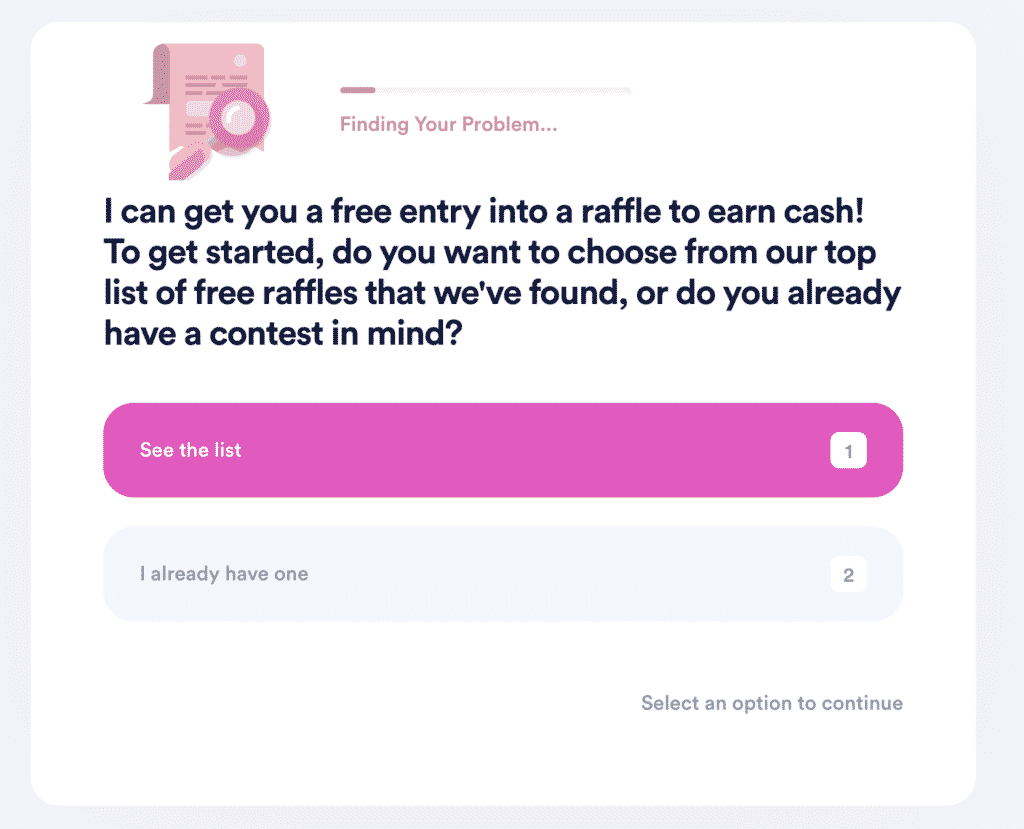 Our weekly-updated list will always provide new sweepstakes, and you won't have to look for one on your own. If the list doesn't have a sweepstake you had in mind, you can write it down and check if we can help you take part in it, be it a car, travel, or an instant win sweepstake.
Do Sweepstake Winners Pay Taxes?
Yes, they do. The taxes on the sweepstake prizes are the sole responsibility of the winners, whether federal, state, or local. Depending on the sweepstake, the organizer will send an IRS W9 form to the winner to complete and return.
Are You Getting Sweepstake Spam? Get Rid of It Using DoNotPay
Since providing your email address to enter a sweepstake is unavoidable, spam is bound to follow. Fortunately, we can nip it in the bud! As a DoNotPay user, all you have to do is forward your spam email to spam@donotpay.com, and you'll never receive an unwanted email from this sender again.
Why Leave It All to Luck?
Winning a sweepstake prize can be a life-changing event, but why rely on pure luck to improve your financial situation? DoNotPay encourages you to be proactive and find and save money whenever you can. Did you know that there can be thousands of dollars in unclaimed money under your name? We help you detect and claim it in no time.
What about all those unused memberships you keep and never use? We can cancel any subscription effortlessly, and you can save or spend that money on something worthwhile. With DoNotPay's free trial card, you can avoid getting stuck with unwanted services in the first place.
In case you want to participate in something that can change the world for the better and earn a handsome sum along the way, check out our list of available clinical trials because they can be a lucrative endeavor.
You Want To Know More About the Hidden Money?
DoNotPay cuts unnecessary expenses like a pro. We can help you get a refund from any unresponsive company with lousy customer care, compensation for tickets from arrogant airline carriers, or an application fee waiver from overpriced universities all over the States.
Why stop there? Let's overturn those nasty parking tickets, claim warranties and insurance, and stop wasting hard-earned money by filling the pockets of greedy corporations. If you had a bad break and went through a violent crime, we jump in to obtain the victim compensation you deserve.