A Fast and Easy Way To Enter PCH Sweepstakes
Publishers Clearing House (PCH) is a direct-to-consumer company that sells merchandise and magazines, but it's most famous for sweepstakes. As the company offers numerous cash giveaways, it has raised doubts that it may be a scam or that it doesn't select prize winners, but its sweepstakes are legitimate.
We will dissect PCH sweepstakes and show you how to participate in the fastest and safest way.
What
Publishers Clearing House Sweepstakes
Can I Enter?
You can find many raffle-like games on the PCH sweepstakes page—slots, quizzes, scratch-offs, and more. There are also instant wins and the following sweepstake categories:
Lifestyle

Million-dollar

Cash is king

Financial freedom

Pet sweeps

Grocery & food

Travel

& vacation

Makeover

Win for life

Dream home

Car

& truck

Sweeps games
Some categories can be deceiving. For example, the dream home prize is cash. You can use it to purchase a home, but you won't get an actual house.
PCH organizes sweepstakes throughout the year. As soon as a game ends, the same or a similar one begins immediately. If you miss an end date, you can always enter another sweepstake.
We listed some popular PCH sweepstakes in the following table:
Sweepstake
Prize
End Date

A fully loaded Ford F150 valued at $65,549

Brand new Ford F150 Platinum or the cash equivalent

June 24, 2021

$500,000 Toward Your Dream Home

$500,000

June 24, 2021 (recurring until January 31, 2022)

$10,000 Backyard Makeover of Your Dreams

$10,000

June 24, 2021 (recurring until March 31, 2022)

$10,000 Car Lover's Dream

Canon EOS Rebel digital SLR camera ($700)

The rest of the cash you may spend on:

Luxury Race Day suite (est. $6,000)

Four competition tires

(est. $1,600)

Flip-top cooler (est. $200)

May 27, 2021
Who Can Take Part in a PCH Sweepstake?
Eligible participants differ depending on the sweepstake. PCH game entrants usually must be:
Legal U.S. residents

Physically located and residing in the U.S.
Some sweepstakes are also open to Canadian residents, while online-entry sweepstakes are typically only for U.S. citizens.
PCH employees, their affiliates and subsidiaries, contest processors, and their immediate families cannot take part in PCH sweepstakes.
PCH Sweepstake
Rules
Check out common PCH sweepstake rules to ensure you can compete:
Entry time

—You can only enter a sweepstake during the entry period, which has a clear start and end date

Entry limitation

—PCH allows one entry a day per person/email address for online-entry sweepstakes and unlimited entries for mail-in sweepstakes

Prize numbers

—Once you enter a sweepstake, PCH assigns a prize number to you. In case you're eligible for multiple entries, you'll receive multiple prize numbers

Purchase

—A purchase won't increase your chances of winning, and it's not required to enter a sweepstake

Merchandise prizes

—PCH reserves the right to award cash at the stated value instead of merchandise prizes

PCH registration

—You need to be registered with PCH to claim a prize

Winner selection

—Supervised by a board of judges, PCH picks a winner randomly

Winner notification

—PCH contacts the winner via mail or in person

Sweepstake prize taxes

—All prizes are taxable, and the prize winners are responsible for paying the taxes
How Do I Enter the PCH Sweepstakes
?
If you want to enter a PCH sweepstake on your own, you can do so online or via mail. Here's how it works:
Online Entry

Mail-in Entry

Go to the PCH sweepstake page

Hover over

Sweeps

Select a category (e.g., cash, car, etc.)

Click on

Enter

under the sweepstake of your choice

Tap on

Enter

again

Fill in the entry registration form with the following details:

Title

First and last name

Street address

Apt./suite

City, state, and ZIP code

Date of birth

Email address

Tap on

Submit Entry

Write or type out the entry registration form with your details and send it to:

Publishers Clearing House

101 Winners Circle

Jericho, NY 11753

You can send as many letters as you want, but you have to mail one entry per letter. Entries sent in bulk or from a third party will not be accepted
PCH Sweepstakes Entry
Made Easy With DoNotPay
You can dodge PCH's tedious entry process and opt for an AI-powered assistant to get you in a sweepstake within three minutes—DoNotPay. Once you , all you have to do is follow these steps:
Type in

Free Raffle Ticket

Enter your name, address, and email address

Tell us which sweepstake you're looking for or choose one from our list
DoNotPay's Free Raffle Ticket product saves you the time and energy it takes to search for sweepstakes you like. Our raffle list gets updated with new games weekly.
Another perk of using our app is that you only need to enter your info once. Every sweepstake entry after that will take a few clicks.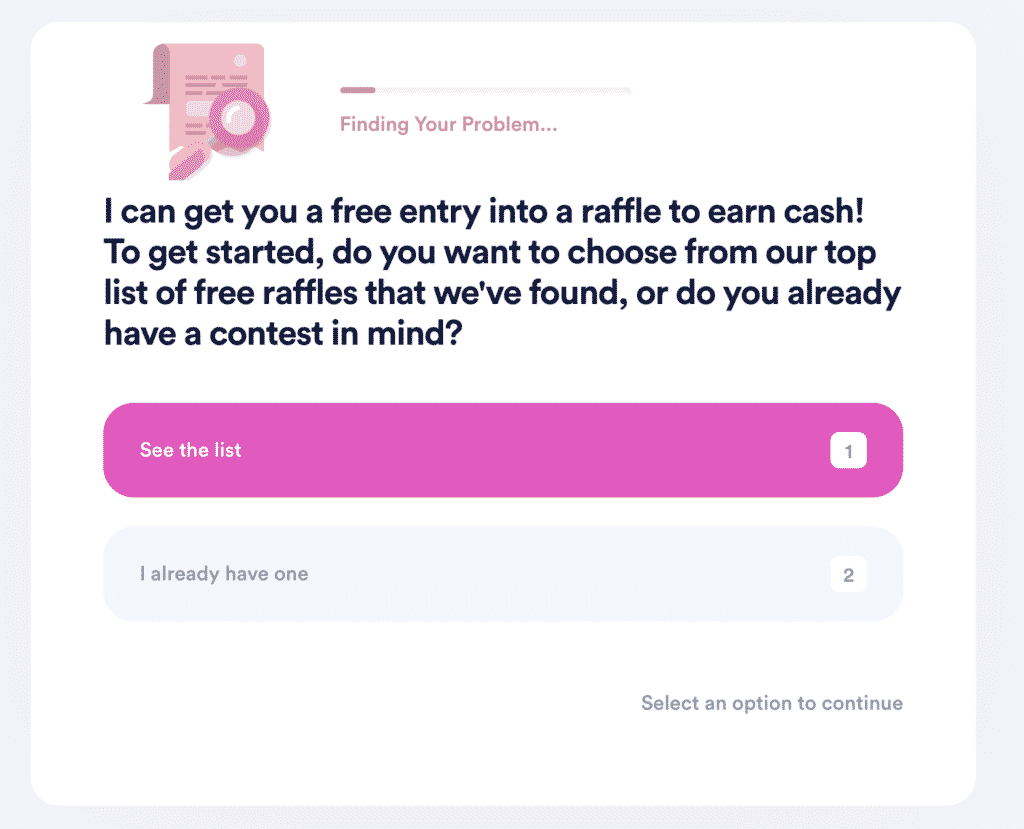 If PCH or another sweepstake organizer is spamming you via email, we have the perfect remedy. By , our versatile app is at your disposal. All you need to do is forward a spam email to spam@donotpay.com, and you can say goodbye to that sender forever.
With DoNotPay, It's More Than Luck
Waiting to win on a game of chance can turn into a lifetime of failed expectations. DoNotPay offers more viable solutions. We can find unclaimed money under your name anywhere in the U.S. or help you enroll in a safe clinical trial that pays really well.
All victims of ever-increasing violent crimes must get compensation, and DoNotPay rolls in to assist in this sensitive matter. Speaking of tricky topics, we can teach you how to lower your property tax or get that pricey college application fee waived.
Why Stop There?
You can save a lot of money by canceling various unwanted subscriptions. The fees are small, but they tend to pile up, so resort to DoNotPay to get rid of them easily. You can try out any service with our free trial card because we keep you safe from automated renewals.
What about parking tickets? How much do you spend on them? The good news is, we know how to fight those greedy city officials and keep that money in your pocket. It's the same with the almighty corporations. DoNotPay simplifies refunds and chargebacks, compensation for airline tickets, and warranty or insurance claim procedures.