Discover a Shortcut to HGTV Sweepstakes
Besides being a TV channel dedicated to real estate and home improvements, HGTV also organizes numerous sweepstakes giving away cash, trips, and houses. This article will walk you through HGTV sweepstakes and explain how they work. You can and enter numerous raffles and giveaways, not only those organized by HGTV.
A Breakdown of HGTV Sweepstakes
HGTV is most famous for giving away dream houses every year since 1997. Here are the types of houses you can expect to win:
The house winners typically receive additional prizes, including cash and cars.
Other HGTV Sweepstakes
Besides dream homes, HGTV also offers other sweepstakes, such as:
Ultimate outdoor award of $5,000—HGTV asks you to vote for the best garden or retreat for a chance to win its cash giveaway

Velux skylights plus installation

Urban oasis—a modern cottage
Most HGTV sweepstakes are recurring, so even if you miss the entry period, you can try entering the next time around.
HGTV Sweepstakes Entry
Explained
Since 2020, HGTV no longer organizes mail-in entries. To take part in a sweepstake, you have to sign up online. As HGTV has many sister websites, you can typically fill in an online sweepstake form on multiple websites, such as the Food Network.
Besides the clear start and end date of a sweepstake, there are restrictions on how often you can enter. Usually, you may sign up once or twice per day or week, but sometimes, only one entry per person/email is permitted.
To enter HGTV sweepstakes, you should:
Visit its

Sweepstakes

page

Select the sweepstake you'd like to win

Follow the prompts and provide your email address
You may be asked to vote or agree to receive promotional emails, but this is not required for entry. Your chances of winning won't be affected whether you complete a task before entering or not.
Can Anyone Enter the
HGTV Dream Home Giveaway
and Other Sweepstakes?
HGTV sweepstakes are usually open to all U.S. residents who are at least 21 years old. The employees—and their immediate families—of the following companies cannot participate:
Scripps Networks, LLC

Home & Garden Television (an affiliate of Discovery, Inc.)

Delta Faucet Company

Trex Company, Inc.

The Sherwin-Williams Company

SimpliSafe, Inc.

Cabinets To Go

FreedomRoads, LLC

Cox Communications

Sleep Number Corporation

VELUX America LLC

Quicken Loans, LLC, Wayfair LLC, Belgard®
How Does HGTV Pick a
Dream Home Sweepstake
Winner?
Sweepstake winners are chosen in a random drawing of all eligible entries. The drawing is usually conducted by a third party—an independent judging organization. HGTV contacts the winners by:
Sometimes, the winner is informed in person by HGTV representatives during a surprise visit that may be filmed.
Do I Have To Pay Taxes if I Win a
Home Giveaway?
Most winners of HGTV dream homes haven't even lived in the houses because of the expensive upkeep and utility costs. Another major reason why people may not be able to keep the house is taxes. Not only do they have to pay income tax, but the winners also face hefty property taxes if they keep the house.
HGTV was criticized for not offering more affordable homes as the majority of winners sell the house or opt for a cash option.
Use DoNotPay To Sign Up for an
HGTV Giveaway
or Any Sweepstake Hassle-Free
Even though you are legally not required to make a purchase, vote, or agree to receive promotional emails to be able to take part in a sweepstake, companies usually make it difficult to skip this. What you can do is and dodge the unnecessary steps.
Here's how the easiest sweepstake entry works in our app:
Type in

Free Raffle Ticket

in the search box

Submit your name, email address, and physical address

Choose a sweepstake from our list or write one down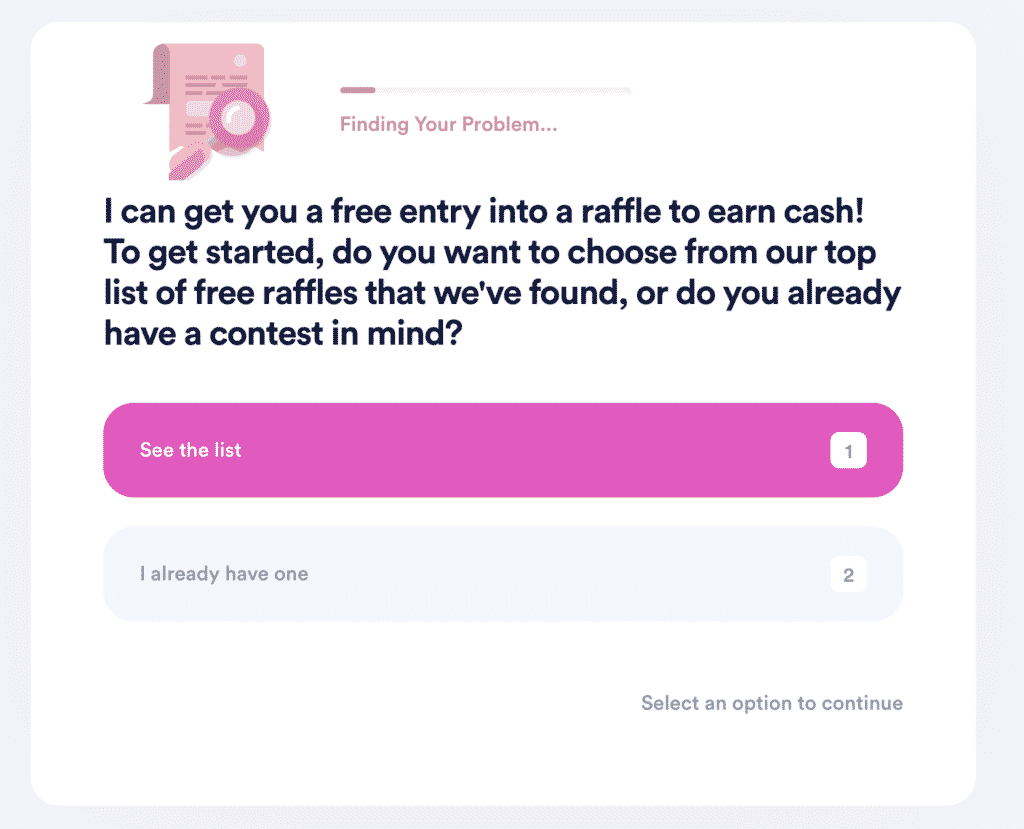 Once you tell us which sweepstake you'd like to enter, we'll sign you up automatically. Make sure to regularly check our raffle list as we update it with new games weekly.
With our assistance, any sweepstake will be a piece of cake to enter, be it for a cash, vehicle, or travel prize. We can also help you enter instant win sweepstakes in a snap!
Tips Every Sweepstake Entrant Should Know
Before you venture out into the sweepstake world, check out the following tips:
Tips
Details

Skip the requirements for entering a sweepstake

Companies will try to make you believe that you need to purchase an item or watch an ad to be a sweepstake participant, but you should always be able to skip those steps.

If you don't know how to avoid them, stick to DoNotPay

Check the eligibility factors

Make sure you are eligible for a sweepstake so that you don't waste time entering

Look for sweepstakes that are not widely known

Sweepstakes that are country-wide have millions of entries, which means your chances of winning are extremely low. Try to find the ones that are state-wide or that are open for a short time

Calculate the estimated taxes

Take taxes into consideration when choosing a sweepstake. Consult a tax professional to check whether you'd be able to afford the prize
With DoNotPay, It's More Than Luck
Waiting to win on a game of chance can turn into a lifetime of failed expectations. DoNotPay offers more viable solutions. We can find unclaimed money under your name anywhere in the U.S. or help you enroll in a safe clinical trial that pays really well.
All victims of ever-increasing violent crimes must get compensation, and DoNotPay rolls in to assist in this sensitive matter. Speaking of tricky topics, we can teach you how to lower your property tax or get that pricey college application fee waived.
Why Stop There?
You can save a lot of money by canceling various unwanted subscriptions. The fees are small, but they tend to pile up, so resort to DoNotPay to get rid of them easily. You can try out any service with our free trial card because we keep you safe from automated renewals.
What about parking tickets? How much do you spend on them? The good news is, we know how to fight those greedy city officials and keep that money in your pocket. It's the same with the almighty corporations. DoNotPay simplifies refunds and chargebacks, compensation for airline tickets, and warranty or insurance claim procedures.