How To Take a Shortcut to
Online Sweepstakes
Entries
Who doesn't want free cash and great prizes? With online sweepstakes, you might get exactly that.
Before you jump on the sweepstake wagon, this article will answer any questions you may have. We'll provide tips, guidelines, and hacks that will help you get into any sweepstake with ease.
Sweepstakes Explained
A sweepstake is a game of chance⁠—much like a raffle⁠—where participants enter to get prizes, and the winners are selected randomly. By law, free entry has to be made available even when an organizer advertises purchasing an item beforehand.
Although you don't need to pay to enter, there are always certain requirements you need to fulfill, such as:
Holding a U.S. citizenship—Canadian and Mexican citizens can sometimes participate as well

Being of legal age—at least 18, 19, or 21 depending on the location

Having a valid email address

Having an account or membership for the platform that offers sweepstakes
Types of Sweepstakes
Most sweepstakes are held online, and their prizes can be anything but the kitchen sink, but sometimes even this. Some of the most popular sweepstakes include:
Cash

Gift cards

Scholarships

Cars

and other vehicles

Travel

—U.S. and international trips, cruises, vacation rentals, airline miles, etc.

Supplies—foods and drinks, for example
Who Offers
Legit Sweepstakes
?
To dodge possible scams, you should go for well-known companies and websites that offer sweepstakes in addition to their line of work. You can check out our articles covering companies that hold online sweepstakes, including the following:
Examples of the
Best Online Sweepstakes
Some sweepstakes are more generous than others, depending on what you're looking for. Check the table below for a few online sweepstakes you may like:
Sweepstake
Eligibility Factors
Prize
End Date

Expedia Cruises—Win a Dream Vacation 2021 Sweepstakes

A resident of the U.S., Canada, or Mexico

21 years old or older

A seven-night cruise for two to the Caribbean, including a standard outside stateroom, activities, and most onboard meals

November 5, 2021

Martha Stewart's Pay Off Your Bills $25,000 Sweepstake

A legal resident of the U.S.

At least 21 years old

$25,000

June 30, 2021

PopSugar's Just Because We're Friends Sweepstake

A U.S. resident (except those in HI and AK)

At least 18 years of age

$500 Visa gift card

May 31, 2021

The Blue Nile Summer Jewelry Giveaway

A resident of the U.S. or Canada

18 years old or older

A gift certificate for a $20,000 shopping spree at the Blue Nile

June 30, 2021

Goodguys Chevy Nova Giveaway

Legal residents of the U.S. or Canada

At least 18 years of age

Holding a valid driver's license

A 1967 Chevrolet Nova valued at $40,000

June 1, 2021
How Can I
Enter Sweepstakes Online
by Myself?
The sweepstake entry steps vary depending on the organizer's website. Usually, the website has a Sweepstakes section where you can browse and find the ones that you like. Once you select a sweepstake, you typically need to provide your email address and/or fill in an online entry form. Some organizers may also ask you to complete a questionnaire, watch an ad, or play a game before the final step.
Use DoNotPay To Enter
New Sweepstakes
Each Week
Entering online sweepstakes with DoNotPay is much easier than doing it by yourself. Our app does the following:
Signs you up for a sweepstake automatically—no need to go through any bothersome tasks

Offers a weekly-updated list of available sweepstakes

Asks you for your email only once—each sweepstake entry after that will take less than a minute

Gives you access to all DoNotPay's products
Follow these short steps to enter sweepstakes as soon as you create a DoNotPay account:
Navigate to the

Free Raffle Ticket

product

Submit your name, address, and email address

Type in a sweepstake or choose one from our list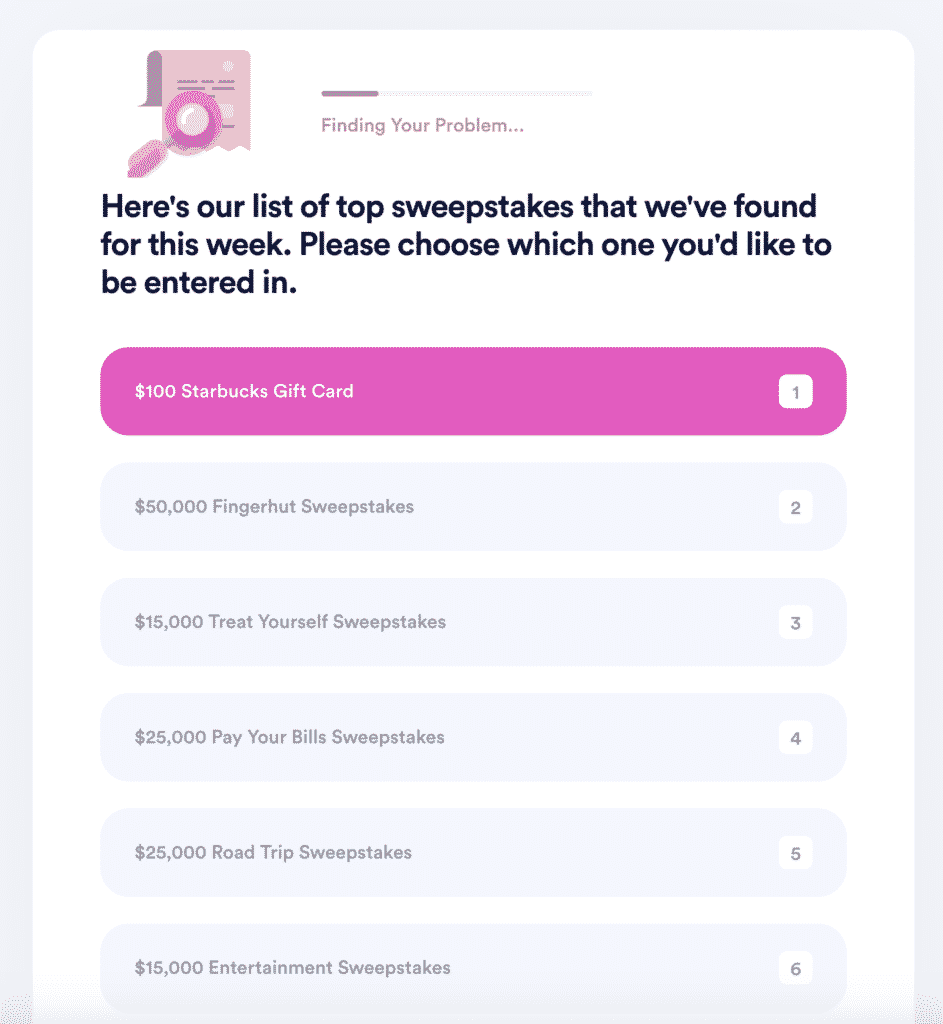 If I Win
Sweepstakes Online
, Do I Have To Pay Taxes?
Yes, you do. Sweepstake winnings are taxable, and the winners are responsible for covering them, not the organizers.
Before you take part in any sweepstake, take taxes into consideration, especially for high-value prizes, such as cars and houses. You can ask a tax professional for advice beforehand.
How To Make the
Best
of
Sweepstakes
Sweepstakes are all about rules and fun. While it is exciting to enter all kinds of sweepstakes, you have to meet all the criteria to win, so it's important to familiarize yourself with the eligibility factors before clicking that Enter button.
Here are some more helpful tips:
Be sure you really want the prize because you might win and get something useless

Check how often you can enter a specific sweepstake—sometimes it's once per person, but it can also be multiple times a day or week, which could increase your chances of winning

Look for sweepstakes with fewer entrants—some websites display the number of current participants so that you can calculate your odds

Use a separate email address for sweepstakes so that your personal inbox isn't flooded with spam from organizers—better yet, once you

sign up for DoNotPay

, forward an unwanted email to

spam@donotpay.com

to get rid of that sender's emails forever
Your Odds Are Better With DoNotPay
Luck is elusive, but DoNotPay is not. We offer effective solutions to various money-related problems. Do you need a bill-payment extension? Maybe you can't figure out how to claim warranties and insurance policies? Is an airline playing dead while owing you compensation for a canceled flight?
We are the champions of customer advocacy because we can tackle all those issues and more. Our AI-powered technology fights unfair parking tickets, cancels subscriptions, and deals with refunds from money-grabbing businesses with poor customer service.
Create Your Lucky Break!
Once you have saved some money, it's time to earn an extra dollar. DoNotPay has a few suggestions:
If you were a victim of a violent crime and ended up paying for the treatment on top of the trauma, we will help you get the compensation, so you can focus on getting better. 
Sometimes, dealing with paperwork alone can cause the tidal wave. DoNotPay can take over drafting legal documents and assist in getting them notarized.