A Fast and Easy Way of Entering
Travel Sweepstakes
Although they sound too good to be true, sweepstakes are a legitimate way to win free stuff, such as cash, cars, and trips. This article will explain how travel sweepstakes work and show you why signing up for DoNotPay is the best way to enter any sweepstake.
What Is a
Trip Sweepstake
?
A trip or travel sweepstake—much like any other sweepstake—is a game of chance. Participants enter the game, and the winner is chosen randomly. While there may be some requirements to play—such as purchasing an item—under U.S. law, a no-purchase entry must be made available.
How you enter a travel sweepstake depends on the company or organizer, but you usually need to submit your:
Name

Phone number

Email address

Physical address
Travel and other sweepstakes have a clear start and end date when you can sign up to play. Some sweepstakes are recurring, while others are a one-time thing. There are also instant win sweepstakes that you can enter and find out whether you won immediately, but they rarely include trip prizes—the winnings are mostly of low value.
What Types of
Trip Sweepstakes
Are There?
Among numerous trip sweepstake types, the most common ones are:
Trips within the U.S. (Hawaii and Las Vegas are popular destinations)

Disneyland trips

Cruises

International trips

Airline miles

Gift cards for cruises, flights, vacation rentals, etc.
Some trips are family-oriented, while others are for couples, and they typically range from one to seven days.
You should always research the sweepstake you want to enter. Find out if you need to cover additional costs if you win and whether you can take days off at the time of the trip.
Can Anyone Enter
Vacation Giveaways?
Every vacation sweepstake or giveaway has certain criteria you need to meet to participate. Usually, you must:
Be at least 18 or 21

Have U.S. citizenship (sweepstakes are sometimes open to residents of Canada and Mexico)

Have a valid passport if the prize is an international trip
Popular
Travel Giveaways
Check out some of the travel giveaways you can enter at the moment:
Sweepstake
Requirements
Prize
End Date

Ford—Motorcraft Tailgate Sweepstakes

U.S. resident

18 years old or older

One entry per person

A three-night trip for two to the NASCAR Championship race at Phoenix Raceway in Avondale, Arizona—airfare, hotel, ground transportation, two VIP tickets for the race, and a $300 check or gift card

October 3, 2021

Little Debbie—Legoland Family Vacation Giveaway

U.S. residents except HI and AK

At least 18 years old (19 years old in AL and NE)

One daily entry per person

A three-night trip for four to a Legoland resort in California, Florida, or New York—airfare, hotel, rental car, four two-day resort tickets, and a $250 Legoland gift card

June 30, 2021

2022 Ultimate Disco Cruise Giveaway

21 years old or older

U.S. residents except AK, HI, and RI

One daily entry per person

A five-night trip for two people onboard the Ultimate Disco Cruise departing from Miami, Florida

Transportation to and from Miami is not included

December 3, 2021

Expedia Cruises—Win a Dream Vacation 2021 Sweepstakes

Residents of the U.S., Canada, or Mexico

21 years old or older

One entry per person or email

A seven-night cruise for two to the Caribbean, including a standard outside stateroom, activities, and most onboard meals

November 5, 2021
DoNotPay—
Vacation Sweepstakes
at Your Fingertips
If you create a DoNotPay account, entering sweepstakes will be fun and effortless. You only need to provide your personal info once, and you'll be able to enter numerous raffles and sweepstakes, not only those for trips.
Here's how it works after you log in to your DoNotPay account:
Type in

Free Raffle Ticket

Give us your name, email address, and physical address

Write down the sweepstake you'd like to enter or choose one from our list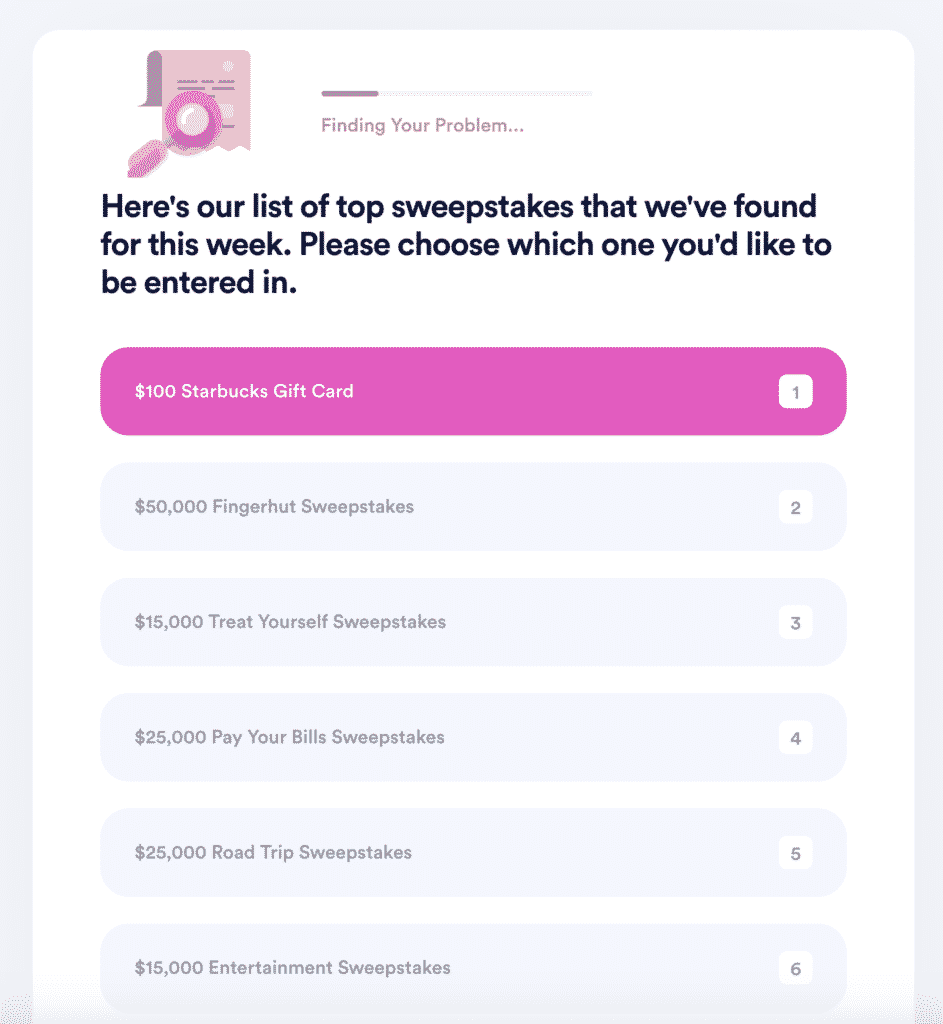 Our app updates the list of raffles, giveaways, and sweepstakes weekly. This way, you often have new prizes to win. Even if the sweepstake you want to enter is not on the list, you can type it in, and we'll check if we can sign you up.
Tips for Entering
Trip Giveaways
and Other Sweepstakes
Here are a few tips and guidelines every sweepstake participant should know:
Research the sweepstake you wish to enter—e.g., the rules and requirements

Take part in sweepstakes often to boost your chances of winning

Choose the games that have fewer participants (e.g., regional ones) and those that are not so popular

Be careful not to fall for a scam—for safe signups, use DoNotPay

Factor in the taxes you may need to pay—the tax for a cash prize must be deducted, and for car prizes, you need to pay them yourself

Don't pay or purchase an item for a sweepstake entry—purchases are not necessary to enter sweepstakes

Keep a separate email account for sweepstakes or use DoNotPay's

Spam Collector

to

get rid of unwanted emails

—since most entries require your email address, spam is inevitable
Why Leave It All to Luck?
Winning a sweepstake prize can be a life-changing event, but why rely on pure luck to improve your financial situation? DoNotPay encourages you to be proactive and find and save money whenever you can. Did you know that there can be thousands of dollars in unclaimed money under your name? We help you detect and claim it in no time.
What about all those unused memberships you keep and never use? We can cancel any subscription effortlessly, and you can save or spend that money on something worthwhile. With DoNotPay's free trial card, you can avoid getting stuck with unwanted services in the first place.
In case you want to participate in something that can change the world for the better and earn a handsome sum along the way, check out our list of available clinical trials because they can be a lucrative endeavor.
You Want To Know More About the Hidden Money?
DoNotPay cuts unnecessary expenses like a pro. We can help you get a refund from any unresponsive company with lousy customer care, compensation for tickets from arrogant airline carriers, or an application fee waiver from overpriced universities all over the States.
Why stop there? Let's overturn those nasty parking tickets, claim warranties and insurance, and stop wasting hard-earned money by filling the pockets of greedy corporations. If you had a bad break and went through a violent crime, we jump in to obtain the victim compensation you deserve.