Fingerhut Sweepstakes—Fast-Track Your Entry
Fingerhut is among many companies that organize raffles to promote their products and services and attract new customers. Participating in sweepstakes is fun and exciting, and winning some free cash or various other prizes also doesn't hurt. 
We'll walk you through entering the Fingerhut sweepstakes and help you make the most of it.
What Sweepstakes Does Fingerhut Offer?
Fingerhut organizes sweepstakes throughout the year. If you miss one, you'll be able to enter the identical or similar one soon after.
Here's an overview of the 2021 sweepstakes:
Sweepstakes

Prizes

The 2020/2021 $50,000 Sweepstakes

$5,000—ends 6/30/20

$10,000—ends 9/30/20

$20,000—ends 12/31/20

$15,000—ends 4/15/21

2021/2022 $50,000 Sweepstakes

$5,000—ends 6/30/21

$10,000—ends 9/30/21

$20,000—ends 12/31/21

$15,000—ends 4/15/22

2021 Sony PlayStation Sweepstakes

Sony PlayStation 5 console bundle with Extra DualSense wireless controller—ends 4/30/21
Who Can Take Part in Fingerhut Sweepstakes?
Fingerhut sweepstakes are open to all participants who are:
Legal residents of the U.S.

At least 18 years old
The sponsor's and the administrator's employees, affiliates, subsidiaries, advertising and promotion agencies, and immediate family and household members cannot be entrants.
You should also note that the sweepstakes are void anywhere they are prohibited, depending on the federal, state, and local laws.
How Is the Winner Chosen and Notified?
The odds of winning a Fingerhut sweepstake depend on the number of entries. An independent judging organization randomly draws the winner, regardless of the entry method.
Once the winner is selected, Fingerhut will contact them via phone, email, or mail. Winners need to sign and return an affidavit of eligibility and liability release and, sometimes, a publicity release as well. If the winner doesn't reply within five days, Fingerhut will choose another sweepstake winner.
Who Covers the Sweepstake Prize Taxes?
Sweepstake winners are responsible for all local, state, and federal taxes. Typically, you need to complete a tax form once you receive a prize. Consult a tax professional if you want to calculate how much you need to pay for a particular prize so that you know whether it's worth participating.
How Can I Sign Up for a Fingerhut Sweepstake on My Own?
Depending on the sweepstake, Fingerhut offers different entry methods, such as:
Method of Entry

Details

Automatic entry by placing a Fingerhut order via phone

Dial

1-800-233-3588

Call from 7 a.m. to 10 p.m. CT any weekday

Automatic entry by ordering on the website

Receive a sweepstake entry by ordering something online. You need to provide your catalog and customer number

Review submission

Log in or register on Fingerhut

Select

Write a Review

on the Product page

Submit a review or rating

Receive one sweepstake entry

Automatic entry by making monthly payment(s) on your WebBank/Fingerhut credit account on the website

Make your monthly payment on time to obtain one free sweepstake entry

Free method of entry

Complete an online entry on the Fingerhut SweepsZone website by selecting the sweepstake you wish to enter
If you place an order, you will receive one automatic entry. Even though purchasing an item is an option, you don't have to do it to be a sweepstake participant, according to the law. You can opt for a free entry, but you may need to post a review or a rating.
To skip the unnecessary steps, create a DoNotPay account, and you'll be able to enter Fingerhut and any other sweepstake effortlessly!
DoNotPay—A Shortcut to Any Sweepstake
For the smoothest sweepstake entry, your best bet is our app. You won't have to perform any additional tasks or make a purchase. Once you sign up for DoNotPay, here's how to get into a sweepstake:
Enter

Free Raffle Ticket

in the search field

Provide your full name, address, and email address

Pick a sweepstake from our list or type one in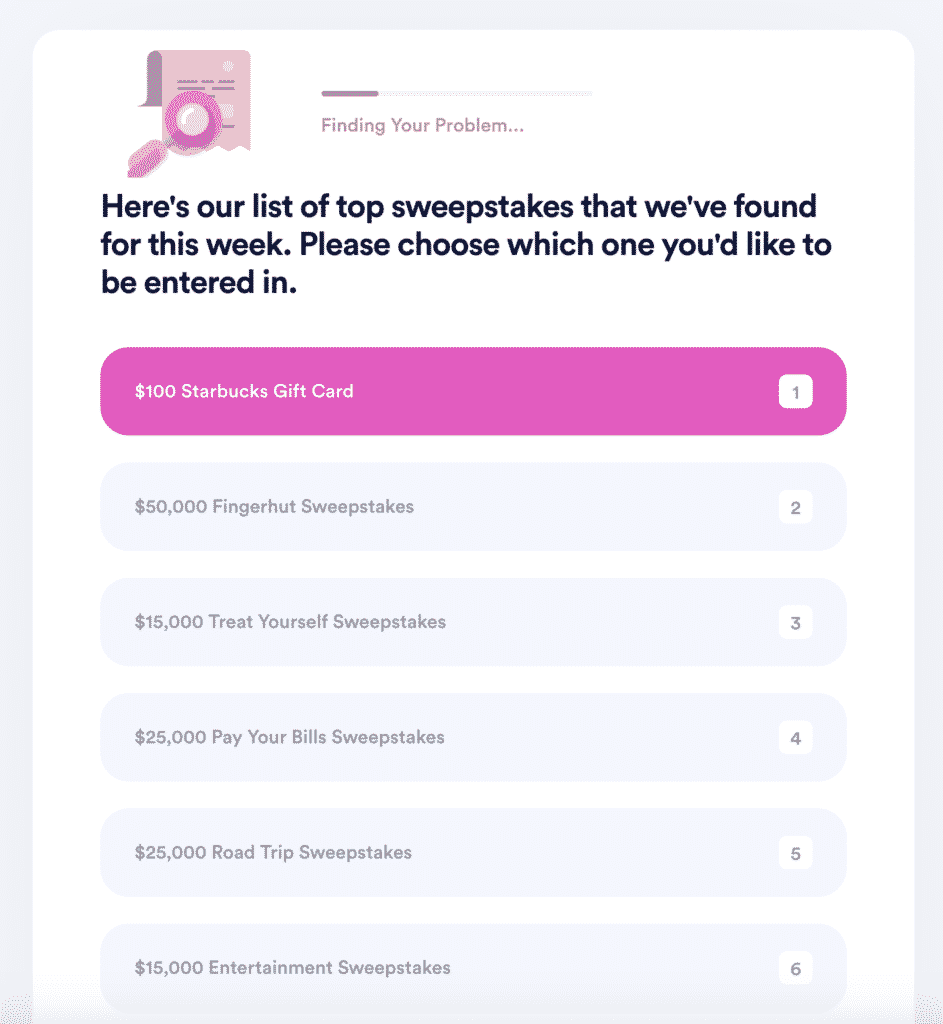 We update our raffle list every week, so you may be able to find car, travel, real estate, or instant win sweepstakes.
You can also check out our learning center for insightful articles on different companies that organize sweepstakes, including:
Are You Getting Sweepstake Spam? DoNotPay Can Help!
To enter a sweepstake, you need to submit your contact information so that the company can reach out to you if you win. Even when there's no email notification, sweepstake organizers want to obtain your email address to send you newsletters, sale notifications, promotional materials, etc. Regardless of whether you're an avid or occasional sweepstake entrant, your inbox is bound to overflow with spam emails.
You can create a separate account, but there's an easier way. As a DoNotPay user, you get access to all of our products, and one of them is the Spam Collector. All you have to do is forward a spam email to spam@donotpay.com, and you'll never have to deal with that sender again.
Why Leave It All to Luck?
Winning a sweepstake prize can be a life-changing event, but why rely on pure luck to improve your financial situation? DoNotPay encourages you to be proactive and find and save money whenever you can. Did you know that there can be thousands of dollars in unclaimed money under your name? We help you detect and claim it in no time.
What about all those unused memberships you keep and never use? We can cancel any subscription effortlessly, and you can save or spend that money on something worthwhile. With DoNotPay's free trial card, you can avoid getting stuck with unwanted services in the first place.
In case you want to participate in something that can change the world for the better and earn a handsome sum along the way, check out our list of available clinical trials because they can be a lucrative endeavor.
You Want To Know More About the Hidden Money?
DoNotPay cuts unnecessary expenses like a pro. We can help you get a refund from any unresponsive company with lousy customer care, compensation for tickets from arrogant airline carriers, or an application fee waiver from overpriced universities all over the States.
Why stop there? Let's overturn those nasty parking tickets, claim warranties and insurance, and stop wasting hard-earned money by filling the pockets of greedy corporations. If you had a bad break and went through a violent crime, we jump in to obtain the victim compensation you deserve.