Learn What the IRS Fax Number Is and How To Send Files
Some may consider fax to be a part of the past, but this is not the case. We still use fax to send files to various institutions. If you want to send some confidential files to the Internal Revenue Service (IRS), you'll need to find out what the IRS fax number is. We can tell you how to use DoNotPay to send a fax to the IRS easily.
What Is the IRS Fax Number?
The IRS still offers users the option to send sensitive documentation via mail and fax. To fax any document to the IRS, you'll need this number: (855) 215-1627.
Mail is not the greatest option when it comes to sending any sort of important document because it can get lost easily, and it takes a long time to reach its destination.
Fax machines are obsolete, and they come with plenty of drawbacks. If you choose this method after all, you can expect the process of sending a fax to the IRS to take a long time. The results won't be satisfactory either because of the poor image quality.
Online faxing is the way to go nowadays, having in mind numerous benefits it comes along with.
Why Choose Online Faxing?
Fax is not dead—online faxing proves it. Almost 90% of IT professionals use this way of sending and receiving files. Take a look at some of the most prominent benefits of online fax services:
Sending signed documents is safer than using email

Sending and receiving files is much faster when compared to regular mail

Dealing with the process is much easier because you can send faxes from your PC

Using it for legal, medical, and government documents is essential
How To Fax the IRS With DoNotPay's Help
Can you imagine faxing without using a fax machine? It is possible if you choose to use DoNotPay. You will be able to fax the IRS in under five minutes with our help. You only need to complete these three easy steps:
Access DoNotPay from a

Enter the IRS

fax number

Wait for DoNotPay to inform you when the fax has been sent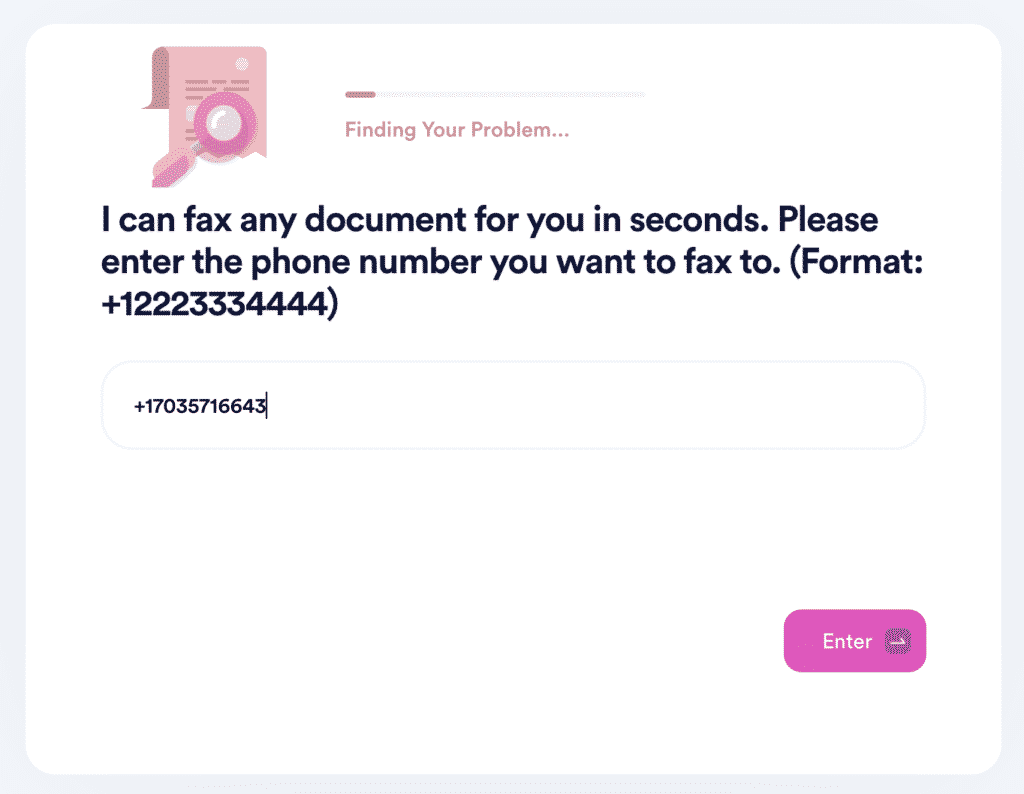 Using DoNotPay to send faxes to the IRS or any other institution is the best choice because it's the fastest and safest method.
The Benefits of Using DoNotPay's Online Fax Feature
online faxing feature is the best option available. The entire process runs smoothly, and you won't waste much of your time or money. If you use DoNotPay to fax IRS or any other company or institution, you'll be able to:
View your faxes from your email

Fax straight from your laptop or

phone

Send up to 100 pages a month

Pick between a normal upload of files or instant fax with the snap of a photo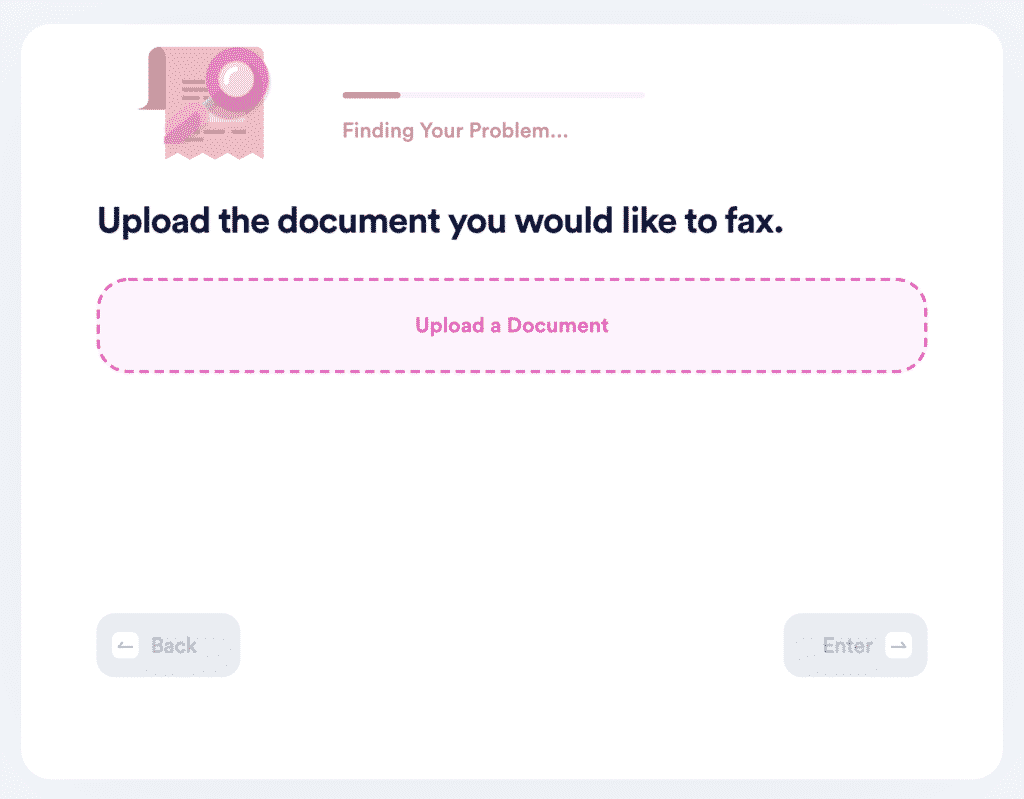 If you use the photo snap option, you can take photos of bills or checks and handle their payment without using a scanner!
Our Online Fax feature is connected to the legal documents product, so you can:
Generate a document

Sign it electronically

Fax it to the desired destination immediately
What Are Some Other Ways To Use Fax?
You can try and send a fax to the IRS using other methods. Quick disclosure—none of them are as good a choice as DoNotPay is. Take a look at the table below to see why:
| | |
| --- | --- |
| You Can Send a Fax to the IRS via | Downsides |
| Microsoft Windows' Fax and Scan | You need to connect your device (PC or laptop) to a phone line |
| Other online fax apps | It costs a lot to use online fax apps—be prepared to spend as much as $200 a year on one of them |
| Fax machine | Outdated and slow |
If you want to avoid all of these issues and send important documentation to the desired address, you should stick with DoNotPay. We've made sure not to include unnecessary complications that other options come along with.
Why Is Using a Fax Machine Not a Good Idea?
The short answer would be because there are more efficient alternatives available. What exactly are the reasons you should not consider using a fax machine, though? Take a look at the list below:
Poor quality image

Long troubleshooting

Non-encrypted data due to analog technology

Plenty of mistakes, such as recipients getting the wrong data because you have to dial a number, and one error leads to a huge mess

Expensive document sending method
Why spend extra money on a fax machine when there is a more affordable way of faxing? Why risk someone hijacking your confidential files and barely being able to see what the document says? You shouldn't, and that's why fax machines should stay in the past. Get all of the benefits of fax by opting for online faxing instead!
DoNotPay Is the Champion of Customer Advocacy
If you've never experienced an issue with a purchased item, you should consider yourself extremely lucky. When shopping goes wrong, you usually have to brace yourself for unpleasant and annoying exchanges with customer support centers.
DoNotPay is here to make exercising your consumer rights easy. Long holds when calling customer service reps and incessant marketing spam emails can stay in the past. We will help you avoid irritating text messages from online retailers by teaching you how to bypass phone verification when signing up.
Ask for refunds, claim warranties, fix credit card issues, or sue retailers in small claims court—these are just some of the services our platform provides.
With DoNotPay, you can start free trials for new services risk-free. If you want to get out existing subscriptions, canceling them has never been easier!
Wait, There's More!
Our full portfolio includes features as diverse as contacting inmates and requesting college application fee waivers for students from low-income families.
If you have a problem with bureaucracy, the chances are DoNotPay knows how to fix it with your minimal involvement.
Leave the grunt work and unnecessary expenses behind. We will help you pass various government tests with flying colors, find unclaimed money in all states, or get out of parking tickets before you know it!