The Quickest Way To File a D.R. Horton Warranty Claim 
D.R. Horton is one of the largest homebuilder companies in the U.S. The company has built more than 790,000 homes since it was created.
D.R. Horton offers a home warranty to its buyers. If your home needs some repairs, learn how to file a D.R. Horton warranty claim. 
The Essentials of D.R. Horton Warranty
D.R. Horton offers a ten-year warranty. Here is what the warranty coverage entails: 
The Warranty Covers
The Warranty Doesn't Cover Loss or Damage

Cracks and leaks in the basement

Uneven ceiling

High and low areas on the floor

Split or warped roof rafters

Roof leaks

Cracks in walls

Doors

Window breakage

Rubs on carpet

Peeling of wallpaper

Switches malfunction

Pipe freezes

Heating and cooling systems

Water supply stops

To land

That happens when a home is not used for residential purposes

That is covered by an insurance

Caused by floods, waves, tidewater, or similar

Due to normal wear and tear

Caused by lack of maintenance

Resulting from bad wiring

Made worse by moisture, mildew, fungus, or rust
During the first two years of the warranty, you have full coverage. After two years, the warranty covers only major defects, such as damages to roof rafters, bearing walls, or columns. To see the full D.R. Horton limited warranty coverage, check out the company's Warranty Guide.
How To File a D.R. Horton Warranty Claim by Yourself
The ways of claiming D.R. Horton warranty differ in the first two years of warranty and in the period after the initial warranty period passes. 
Filing a Warranty Claim During the First Two Years 
Your builder—the entity that obtained the warranty for you—has to take care of any warranty claims during the first two years. You should write to the builder to request any repairs. 
Filing a Warranty Claim After the Second Year of the Warranty Period
If your home requires any repairs two years after the warranty period started, you should contact the administrator—Residential Warranty Company, LLC (RWC). You should submit your warranty claim in writing via:
Email
Snail Mail

5300 Derry Street 

Harrisburg, Pennsylvania

17111 

Attn: Warranty Resolution Department
Make sure your letter or email contains the following:
Validation number

The effective date of the warranty

Your Builder's name and address

Your name and contact information

A detailed description of the problem you have
What Is the Easiest Way To File a D.R. Horton Warranty Claim? It's DoNotPay!
If you are not strong with words, let DoNotPay file a D.R. Norton warranty claim for you! We can compose a claim letter and send it to the company on your behalf. Your only job is to:
Set up your DoNotPay account in any

Select

Claim Warranty

Choose the

Home Warranty

option

Answer a few questions about the issue you are experiencing

Click on

Submit
Once you submit your request, we will deal with it quickly. D.R. Horton should contact you directly with more details about the results of your case.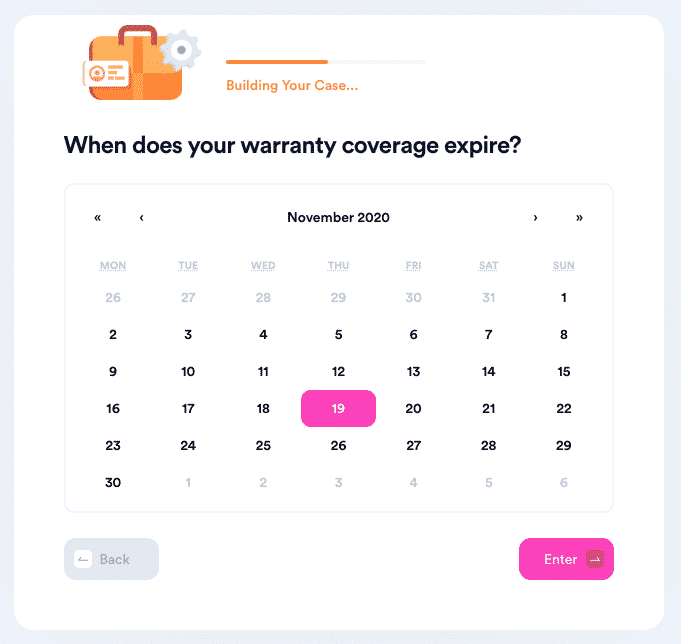 You can also check out our home warranty reviews and learn more about the best home warranties in America.
Get DoNotPay's Help To Appeal a Denied D.R. Horton Warranty Claim
If D.R. Horton rejects your warranty claim, do not despair. Use DoNotPay to appeal the company's decision and fight for your consumer rights! We can generate an appeal letter and increase your chances of winning the case. Here is what you need to do:
Open DoNotPay in any

Access the

Claim Warranty

feature

Select the

Appeal a Denied Warranty Claim

category

Provide the details about D.R. Horton and your original claim

Tap

Submit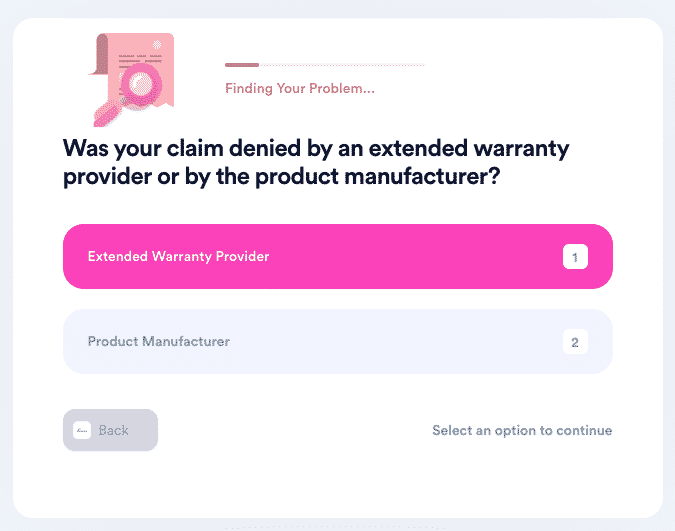 We will send the appeal letter to the company, and you can expect to hear from its warranty administrators, who will tell you more about your request.
Don't Waste Your Time on Bureaucracy—Use DoNotPay 
DoNotPay can also help you with car warranties! With our app, you can claim your Kia, Toyota, or Subaru warranty. 
You can also get more information about extended warranties for used cars and what to do when a dealer refuses to cancel your extended warranty.
We can also help you with a bunch of administrative tasks! Access DoNotPay from any , and we can help you to:
Fight traffic tickets

Dispute speeding tickets