How to Contact Detroit Metropolitan International Airport Lost and Found
Have you lost your phone, wallet, car keys, or luggage at the Detroit Metropolitan Wayne County Airport? Don't know how to conduct a search for your lost item? Our article will show you how to contact the Detroit Metro Airport Lost and Found office without wasting time in long queues or spending hours talking to multiple company representatives!
With DoNotPay's help, you will be able to track lost luggage or find any other belongings effortlessly.
What To Do if You Lose an Item at Detroit Metropolitan Wayne County Airport
Follow these steps to improve your chances of finding your lost item:
Reach out to the adequate office—Depending on the location where you forgot your item, you might have to:

Fill out an online form
Send an email
Talk to a customer service representative

Provide a detailed description of the item you lost—When you get in touch with a representative, you must provide a description of the item you lost in as many details as possible. This means that you have to specify the size and color of the item and recall whether it has any specific marks on it (e.g., model name or scratches and other signs of use)
After you contact the department responsible for the location where you lost the item, their representatives will check if it has been found and inform you of the outcome.
Whom To Contact if You Lose an Item at Detroit Metropolitan Wayne County Airport
If you remember where you lost the item, you need to determine who you should reach out to. Check out the table below for more info:
Place of the Incident
Department
Security checkpoint
Contact the Transportation Security Administration (TSA) Lost & Found by dialing (734) 942-3126
Gate or aircraft
Reach out to the airline you flew with and follow their instructions
Terminal
If you think you lost your item somewhere at the terminal, you need to file a lost and found claim with the Wayne County Airport Authority. The form needs to include:

Your personal information
Your contact information
Description of your lost item
Location of the incident
Description of the location
The search for your lost item can take a long time, considering that you have to wait in phone queues and talk to multiple representatives. It's super important that you report your missing item as soon as possible because:
TSA and Detroit Metropolitan Wayne County Airport Lost and Found offices don't hold onto lost items for long
Your lost item will be listed as unreturnable if you don't collect it soon after the incident
The chances of finding your item are higher if it's reported on time
That's why you should ! Our AI-powered app will contact the appropriate office in your stead and inquire about the item you lost.
DoNotPay Helps You Retrieve Your Item From Detroit Metropolitan Metro Airport Lost and Found Hassle-Free
Why search for your lost item on your own and waste countless hours when you can leave all the work to DoNotPay? We can get in touch with any airport's Lost and Found department for you and inquire about your lost item in a snap! Our AI-powered app is simple to use and only requires you to follow a few steps:
Select our Find Lost Airport Items tool
Give us the important details about the incident and your missing item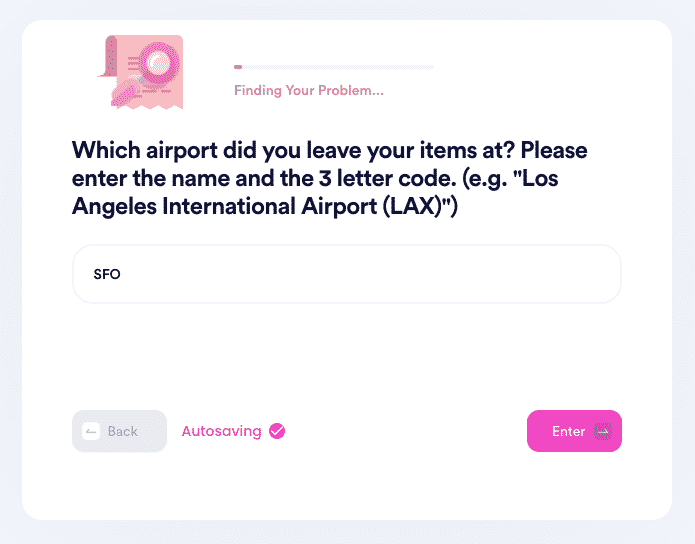 We will collect your information and contact the airport to help you find the item you're looking for effortlessly! You can also use our app to demand compensation for any late or missing flights.
We Can Help You Handle All the Mundane Tasks for You
No time to dedicate yourself to drawn-out procedures or solve administrative issues yourself? Keep calm—that's why DoNotPay is here! By creating an account on our platform, you will be able to:
Convert various files into different formats
DoNotPay doesn't bring you money-saving hacks—it actually assists you in cutting out expenses and living more economically. The tools we provide are made to help you pay less for utilities, end unwanted paid memberships, have college fees waived, or get lower tax bills. You can also save more on education-related costs by applying for scholarships and other financial aid via our app!
If you have a few forgotten gift cards lying around, don't let them go to waste. DoNotPay can cash them out and send the remaining funds to your home address!