The CVS Return Policy From A to Z
CVS is a company that sells a wide assortment of merchandise—from prescription medications to household items. If you are dissatisfied with a CVS product, you should know how to return it.
We can help you understand the CVS return policy and show you why you should and return CVS products with no hassle.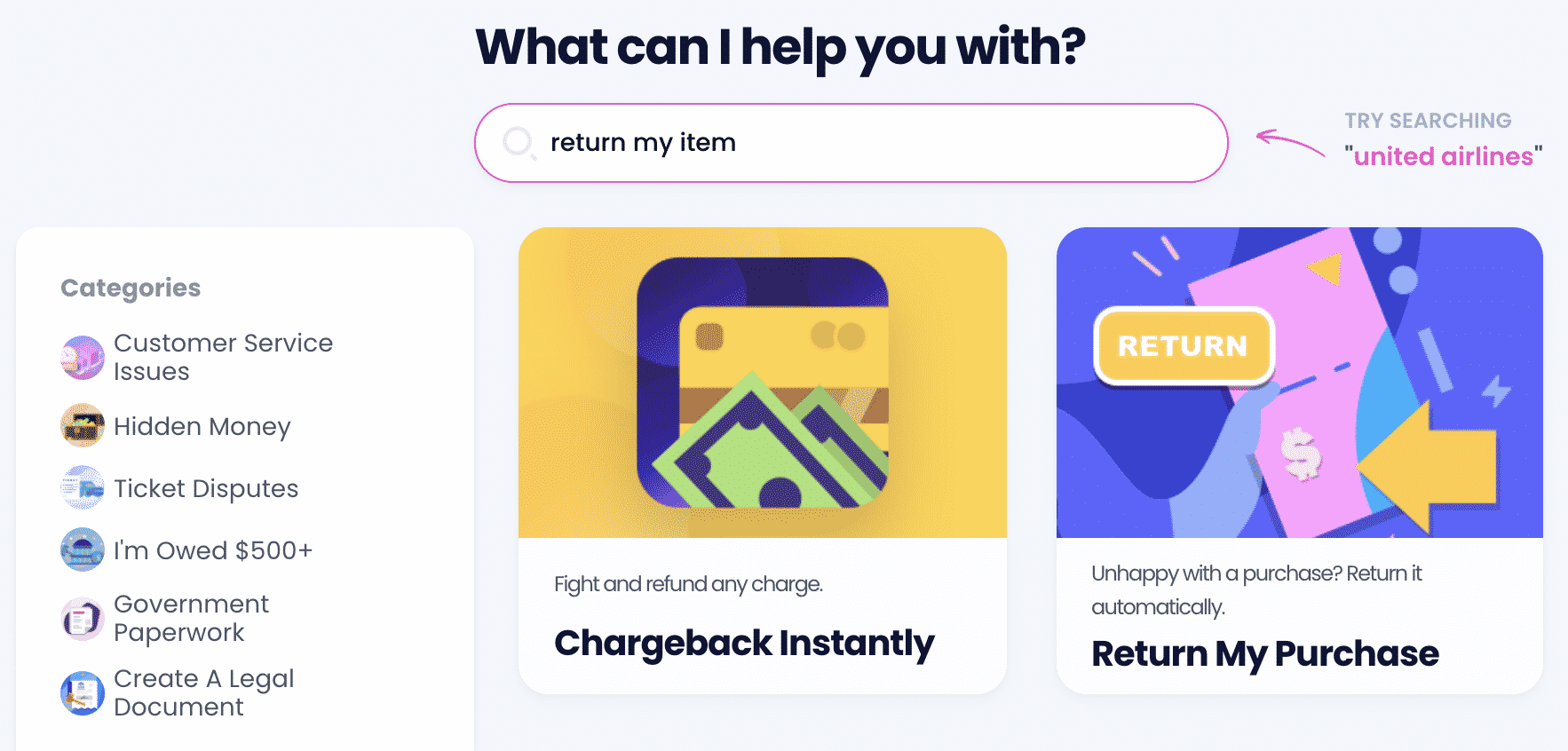 CVS Return Policy Basics
CVS applies a 60-day return policy. That means you will be able to return an item to CVS 60 days after the purchase, whether you bought it online or in-store. If CVS accepts your return, you can either get a refund or exchange the product.
Which CVS Products Are Returnable?
Your returns to CVS depend on the type of product you wish to return. CVS return policy divides CVS products into four categories:
Nonprescription items
Prescription medication
CVS brand products
CVS beauty products
CVS Return Policy for Nonprescription Items
CVS has a wide range of nonprescription products, and you can easily mix up one cough medicine with another. In case you purchase a wrong nonprescription CVS product, you can return it and receive a refund or make an exchange if the return is approved by the company.
CVS Prescription Return Policy
The CVS policy about returning prescription medications is a bit different from other CVS product returns. If there is a problem with your prescription, you will have to contact CVS customer care and get information about these types of returns. You can do so by dialing 1-888-607-4CVS (1-888-607-4287).
In case you order your prescription medications online, you will not be able to return them to the CVS store.
CVS Beauty Return Policy
The CVS return policy stipulates that the company will issue a 100% refund on any beauty product return. All you need is to contact the customer care service and receive the instructions. The item you are returning should be unopened, and you will need a receipt to make a return.
Return Policy for CVS Brand Products
In case you are dissatisfied with any of CVS brand products, you should not hesitate to return them. CVS offers refunds for brand products, provided they are in good condition.
How To Return Items to CVS
If you purchased some items in CVS that you want to return, you can do that:
In-store
By mail
In-Store CVS Product Return
In case the item you wish to return to CVS is new or unopened, you can bring it back to the store and receive a refund or a proper replacement. To become eligible for an exchange or refund, you will need:
A valid photo ID
The original receipt
CVS Product Return by Mail
If you wish to return a product you purchased on the CVS website, you can send it back by mail. To get the necessary information about shipping, you will have to contact customer service.
CVS Return Policy—No Receipt
If you are wondering whether CVS accepts item returns without a receipt, the answer is—yes. In case the company authorizes the return, you can receive store credit at the lowest advertised price or exchange a defective item for the same one. CVS can also refuse to accept returns without any proof of purchase.
CVS Return Policy—COVID-19
CVS adjusted its return policy according to the global situation. Because of health concerns, the company is not accepting returns of health and personal care products. CVS doesn't accept these items even if they are new or unopened.
Use DoNotPay and Return a Faulty Product to CVS Swiftly
You might wish to return a CVS product for so many reasons. Whether you purchased a defective picture frame or made a mistake while ordering, DoNotPay can help you return it without breaking a sweat. Our app will ensure you go through the entire procedure effortlessly, and all you need to do is:
in your preferred browser
Find the Item Return Request product
Provide us with some details about your purchase
Click on Submit
When you complete this process, DoNotPay will create a customized letter to request the return. Our app will send this request to the retailer along with the information about your faulty product.
The letter will also include a deadline for the merchant to process your request and indicate whether you wish a refund or replacement.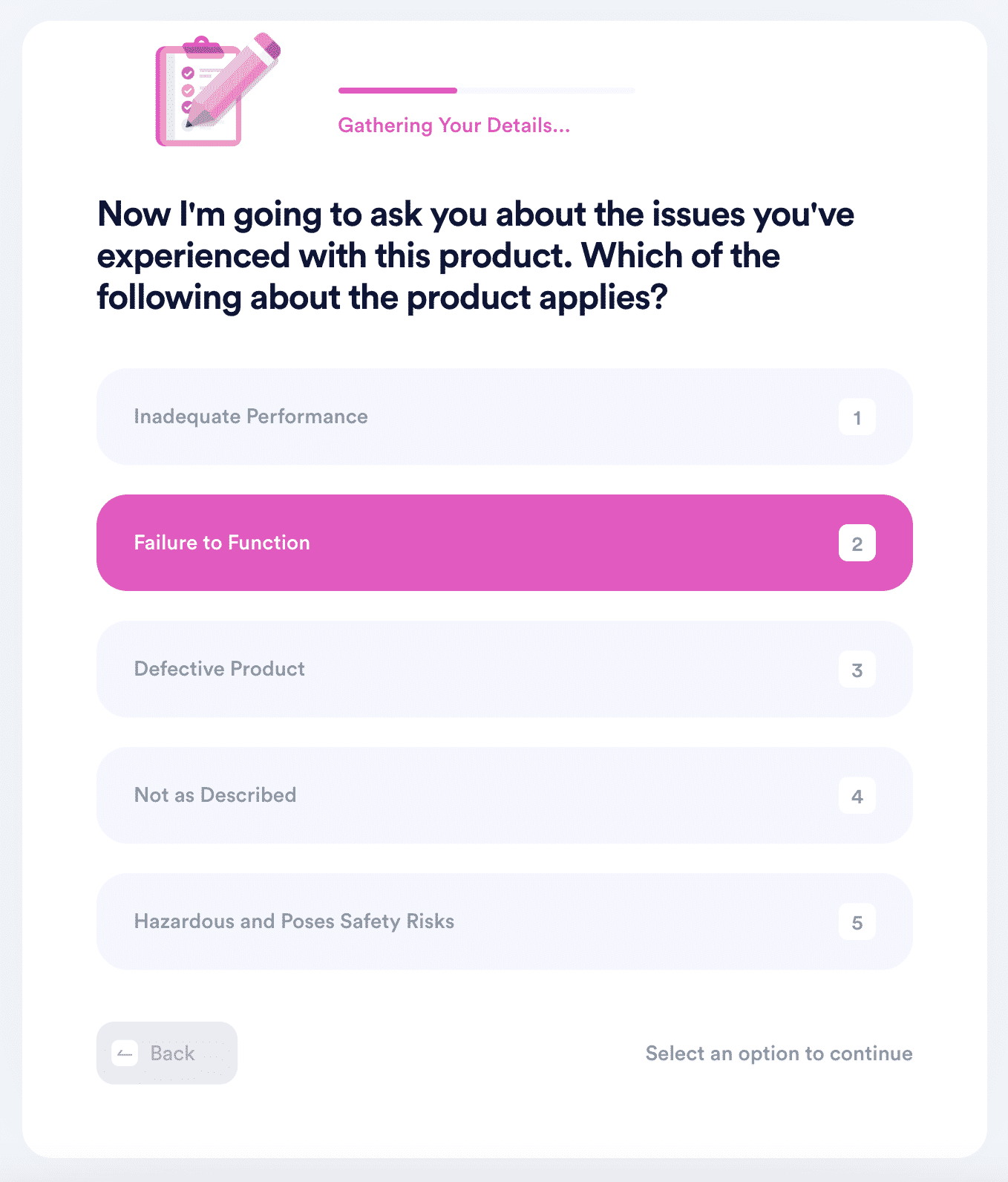 If the merchant doesn't offer you a free return label, DoNotPay can get you one and help you avoid unnecessary shipping expenses.
We are here to provide you help not only when it comes to CVS but other companies as well. You can count on DoNotPay to help you with:
Is the Company Refusing To Cooperate? We Can Help You Get Justice
Is whatever company you're dealing with not being a good sport? Don't worry—the world's first robot lawyer is here to help. Our app can prepare all the necessary paperwork and provide guidance if you want to sue the company in small claims court.
We can also help you draw up any legal document you need for the case, have it notarized by an online notary, and fax it to anyone in a matter of minutes.
If you want to get revenge on tiresome robocalls or report a stalker or harasser, you can rely on DoNotPay.
Anything Else We Can Do for You?
Our AI-powered app is versatile—you can complete many tiresome, daunting tasks that you wouldn't want to tackle by yourself. You can use DoNotPay to:
If you want to get access to all of our nifty products, sign up now!