What You Need To Know About the Crist CDL General Knowledge Test
If you are thinking about obtaining a commercial driver's license (CDL), you have started collecting information on all the required documentation you need to provide, criteria to meet, and study material to cover. 
While browsing through useful sources to help you prepare for your CDL exam, you might come across CristCDL.com offering CDL practice tests.  
What Is the CDL General Knowledge Test?
If you would like to operate a commercial motor vehicle (CMV), you must have a CDL. To receive it, you need to pass the CDL exam, which consists of two parts—the knowledge test and the skills test. 
All CDL applicants need to fulfill federal and state requirements. Even though the federal government creates CDL regulations, all U.S. states make and conduct their tests. 
You can take the CDL exam only in your state of residence, and to pass it, you will need to score at least 80% on the general knowledge test. 
Once you pass this test, you will obtain a commercial learner's permit (CLP), which allows you to practice driving your CMV for at least 14 days before taking the driving skills tests. 
You should check all available CDL-related information and criteria on your state's Department of Motor Vehicles (DMV) website. 
What Is a Crist CDL General Knowledge Test?
Once you have reviewed your state's CDL manual and memorized both federal and state regulations, you need to practice. One way is to take as many practice tests as possible to gain confidence for the real CDL exam.
Crist CDL practice tests can assist in your preparation, and here is what they include:
General knowledge

Hazardous materials

Air brakes

Tanker

School bus

Passenger

Combination

Pre Trip

Doubles/triples
A Crist CDL General Knowledge test covers information on driving, CMVs, and vehicle inspection. 
If you would like to take a Crist CDL General Knowledge test, you should:
Click

Select your State

here

Choose the state in the pop-up window

Click on the

General Knowledge Practice Test

button

Check the correct answer

Click

Next Question
When you go to the following question, you can see whether you have answered the previous one correctly. 
You should know that certain information on a Crist CDL General Knowledge test may be different from your state's CDL handbook. The CDL manual is the basis for the CDL exam, so make sure you memorize the rules and regulations provided there.
To take other Crist CDL tests, such as a Crist CDL doubles and triples test, go through the first two above-listed steps, and in the third step, scroll down to the Doubles/Triples section and click on the practice test. 
Are You Eligible for the CDL Exam?
Your state defines all the requirements for CDL holders, but most U.S. states need you to be at least 18 years old to be able to operate a CMV intrastate. You must be 21 to drive CMVs interstate or haul hazardous materials, for which you will need to add a special HAZMAT endorsement to your CDL. 
You will have to take a vision test and meet specific medical requirements, but this depends on the type and class of the vehicle. All requirements and disqualifying criteria should be available on the DMV website. Should you have further inquiries, you can contact your state's DMV. 
You do not need to complete special training, but some U.S. states offer a list of licensed driving schools that can help you prepare for your CDL exam. 
Do You Need To Prepare for the CDL General Knowledge Test?
As you need to get a minimum of 80% in the CDL general knowledge test, you will need to get familiar with all regulations provided in the CDL manual. Most CDL handbooks are lengthy, and it is not easy to memorize everything. 
Practice tests will help you understand what areas you've mastered and which ones you should revise more. 
DoNotPay provides state-specific CDL general knowledge practice tests, such as California, New Jersey, Virginia, Montana, or Indiana CDL tests.
We can also show you how to schedule a driving test or pass the written driving test. Our app also breaks down the ASVAB test scores. 
DoNotPay's CDL General Knowledge Practice Test Will Help You Ace the Real Exam!
DoNotPay can help you practice for your CDL general knowledge test easily and efficiently! Our tests are up-to-date with the latest state-specific regulations, which makes them a valuable source for studying and practicing.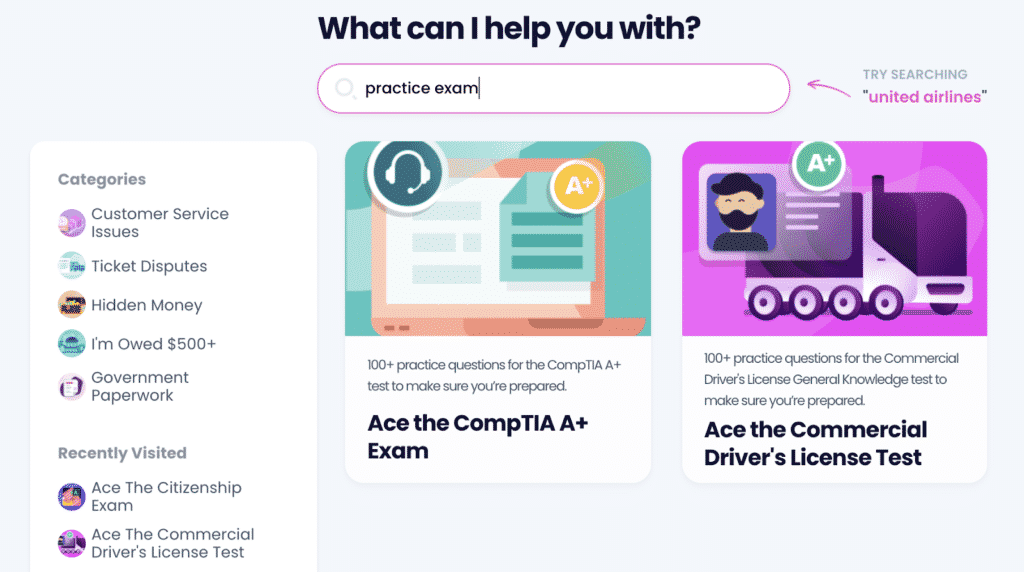 DoNotPay assists with a state-specific CDL general knowledge test to help you pass the exam and obtain a CDL fast. 
Use our CDL general knowledge practice test to study, and here is how:
Open DoNotPay in a

web browser

Opt for the practice test by entering

CDL

or

commercial driver's license

 

Choose the test you would like to do

Select the number of questions you would like to have in your test—10, 20, or 30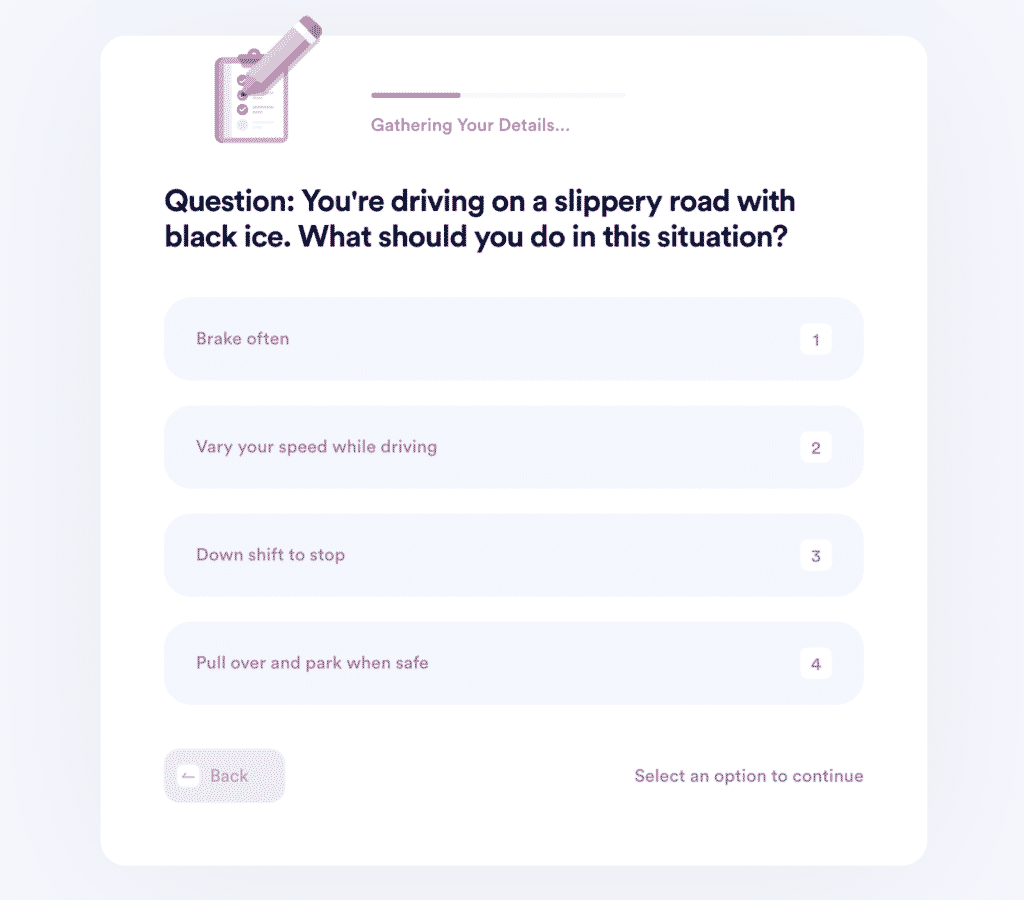 DoNotPay has made everything easy and convenient. Once you make a mistake, go back or wait until the end of the test to check out your score and decide whether to retake the test.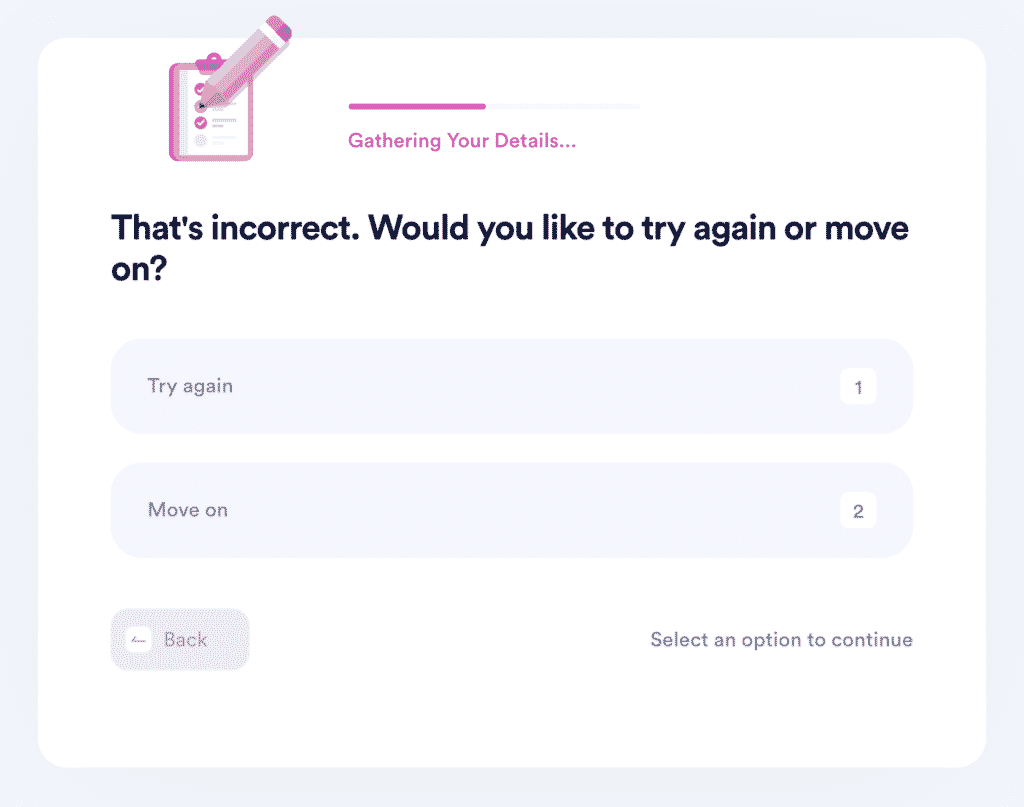 We assist with the preparation of different government exams. Choose the exam you want to take—CompTIA, CCAT, DMV, U.S. citizenship, postal, notary, or ASVAB. 
DoNotPay Keeps the Spammers Away
Whether you're dealing with email spam, text scammers, robocalls, or severe harassment, DoNotPay can help. 
Use our virtual credit card or the Burner Phone feature to sign up for free trials safely—without revealing your real info. DoNotPay will make sure that no company can reach you when you use our tools. 
We provide a fake email address, credit card info, and phone number that are in no way connected to your real data. 
We can also help you cancel services or request a refund without you having to contact the company directly. 
How Else Can DoNotPay Help You Find and Save Cash
Our Missing Money feature helps you find any unclaimed assets in your name in any state. An additional perk is that you can claim your money right in the app—no need for further research!
We can also make sure you don't pay for any unfair parking citations and get the rightful compensation from airlines for any canceled or delayed flight. 
Don't let big companies scare you into not claiming your warranties or insurance. DoNotPay helps you file these claims and appeal any rejections in minutes, which brings you closer to getting your money.
We can also delay your bill payments, get your college fees waived, or sign you up for paid clinical trials to earn some extra cash!