Take an NJ CDL Practice Test To Prepare for the Real Exam
Have you been thinking about getting a commercial driver's license (CDL)? If you believe you are a good driver and would like to transport passengers or cargo, go for it!
Taking a CDL exam is what lies ahead, but you shouldn't feel discouraged. If you live in New Jersey, you need to get familiar with the federal and NJ regulations, practice a bit, and you will be ready to take the CDL exam.
DoNotPay provides useful CDL practice tests to help you prepare in the best possible way. Our app also offers information on how to practice for DMV tests, make your DMV driving test appointment, or pass the written part of the driving test.
Everything You Should Know About the NJ CDL Test
Now that you have decided to take the CDL exam in NJ, you should familiarize yourself with certain requirements. To obtain your CDL in New Jersey:
You Must Be
You Must Have

Physically fit

At least 18 years of age

Able to recognize green, red, and amber colors

An NJ driver's license (Class D)

20/40 vision in each eye with or without lenses or glasses
All CDL applicants need to submit the Medical Examiner's Certificate and CDL Holder Self-Certification. You will have to pay $125 for the NJ CDL knowledge, endorsement, and road tests.
If you are not sure whether you need a CDL, take a look at the following operators who do not need one:
Firefighters

Non-civilian operators of military equipment

Rescue or first-aid squad vehicles operators

Taxi drivers carrying not more than seven passengers

Operators of construction equipment not driving on public roads

Recreational vehicles operators using the vehicle for personal use

Farmers transporting their equipment or products within 150 miles of their farms
How To Apply for the NJ CDL Test
Here is how you can apply for the NJ CDL exam:
Complete the

Application for Commercial Driver License

Go to a

motor vehicle agency

(MVA)

Pass the

6 Points of ID Verification

Settle the $125 nonrefundable CDL fee and obtain the CDL fee receipt at an MVA

Schedule an

appointment

for the CDL knowledge test at a

licensing center

Go back to an MVA to get your commercial learner permit (CLP) and schedule your skills test when you have passed your CDL knowledge test(s)

Drive for 14 days in the commercial motor vehicle (CMV) for which you want to get your CDL (CLP holders need to wait for at least 14 days before taking the skills test)

Schedule the skills or road test

Visit an MVA to obtain your CDL
Are There Any Restrictions You Should Be Aware Of?
You need to take into account that the State of New Jersey applies the following restrictions:
CDL Restrictions
CLP Restrictions

E—No manual transmission-equipped CMV

K—Intrastate only

O—No tractor-trailer CMV

Q—15 passengers or less

V—Medical variance

Z—No full air brake-equipped CMV

K—Restrictions apply to intrastate driving only

L—Restrictions apply to vehicles with no air brakes

P—If CLP has a P endorsement, no passenger restriction on CLP

V—Restrictions apply to medical variance

X—If CLP has an N endorsement, no cargo in tank restriction
Additional restrictions apply to 18 to 21-year-old CDL applicants since they:
Can only operate a CMV within NJ

Must select commerce category 3 or 4 on the CDL Holder Self-Certification form

Cannot receive a:

Passenger endorsement

HAZMAT endorsement
What Does the NJ CDL Exam Consist Of?
If you would like to get a CDL in New Jersey, you will have to pass vision, knowledge, and road tests.
In case you have passed the vision test wearing corrective lenses or glasses, this will be indicated on your CDL, and you may not drive a CMV without them.
NJ CDL written tests are available in the following languages:
English

Chinese (Mandarin)

Spanish

French

Arabic

Polish

Portuguese

Japanese

Russian

Korean
The oral test can be taken in English or Spanish.
Why Should You Prepare for the NJ CDL Test?
The NJ CDL general knowledge test consists of 50 questions, and you need a score of at least 80% to pass, which means 40 correct answers.
To prepare for the knowledge test, you should go through the NJ CDL manual. If you prefer a paper version, visit a Motor Vehicle Commission (MVC) or ask MVC's customer support to mail you a copy. You can get in touch with customer support by calling them at (609) 292-6500 during business hours:
Monday–Friday
8.30 a.m.–4.15 p.m.
Taking the test can be challenging as you will have to go through over 160 pages of the NJ CDL manual containing the relevant regulations and rules. It is not easy to memorize all this information, and that is why you need to practice.
DoNotPay assists you by providing CDL general knowledge practice tests in NJ. Taking our practice tests will boost your knowledge and confidence level for the real exam.
DoNotPay Provides NJ CDL Practice Tests To Help You Learn
If you would like DoNotPay to help you prepare for the NJ CDL exam, follow these steps:
Visit DoNotPay in a

Choose the practice test by entering

CDL

or

commercial driver's license

in the search bar

Opt for the

NJ CDL practice test

Choose the number of questions in your test—10, 20, or 30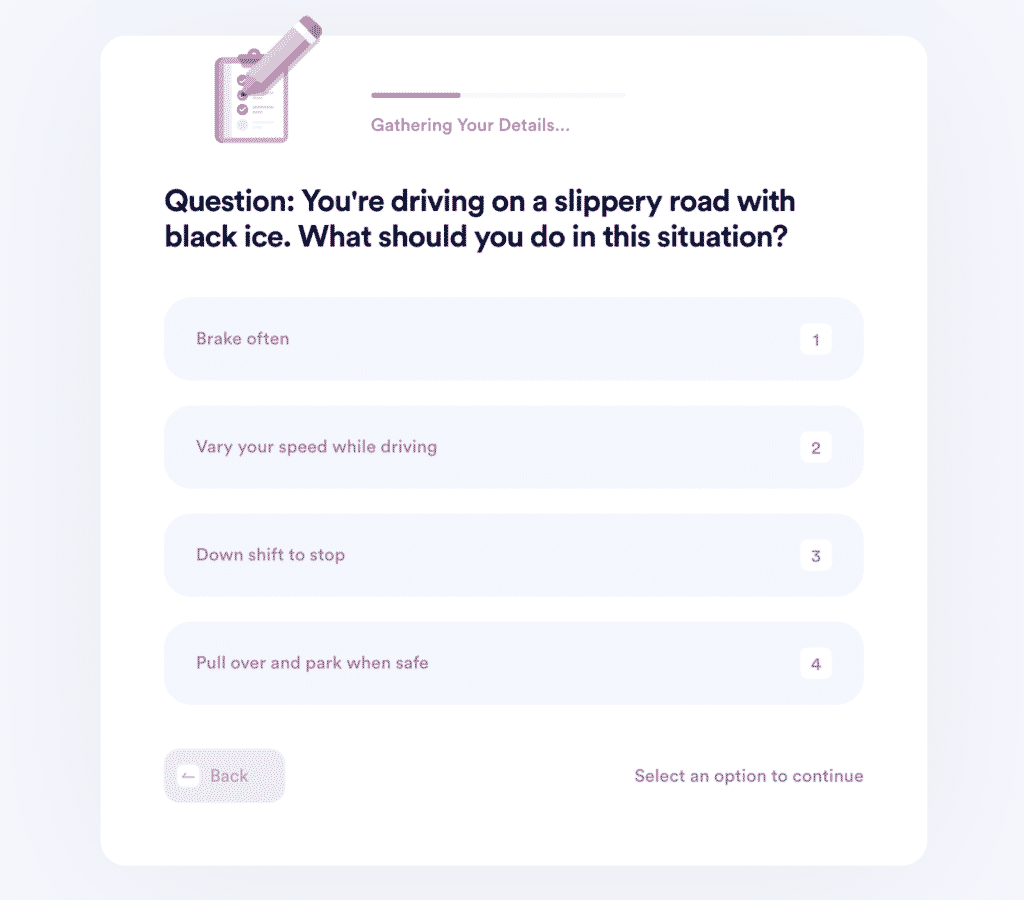 Do not fret if you make mistakes since they are part of the learning curve. Go back to each question you have answered incorrectly or wait until the end of the test to check the score and decide whether to retake it or not.
As practice makes perfect, you should take the NJ CDL practice test a few times to ensure you got everything right.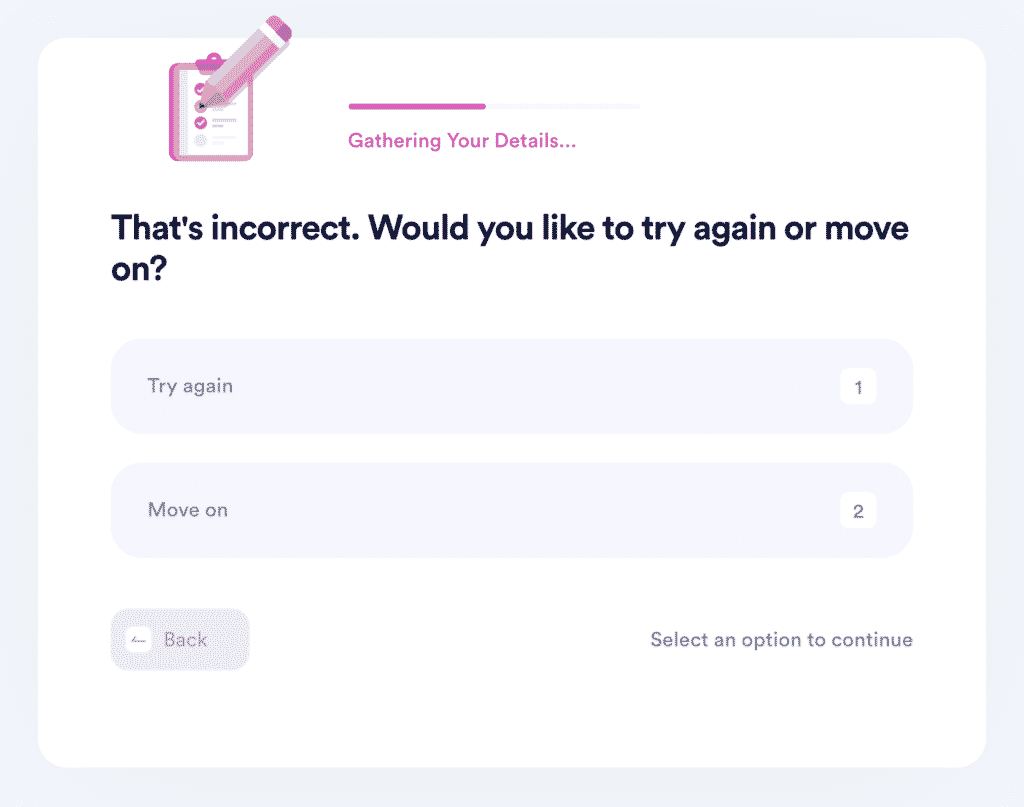 DoNotPay Covers Other Government Tests
Our platform can assist you in the preparation of different government exams by supplying relevant practice tests. Choose what test you would like to practice for—the U.S. Citizenship, Postal, Notary, ASVAB, CCAT, CompTIA, or the DMV exam. Our app also providesinformati on on ASVAB test scores.
Once you obtain your CDL, you can take the HAZMAT test. With a HAZMAT endorsement, you can transport hazardous materials and increase your earnings. DoNotPay helps you ace this exam by providing NJ HAZMAT practice tests.
Can You Prepare for the NJ CDL Exam by Yourself?
You can prepare for the NJ CDL test on your own by reading the CDL manual, getting some study materials, handbooks, or tutorials that will help you grasp the regulations.
You can also find a driving school in New Jersey. Make sure the school you pick is licensed and check the price.
DoNotPay allows you to practice from the comfort of your home and at any time that suits you best.
DoNotPay Is Here To Take Care of Your Problems
DoNotPay can assist with tiresome administrative problems, and we provide helpful information on New Jersey-related issues. Check out how to take the driving test, get help with electric bills, sign up for clinical trials, or locate your forgotten money in NJ.
Take a look at all services we offer by accessing DoNotPay from your and learn how to:
Dispute traffic tickets

Dispute speeding tickets