Where Can You Find a Comprehensive CompTIA IT Fundamentals Practice Test?
CompTIA IT Fundamentals (ITF+) serves as an introduction to IT knowledge and skills course, and it is a test that helps you decide whether a career in the IT sector is the right path for you.
If you are thinking about taking any of the CompTIA tests, you should consider taking a few practice tests beforehand. Practice tests can help you get an idea of what the exams look like and how you can practice for them. You can find ITF+ practice tests online or use our app to practice for any of the CompTIA tests we provide you with!
What Is the CompTIA IT Fundamentals Practice Test?
The CompTIA IT Fundamentals exam covers the basic skills you will need to perform the essential IT tasks, such as:
Navigating features and functions of essential operating systems and establishing network connectivity

Recognizing the usual software applications and their functions

Utilizing security and web browsing best practices
Why Should You Prepare for the CompTIA IT Fundamentals Exam?
Preparing for any test is of utmost importance, and it should be the first step you take before sitting the exam to boost your chances of passing it with flying colors. If you do not spend enough time studying and practicing, your chances of nailing the exam won't be high.
You will not have to go to extreme lengths to find study books and materials, though—we live in the era of the internet! You can turn to online study guides, download any PDF file about the CompTIA tests, and find the study material and guides with minimal effort!
How Can You Prepare for Your CompTIA IT Fundamentals Test?
Before deciding on what method of studying would work best for you, think about what type of learner you are. That will help you save time and choose the most effective approach to studying and preparing.
There are, in general, three types of learners:
Visual type

—learns best using pictures, diagrams, flashcards, different colored markers, and charts

Auditory type

—memorizes information with the help of dictaphones, repetition, videos, word association, or recordings

Reading or writing type

—uses notes, bullet-point lists, PowerPoint presentations to prep for exams
Taking practice tests online on the CompTIA website and downloading the CompTIA ITF+ exam objectives are also some of the important steps to acing your CompTIA IT Fundamentals exam. CompTIA objectives can be of immense help when it comes to figuring out what type of questions you will find on the actual exam.
You can use DoNotPay to practice for your CompTIA IT Fundamentals practice test or any of the nine practice tests we present you with!
DoNotPay Can Help You Take the CompTIA IT Fundamentals Practice Test With Ease!
DoNotPay streamlined the process of finding and taking practice exams to the tee! You can practice for nine types of tests by opening your and visiting DoNotPay.
Take your CompTIA IT Fundamentals practice test in four simple steps by following our quick guide:
Find

CompTIA

practice tests

Decide on the test you would like to prepare for

Say whether you would like to have 10, 20, or 30 questions on your practice test

Start practicing!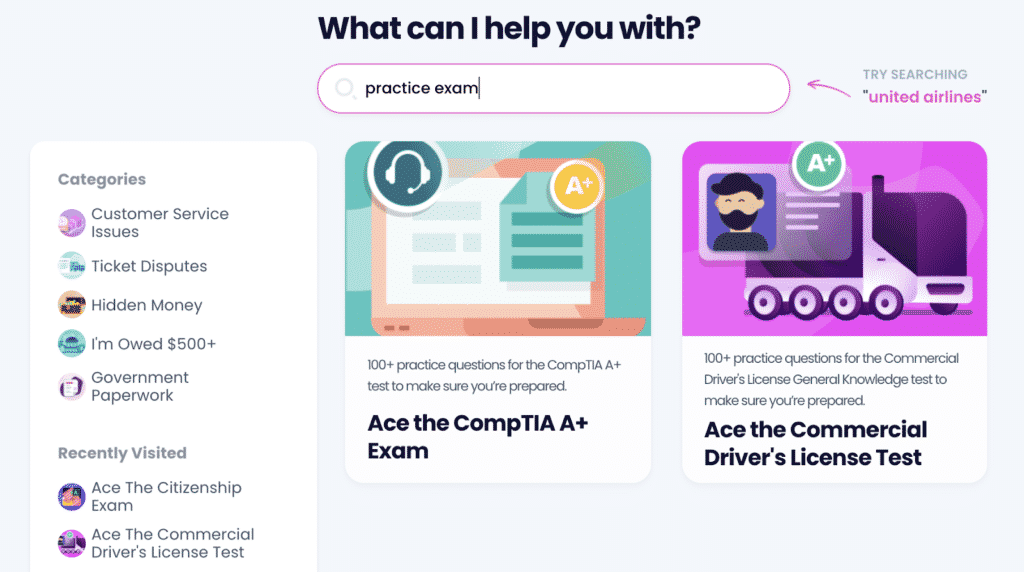 If you answer a question incorrectly, you can either try it again on the spot or do it afterward when you get the test results.
With DoNotPay, you can also learn all about the CompTIA A+ 1001 practice test and CompTIA A+ certification exam! Here are the nine government tests you can practice for in our app: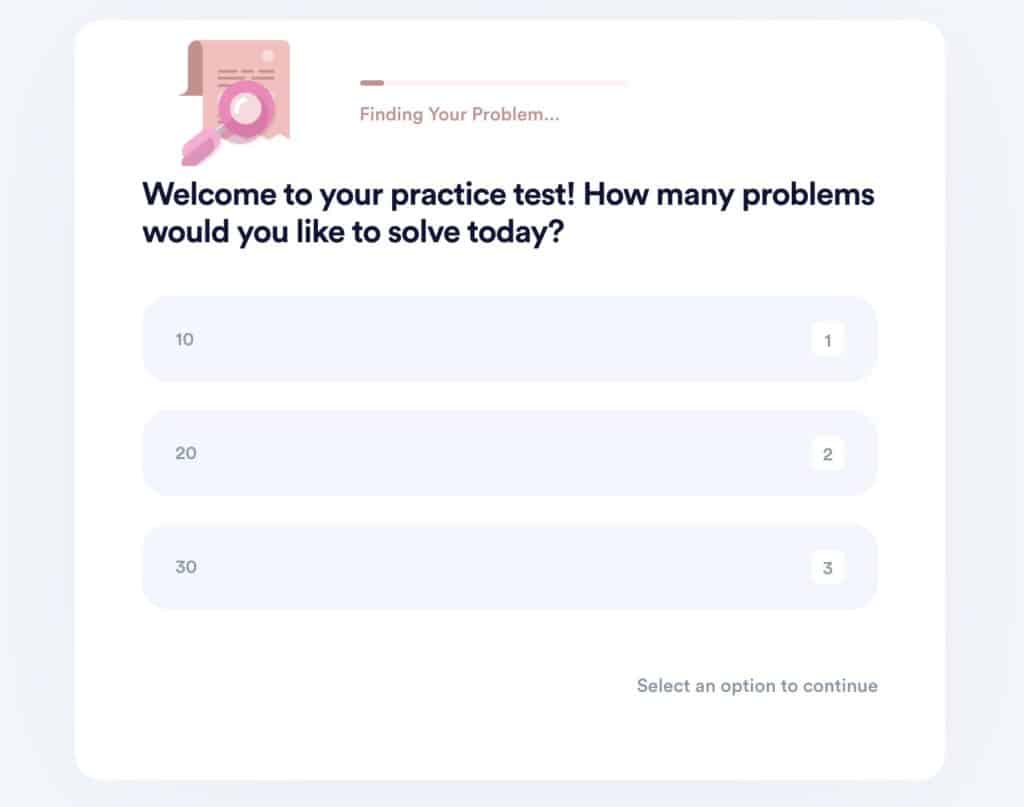 What Does the Real CompTIA IT Fundamentals Exam Look Like, and What Can You Expect From It?
The real CompTIA IT Fundamentals test will focus on testing your basic IT skills, and it will consist of 75 questions in total. You will have an hour and a half to finish your exam and score 650 out of 900 to pass.
The price of the CompTIA IT Fundamentals exam is $123. You can use our app to find out all about the CompTIA A+ exam cost!
How Do You Take the Real CompTIA IT Fundamentals Test?
You can take the real CompTIA IT Fundamentals test in two ways:
Both ways are valid—it is all about your personal preference. Taking your test online is convenient if you want to do it from your home and schedule it at any time that works for you. If you opt to take it in person, you will perhaps get some help on the spot in case you find it difficult to understand a question or similar.
How To Take the Online CompTIA IT Fundamentals Test
CompTIA has a few terms that you will have to go through and accept before taking your CompTIA IT Fundamentals test. Make sure you do that first, or you will not be allowed to take the exam. Read the next terms, accept them, and move on to the steps below.
The terms:
Do the next three steps to take your CompTIA IT Fundamentals exam online:
Run a

system test

on the same computer and network you will be completing your real test on

Create and log in to your

Pearson VUE testing account

Schedule and take

your online CompTIA test
How To Take the CompTIA IT Fundamentals Test in Person
If you decide to take your exam in person, you can do it by taking the next five steps:
Make a

Pearson VUE testing account

Log in to your Pearson VUE account

Search for a testing center closest to you and schedule your exam

Be sure to review the

testing policies

Check into the Pearson VUE test center and ace your test
If you are curious about CompTIA testing centers, we will show you all you need to know about them!
There Is a Lot More You Can Do With DoNotPay!
DoNotPay presents you with an abundance of nifty tools you can use to resolve any administrative problem you encounter!
If you thought that passing your written driving test and scheduling the DMV driving test on the first try is a myth, we are happy to inform you that by using our app, that myth turns to reality in just a few clicks!
Find in the list below all the tasks we can help you resolve in a jiffy!
Visit DoNotPay in your and use our tools to quickly deal with:
Fighting speeding tickets

Disputing traffic tickets