The Ins and Outs of Claire's Return Policy
It's frustrating to receive a pair of earrings only to find that one of them is damaged. Initiating a return is usually a tedious process, but that shouldn't make you give up! DoNotPay is here to solve your problem with this quick guide to Claire's return policy.
If you want to return your faulty item swiftly, sign up now!
What's Inside Claire's Return Policy?
You can return your item with its order summary to Claire's within 28 days of the date of receipt, provided the product is in like-new condition.
Claire's gives you two ways to return your item. If you:
Received a Direct Delivery package at your doorstep, you need to return your item by post
Purchased your item through the Click and Collect package in-store, you need to return it to one of Claire's brick and mortar stores.
How To Return Your Item by Post
Follow the steps below to return your item:
Select one of the return reason codes listed on your original order summary
Put your order summary in your return package
Ship the product to Claire's Accessories, Online Returns, Unit 4, Bromford Gate, Bromford Lane, Birmingham. B24 8DW, Country: United Kingdom
You will need to get a proof-of-postage receipt at the post office. You will also need to pay the shipping fees, which Claire's will refund if it made a mistake in dispatch or if the product is faulty in any way. The company won't pay the shipping fees if you decide to keep a part of your order or if you are returning the product via a private carrier.
Returns made by post take up to ten days to reach the company. Once your order is received, Claire's will process the return within 24 hours and provide the refund to the original payment method within 30 days from the date of receipt of your return.
How To Return Your Item In-Store
You can take your item to any Claire's store with your order summary. You will get a refund to your original payment method right away. The company will also refund the delivery charge if it made a mistake in dispatch or if the item is defective or not as you ordered. You will not get the delivery charge if you decide to keep a part of your received order.
Claire's does not accept returns in franchises, concession stores, and outlet stores.
The Limitations of Claire's Return Policy
Claire's does not accept returns or provide refunds for unsealed cosmetics, pierced earrings, or jewelry sets containing real body jewelry—except if the item is of unsatisfactory quality or unfit for use.
If you purchase an item that is marked Exclusively Online, you can return it only by post.
Claire's does not accept the following list of items for exchange or return in-store:
Real body jewelry
Cosmetics with the seal broken
Blind bags that are opened
Clothing and footwear with tags removed (not eligible for exchange/return in any way)
Claire's gift cards
Want to know how to make the most of your Claire's gift card? Check out our guide!
Start a Successful Return With DoNotPay
Many companies have complex return processes that can easily become overwhelming. If you don't feel like wasting hours of your time initiating a return with Claire's, opt for DoNotPay! To get started:
Log in to your DoNotPay account using any web browser
Navigate to the Return My Purchase product
Answer our chatbot's questions
Submit your return request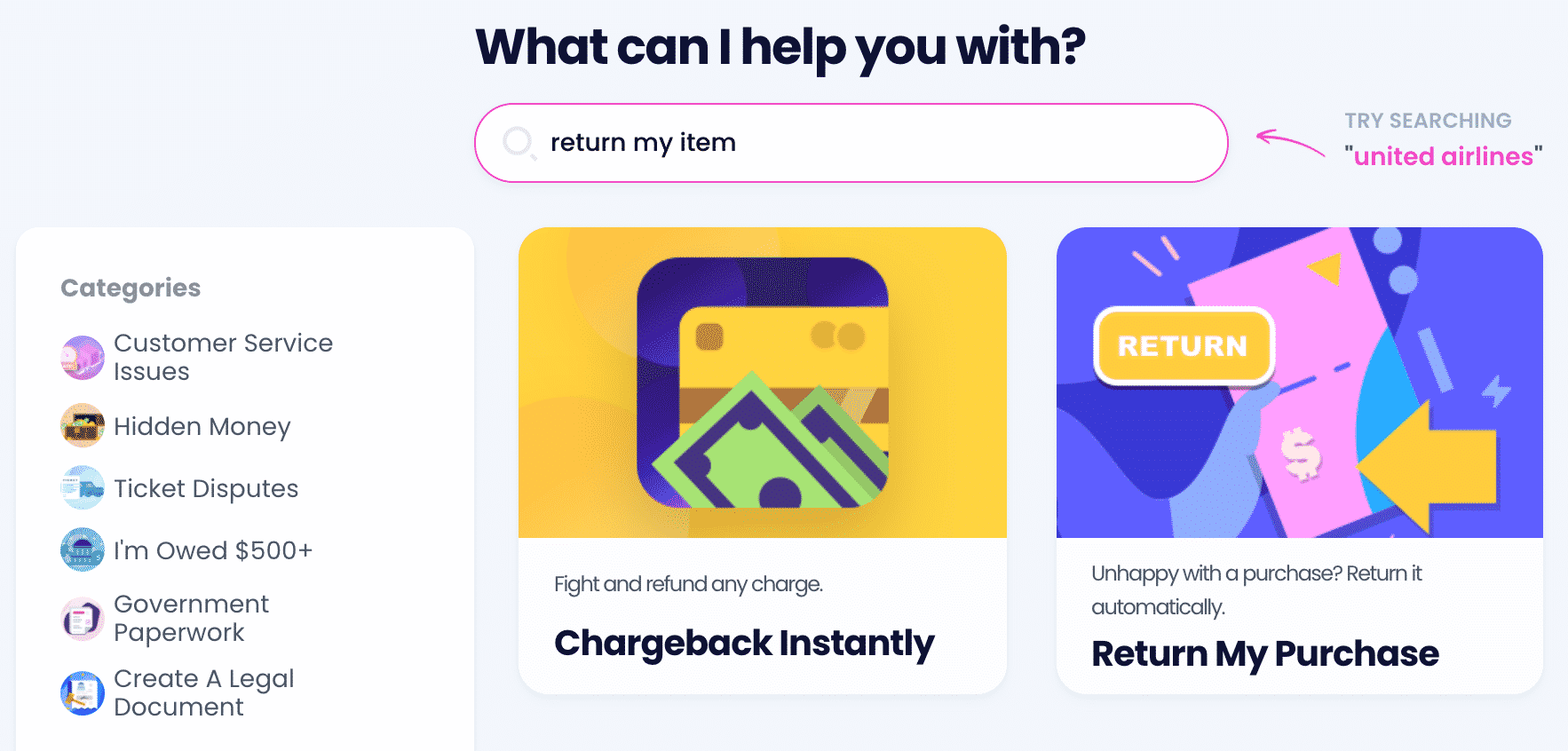 After you complete the steps, DoNotPay will take over. You can expect to hear from the company in no time because we'll set a deadline by which it needs to respond to your request.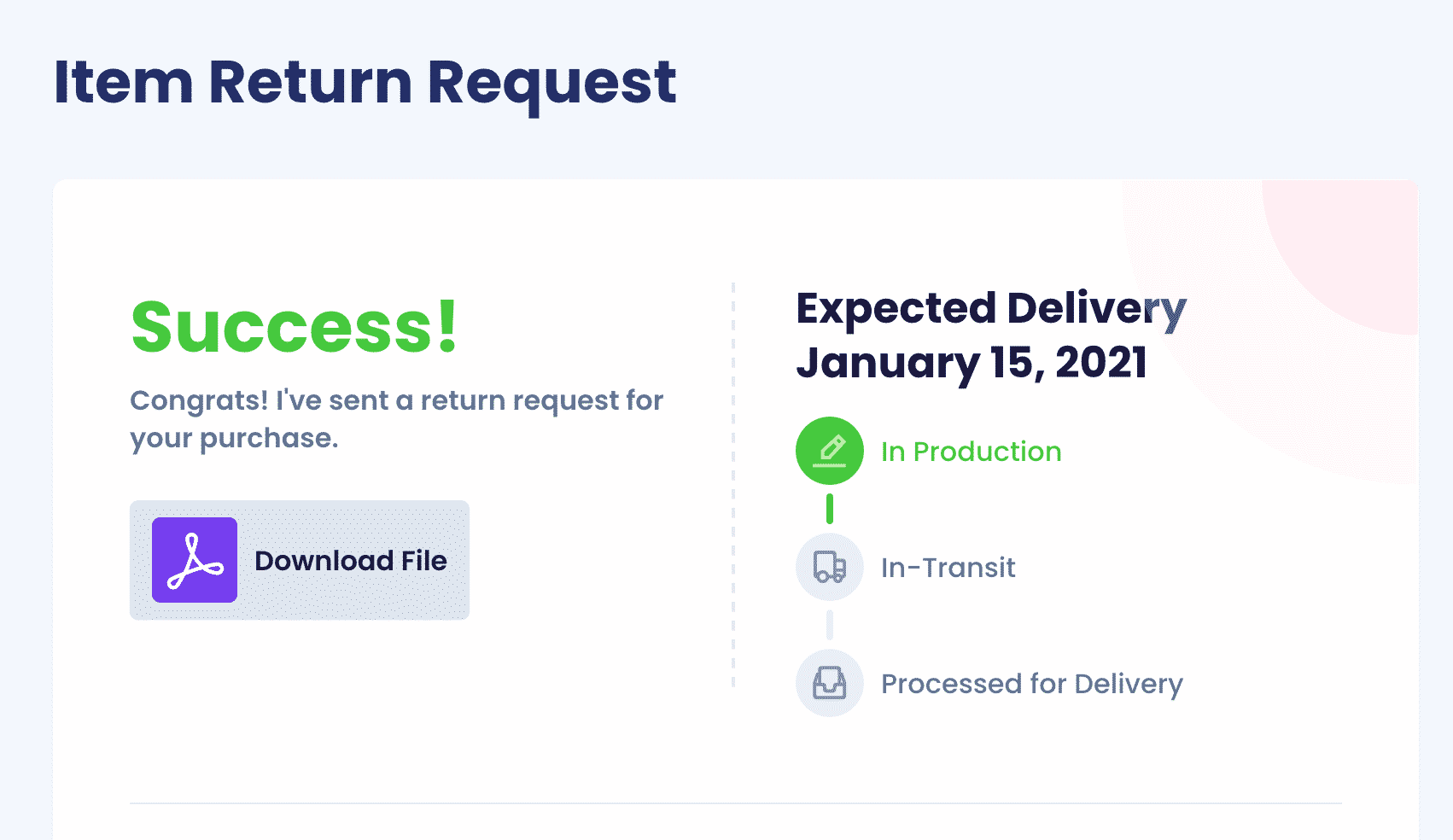 DoNotPay Can Help With Speedy Returns to Many Other Companies
If you want to return an item to a different company, explore our guides below and learn how to initiate your return instantly.
Say No to Bad Purchases—DoNotPay Will Help You Get Back What's Rightfully Yours
Have you finally returned that damaged item thanks to DoNotPay's nifty product? Our app's capabilities don't stop there—we can assist you in doing so much more!
Do you believe you have some missing money? Use the world's first robot lawyer before the government claims your assets! Are you feeling lucky and want to enter sweepstakes without purchasing anything? DoNotPay will sign you up for them automatically! Looking for ways to save on property taxes or utility bills? We'll show you the way. Don't want to get charged for free trials that auto-renew into paid subscriptions? We'll help you cancel them on time.
No matter the issue you're facing, DoNotPay is here to resolve it in a split second.
Need Help With Anything Else? Your Robot Lawyer Will Provide!
Aside from sending return request letters to a myriad of companies in your stead, we can also help you get refunds from airlines, earn off robocalls, appeal parking tickets, protect your intellectual property, claim insurance and warranty, and so much more!
Are you dealing with rude neighbors or mean coworkers that discriminate against you? DoNotPay will help you fight for your rights!