A Quick Rundown on the Bob's Furniture Return Policy
Have you bought a piece of furniture that failed to meet your expectations? No problem! DoNotPay is here to introduce you to the Bob's Furniture return policy with some simple hacks!
DoNotPay can help you make swift returns to many other companies with a few clicks once you sign up.
Key Aspects of the Bob's Furniture Return Policy
If you ordered the wrong product from Bob's Discount Furniture, you can cancel it and get a full refund before the delivery or pick-up date.
You can also cancel an order with standard shipping, like FedEx or UPS, and get a full refund if you cancel before the item is shipped. This also includes orders shipped directly from the factory.
Once you accept your product, Bob's Discount Furniture allows returns in the following cases:
Factory defects—You can return your item within one year from the date of receipt if it has a factory defect
Accessories—You can return accessories within three days from the date of arrival and get a full refund if they are in brand-new condition. Some of the accessories include area rugs, lamps, pillows, pillow protectors, bed protectors, bedsheets, mirrors, drapes and curtains, and decorative accents
Orders with standard shipping—You can return an item shipped via FedEx/UPS or directly from the factory within three days from the date of receipt and get a full refund minus the cost of return shipping
Bob's Store Return Policy for Mattresses
Bob's store return policy for mattresses states the following—if you:
Receive your mattress with factory defects, you can replace the product during the manufacturer's warranty period
Feel uncomfortable sleeping on the mattress or have a bad experience with the material after you have used it for 30 days, you can get in touch with Bob's Discount Furniture via the website or call 860-474-1000
Want to exchange your mattress, you are eligible to reselect it within 90 days of the original receipt date. Bob's Furniture will charge or refund the difference in cost (if any) between the reselected mattress and the original one minus the original shipping fee. You need to pay the shipping cost for the exchange of the products
Bob's Discount Furniture does not facilitate refunds, returns, or exchanges for foundations and adjustable bases.
The company provides refunds either by:
Crediting the amount to your credit card account used for the original transaction or
Sending a refund check from Bob's Furniture Home Office within ten business days if you made the payment by check, traveler's check, money order, or cash
Bob's Furniture only issues checks to individuals listed as the sold-to-party on the original sales order.
If you purchased a mismatched bedding set from the Bob's Discount Furniture online store, you are not eligible for a return, refund, or exchange.
Return a Defective Product Within a Few Minutes With DoNotPay!
Going through the return process is stressful as it wastes a lot of your valuable time, which is why you should opt for DoNotPay. Our app eliminates your return worries and takes you through the entire return process without any hassle—within a few minutes.
All you need to do is:
Sign in to your DoNotPay account using any web browser
Choose the Return My Purchase product
Answer our chatbot's questions
Click on Submit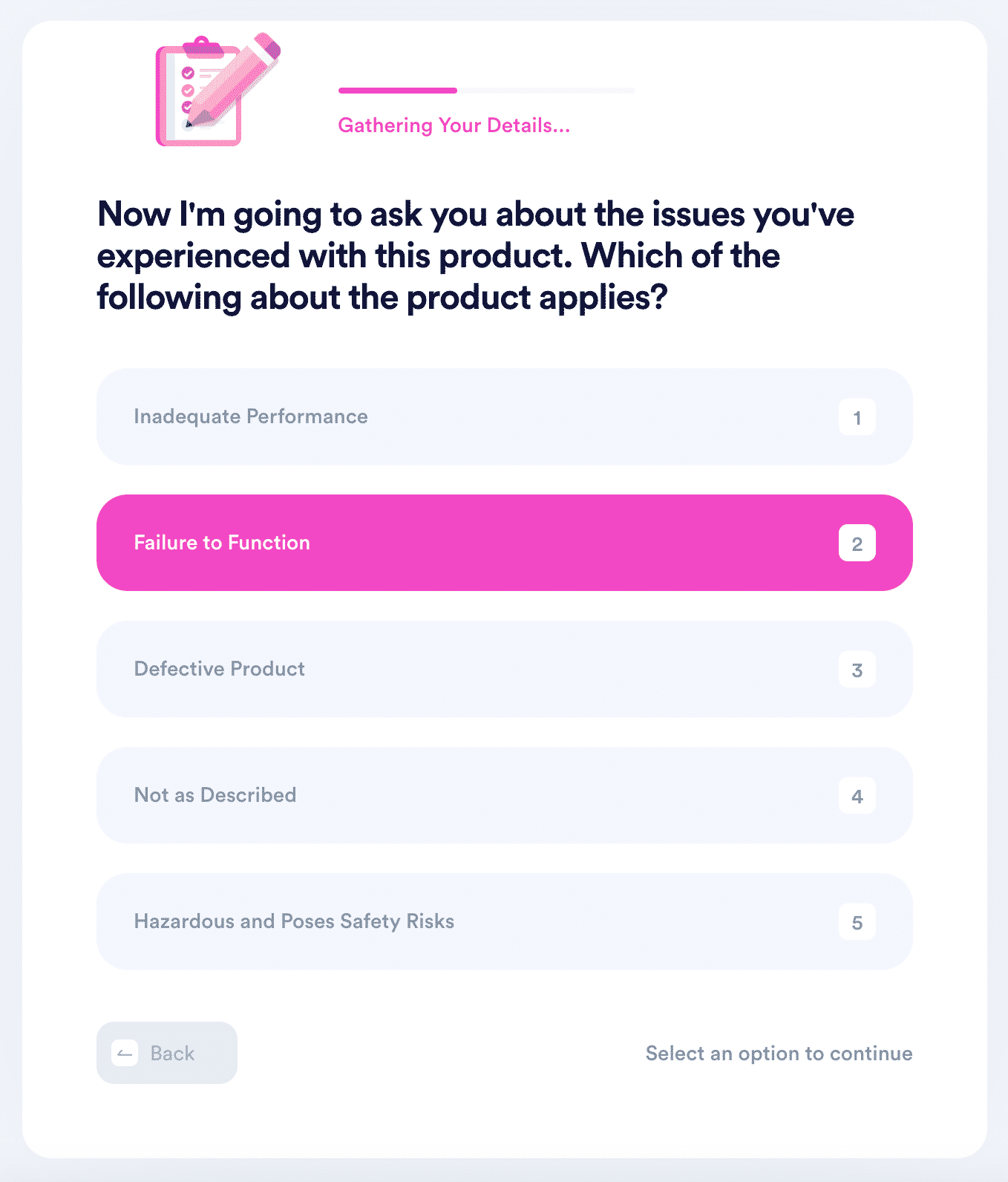 After you are done with the steps, our app will generate a tailor-made return request letter and send it to the company. Our app will also add a deadline so that your request is processed promptly by the seller.
The letter will stipulate the reason for the return and explain whether you want a refund or a replacement. DoNotPay will also provide you with a return label so that you can ship the product free of charge.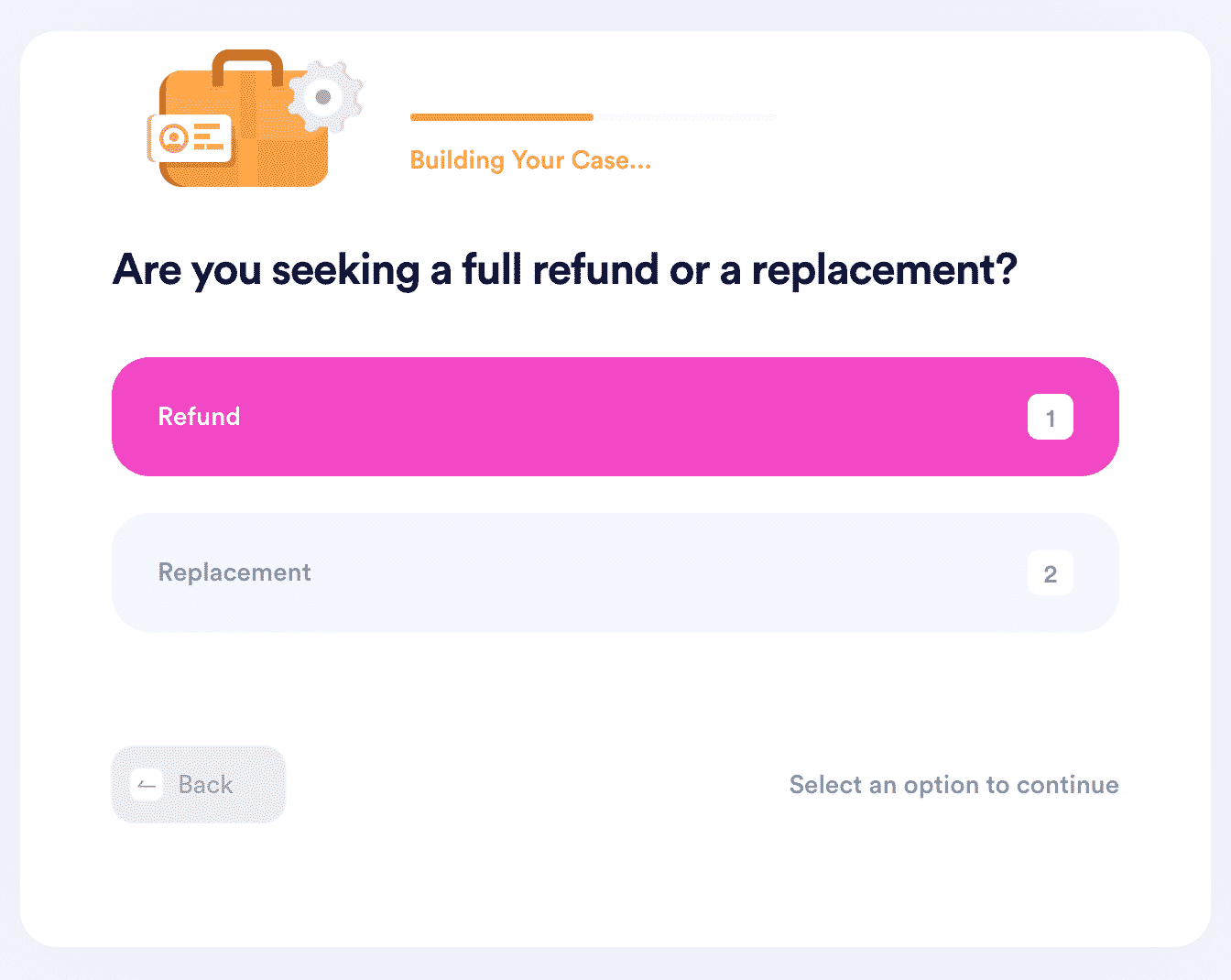 DoNotPay Can Assist You in Returning Products to Many Other Companies
There's more we can do for you! If you are disappointed with a purchase from any other company, look it up in our learning center or the table below and learn how to send it back in no time.
Is the Situation With the Merchant Getting Messy? Take Them to Small Claims Court!
If you feel like the merchant has wronged you, our AI-driven app recognized by the ABA Brown Award will help you sue them in small claims court! You don't need to worry about filling out lengthy court forms or collecting evidence for your case—we'll step in and do it for you!
You can use DoNotPay to generate any legal document you may need for the lawsuit, add legal weight to it through online notarization, and fax it to the court—all in a matter of mere minutes.
Facing any other legal issues? Check out how our app can assist you in:
We Can Help in Many Other Ways!
No matter what kind of assistance you need DoNotPay to provide, you can rely on it to solve any admin or legal issues you may have.
You can use our app to jump the phone queue when contacting any support team, skip the line at the DMV, get cash back on gift cards, create a valid passport photo, appeal any banned account, file an insurance or warranty claim, and get in touch with a loved one in prison in a snap.