The Stress-Free Way of Returning Big 5 Items—Big 5 Return Policy Made Simple
Are you unhappy with the merchandise you bought at Big 5? You don't have to be stuck with it. This simplified guide will answer any questions you have about the Big 5 return policy to help you get a refund or exchange from this popular sporting retailer.
You can also save time and spare yourself the headache of understanding the complicated details by to initiate the return process.
An Overview of the Big 5 Return Policy
Big 5 accepts returns of eligible items within 90 days of purchase. You can return items purchased both online and in store at any of their local shops with the original receipt within that time frame. If you place an order online, you can also return the merchandise by mail.
The Big 5 return policy has clear requirements for handling returns. The policy determines whether you get a refund, an exchange, or store credit. See the table below for details:
Requirements
What You Can Get

Receipt
Product in its original state
Photo ID

Refund or exchange
Store credit

Online purchase
Original packaging slip

Refund or exchange
Returns involving:

Vouchers
Store credit
Ticket to Shop eCards
Gift receipt

Store credit
Returning Store-Bought Products
If you bought your item in a Big 5 store, you can return it to any Big 5 location. According to the official Big 5 return policy, the outcome will be different based on whether you have the original receipt or not.
Return Big 5 Products With a Receipt
You can visit any Big 5 store near you and approach the first available salesperson. Bring a photo ID and the original receipt as evidence. If the product qualifies for a refund, it will be issued to the same payment method used for the purchase. If you purchased the item using a credit card, you will need to present the card when returning the item.
For any help in locating the nearest store, use the company's Store Locator page.
Return Big 5 Products Without a Receipt
If you cannot locate the original receipt, you can still return the item—all returns lacking the receipt qualify only for non-transferable store credit.
You will also need to visit a Big 5 store and bring a photo ID and the item in question.
Returning Big 5 Products Bought Online
You can return items purchased online to any physical store or through the mail.
In-Person Returns
The company allows you to return items purchased online to any of their local stores. To get a full refund, visit the local store and talk to a staff member. You should carry the following:
Original packing slip
Items in their original state
The credit card you used
Your ID
You will receive the refund to the same method of payment you used at the moment of purchase. Payments via Paypal or Visa Checkout are reimbursed in cash in this case. Keep in mind that the shipping costs you incurred for package delivery are non-refundable.
Mail Returns
If you prefer to return your online order by mail, follow these steps:
Reach out to the Big 5 customer service at 800-898-2994 and request Return Merchandise Authorization (RMA). You should do this before shipping your items back
Pack the item and anything that came with it in the original packaging. You can use any other packaging if you cannot locate the original box
Print the return shipping label that you will receive in an email and stick it to the return package, then drop the parcel at a UPS pickup location. Remember to remove any other labels from the return package. The return shipping costs and other fees will be subtracted from the return credit
You can track your return shipment using the carrier's tracking number. Big 5 takes no responsibility for items until they receive them from the carrier.
Big 5 Return Policy Exceptions
Some items cannot be returned under the Big 5 return policy, and some are subject only to the respective manufacturer's warranty.
Non-Returnable Items
Big 5 doesn't allow returns of the following:
Firearms—any requests should be directly addressed to the manufacturer as per the terms and conditions of the warranty
Firearm ammunition
Purchases not in the original state
Used underwear and swimwear
Items for which a third-party provider does not approve returns, like licenses or tickets
Returning Bats Purchased at Big 5
All bats purchased from Big 5 are subject to the manufacturer's warranty in case of any claims. To initiate the return process, you will need to prepare your original receipt and directly contact the manufacturer for more information about your item returns.
All bats, regardless of the manufacturer, should be returned within one year from the purchase date, with the exception of Pinnacle Sports Bamboo bats, which have a 30-day warranty.
Return Big 5 Items the Easy Way—With DoNotPay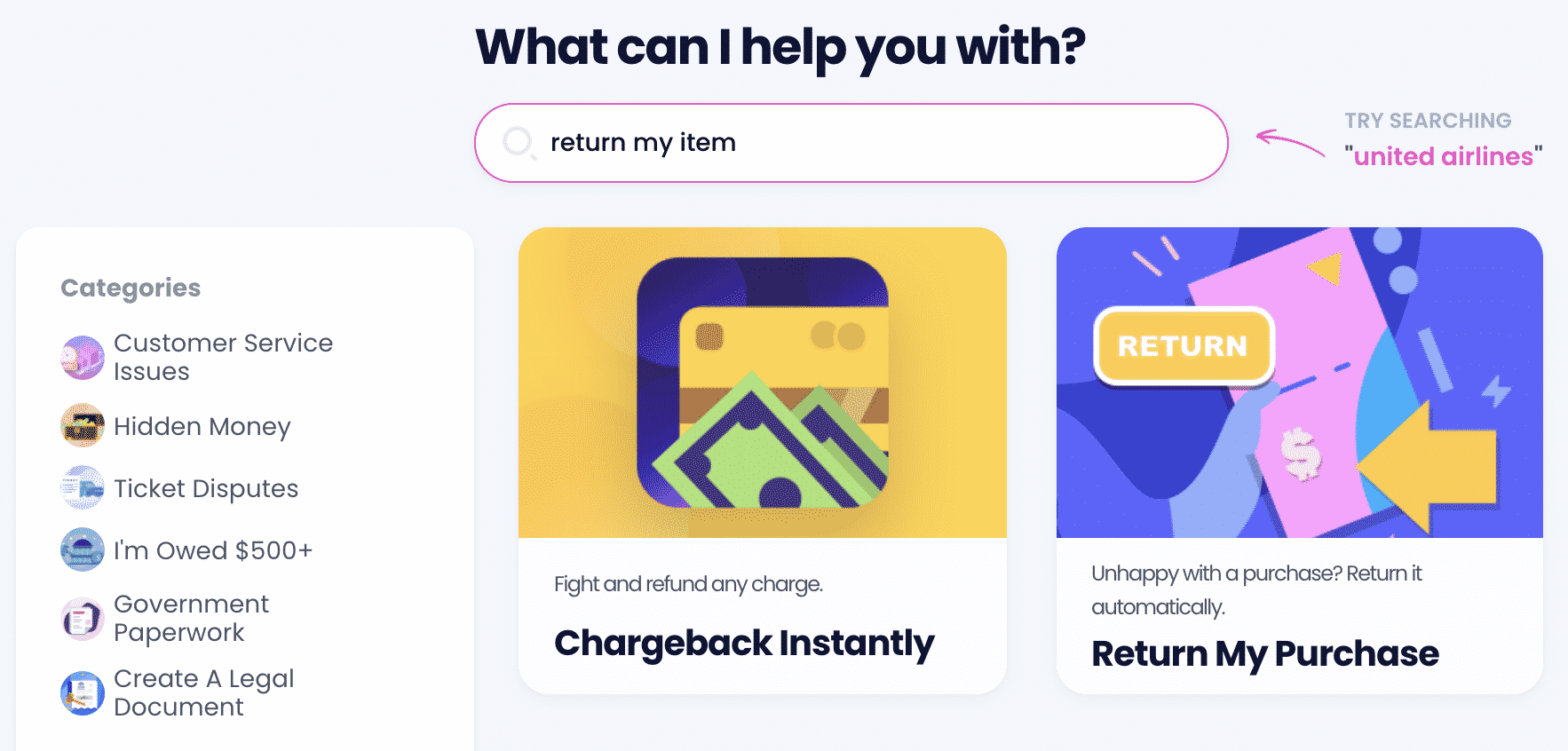 Returns can be frustrating because most return policies have complicated or unclear terms. Save time and effort by leaving the trouble of understanding the Big 5 return policy to DoNotPay. We will help you smooth out the process by generating and sending a return request letter that can:
State the reasons for return
Inform the company of your preferred resolution (refund or replacement/exchange)
Set a deadline for processing your return
The return request letter will be useful if any disputes arise in the future. DoNotPay will also provide a free return label so you won't have to pay the shipping fees.
To use our platform for your Big 5 returns:
Choose the Item Return Request feature
Enter the required information about your purchase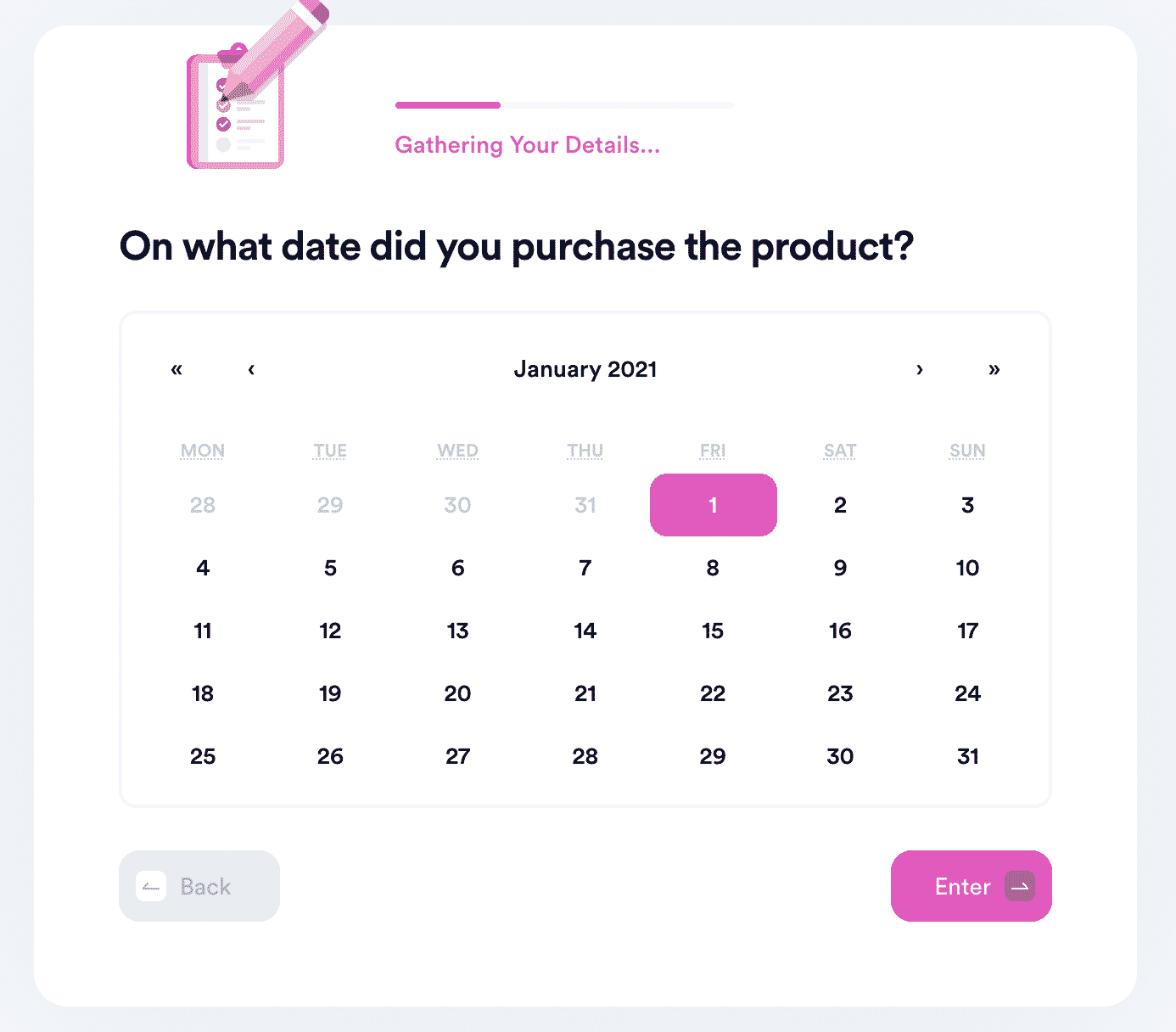 If you need to return items to other companies, don't sweat it. DoNotPay is here to help you. Check out our detailed guides for companies like:
Don't Tolerate Corporate Attitudes—Request What's Rightfully Yours
DoNotPay is known for being the champion of customer advocacy because we help our users claim what's rightfully theirs, and we don't tolerate big corporations taking people's hard-earned money.
No matter if you want to request a refund, insurance, extended warranty, or compensation from airlines, our AI-powered lawyer will fight for your right.
If you feel like you're overpaying certain subscription services, we can help you cancel them. Also, if you want to test a subscription before you start paying money for it, don't connect your credit card to the free trial page! You can sign up for free trials using our virtual credit card. That way, companies won't be able to charge you auto-renewal fees because the card has no funds.
Wait! DoNotPay Can Help You in Many Other Ways
DoNotPay has many different areas of expertise—helping you return your faulty items is only one of them.
Check out how our app can assist you in: