All You Need to Know About the Bankmobile Vibe Virtual Card

Whether you're shopping online, ordering a meal, or signing up for a free subscription, you shouldn't have to worry about future unauthorized charges, but it happens when a merchant has access to your real credit card information. You need a way to put in a credit card without fearing hidden fees and fraudulent charges appearing thereafter.
If you've heard about the Bankmobile Vibe virtual card, you're already learning more about ways to shop with peace of mind. However, before you commit to a Bankmobile Vibe virtual card, you need to know more. You might be having a hard time learning more on your own. DoNotPay has its virtual card, and it also offers you more information on the Bankmobile Vibe virtual credit card.
What Is a Virtual Credit Card? 
Along with being 16 numbers, an expiration date, and a security code, a virtual credit card is the best way of protecting your credit card numbers from merchants and anyone else who might want to make fraudulent charges. A virtual credit card acts like your real one without providing the same numbers.
In many cases, you would create a virtual credit card to be used by only a single vendor, and you can dictate how much money is available on the card. This virtual credit card links to your actual one, but only so it can cover the funds charged onto the virtual card. You can also limit the amount of money available to be charged.
How Does a Virtual Credit Card Work? 
A virtual credit card works by presenting a vendor with the credit card information that they need to process a sale and the funds to back it up. However, you might have put a limit on how much a vendor can charge to the virtual credit card, and it won't authorize an amount above that.
The virtual credit card might also require you to limit it to use at only a single business or company. This ensures that no one else can use the available funds or make charges ahead of the real vendor. A virtual credit card works by protecting your actual personal information.
Drawbacks of Using a Virtual Card
As with anything, there are drawbacks to using a virtual credit card, although they're limited and only affect the way you use the virtual card in certain instances. There are two drawbacks that you need to give careful consideration to, such as
Do you plan to use your virtual credit card to withdraw cash or send it through some type of platform? If so, you may find that there's a stiff fee charged when you make a cash withdrawal or send it to someone else.
Depending on the virtual credit card app that you use, you might find that you can't use it at all the places you shop. This is especially true of the ones you use on your phone to shop in person.
Benefits of Virtual Credit Cards
The benefits of a virtual credit card will make you a believer. Some benefits might be more important to you than others, but here's a look at the four best benefits
Your actual credit card information remains hidden, which offers your finances additional protection at all times.
If you want to sign up for a free trial, you can do it without the need to worry about the cancellation date. The virtual card can be set for verification only of the free trial.
Are you often scrambling to find your credit card when making an in-store purchase? A virtual credit card created through a phone app is always a click away.
No one ever sees your actual credit card number, so you don't need to worry about anyone cloning it or stealing it.
Are Bankmobile Vibe Virtual Credit Cards Free?
While it's free to generate and use a Bankmobile Vibe virtual card, you'll need to have a checking account with them. There is are three Vibe checking accounts to choose from
Checking Account
Monthly Service Fee
Per Purchase
ATM Withdrawal
Cash Reload
Overdraft
Vibe Checking Account
$2.99
$0
$0 (in Network

$3.00 (out of network)

$4.95 or less
$0
Vibe Interest Bearing Checking Account
$2.99
$0
$0 (in Network

$3.00 (out of network)

$4.95 or less
$0
Vibe UP Checking Account
$0
$0
$0 (in Network

$3.00 (out of network)

$4.95 or less
What Is the DoNotPay Free Trial Card?

The DoNotPay free trial card is essentially a virtual credit card that you can use to make purchases online or use to complete the registration for a free trial. It's also free to use anytime.
Where Can You Use DoNotPay's Free Trial Card?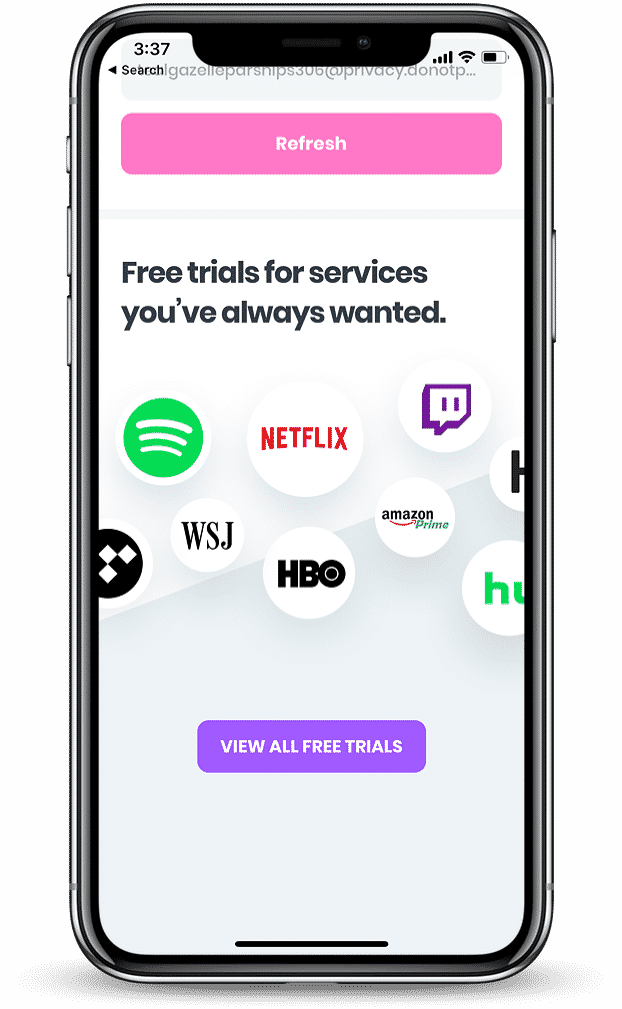 You deserve to be able to shop online and sign up for free trials without the need to worry about unauthorized charges appearing on your credit or debit card, and DoNotPay's free trial card accomplishes that. You can create and use a DoNotPay virtual credit card at almost any place that accepts credit cards whether you're ordering dinner or considering a new streaming service. DoNotPay works with these merchants and more
Jira
Doordash
Postmates
ESPN Go
PlayStation Vue
What Else Can DoNotPay Do?
Now that you've learned more about the DoNotPay free trial card and the Bankmobile Vibe virtual card, you're ready to explore your other options with the DoNotPay app. DoNotPay can help you in almost all aspects of your life. Here are a few to help you learn more about the app:
Generate your virtual credit card and protect your credit card info with DoNotPay today!