How to Apply for Paid Sick Leave in Austin
While it sounds simple enough, calling in sick when you're feeling ill and experiencing symptoms of a disease is often an awkward and demanding process. If your state doesn't mandate employers to offer paid sick leave, does that leave you with only two options—take unpaid time off or work sick?
Each state has different sick leave regulations, but that doesn't mean counties and cities can't enact their own laws. Do companies in the capital of Texas offer paid sick days to their employees? We'll tell you all you need to know about the Austin paid sick leave ordinance.
DoNotPay can also help you create a rock-solid sick leave request letter in a few minutes if you .
Austin Paid Sick Leave Ordinance
Austin is one of the three Texas cities that attempted to adopt a paid sick leave ordinance that was supposed to regulate paid sick leave policy. This would mandate companies to allow their employees to accrue 64 hours of paid sick leave per year.
The ordinance never went into effect because it was deemed unconstitutional as it conflicted with the Texas Minimum Wage Act.
The Austin city council passed this ordinance in February 2018, but the Texas Supreme Court declined to hear the case in June 2020.
The other two cities that tried to adopt this ordinance are:
Can You Get Paid Sick Leave in Austin?
Not having state-level law that mandates it doesn't mean you can get paid time off. You can request paid sick leave if:
The company's policy grants it
You meet the Emergency Paid Sick Leave Act (EPSLA) criteria
Check your employer's policy and rules to see whether you can get paid sick leave.
Can the Family and Medical Leave Act Help?
The Family and Medical Leave Act (FMLA) is a federal law that covers sick leave for both public and private employees. With this law, employees can get up to 12 weeks of sick leave within a 12-month period. Unfortunately, the FMLA provides unpaid leave only.
The following table contains FMLA eligibility criteria for both employers and employees:
Eligibility Criteria for Employees
Eligibility Criteria for Employers
You are eligible for FMLA if you have:

Worked for at least 1,250 hours over the previous 12 months
Worked with your employer for at least a year

The company must have at least 50 employees within 75 miles of the office location
How To Inform Your Employer That You're Sick
You can use the following methods to call in sick:
Call them over the phone
Use DoNotPay to create a professional sick leave letter
Keep in mind that, in most cases, your employer needs to find someone else to cover your work while you're on sick leave, so be sure to notify them in time that you're feeling unwell.
Request Sick Leave in Minutes With DoNotPay's Help
If you're unsure how to tell your employer that you're sick and need time off, don't fret—DoNotPay can create a formal sick leave request letter in a matter of minutes.
We will use the information you provide and check whether there's a law in your state that applies to your case. If so, we'll ensure the letter complies with it entirely.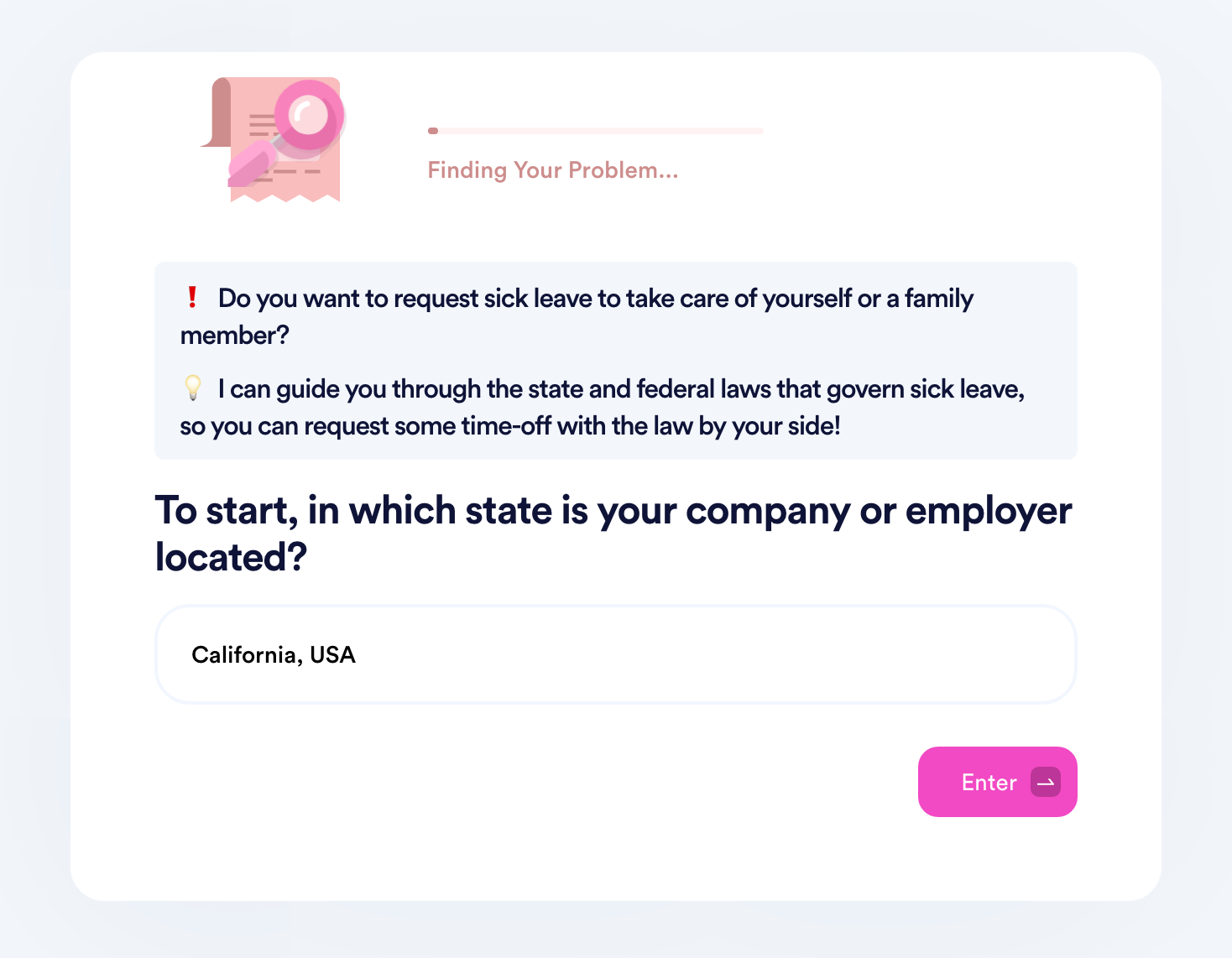 All you need to do is and follow the instructions below:
Locate the Request Sick Leave feature
Enter the state where your company is located (so we can find the relevant sick leave laws if there are any)
Answer a few questions about your company
Select the dates when you'll be absent
Tell us if you want DoNotPay to send your request to your employer
If you get fired for taking sick days off, you can sue your employer in small claims court with DoNotPay's help.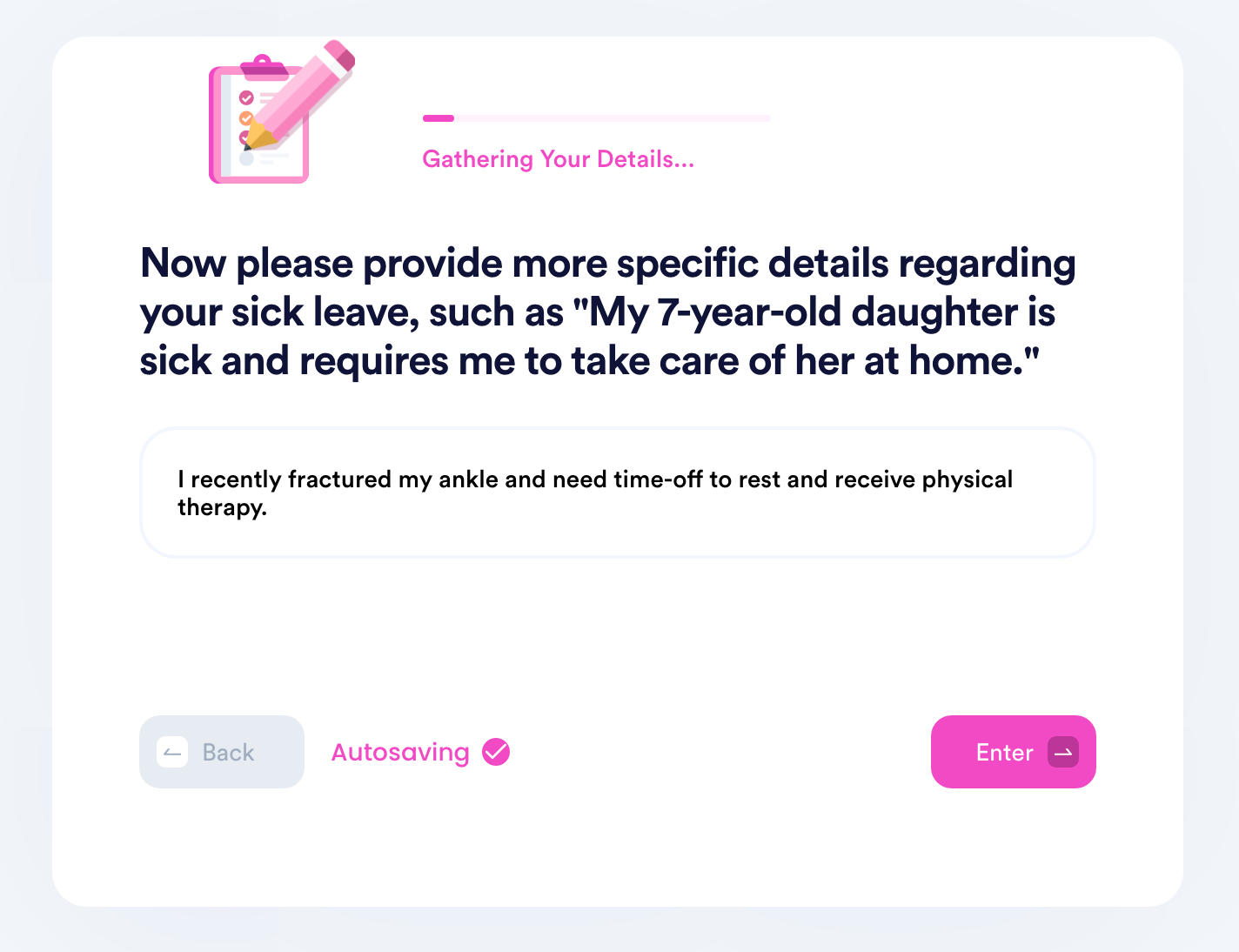 DoNotPay Handles Lengthy and Challenging Tasks on Your Behalf
No time to dedicate yourself to drawn-out procedures or solve administrative issues yourself? Keep calm—that's why DoNotPay is here! By creating an account on our platform, you will be able to:
Convert various files into different formats
Keep the Cash in Your Pockets With Our App
DoNotPay doesn't bring you money-saving hacks—it actually assists you in cutting out expenses and living more economically. The tools we provide are made to help you pay less for utilities, end unwanted paid memberships, have college fees waived, or get lower tax bills. You can also save more on education-related costs by applying for scholarships and other financial aid via our app!
If you have a few forgotten gift cards lying around, don't let them go to waste. DoNotPay can cash them out and send the remaining funds to your home address!