Solve Your Air France Missing Baggage Issue Effortlessly With DoNotPay
Losing baggage after a flight is not only anxiety-inducing but can also ruin your trip. If this happens to you while flying with Air France, then it's important for you to know how to handle it.
In this article, we'll take a look at the Air France missing baggage policy and teach you .
How To Report Lost Luggage to Air France
If you can't find your luggage in the baggage claim area, it's most likely delayed and not lost. Regardless, you can take the following measures to monitor the progress and get your luggage as soon as possible:
Declare lost luggage
Track your file's number
Receive your baggage or claim a compensation
Declare Lost Luggage
There are two ways to declare lost luggage. You can report the problem online or in person, as follows:
Online—If you discover that your baggage is still missing 48 hours after arrival, you can report your lost luggage online. You will need to include the baggage receipt number. By the end of the declaration process, you should receive a file number to track your item's investigation
In person—You can head over to the Air France KLM Baggage Service directly if you're within the airport's premises. You will also receive a tracking number to monitor the progress of your case
Track Your File Number
To track the progress of your lost baggage claim in real-time, enter your name and your file number in the online baggage search tool.
Receive Your Lost Luggage or Claim a Compensation
Delayed baggage typically turns up within 72 hours of arrival. The Air France representative will notify you to arrange a convenient time for delivery.
If the airline can't locate your luggage after 72 hours have passed, you can fill out the inventory and claim form on the baggage search tool website. Make sure to describe your missing baggage as accurately as possible and specify the value of each item.
Your luggage will be declared missing if not found within 21 days of your flight. Air France will initiate a compensation claim based on the item values you specified. You will be required to provide receipts or proof of purchase to claim reimbursement.
Based on the Montreal Convention, the maximum compensation amount is €1,607 (around $1,853).
How To Contact Air France Representatives
You can direct any inquiries to either the baggage service or the customer support depending on how many days have passed since you submitted a declaration form:
Within Five Days
After Five Days

If you have any questions within five days of submitting the declaration form, speak with the Air France baggage service at your arrival airport
The U.S. baggage service can be contacted seven days a week from 8 a.m. to 11 p.m. by dialing 1 800 2372 747

You can reach out to the sales representatives in your country of arrival or the customer service in your country of residence
Boost the Speed of Your Lost Baggage Search With DoNotPay!
Whether you lost a phone, wallet, suitcase, or any other item, filing a lost item report is never enjoyable, especially if the process is time-consuming (as it usually is). If you would like to skip the hassle, DoNotPay has got you covered. You can use our nifty tool to report your lost luggage in a few clicks, and here's how:
Navigate to the Find Lost Airport Items feature
Tell us the airport or airline name and provide the description of the item, date of the incident, and other relevant information
Within minutes, DoNotPay will contact the airline or airport in question to help you get your missing items back swiftly.
Our app can also help you file a compensation claim for delayed and canceled flights or poor WiFi service in no time!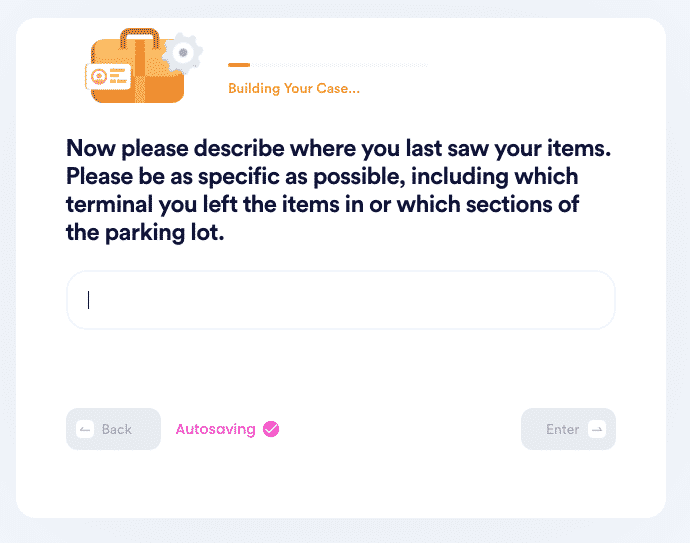 What About Other Perks Our App Offers?
DoNotPay offers valuable assistance with the following tasks:
DoNotPay Cares About Health Matters
Finding suitable and verified clinical trials you can participate in is often complicated and time-consuming. Still, with DoNotPay, it becomes a breeze! Our platform allows you to search through clinical trial databases and apply for the ones that seem acceptable to you.
If you want to make sure your health wishes are honored if you get too sick, we help you compose an advance health care directive based on your preferences. That's not all—you can also name a person who can decide on your finances and estate if you get incapacitated by creating a power of attorney in our app!