Fight Back Against Air Duct Cleaning Robocalls
Air duct cleaning robocalls are one of those scams that are extremely difficult to figure out. While government-related robocall scams, like the Government Grants scam and the Social Security Administration scam, come with certain red flags that are indicative of fraud, air duct cleaning robocalls often sound legitimate. 
What Do Air Duct Cleaning Service Robocalls Sound Like
Although air duct cleaning robocalls come in various shapes and forms, most of the time, they use discounts, coupons, and other benefits to lure their victims in. Here is a transcript of an air duct scam provided by Nomorobo:
"Hi, this is James from your local air duct cleaning company. If you are the type of person who cares for your and your family's safety and health, then I got an amazing offer for you. For 59 dollars, our highly trained technicians will professionally clean your air duct system to improve your air quality, and will also inspect your dryer vent and furnace to make sure they function efficiently. To take advantage of this one time offer, just press the arrow now and stay on the line. To be removed from this list, please, press 9."
Telltale Signs of Air Duct Cleaning Scams
Air duct robocall scammers often use number spoofing technology to make their frauds more believable. For example, you can receive a call from "United Air Duct Cleaning," offering you their discounted services. Because you know that United is a reputable and reliable company, you do not question the legitimacy of their call.
Scam calls across the country frequently make rounds under the guise of United air duct robocalls!
Here are a few telltale signs that can help you discern whether you are dealing with a scam or not:
Abnormally low prices

Low-quality service

Coupons and discounts
The Lower the Price the Greater the Risk
If an air duct cleaning company offers you their services for a fraction of the standard price, you should consider hanging up the phone immediately. 
Cleaning air ducts requires the use of advanced technology and the extensive knowledge of a technician. If the regular price on the market is $500 and someone offers you to do the same service for $150, chances are you are dealing with a scam. 
Low-Quality Service Is Not Difficult to Recognize
Air duct cleaning is a time-consuming job. Most professional technicians need upwards of two or three hours to get the job done.
Fraudsters will usually appear at your door with nothing more than a vacuum cleaner, and they will take an hour or less to clean your vents. 
Great Deals Are a Common Bait
Large discounts and coupons are the most common baits used by fraudsters. 
If you fall for their "great deals," they will appear at your doorstep, do minimal work, and provide you with a coupon for additional cleaning and repair services. 
Scammers will also tell you that your air duct system is in bad shape and that they should change it for you. It is not uncommon for fraudsters to purposely damage your air ducts just so that they can charge you with additional service fees!
Are Air Duct Cleaning Robocalls Legal?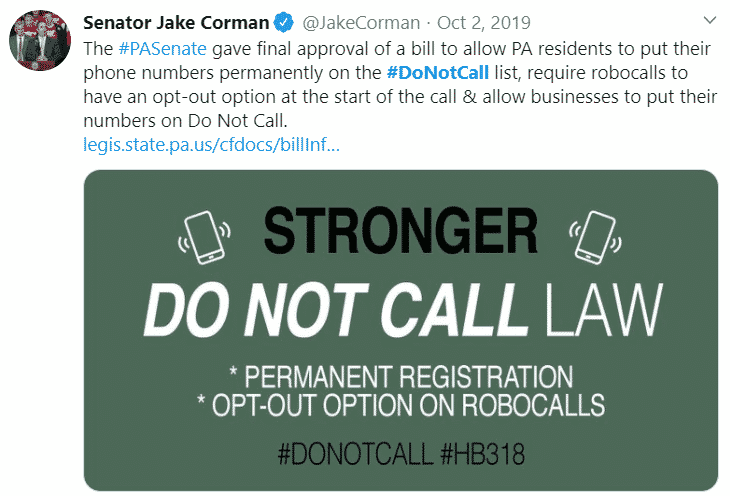 Thanks to the Telephone Consumer Protection Act (TCPA), the Federal Trading Commission (FTC) and the Federal Communications Commission (FCC), air duct cleaning companies and other businesses are legally obliged to abide by the following rules to place a legal robocall:
Automated calls have to be placed between 8 a.m. and 9 p.m. 

Numbers found on the national

Do Not Call list

cannot be dialed without permission

Callers have to identify themselves properly

Companies have to provide their customers with an option to opt-out of the company's calls
The Do Not Call List Exists for a Reason
People whose numbers are on the Do Not Call list can only be robocalled by companies who have their written permission to do so. 
To place your number on the FTC's Do Not Call list and report an unwanted call, you have to:
Open the

FTC's Do Not Call website

Select Report Unwanted Calls

Provide information about the unwanted call you received 

Submit your request 
For more details about the Do Not Call list exceptions and Do Not Call list expiration, check out our in-depth guides. 
Additionally, if you are unsure how to check if a number is on the Do Not Call list, feel free to read through our instructions article!
Proper Identification Is Obligatory
Telemarketers are legally obliged to identify themselves properly when placing an automated call. At the beginning of the call, the telemarketer has to:
Reveal his or her identity

Reveal the identity of the company on whose behalf the call is being placed
Before the conversation ends, customers have to be left with:
The company's phone number

The company's address
Customers Must Be Given an Option to Opt-Out
All automated calls, such as air duct cleaning robocalls, have to allow the customer to pull out of the company's marketing calls. 
When pre-recorded messages are being placed, they have to enable the customer to press a certain number and drop out of these spam calls

Voice mails have to contain a toll-free, callback number that customers can dial and place their numbers on the company's do not call list
How Do Robocall Scams Work?

Robocall scams are not that difficult to set up. Especially nowadays, when advanced autodialing technology allows fraudsters to dial up to one million numbers in a single hour! 
For a robocall hoax to turn out successful, the scammer needs to:
Purchase leads

Get into America's phone network

Start autodialing

Manage a phone bank

Convert the income
Getting a Ton of Leads
Scammers, just like telemarketers, purchase leads lists from companies that are in the business of selling personal information. For just a few thousands of dollars, they can buy millions of phone numbers! 
Sneaky Phone Providers
To get into America's phone network, fraudsters make deals with small phone providers that are more than willing to let them in for the right price. Because small phone carriers are not under close inspection of the government, scammers are able to get their much-needed phone services without hassle. 
Keep on Autodialing
Only a small percentage of people who receive scam calls actually fall for them. To ensure the best possible conversion rate, scammers need to autodial millions of numbers each day!
Phone Banks Make the Magic Happen
Voicemails and pre-recorded messages are there to lure you in. If you end up giving the scammer a callback, a real person will pick up the call and try to extort money or personal information from you. 
Covering Up the Cash Flow
To prevent the government from tracking them down, fraudsters need to convert their income into other forms of money quickly. More often than not, they use gift cards for these purposes. 
Common Robocall Scams to Watch Out For
When reading the FCC guide to robocalls, it becomes clear that not all robocall scams are equally common and dangerous. Many government-related scams have been rebooted a number of times over the years, while others had come and gone before you knew it. Among the most common robocall scams in America are:
Robocall Scam

Red Flags

Government Grants scam

While the Government Grants scam has seen many incarnations over the past few years, the fraudsters' narratives have remained the same. Victims are called by an alleged government official claiming that they have become eligible for free government money. The only thing the victims are required to do is pay a one-time processing fee for the money to get transferred to their accounts.

This processing fee is a telltale sign that you are dealing with a scam. Government grant beneficiaries are never asked to pay anything!

IRS scam

The IRS scam

is probably the most believable and dangerous robocall scam out there. Victims receive a call from a supposed IRS inspector telling them that they have an unpaid tax bill—the scammer even threatens to issue an arrest warrant if victims refuse to pay.

The government does not communicate with its taxpayers over the phone! If you had an overdue bill, the IRS would send you a notice via the U.S. Mail and allow you to appeal the owed amount. 

Social Security Administration scam

The Social Security Administration scam

functions similarly to the IRS scam. Fraudsters call their victims regarding an overdue tax bill, but this time, instead of threatening with an arrest warrant, they threaten to wipe out the victim's Social Security number.

Once again, the government would never threaten its taxpayers with arrest warrants or SSN deletion. 
Tracking Down Air Duct Cleaning Robocallers With DoNotPay's Robo Revenge

While blocking a scam number might seem like a decent solution, here at DoNotPay, we believe that something more needs to be done to stop robocalls from causing harm to American people. 
Our app's newest feature, called Robo Revenge, allows you to track down air duct cleaning robocallers and sue them for up to $3,000 in court settlements! 
Making fraudsters pay for their misconduct is a safe path to a robocall-free future! 
To start using our Robo Revenge feature, open DoNotPay through a web browser. 
Here is how Robo Revenge helps you deal with dangerous robocallers:
You receive a robocall

The fraudster tries to steal your personal information or money

You open DoNotPay and select Robo Revenge

We provide you with a

free virtual credit card

You share the

virtual credit card

details with the scammer

We track them down based on the transaction details

We help you write a dispute letter and file a

robocall lawsuit

against them
Virtual Credit Cards Are the Difference Maker
We have been wondering how to stop robocalls for a good while until it dawned on us that virtual credit cards are the key.
VCCs are important when fighting back against robocalls because they:
Allow us to keep your identity and personal information hidden

Allow us to track down scammers when they try to charge your virtual account
For now, we are only able to help you sue U.S.-based scammers. To report a robocall, we need to provide the fraudster's address, and that information is impossible to acquire with international scam callers.  
Best Robocall Blocking Apps to Date
Robocalls can be extremely annoying. To lessen the impact they have on your life, it would be smart to download and install a robocall blocker. While phone carriers such as AT&T and T-Mobile offer robocall blocking services to their customers, you would be better off settling for a third-party app such as:
Robocall Blocker

Service Summary

Free basic service

$2.99 per month or $26.99 per year for Truecaller Premium

$249 per year for Truecaller Premium Gold

Easy-to-use number lookup feature

Accurate caller ID authentication

Caller's location detection

Free basic service

$5.99 per month for YouMail Plus

$10.99 per month for YouMail Professional

Impeccable voicemail accessibility

Great for businesses

Free for VoIP landlines

Free14-day trial period

$1.99 per month

Extensive database of verified scam numbers

Personal whitelist feature

Free for basic service

$2.99 per month

$14.99 per year for Hiya Premium

Ad-free basic version

User-friendly interface

Up-to-date database of scam numbers

$2.99 per month or $24.99 per year for Android devices

$3.99 per month or $29.99 per year for iOS devices

Free one-week trial period

Answer Bot service

Text spam filtering 

Personal block and allow list
Combat Air Duct Cleaning Service Robocalls With Your Smartphone
While DoNotPay's way is by far the most efficient way of dealing with robocall scams, modern smartphones can also lend you a hand with warding off these pesky annoyances. 
All smartphones of the newer generation come equipped with number blocking services. 
Note, however, that blocking a robocaller's number is a viable solution only when you are dealing with telemarketers or other legal businesses. 
Scam robocallers change their numbers all the time, meaning that you would be blocking them to no avail. 
Blocking Air Duct Robocalls on Android Smartphones
Android smartphones offer their users the option to either block a specific number or all unidentified numbers. To do the former, you have to:
Open the Phone app

Select Recent Calls

Tap the number and select Block or Report as spam

Confirm that you want to block the number
To block all unidentified numbers on an Android smartphone, you need to:
Open the Phone app

Select Settings

Toggle the Block Unidentified Numbers switch on
Blocking Air Duct Robocalls on iOS Smartphones
If you are using an iPhone of the older generation (iOS 13 or lower), you only have the option to block a specific number. In addition to this feature, newer iPhones allow you to silence all unknown callers as well. 
To block a number on an iPhone, you have to:
Open the Phone app

Select Recents

Tap the info icon next to the number you are looking to block

Select Block this Caller

Select Block Contact
To silence all unknown callers, you need to:
Open Settings

Select Phone

Toggle on the Silence Unknown Callers switch
How to Block Air Duct Cleaning Robocalls on a Landline
Thanks to the Voice over Internet Protocol (VoIP) technology, most landlines in America are capable of efficiently dealing with repeated air duct cleaning robocalls through third-party apps such as Nomorobo.
Nomorobo is awesome because its VoIP landline services are completely free of charge! The app relies on the so-called "simultaneous ring" technology to ward off scam callers. This means that every time your phone rings, Nomorobo gets the call as well. 
If the app picks up the phone first, it will run the number through its database and establish whether you are dealing with a scam number or not. If the scam number is confirmed, your phone will not ring the second time!
Copper Wire Landlines Have a Hard Time Dealing With Robocalls
Some households in America still use copper wire landlines. 
Because of the outdated technology that these landlines use, it is fairly challenging to find a reliable solution for keeping robocalls at a distance. 
Your only choice is to purchase an expensive piece of hardware that screens out scam numbers and attach it to your phone. 
The biggest drawback of these devices, apart from being costly, is that they come preloaded with a list of scam numbers that cannot be expanded. In today's world, where robocallers change their numbers rapidly, these devices are simply not efficient enough. 
DoNotPay Makes It Seem Easy
For a long time, we have been in the business of making your life comfortable and easy-going. You may have relied on us when you wanted to lower your bills, cancel unused subscriptions, get help with paying bills, etc. Now, with Robo Revenge, you can use our services to fight back against robocalls. To get our immediate assistance, open DoNotPay in a web browser. DoNotPay can help you:
Dispute traffic tickets

Fight speeding tickets