Air Canada Lost Baggage—Find the Perfect Solution With DoNotPay
If you have traveled with Air Canada and lost your baggage, you've come to the right place. Our article will show you the easy way to file a missing luggage report, get your suitcases back, and claim compensation for your loss! DoNotPay can also help you locate any lost item without fuss.
Reporting Lost Luggage to Air Canada
If your baggage is nowhere to be seen upon arrival, you need to do one of the following:
Actions
Details You Should Provide
Visit the central baggage area in person

Your baggage claim receipt
Your boarding pass
Your contact information
Your baggage description and contents

Call 1 888 689-BAGS (2247), available from 5 a.m. to 11 p.m. ET seven days a week
The details you have provided will be used to create a WorldTracer incident report.
Accessing Your WorldTracer Report
Each WorldTracer incident report comes with a file number you can use to monitor the status of your delayed or missing baggage. You can view these updates by inputting the number onto the WorldTracer website. It can take up to 72 hours for your luggage to arrive, especially when the air traffic is heavy.
How Will Air Canada Return Your Lost Baggage?
Once Air Canada locates your baggage and ensures it arrives safely at the destination, you will be notified to arrange delivery via FedEx or other local carrier services.
What To Do if the Luggage Is Still Missing After Three Days?
If there's no news of your missing baggage even after three days have passed, here's what you need to do:
Access the Let Us Know form
Select the Baggage Issues section
Fill in the Baggage Tracing form
Make sure to provide accurate information on the items you've lost alongside their contents and monetary values. Doing this will help you be reunited with your lost belongings.
How To Claim Compensation for Your Lost Items
If your baggage is lost or delayed under Air Canada care, you may qualify for the following compensation:
Interim necessities purchase
Lost or damaged baggage reimbursement
Interim Necessities Purchase
Air Canada will reimburse any reasonable expenses on essential purchases you have to make due to missing or delayed baggage. You can request compensation by filling out the Submit Expenses form via the Let Us Know page by providing the following information:
Boarding pass
Your WorldTracer incident report number
Flight information
Proof of purchase
Baggage tags or receipts
Make sure to submit the claims within 21 days of receiving your baggage so your request can be processed.
Lost or Damaged Baggage Reimbursement
Under the Montreal Convention, Air Canada is liable to pay up to 2,400 CAD or 1,906 USD for damage, loss, delay, or destruction to passenger baggage.
This policy applies to most international or domestic itineraries. Aside from that, passengers also qualify for the compensation of the baggage check-in fee they paid if the baggage is delayed.
DoNotPay Can Help You Get Air Canada Lost Baggage Back Effortlessly!
Not only is losing items at the airport headache-inducing, but it is also time-consuming to resolve. That's why you need to rely on DoNotPay to solve it in your stead as follow:
Locate the Find Lost Airport Items feature
Tell our chatbot the details of your incident and the descriptions of your lost items
Let us take it from there! Our app will contact the airport without delay so they can investigate your claim and return your belongings pronto!
DoNotPay doesn't only help with locating missing luggage but also smaller items like glasses, wallets, phones, or keys.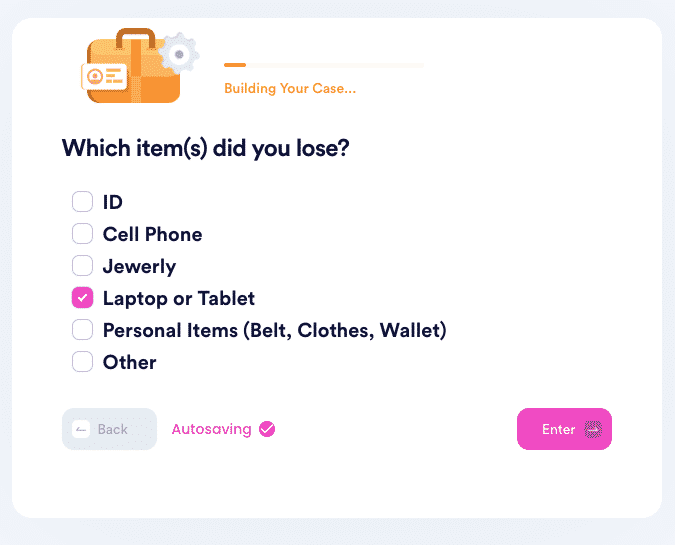 Choose From a Vast Variety of DoNotPay's Handy Services
DoNotPay boasts an enviable collection of various tools that help you cope with administrative matters more efficiently. Here is a small portion of the services we generously offer:
| We Can Help You File | We Can Create |
| --- | --- |
| | |
Be Safe Online With the Help of Our App
Keeping your details confident when using the internet is simpler with DoNotPay! Check out virtual credit cards our app can generate for you, and have fun with the free trials no one can charge you for! If you need a quick solution for phone authorization but don't want to use your actual phone number, we can create burner ones and keep your info private.
DoNotPay assists you in reporting defamation as well as stalking and harassment, prevents copyright violation, and helps you eliminate spammers and their annoying texts, emails, and robocalls.