Find a Smartphone That Was Lost at the Airport in No Time With DoNotPay
If you lost a phone at an airport, it's not the end of the world, as 82% of missing airport items can be returned. This article will explain how you can recover a smartphone that was lost at the airport and tell you how to without wasting time on unnecessary phone calls.
A Smartphone Was Lost at the Airport—The First Thing To Do
Filing a missing item report is the first thing you should do if you lose something at an airport. You need to determine which department to contact based on the area of the airport where you last saw your item:
Security checkpoint—Speak to the Transportation Security Administration (TSA)
An airplane—Contact the airline in charge of your flight
A terminal or any other airport area—Reach out to the airport's Lost and Found department
What To Do if You Lost a Smartphone at a Security Checkpoint
If you left your smartphone at a TSA checkpoint during the security screening process, you must contact the TSA office to report your loss. Typically, the process looks like this:
Go to the Lost and Found section of the TSA website
Find the phone number of the TSA office at the airport where you booked your flight
Follow the instruction provided by the staff
A TSA official will contact you if they locate your smartphone and mail it to you at your expense. You can also opt to claim the device in person. Make sure to claim it within 30 days of notice. Otherwise, your phone memory will be wiped off, and the device will be sold.
If you have any questions, you can speak to the TSA customer service. Here's how you can contact them:
| Over the Phone | You can call a representative at (866) 289-9673 |
| --- | --- |
| Via Email | You can use an online form to file a complaint, give feedback, or request assistance |
| Via Twitter/Facebook Messenger | Live assistance via Twitter and Facebook Messenger is available from 8 a.m. to 7 p.m (weekdays) and from 9 a.m. to 7 p.m (weekends and holidays) |
What To Do if You Lost a Smartphone Onboard an Aircraft
If you left your smartphone in the aircraft, you can visit the airline website or the airport baggage service to obtain the airline's lost and found phone number. When filing a report, make sure to provide the following info:
Your contact details
Item description
Date and time of the incident
Your flight number
What To Do if You Lost a Smartphone at a Terminal or Any Other Airport Area
If your smartphone was last seen anywhere else in the airport, including a terminal, parking garage, or shuttle bus, you can contact the airport's Lost and Found office directly. Some airports have an online form you can complete to locate your missing property.
You can also check the airport's digital Lost and Found to see if your smartphone has been turned in.
DoNotPay Can Help You Find Your Missing Items!
The process of reporting a missing item can be headache-inducing regardless of the item in question, be it a phone, wallet, ring, glasses, keys, or similar. Our app offers a hassle-free solution that can help you save time. Here's how you can use it:
from any device
Click on the Find Lost Airport Items tool
Provide the chatbot with relevant details about your incident
We will generate a personalized report about your missing item and forward it to the relevant department in no time. You can also use our app to learn how to track and locate lost luggage effortlessly.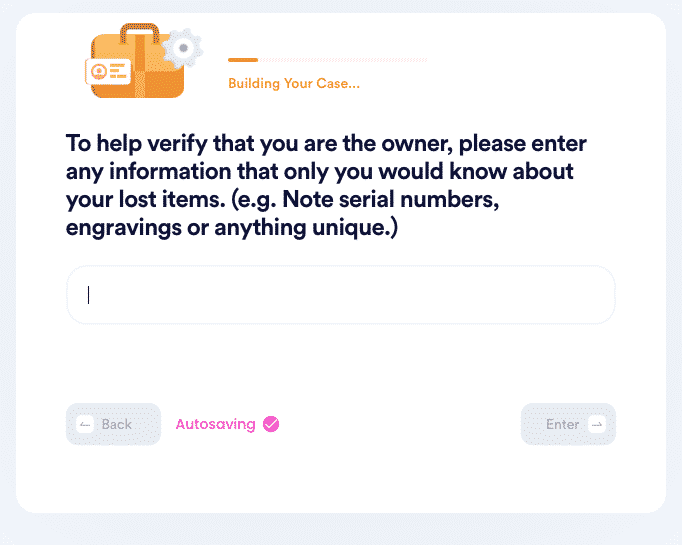 Other Ways To Find a Smartphone That Was Lost at the Airport
You can also try finding your lost smartphone in the following ways:
Use a built-in Find My Phone feature—If you have this feature activated, you can use the Find My Device tool on Android or Find my iPhone on Apple to track your device's last known location
Use a tracker—If you have an external tracking device, like Tile or Apple AirTag, you can use it to keep tabs on your smartphone's location
Our Virtual Lawyer Has Got Your Back
DoNotPay has solutions for all those burdensome tasks you would rather avoid or entrust to someone else. Our AI-empowered app can assist you with copyright protection, clinical trial applications, DMV appointments, FOIA requests, mailing services, item returns, and delivery refunds. It also generates standardized legal documents and gets them notarized or faxed with zero fuss!
Through the same app, you can:
File tourist visa applications
Make Education More Accessible and Affordable With DoNotPay
College expenses can be quite a burden for the entire family. Luckily, DoNotPay can have your tuition expenses waived or assist you in applying for various types of financial aid, such as scholarships.
We also offer you a chance to prepare for government tests in a much simpler way or contact embassies or consulates quickly and efficiently if you want to travel abroad to continue your education. If you are a parent who wants to withdraw their kid from a standard school, we will help you draft a notice of intent to homeschool and send it to the local authorities with no stress!