Dispute West Virginia University parking tickets in a blink of an eye

With the latest technological advancements, disputing a parking ticket has never been easier. The DoNotPay app is completely free of charge and relies on artificial intelligence to beat parking tickets all over the USA. 
WVU parking citations are super easy to beat

The Venture Beats reported that the DoNotPay bot has beaten 160,000 traffic tickets — and counting. Until now, it has managed to refute thousands of fines and achieve an astonishing success rate of 74%. What's best about his highly efficient app is that it allows you to overturn your fine in any city in the USA.  If you have been fined in another city, you don't have to worry. DoNotPay app will only take a few minutes of your time to help you dispute your ticket from your chair, instead of running from one place to another as you used to before. 
It takes less than 120 Seconds to contest infractions in WVU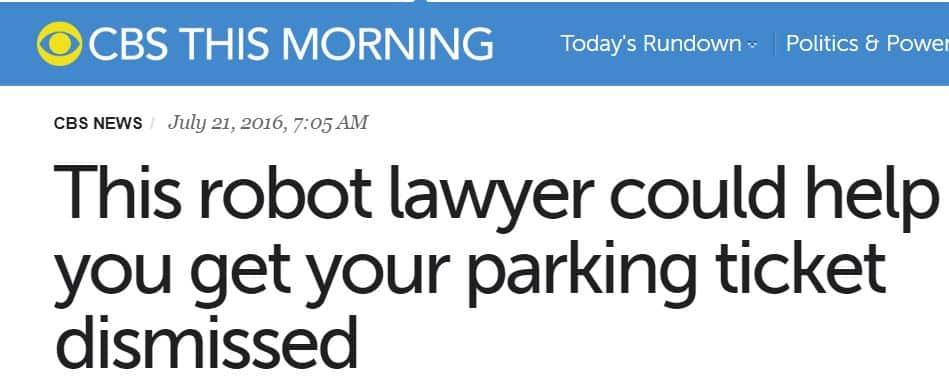 West Virginia State University has a strict policy about owning, operating, and possessing a vehicle on the campus. These regulations have been neatly printed out and published as leaflets for everyone to read and acquaint themselves with the traffic and parking rules they must obey on the campus grounds. Any violation of these rules, even the slightest inconvenience, results in an appropriate penalty. Since the leaflets are available on the university's site, the Department of Public Safety doesn't constitute ignorance of these regulations as a valid excuse for breaking the law. So to avoid any penalties, it would be best to study that booklet thoroughly. 
If you still get fined, with the DoNotPay app, you will successfully refute your ticket in a couple of minutes. There are a couple of short steps in this process:
You need Internet access, so you can

use our app on your

web browser 

The app will ask you some rather simple questions about the infraction you want to beat to gather as many details as possible

Attach the photo of your ticket

And voila! You will be presented with several arguments which you can later use to rebut your ticket
Feel free to provide as many details about your ticket as possible so the app can generate the most accurate excuses to go into your favor. Details such as the specific location and time of receiving this penalty are significant in this matter, and even the slightest detail can prevail. 
When you appeal to your parking fine, generally, it takes a couple of workdays to reach a decision and receive the notification about the verdict. In the case of WVU, the committee has up to 30 days to review the parking ticket appeals. 
I don't have the money nor time. Is disputing really worth it?

Disputing your parking ticket is always worth the hassle. Even more, if you are a student and every penny matters. You never know when it may work and save you some money. 
Members of the staff, students, and faculty can appeal their infractions within five business days of the alleged violation by bringing their ticket to the Campus Safety office. Apart from the penalty, you will also need to complete the Right of Appeal application. The committee accepts only the online appeal submissions and any other form will be deemed as invalid. The further procedure has to await the monthly meeting of the WVSU Parking Appeals Committee, which takes place every second Thursday of the month. 
The whole process of appealing takes an incredible amount of time which you can spend doing other things. Thanks to the DoNotPay app, the proceeding is much simpler as it takes only a couple of minutes for the app to generate your application with valuable and suitable arguments to refute your infraction and save you both money and time. 
How much time does DoNotPay save?

Refuting an infraction is an extremely tiring and demanding procedure. The old fashioned way indicates that you need to
Gather concrete and irrefutable proof that you didn't violate any parking regulations, 

Find reliable witnesses to confirm your story 

Then, you would probably need to hire a lawyer, and the best ones are usually expensive
Imagine all the time you would be wasting trying to dispute your citation this way! Just collecting all the evidence and the testimonies will take you a couple of days minimum.
Why waste your precious time when you can install the DoNotPay app and let it do the work for you? The greatest feature of this application is its cost-effectiveness. It is completely free of charge and it takes only several minutes to come up with claims you can use to favorably rebut your citation. With DNP you won't spend a dime or get dragged through courts and spend your time and your energy. 
Will DoNotPay help me fight parking tickets from private companies?

Out of three parking areas available within the campus, two offer private parking lots so it is useful to know that you can use DoNotPay to dispute both infractions received from the government and the private parking companies. The app doesn't make a difference in the nature of your ticket and it manages to fight both types equally successfully. 
No matter where you need a private parking lot in the USA, chances are you will stumble upon some belonging to these companies which are actively spreading all around the country: 
ABM Parking Services 

Douglas Parking 

Ace Parking 

Towne Park 

Lanier Parking 

Imperial Parking 

Laz Parking 

SP+ or Standard Parking 
It is important to mention that as the DoNotPay app can be used for fighting tickets in any city in the USA, it also doesn't differentiate the private parking companies which makes it possible to use no matter which company it is about. 
Do I need a lawyer to dispute a parking citation in WVU?

No, you don't need a lawyer to handle your appeal at WVU. However, if that would make you feel more comfortable, then you can hire one but know that the process of hiring an attorney is hard. You will have to: 
Ask around which lawyer is the best for these cases and has a high success rate

If you decide to hire such a person to handle your appeal then prepare yourself to spend some ridiculous amount of money since lawyers usually charge by the hour

Make a careful selection of the candidates and book an appointment with each of them individually

Since most of the time they are unavailable and busy, you will have to wait for their schedule to clear up so you can meet with them in person
But why would you go to all that trouble when you can use the DoNotPay app and have a robot lawyer take care of your business? DoNotPay app uses artificial intelligence to help people all around the country combat some of the most annoying procedures encountered in everyday life, it is extremely successful so why not save yourself the trouble and let the world's first robot lawyer handle this appeal to you?
How much does a parking ticket lawyer cost in WVU?

Depending on the severity of the violation, parking ticket lawyers in West Virginia can cost somewhere between $100 and $1000. Sometimes they agree to a contingency fee that revolves from 33 to 40%. The reason behind these high contingency fees is because a lawyer performs several functions:
Representing you in court

Requesting a contested hearing a discovery for your case

Negotiating to reduce your fine
However, the robot lawyer of the DoNotPay app can also accomplish all of this completely free of charge. You just have to download the free app and select the service you want it to provide. Insert information and upload a picture, and there it is. You have accomplished the same effect and saved a lot of money. 
How do I pay for the WVU parking ticket?
If you get a citation at a government parking facility within the campus, the only way you can pay for it is through an online application. This application also allows you to appeal your infraction depending on which given field you decide to tick. To pay or rebut your ticket, you will need the number of the ticket and the license plate number. Paying, as well as appealing, requires certain steps that are simple and easy to understand. 
On the other hand, if you have received a penalty from the private parking space, then you are given four options to settle your debt. 
Courtesy box

- there are 29 courtesy boxes on the parking lots, and downtown, where you can drop off your payment

Phone

- if you prefer, you can always pay your infraction by phone via Visa, or MasterCard by calling their offices on 304-284-7435. They are available every day from Monday to Friday, from 8 am to 5 pm.  

Online

- online payments are also an option

Mail

- you can mail your payment directly to 300 Spruce Street Morgantown, WV 26505
Just like with the government citations, make sure to write down your citation and license plate number to make a proper payment and avoid any confusion. 
Pay or dispute?
| | | | | |
| --- | --- | --- | --- | --- |
| | Ease | Time  | Cost | Benefits |
| Pay | 95% of people pay the ticket online rather than trying to dispute it | Depending on the way, from 2 days to a couple of weeks | Depending on the violation, from $20 to $500 | Nothing goes on record, car insurance stays the same |
| Dispute | Super easy with DoNotPay app | Only a few minutes | Completely free of charge | Even if it was your fault, you might pay a considerably reduced fine |
What happens if I don't pay for my ticket?
The consequences of neglecting and not paying your fines differ from state to state, and city to city. As for WVU, you have to pay the penalty within 10 days of its issuance and this rule applies both to the students and the faculty staff. The repercussions of not paying are somewhat different. 
The students who don't pay their parking tickets will have this debt inserted in their records which will prevent them from registering for classes, seeking financial aid, or even transcripts of their record until they settle their debts. On the other hand, if this happens to some employees, then the appropriate employee supervisor will be notified and certain measures will be conducted. 
Do parking tickets go on my record?
Usually, the traffic infraction in West Virginia and the whole states go on your record. Parking fines, if accumulated, in WVU can result in your car being towed and impounded, if the unpaid citations reach $100. If you are a student, you won't be able to graduate or register for classes until you have paid all you owe in fines. 
How much does WVU make from parking tickets?
In 2010, as the reports indicate, there were more than 42,750 unpaid tickets left at the WVU so its Transportation and Parking Office cashed in more than half a million dollars solely from parking tickets. In the period from 2016 to 2019, Morgantown issued more than 160 000 infractions which resulted in over $1.3 million in parking revenues and it seems that this trend will continue in the years to come. 
DoNotPay helps users fight and beat tickets in any city
DoNotPay helps users fight parking tickets in every city in the US and UK. Here are a few cities we've helped users dispute the most tickets in:
Tired of Bureaucratic Hurdles? Our App Will Step In
As soon as you sign up for the world's first robot lawyer, you won't have to worry about any administrative mess you find yourself in. We can help you resolve anything from reporting stalkers, robocalls, spam emails, and spam text messages to applying for clinical trials in any U.S. city.
With our AI-powered app's assistance, you can even get a refund from any merchant or airline you can think of. We can also help you save money by resolving your problems with high bills, canceling any subscription you no longer need or assisting you with parking ticket appeals.
DoNotPay Helps You Fight for Your Right
Do you feel like a company has wronged you? Don't let them win—sue them in small claims court with our assistance! Our app will prepare all of the necessary documentation and help you win the case stress-free!
Apart from helping you sue any firm or individual, DoNotPay also makes it easy for you to set up a DMV appointment, deal with any credit card issue, start a free trial without your credit card info, protect your work from copycats, and much more!
Sign up for our app to take advantage of all its features!
To summarize
| | |
| --- | --- |
| Fighting a ticket has never been easier  | With DoNotPay app you are only a few clicks away from rebutting your infraction |
| You can beat your ticket in less than 2 minutes | The whole process takes only a couple of minutes with the app |
| Is disputing a ticket worth the time and effort? | The app saves both time and money in refuting your ticket |
| Is it time-saving?  | Both time-saving and cost-efficient |
| What about parking tickets at private parking? | Government or private parking doesn't matter as this app helps dispute both types of tickets |
| Is a lawyer needed to rebut the infraction? | No, now you have a world's first robot lawyer to attend to your needs |
| How much will I have to spend on a lawyer? | Nothing. Robot lawyer is free of charge |
| There are several options for paying your ticket.  | There's no need to, as you can dispute it with the DoNotPay app.  |
| The consequences of not paying my fines are severe.  | Better pay upfront because if you don't, when the time comes, and it will come, you will have to pay the interest and the citation. |
| Parking tickets don't usually go on record | But there are other restrictions less severe but still preventing you in some fields.  |