Is There a Walmart Fax Machine Service in the Popular Chainstore? Find Out Now!
Since faxing documents is safer than sending them through email, many companies offer a third-party service that either lets you use a fax machine or send a file without a fax machine.
The multitude of fax services out there might have led you to believe that Walmart can help you fax without a phone line.
Let's see if Walmart offers a fax machine service. You can also find out what the best way to fax from your phone or your laptop is. 
Does Walmart Offer Fax Services?
Any Walmart is a giant store that offers a plethora of goods and services—but faxing isn't among them.
If you contact Walmart customer service, they can confirm that the chain doesn't have a fax machine you can use to send a fax.
Should You Invest in a Fax Machine?
While Walmart doesn't offer faxing services, you can certainly buy a fax machine in a store. The question is—should you?
Though you may be asking how faxing even works or thinking that fax machines are obsolete, many companies still use this system of sending and receiving documents. 
Faxing is, in many ways, preferable to sending emails. Check out the table below to see some of the most important differences between the two to understand why faxing is still important:
Faxing
Emailing

Is preferred for legal, health, and government-related documents

Lets you know when the document is received

Doesn't require you to scan documents (if you have a machine)

Puts your files at risk because of security breaches

Doesn't let you know if the email has been received unless the recipient responds

Requires you to scan documents

Puts your documents at risk of getting lost in a cluttered inbox
Since faxing is clearly better than sending emails, does that mean you should drive to the nearest Walmart and buy a fax machine? 
The introduction of fax software has allowed for an efficient way of sending documents through fax apps, through email, or with the help of third-party software.
Besides faxing files online being a faster option than sending them through a machine, fax machines are also:
Expensive to maintain

Not environmentally friendly

Inconvenient because they require a lot of troubleshooting

Notorious for changing the image quality and damaging your documents as a result 
If you end up buying a fax machine from Walmart and find it doesn't work for you, check out how to get a Walmart refund.
How To Fax Documents Without a Fax Machine
The fact that fax machines aren't the best option to send faxes doesn't mean you have to run to a UPS store each time you need to send a document. You can do it from the comfort of your home, but you should know what your options are.
Online faxing is possible via:
An email

A third-party service
How Does Faxing Through Email Work?
Faxing via email is the fastest method out there when it comes to online faxing, but it's not the safest. As long as you have your document and a fax number you want to send it to, you can email your fax.
The huge downside is that your email can always get hacked, and the entire point of faxing in the first place is safety. 
How Does Faxing Through a Third-Party Service Work?
Third-party services use their phone lines to send faxes, which means they aren't too affordable. You can subscribe to any of the popular options, but they tend to charge a lot, especially if you are sending a lot of faxes across the globe. Using these services can cost you several hundreds of dollars a year.
DoNotPay Helps You Fax Files in a Matter of Seconds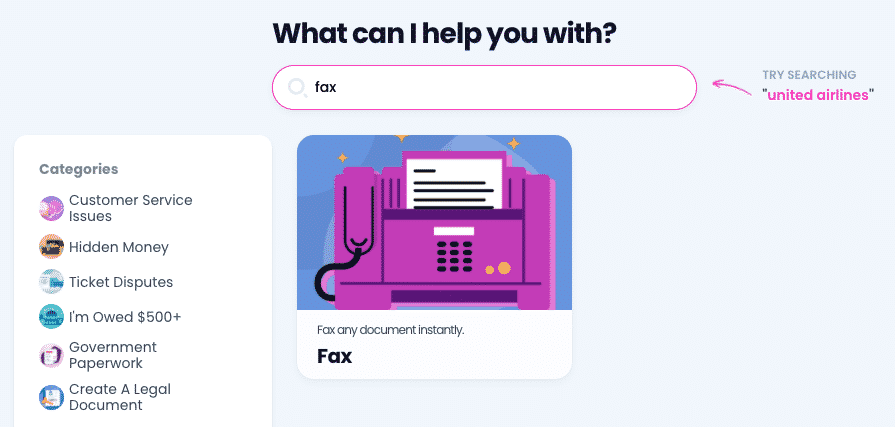 Your best bet is to go with DoNotPay if you want to send faxes quickly and efficiently. You can send up to 100 pages a month! The best part is that you can send documents by snapping a photo of them. This allows for instant faxing that takes no more than ten seconds.
No matter where you are, you only need an internet connection to fax files in a snap.
If you have to deal with a lot of legal documents in your life or at work, DoNotPay will help you:
Create a fully customized document in under a few minutes

Sign it electronically

Fax it instantly
You can do all this from one centralized platform that will save you plenty of time, money, and energy.
How To Send a Fax With DoNotPay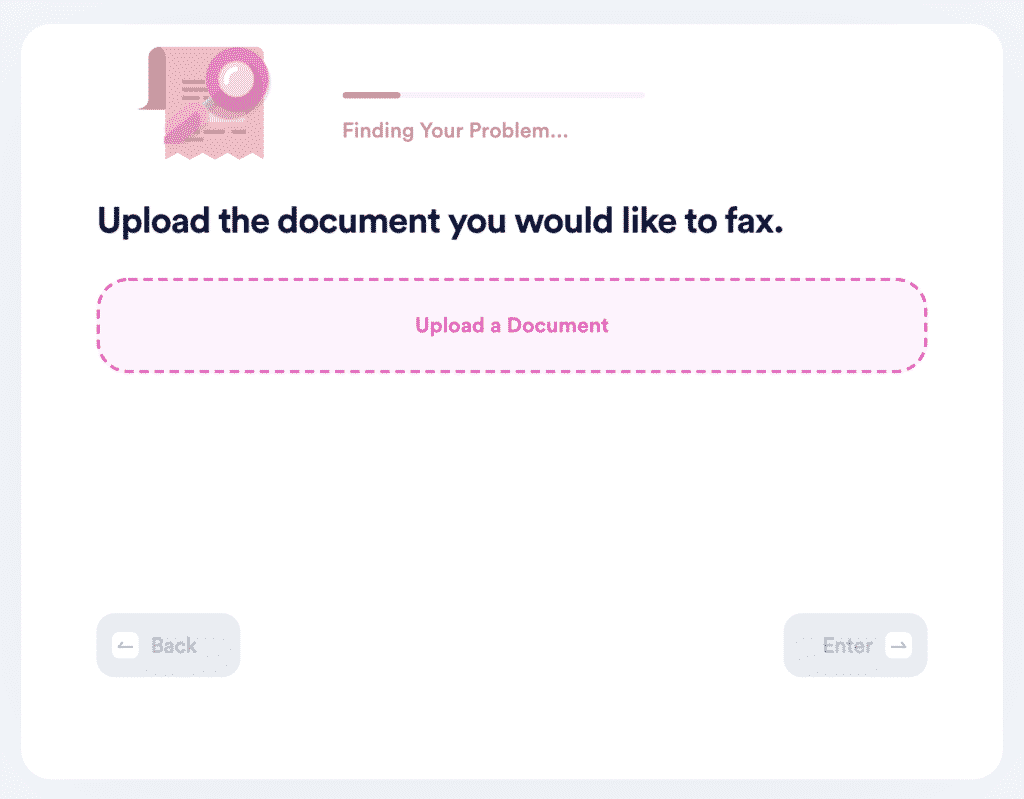 Besides being convenient, faxing documents with the help of DoNotPay is also laughably easy. You only need to:
Log in to your DoNotPay account from any

web browser

Upload your file or take a photo

Enter the receiving fax number

Wait for the confirmation message from us to make sure your fax has been received
You can now fax a myriad of different files each month without ever having to touch a fax machine.
Outsmart Scammers With DoNotPay
Are you troubled every time you think about subscribing to a service because you fear your personal information will leak and your privacy will become invaded?
There's no need to fret anymore as DoNotPay has come up with a way to shield you from hackers, scammers, and identity thieves alike.
Check out how you can use DoNotPay and browse the internet care-free:
Open DoNotPay in your web browser

Locate our

Virtual Credit Card

generator

Use the made-up card number to sign up for any

free trial

Move forward to our

Burner Phone

product

Use the temporary phone number to verify any online account

Enjoy the trial without worrying about

canceling it

—the service will do it on its own
Signing up for services with DoNotPay's hacks frees you from ever falling victim to a serious crime, such as identity theft, and liberates you from the bothersome and never-ending spam calls, texts, and emails that you never explicitly agreed to receive.
What Else Is Hot About DoNotPay?
DoNotPay does wonders in protecting your online privacy, but it can do so much more for you! 
With our assistance, you can claim compensation for canceled or delayed flights, request refunds and chargebacks for unsatisfactory purchases, file warranty claims for defective products, and even overturn unjust parking tickets!
Our app can locate unclaimed funds that exist under your name, the best clinical trials for your needs, and public records that you couldn't identify on your own.