How to Get a Free VoIP Trial In 3 Steps

Voice Over Internet Protocol (or "VoIP") service allows people the freedom to make and receive calls over their internet connection and helps people talk to each other without relying on big telecom companies who are increasingly violating people's privacy. Many of the easier-to-use internet-phone services offer a VoIP free trial, but with a catch: they tend to require one's credit card info. It renders the meaning of the word "free," well… a bit trickier than we at DoNotPay think it should be. Read on to find out how to make "free" .
Who Offers a Free VoIP Trial?
Many easy-to-use VoIP services are offering free trials, and we've compiled several of them to get you started.
Yay.com
Yay offers their business VoIP service free for 14 days, giving you free inbound calls to your business, free internal calls within your organization, and a variety of features. The free trial service begins with a three-user/extension pre-setup in a "sandbox-style" configuration. All numbers can appear from the same business phone number Yay provides you with, or they can appear as their own. Best yet, there is no credit card required.
Dialpad
Dialpad was set up using Google's cloud infrastructure and offers a 14-day free VoIP trial. It not only offers free internet-based phone calls but HD video calls and other in-depth features as well. Dialpad does require a credit card to sign up, though.
VoIP Phone Systems
UK users, in particular, should check out the award-winning VoIP Phone Systems trial. With a simply massive variety of features, including call recording and holding music, VoIP Phone Systems gives a 30-day free trial with no credit card required.
VoIPStudio
Another selection from the UK, VoIPStudio offers a whopping 30-day trial. They've focused on integrating smoothly with many other apps, but to get all this, their trial requires submitting credit card info.
OpenPhone
Prides itself on simplicity and transparency, OpenPhone is a very user-friendly experience. They have a 7-day free trial and provide very unique features with good customer support that further emphasizes their focus on ease of use. They even do phone number porting (if you already have a number you want to keep), and they've set up an affiliate credit system for referrals. OpenPhone's free trial, however, requires a credit card to begin.
Grasshopper
Only available in the USA and Canada, Grasshopper gives users 7 days to try out their service. It is a complete virtual phone system that is optimized to work alongside your number on the same device. They've designed it to be a veritable office management suite, and it's quite a polished business phone and more. Even better, they do not require credit card info to try it all out.
How Can I Get a VoIP Free Trial Service?
With any of the services linked above, it's as easy as filling out their online forms. If necessary, submit your credit card info to start using their pre-packaged, easy-to-set-up VoIP services for the length of the trial… and then start being charged each month.
Unless that is, you do one of two things:
Watch your calendar like a hawk, cancel the trial in time, and then watch your credit card statement the same way, wondering if the cancellation request will be honored.
Or, read on to learn about DoNotPay's Virtual Credit Card, which puts a stop to unauthorized charges from the get-go.
Do These VoIP Free Trials Automatically Renew Into a Paid Subscription?
The VoIP trials which require credit card info do so to charge users once their free trial lapses and the service auto-renews, labeling you as a new, regular customer. If you don't mind using your credit card – but also do not want it charged – you'll need to check with each service before signing up to be sure you know exactly what their cancellation policy is (including timing, whether they want you to call or email, and anything else they require to honor and acknowledge the cancellation).
That also goes for any refund policies if you've already lapsed into regular, paid service that you didn't want, and don't intend to use. On the other hand, you can ensure that they don't charge you without your express consent with the Virtual Credit Card, proudly brought to you by DoNotPay. Read on to learn how.
Avoid Automatic Renewal With DoNotPay Virtual Credit Card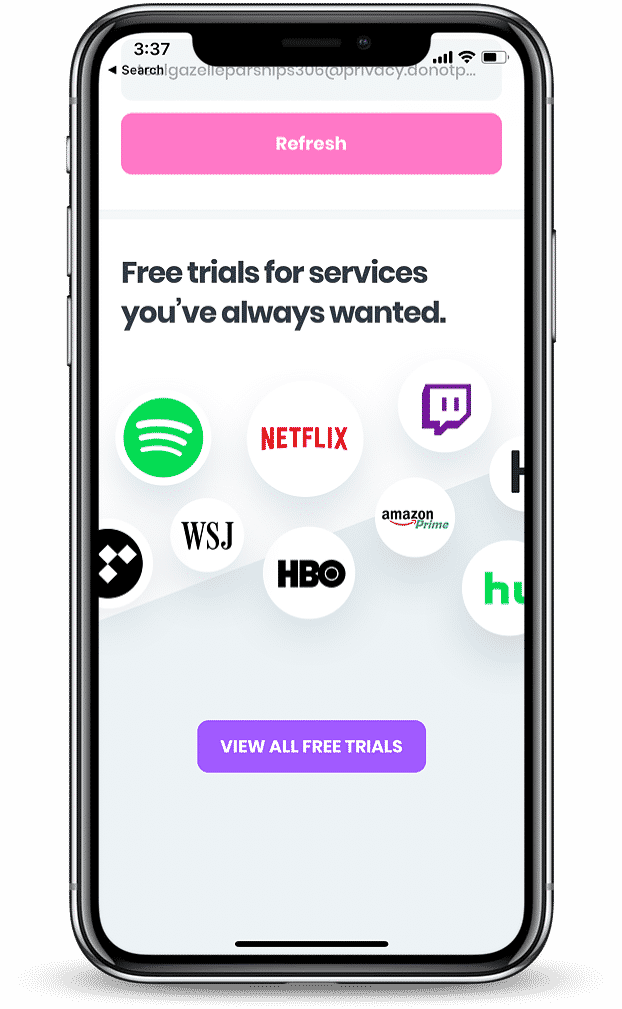 Even without expecting the worst, mistakes happen. We can forget to cancel within the exact window of time and have to bear the burden of a month (or more) of unwanted service or deal with a potentially lengthy refund process. This all involves some amount of life-diminishing arguing, pleading, or otherwise less-than-enjoyable communication. Isn't smoother communication what drew you to the service in the first place?
Though it beats dealing with telecom companies, we think there's still some room for improvement in certain aspects of VoIP free trials, and we're here to help make "free" mean free.
With DoNotPay's Virtual Credit Card, a company that promises not to use it (unless certain incentivized mistakes are made) simply can't. Why? Because there is no money on it.
The Virtual Credit Card generates random numbers that look valid to the free trial service's algorithm – and accepts your application to their free service, believing you to be one of their (obliged) future customers.
Once the trial is over, though, the VoIP company will go to charge the card, realize it's a dud, and cancel the account – just as you wanted them to. It's a perfect solution, and no one loses anything whatsoever. All the better, you don't have to waste your mental bandwidth on it at all.
How Much Does a VoIP Service Cost After their Free Trial?
Commonly, monthly VoIP costs in the neighborhood of $10-$15 per month – depending on the extent of the services, features, and other factors that you (actually mean to) sign up for. Here is a side-by-side comparison of the companies we mentioned above:
These prices are as of early 2022. Be sure to check which features are most important to you, as they vary widely with each service.
What Other Phone-Related Services Does DoNotPay Simplify?
Besides ensuring are truly free with the Virtual Credit Card, DoNotPay has simplified many other VoIP and other phone-related alternative services so that you can enjoy free and open communications and sharing of data without needing to learn about it all day.
With the widespread crackdown on pointless phone verification standards on social media sites (which many businesses rely on to survive), we are thrilled to help people get around these thinly veiled attempts at bullying people into giving up their private information. With the world's first robot lawyer, you can make short, easy work of phone verification hurdles for
We also have been around the block with the dreaded robocalls (such as the infamous Chinese robocall scams). If you're as sick of it as we are, look into our suite of robocall-related services, such as
Additionally, we can help you quickly and easily broaden your open-source communications prowess and competency with other phone-based services. See
...and so much more!
What Else Can DoNotPay Do?
DoNotPay helps people everywhere cut down on the "unpaid work" of dealing with administrative hassles across all industries. We can help beyond VoIP matters, with extremely affordable services that include:
Disputing traffic tickets
Fighting speeding tickets
In this day and age, we don't think there's any valid reason why the world's 8 billion people can't finally reduce administrative merry-go-rounds and keep the 2D "whirled" firmly in its place. For only $36 a month, we can do all this and more. Sign up today.