How to make cash from robocalls
For most Americans, robocalls are a source of annoyance at best and a serious threat to their privacy and finances at worst. While not all robocalls are illegal, a large majority of them can either be considered spam or, worse, an attempt at scam. CNBC noted that robocall scams are surprisingly effective, as it takes only 3-5% of people to respond to automated messages and fall for the scam, losing thousands of dollars on average. The issue is rampant and has quickly become the most common complaint from consumers to the Federal Communications Commission by a large margin, reports USA today.
What if we told you that there was a way to not just track robocallers but also to make some easy money on it? With a little bit of help from DoNotPay, you can take your revenge against fraudsters either by suing them or threatening to sue them.
What are robocalls?

A robocall is a type of phone call that uses an auto-dialing system to start playing a pre-recorded message when you pick up the phone. The number of robocalls placed in the U.S. last year alone have gone off the charts. A whopping 54.6 billion robocalls have been recorded in 2019, which meant each American received 14 such calls every month, reports Business Wire.
Robocallers use a technology known as Voice over Internet Protocol (VoIP) service, which allows them to automatically—and with minimal investment—dial a lot of phone numbers in a short amount of time. They do so to push various agendas, but mostly it's either to sell you something or to steal your money.
Are robocalls illegal?
Not all robocalls are illegal. Learn the most important exceptions in the table below.
Type of robocall

Example

Legal/Illegal

Purely informational

A public service announcement;
An airline company letting you know that your flight has been canceled;
An appointment reminder; etc.

Legal

Debt collection
A collection agency contacting you to collect your debt

Legal

Message from charity
A legitimate charity asking for a donation

Legal

Message from a political candidate
A political candidate asking for support

Legal

Scam
Fraudulent companies often pretending to call from a government institution or a legitimate company, asking for your personal information and a form of payment

Illegal

Telemarketing
A company trying to sell you anything, from a new set of knives to a new insurance policy, etc.

Illegal, unless the company has your written consent to reach out to you via a robocall
Earn cash on robocalls with DoNotPay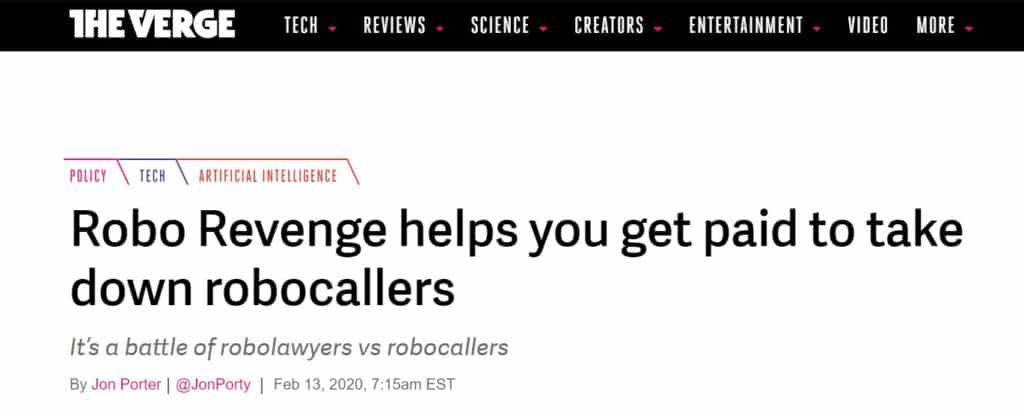 What's better than a little revenge against cheaters and pettifoggers going after the money of innocent people? DoNotPay has come up with the Robo Revenge feature not just to help you teach the robocallers a message, but also to help you win the compensation you're legally entitled to.
Yes, you can make money from robocalls. Since the Telephone Consumer Protection Act and the Telemarketing Sales Rule make those types of automatic calls illegal, you can sue the people behind them. In most cases, they will want to avoid going to a small claims court at all costs and prefer to settle, sparing you both the trouble. If your cell phone is on the National Do Not Call Registry, whoever was responsible for the robocall will owe you at least $1,500.
You may be asking yourself now, how do you find out who these people are? This is where DoNotPay comes into play.
Track the robocallers with our app
When you receive an illegal robocall, team up with DoNotPay to find out who's behind the unwanted call. Once you reveal their identity, your bank account could be boosted by as much as $3,000!
Here's how we've designed the Robo Revenge to work:
During the robocall, you will be asked for your credit card details or some other form of payment
Select the Robo Revenge option on the DoNotPay website in your web browser
Choose Create Your Card and create a temporary card number
Provide this number to the robocaller
Wait until the caller tries to withdraw money using the card number you provided
DoNotPay will immediately get access to the caller's information, including their name and address
Use their details to file a claim against them on DoNotPay
DoNotPay will send a request to the caller for the compensation you're entitled to
Unfortunately, Robo Revenge isn't yet able to assist in cases against robocallers that are operating from abroad, given that they fall outside of the U.S. jurisdiction.
How to report robocalls
It's important to report robocalls each time you receive one. The more people do it, the better our collective chance is to track the callers and enable authorities to penalize them. Here is how to report a robocall:
You can register your landline and cell phone numbers for free with the National Do Not Call Registry operated by the Federal Trade Commission (FTC).
If you get an illegal robocall even after your number was in the Registry for a minimum of 31 days, report it to the FTC.
Your registration in the Registry doesn't prohibit other types of organizations to legally contact you through a robocall. Such organizations include charities, political groups, debt collectors, and the like. If you would like to avoid having them call you altogether, you can block their numbers on your smartphone.
How to block robocalls?
The reason why it's so difficult to sanction robocalls is due to the fact many such operations are running from countries with more lenient regulations. Nonetheless, there are many different things you can do to stave off the annoying automatic phone calls from various types of organizations, persistent telemarketers, and the worst of them all—con artists. The methods will also vary depending on whether you want to reject such calls on your landline or your cell phone.
How to stop robocalls on your landline
Are you tired of the stream of robocalls flooding your landline? Luckily, there are things you can do to manage this problem. Read what you need to do if you own a VoIP or a traditional landline to protect yourself from robocalls.
How to stop robocalls if you use a VoIP landline
VoIP is an acronym that stands for Voice over Internet Protocol and suggests that your phone service is delivered through an Internet network. The best method to fend off robocalls on your VoIP is to use a service your phone company provides. Get in touch with your carrier and ask them what type of feature they offer against robocalls.
Here is an overview of the main landline carriers in the U.S. and what type of service against robocalls they offer:
How to stop robocalls if you use a traditional landline without VoIP
With a traditional landline that doesn't require VoIP, you will need to install a call-blocking device that comes in the form of a small box attached to your landline (such as this one on sale on Verizon's website: CPR Call Blocker V5000). If you use a call blocker on your landline, make sure that your Caller ID is switched on so that the device doesn't reject all incoming calls.
How to block robocalls on your cell phone
There are three main courses of action you can take in order to hold off robocalls on your cell phone:
Use your network carrier's services
Download a robocall-blocking app
Put to work your smartphone's built-in feature
Use your network carrier's services
To try to nip the robocall issue in the bud, the FCC and the cell phone network companies have developed a technology named SHAKEN/STIR, a system that verifies the security of a caller's number by using digital certificates based on cryptography techniques. In other words, the network carriers have committed to either stopping the robocall from reaching the user at all or allowing the call to go through but labeling it as spam.
Talk to your cell phone network company and learn about what they offer as a solution for robocallers. Here is a brief overview of the four  main U.S. wireless carriers, and what steps they are taking to curb the issue of robocalls.
T-Mobile
T-Mobile takes a proactive approach against robocallers and marks such calls as spam at a network level. If you're a T-Mobile user and you receive a call that's potentially fraudulent, your phone screen will display the warning "scam likely" below the caller's ID or phone number. This is a free service for all customers, but should you want an upgrade, T-Mobile also offers a service called Scam Block that can block spam and scam calls before they even reach you. Log into your T-Mobile account or dial #662# to apply for it for free.
AT&T
AT&T looks at potential scam calls at a network level and immediately cuts off those revealed to be fraudulent. In addition, the carrier has developed an app for its customers called Call Protect, which you can download on your phone or switch it on in your AT&T account settings. Call Protect allows you to sort and identify spam calls per category and generate an entire list of numbers you would like to block.
Sprint
If you're a Sprint customer, download their Screener Plus premium mobile application. The app can identify scam calls and the associated risk level, as well as ID the caller if you don't have the caller's number saved on your device. The price of the app is $2.99/month, and you can download it for both Android phones and iPhones.
Verizon
Similarly to T-Mobile, Verizon is proactively blocking a smaller number of spam calls at a network level, before they reach their customers. The company has put forth a mobile app at zero cost for their customers called Call Filter. Call Filter labels the rest of the spam calls that go past Verizon's network level and prevents them from getting through. You have the option to block all robocalls or just those that Verizon has labeled as a potential risk.
Download a robocall-blocking app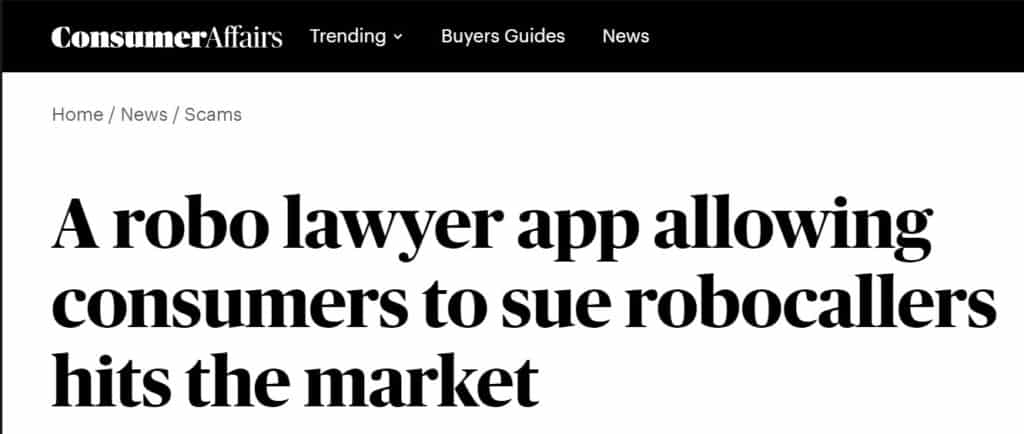 We have singled out some of the best smartphone apps out there that can help you manage and block robocalls with great efficiency.
Name of robocall-blocking app

Pricing

Benefits

Free for basic service; $2.99/month or $14.99/year for Hiya Premium

Exceptional spam detection due to billions of calls analyzed every month
Ability to block calls and ID the caller

$1.99/month; free for VoIP landlines

High accuracy in filtering calls
Feature to block spam texts
Offers the option to officially report illegal robocalls

Basic service is free; $5.99/month for YouMail Plus and $10.99/month for YouMail Professional

Offers both call and voicemail spam protection
Notifies carriers and authorities about illegal calls
Put your smartphone's built-in feature to work
You don't need a special app to deter a caller from ever calling you again, at least not from the same number. In all likelihood, your smartphone already features an option to manually block a caller.
To block callers on your iPhone, follow the next steps:
Open the Phone app
Tap on the Recents tab for your recent phone calls
Click the 'i' symbol next to the number that needs blocking
Choose Block this Caller
Confirm the blocking of his number
To do the same on your Android phone, take the following steps:
Open the Phone app
Click on the three dots in the top right
Tap on Call Settings
Select Reject Calls
Enter the numbers to block by tapping on the "+" button
Prevent your phone number from ending up on a spam call list
Unless you want to find yourself at the receiving line of a barrage of spam calls trying to sell you cruises, or have professional scammers try to get money out of you, you need to stay vigilant about giving out your personal and contact information. The three most important things you need to remember are:
Don't share your contact information online
Read the terms of service before you accept them
Don't share your information for contest entries
Don't share your contact information online
Your personal phone number or email address doesn't belong to a social media website, a public forum, or any other type of website. As soon as you expose your private contact details to the world, you can count on data aggregators selling these off to telemarketers and scammers.
Read the terms of service before you accept them
We understand that reading the various terms of use (or terms of service) a company is legally mandated to disclose is time-consuming and bone-dry boring. Still, signing or accepting a document you haven't even skimmed through is not a good idea. Look for information on how the company in question will utilize your private data. You may be giving them permission to call you through robocalls without even realizing it.
Don't share your information for contest entries
Entry into a contest or a sweepstake implies that you disclose your personal information, at least your email address and phone numbers. While the lure of a potential prize may be strong, be aware that your private data might be used for marketing purposes by the contest organizer or even passed on to other companies. It's your right to enter into competitions, but be prepared to suffer some annoyances in the form of insistent telemarketer calls.
What to do if you get a robocall
When you receive a robocall (and it will inevitably happen at some point), it is useful to keep the following points in mind:
As a general rule, don't pick up the phone if you don't recognize the number
Stay alert about spoofing, a method which artificially makes the caller's number appear similar to yours and thus not suspicious
If you pick up and an automated message starts playing that you suspect is a scam or an attempt to sell you stuff, hang up right away
Register your number with the FTC's Do Not Call Registry. This should greatly reduce the number of robocalls you're getting. Should you receive a robocall after your number has been listed for 31 days, report this to the FTC
Don't disclose your personal information. You can do so over the phone only if you're talking to a real person, and are absolutely certain that the caller is a trustworthy person or calling on behalf of a legitimate institution
Protect your voicemail with a password. Hackers can access your voicemail messages if you don't set up a strong password
Is there anything else DoNotPay can do for you?
Warding off pesky robocalls is just one of the many things we can do to make your life at least a tad easier. Access our app on your web browser, and see for yourself what we specialize in. We can assist you in:
Appealing speeding tickets
Fighting traffic tickets