A Guide on How to Stop Chinese Robocalls Once and For All
Do you know what a robocall is? Chances are that you do because it has become an incredibly persistent and widespread issue affecting virtually everyone in America who owns a phone. This type of phone call uses an auto-dialing system that starts playing an automated message when the recipient picks up the phone. While not all robocalls are bad, most of them are either spam or worse—a type of scam. Robocalls are made possible thanks to a type of technology known as Voice over Internet Protocol (VoIP) service. This allows whoever is placing the robocall to place a high number of phone calls automatically and at a very low cost, making it the perfect aide in their (often dishonest) pursuit.
The emergence of Mandarin robocalls

In the last few years, countries with large Chinese immigration populations such as the U.S., Canada, and Australia have become inundated with robocall scams in Mandarin. These fraudulent calls presumed to originate from mainland China target mostly Mandarin-speaking people and Chinese immigrants. By falsely representing a well-known company or official institution such as a bank, consulate, or IRS, the scammers try to rob their victims of money. The scary part is that they have been exceptionally successful in their pursuit. The FBI reported that between December 2017 and February 2019, more than 350 victims of a so-called Chinese Embassy scam reported a combined loss of around $40 million, or $164,000 per victim.
Examples of Chinese robocall scams
If you receive a Chinese robocall, you might not understand a single word, which is just as well—you should hang up immediately anyway. If you understand Mandarin and you get an automated message that's allegedly from an official organization, be on the lookout because it's very likely a scam.
The script of a robocall in Chinese might go something like this—the automated voice is warning you that your name was found on some credit cards that are being sold illegally in Shanghai, so your credit score is now damaged and your bank accounts closed. A pretense of some sort of money problem is always at the gist of it.
The other most common type of a Chinese robocall scam makes the victim falsely believe they are being contacted by a Chinese embassy or consulate. The recipient of the scam call is told that a package has been found (usually at an airport somewhere in China) containing the victim's passport, social security card, or bank cards. The victim is then made to believe that they are now under investigation and are at this point usually transferred to talk to a person that's pretending to be an investigator. The "investigator" then tries to convince the victim to wire funds to an account in China or Hong Kong as soon as possible so as to avoid prosecution.
If you receive a robocall in Mandarin, hang up and report it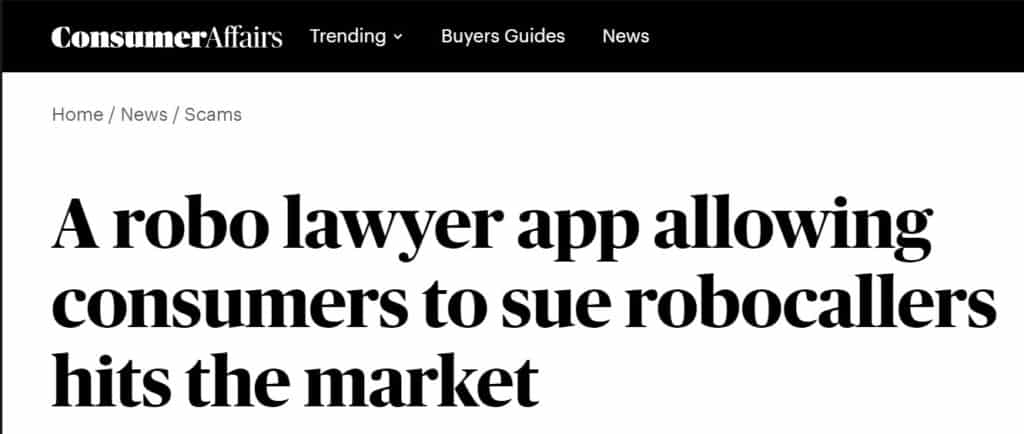 The best thing to do when you receive a call from a number you don't recognize is not to answer. However, there are situations in which this will not be possible or practical. What's more, scammers from overseas frequently use a technique called spoofing, which entails digitally altering a phone number that makes it look familiar to the recipient, as if it was a number from their local area. So if you've picked up the phone and an automated message starts playing, you can hang up without sparing a second thought. You should also report it to the Federal Trade Commission on this link.
How often do robocalls happen?
Unfortunately, much too often. Just in 2019 alone, a total of 54.6 billion robocalls have been placed in the U.S. This means that if you're a typical American who owns a landline or a cell phone, you will receive an average of 14 such calls every month, calculated Business Wire.
If you think robocalls are just a painful nuisance but without any serious real-life consequences, think again. A report by the caller ID and spam blocking app Truecaller has revealed that in 2019, nearly one in six Americans lost money on a phone scam. With an average loss of $244 per victim, it is estimated that 43 million Americans suffered total losses amounting to around $10.5 billion!
Are robocalls illegal?
Not all robocalls are illegal, and the trick is to be able to distinguish between those that are and those that are not. Here is a simple overview of some legal vs. illegal robocall examples.
| | | |
| --- | --- | --- |
| Type of robocall | Example | Legal/Illegal |
| Scam | Scammers pretending to call on behalf of an official organization and requesting your personal and financial information | Illegal |
| Telemarketing | A sales representative trying to sell you a product or a service | Illegal. Note that this type of call is legal if you have allowed the company in writing to contact you this way |
| Official information | It could consist of anything from a public service announcement, an appointment reminder, a reminder to pick up your medicine, etc. | Legal |
| Message from a political candidate | A political candidate asking for a donation or other type of support | Legal |
| Debt collection | A legitimate collection agency contacting you in relation to your debt | Legal |
| Message from charity | A legitimate charity asking for a donation or other type of support | Legal |
How to earn money on robocalls with DoNotPay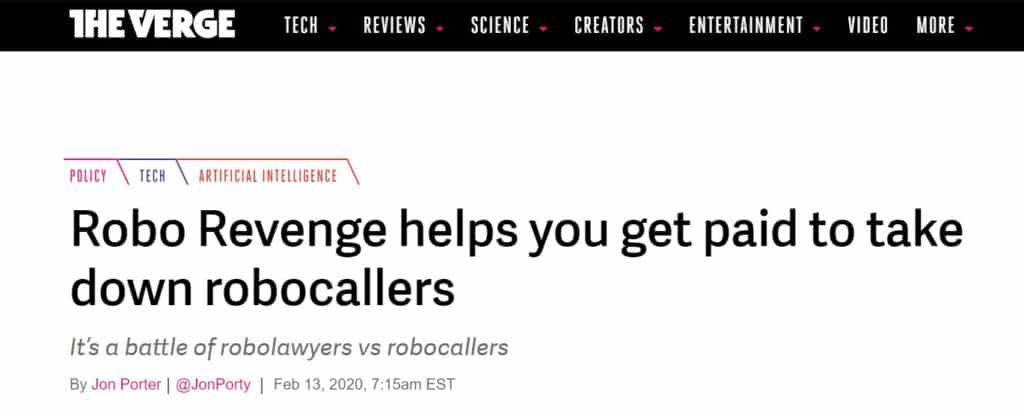 Time's up for robocall scammers. DoNotPay has developed a groundbreaking feature known as the Robo Revenge, cleverly devised in a way that allows you to reveal the scammers' identity and request the compensation you're entitled to.
According to the Telephone Consumer Protection Act and the Telemarketing Sales Rule, these types of phone calls are illegal, and whoever is behind them can be sued. What's good is that the fraudsters want to avoid going to a small claims court at all costs and will likely offer you a settlement that could result in you receiving up to $3,000. Not a bad reimbursement for your troubles, isn't it?
One caveat is that it isn't yet possible to take legal action against scammers that are running their robocalls from overseas since they operate outside of the jurisdiction of American laws.
Reveal the scammers' identity with our app
You may be wondering how you could possibly figure out who's standing behind a sham automated phone call? It's actually quite simple. We'll take you through the steps and show you how to turn the tables on the robocall scammers.
Open the DoNotPay website in your
Click on the Robo Revenge option
Select the Create Your Card option. This will create a temporary card number from a virtual credit card with no funds on it
Provide this temporary card number to the scammers
Wait until the scammers attempt to withdraw money from the virtual credit card—this will give DoNotPay access to their key information, such as their name and address
You can enter their details to file a claim against them with the help of DoNotPay
How to report robocalls
You may not be keen to you have just received, but it's important to do so because it helps the authorities to identify the most common scam schemes and patterns, trace the fraudsters, and eventually prosecute them. Here is how you can do it:
Register your landline and cell phone numbers at no cost with the National Do Not Call Registry that's run by the FTC.
If you receive a scam call or an unwanted sales call after your number was in the Registry for a minimum of 31 days, report it to the FTC.
Your registration in the Registry doesn't prevent some types of organizations from reaching out to you through a robocall. Legitimate charities, political groups, debt collectors, and select official institutions can legally place such calls.
How to block robocalls?
Unfortunately, robocalls can operate regardless of legal borders and physical boundaries. Many scam robocalls originate in overseas countries where a comparatively relaxed legal system allows the fraudsters to get away with their actions with impunity. For this reason, it is difficult to eradicate the problem in any country, including the U.S. Nonetheless, there are a number of things you can do to dramatically reduce the number of received robocalls.
How to not have your phone number wind up on a spam call list
Not giving out your personal contact information on the Internet sounds like common sense, but you would be surprised at how many people still do it. If you're sure you didn't publicly post your phone number but can't figure out how on earth those scammers or telemarketers got hold of it, it's possible you gave some companies the authority to call you without being aware you did it. Have you ever signed a terms and conditions document you haven't read?
In short, it's important to remember these three golden rules:
Don't share your contact information online
Do read the terms of service before you accept them
Don't share your information for contest entries
Stop robocalls on your landline
There is nothing quite so annoying like when you drop whatever you're doing at the moment to answer your ringing landline telephone, only to pick up and hear an automated robocall message playing in the background. If you don't have the time or patience for this nonsense, see what you can do to block robocalls on your VoIP or traditional landline.
How to stop robocalls if you use a VoIP landline
VoIP is short for Voice over Internet Protocol and stands for a technology that delivers your phone service via an Internet network. The most effective way to deflect robocalls on your VoIP landline is through the service offered by your landline carrier. Reach out to your provider and find out what type of service they can provide to assist with robocalls.
Here are some of the most popular landline phone companies in the U.S. and the services they offer for your landline protection.
How to stop robocalls if you use a traditional landline
A traditional landline that doesn't require VoIP to accept and send phone calls will call for a more traditional remedy to fend off robocalls. What you need to do is install a physical call-blocker. This contraption is essentially a small box that you attach to your landline and looks similar to this: CPR Call Blocker V5000.
How to block robocalls on your cell phone
This three-tier system will pull all the stops to block robocalls on your cell phone as much as possible:
Manually block numbers on your smartphone
Use your network carrier's services
Get a robocall-blocking app
Manually block numbers on your smartphone
If you keep getting persistent robocalls from a certain number, you should immediately block it using your smartphone's built-in feature.
To block callers on your Android phone, do the following:
Open the Phone app
Tap on the three dots in the top right
Select Call Settings
Choose Reject Calls
Tap on the "+" button
Enter the number you want to block
If you need to block a number on your iPhone, follow the next steps:
Open the Phone app
Tap on the Recent tab for your recent phone calls
Click the 'i' symbol next to the number that you would like to block
Select Block this Caller
Confirm the blocking of his number
Use your network carrier's services
Under the guidance of the FCC, in the last couple of years, the U.S. cell phone network companies have come up with a technology known as SHAKEN/STIR. This acronym stands for a method that uses digital certificates and cryptography techniques to verify the caller's number and the security of the call by using digital certificates based on cryptography techniques.
What this means for the consumer is that your network provider will either prevent the robocall from reaching your phone by monitoring it on a network level or let the call go through, but label it as spam, so you know not to pick up. Talk to your provider to find out if they're offering any additional features against robocalls.
Get a robocall-blocking app

Apps to the rescue! We have listed some of the most effective app tools with a proven track record of keeping the robocalls at bay.
Name of robocall-blocking app

Pricing

Benefits

Free for basic service
$2.99/month for Hiya Premium
$14.99/year for Hiya Premium

Known for a high quality of spam detection
Offers the options of blocking calls and labeling the ID of the caller

Basic service is free
$5.99/month for YouMail Plus
$10.99/month for YouMail Professional

Provides protection against spam calls and spam voicemails
Reports scam calls to phone companies and authorities about scam calls

$1.99/month
Free for VoIP landlines

Known for high accuracy of call filtering and spam detection
Allows the user to also block spam texts
Provides the option to report illegal robocalls
What to do if you get a robocall
As annoying as robocalls are, by sticking to a few simple rules of the game, it will become much easier to manage their inconvenience. Here are a few tips on how to deal with it:
Don't answer the phone if you don't recognize the number and aren't expecting a call from an unknown number
Even if the number looks familiar, it could still be a scam. Robocalls employ a method called spoofing that makes their number appear like it's coming from your local area—even though it could be coming from thousands of miles away
If you decide to answer and a suspicious-sounding automated message starts playing, hang up at once
Never give away any of your personal information over a robocall
Set up a strong password for your voicemail. We tend to overlook voicemail security, but hackers can also easily access your voicemail messages if left unprotected
To minimize the number of robocalls you're receiving, register your numbers on FTC's Do Not Call Registry
DoNotPay Protects Your Privacy and Finances
Sharing your credit card details online comes with certain risks, and it's getting more difficult to tell good and bad websites apart. With DoNotPay's virtual credit card generator, you will be able to protect your identity and bank account from cyber scammers.
Whenever you run into a suspicious email or website, generate a virtual credit card and proceed without worries. Our virtual cards also work like a charm if you want to avoid automatic payments after free trials.
How else can DoNotPay make your life easier?
While taking revenge on a robocall scammer might just be the most satisfying feeling in the world, it's not the only thing that DoNotPay can help you with! Do you need assistance with any of the following?
Disputing speeding tickets
Appealing traffic tickets
If you do, you can get DoNotPay in any .