Virtual Credit Cards in the UK—a Comprehensive Guide
According to the Fraud the Facts report from UK Finance, a staggering 56% of all fraudulent financial activities in 2018 was related to credit card fraud. The same report states that the complete fraud losses amounted to £844.8 million.
With these disconcerting numbers in mind, it becomes clear that using credit cards is as dangerous as it is convenient. Since online shopping is one of the most popular ways to buy both products and services, and credit cards are the primary payment method on the Internet, the need for a more secure system is evident.
The solution may come in the form of virtual credit cards (VCCs) that allow a safer shopping experience. There are numerous benefits of using VCCs, but data privacy and protection stand out. If you haven't had the chance to try virtual cards, it may be the time to give them a go, especially if you are a frequent online shopper.
What Are Virtual Credit Cards?
VCCs are credit card numbers that you use for purchasing goods and services on the Internet. They are not physical cards, only numbers that you usually use as one-time paying tokens. The virtual card number has the same format as the real card number. Any online retailer will not be able to differentiate between your VCC and a standard credit card.
The idea behind this relatively new payment method is that it provides additional security to the user. VCCs do not disclose any financial data to the merchant, so your bank account or your actual credit card details are not stored or visible to the online business you are dealing with.
Thus, if there is any malicious activity on the website, or if the online store becomes a victim of a cyber attack, your personal information will not be available to the fraudsters. Your funds are safer, too, because your VCC is a single-use number that cannot be used for other purchases or other retailers.
How Do UK Virtual Credit Cards Work?
When you decide to start using virtual credit cards, you will find out that they work in the same way traditional cards do. Once you fill your cart at an online store, and the time comes to pay for it, you add your VCC details and continue as normal.
Your virtual card will have all the necessary information:
A card number
Origination date
Expiration date
Security code
This data will appear to the merchant as a standard credit card information. Your VCC is linked to your bank account or your actual credit card, so the payment will be conducted through a secure connection.
Your funds will be drawn from the funding source of your choosing, and the transaction will appear on your bank statement. The difference is that the number is usually valid only for that particular transaction, and it does not allow websites to store or remember your account details.
How Can I Get a UK Virtual Card?
You can get a virtual card from your regular card issuer or your bank. Most companies include the service into their plan to enable safe online shopping to their clients—all you need to do is make a request.
There will be no physical card sent to your address, though, as VCCs are virtual card numbers. You will be able to get it :
On the issuer's website
Through a web extension
Via your issuer's mobile app
Getting a web extension or a mobile app may be a more comfortable solution because the process will be quicker. Both options would offer VCC creation as soon as you hit the Pay button on the website you are purchasing from.
Are There Different Types of Virtual Credit Cards Available in the UK?
There is only one company that issues virtual credit cards in the UK, and that's Revolut. Many other providers offer virtual cards, but they are all prepaid debit cards. The second option is much easier to obtain, but it implies that you have to designate the funds to your virtual card before you make the purchase.
Virtual debit cards are an excellent way to shop online, so you should get it, in case you don't qualify for Revolut's VCC at the moment. The payment procedure is the same with both credit and debit cards, and they follow the same safety protocols. Prepaid cards even add an extra layer of security.
Ever since PayPal terminated its VCC, international financial institutions have been reluctant to offer this service to their customers. The growing concerns regarding online shopping security will hopefully prompt some of them to introduce VCCs again.
Can I Use UK Virtual Cards More Than Once?
When it comes to different types of VCCs, it is essential to understand that not all of them are one-time paying tokens. Your virtual card can be:
Single-use card
Multi-use card
Single-Use Cards
Single-use VCCs are the most popular among users because they expire as soon as you finish the purchase. These virtual card numbers are generated right before the payment and are no longer valid once the transaction is over.
They are exceptionally safe because they cannot be used for additional purchases. The drawback is that you have to generate single-use cards every time you want to buy something, so you can't set permanent accounts, even with online shops that you regularly visit.
Multi-Use Cards
Some issuers offer permanent cards that you can use more than once. The most common way is to set up designated cards for specific online stores. You can create an Amazon or a Spotify card, so you don't have to start from scratch when buying something. Such cards are convenient if you often use the services of a particular retailer.
What Are the Benefits of UK Virtual Cards?
The benefits of using a virtual card in the UK—or anywhere else in the world—are substantial as they remain the safest method for paying online. If you opt for a virtual card, you can benefit from:
Extra safety
Data protection
Budget control
Ease of use
Safety Features
When you use VCCs, your financial details are invisible to the merchant. This protects you from malicious online businesses. Even if the website is 100% legitimate, it may still become a victim of a hack attack, which can potentially endanger your funds.
With virtual cards, the risk of exposing your bank account and credit card details to the hackers is minimal. Even if your VCC gets compromised, the rest of your funds are secure and unavailable.
Data Protection
It is not just the financial information that is under attack. Some hackers are after other personal details, such as spending habits or consumer profile. What's excellent about VCCs is that they keep you invisible to both retailers and hackers.
Virtual cards are not connected to your email or phone number, so you don't have to struggle with annoying promotional messages from online retailers. VCCs are also great when you don't want to leave a trace while buying certain products or services.
Budget Control
Online shopping tends to get out of hands for most people. Ordering stuff over the Internet makes you spend more on things you would not buy in person. Virtual cards allow you to set limits so you don't go over the budget.
You can limit the following:
The amount you can spend at a specific store
The card duration (you choose the expiration date)
The number of times your VCC can be used
This can give you a more transparent and better overview of your spending habits and enable you to restrict the amounts you spend on particular products or services. With designated VCCs, you can inspect each transaction made with that retailer, which is useful if you are sharing an account with someone.
Ease of Use
Virtual cards are easy to use, especially if you have separate cards for different online stores. What's more important is that they are easy to block, pause, or cancel. This bit is crucial when there is a suspicion of fraudulent activity.
You can cancel your regular card as well, but it means that you have to wait for another one to be issued. If there was a hack attack involved, and your account details are also in jeopardy, you would need to change all the numbers. This is not a quick procedure.
VCCs allow you to cancel the particular card, while you can keep your account and other card numbers since they are not stored on the compromised card. You can block, cancel, or pause VCCs on the issuer's website or mobile app in a matter of minutes, and continue shopping as usual by creating a new card number.
Are There Any Disadvantages To UK Virtual Credit Cards?
The most apparent drawback of virtual cards is that they are only valid for online purchases. There is no such thing as a VCC that you can use for in-store shopping. That is why it is essential to differentiate between virtual cards and mobile wallets.
Mobile wallets are apps that you have on your phone or tablet that you can use for in-person payments instead of plastic cards or cash. In theory, you could create a virtual card and store it on your mobile wallet, but you need to check with your VCC issuer if that is possible.
Other potential drawbacks of virtual cards are:
They shouldn't be used for purchasing airline tickets or accommodation vouchers because you may be asked to show the purchasing card as proof of identification on the airport gate or at the hotel
They can be tricky when getting a refund because some merchants will only put the funds back to the original purchasing cards, which is impossible if you used a single-use card, or if the card expired before the refund
They will not allow you to withdraw cash from the ATM, although some cash machines will accept just the card number and the security code (this is a rare feature)
You can check the overview of pros and cons of virtual cards in the table below.
| | |
| --- | --- |
| Benefits of VCCs | Drawbacks of VCCs |
| Keeping your information invisible | Not suitable for offline shopping |
| Setting limits to each card | Not suitable for setting permanent account with online retailers |
| Easily blocked or canceled | Not suitable for withdrawing cash |
Am I Completely Protected While Using a VCC?
Unfortunately, there is no such thing as complete protection when credit cards are involved. While VCCs can serve as an additional security buffer from online fraud, the truth is that hackers are continually developing new ways to access your data and your money.
Even your card issuer is potentially endangered by such malicious activity, so 100% safety cannot be guaranteed even with virtual cards. As annoying is it may seem to you, using single-use card numbers is the best way to protect your financial and personal information.
You should also take all precautionary measures when it comes to your regular cards. Fraudulent activities are not restricted exclusively to the Internet, so you can become a victim of third-party breaches even during in-person payments.
If you are dealing with iffy e-commerce establishments, the best course of action is to test them by using dummy cards. These are not real cards because they are not linked to your account or credit card in any way.
They mimic real card numbers and can be used for registration and testing purposes. Once you realize that the merchant is safe to do business with, you can provide your real VCC details and continue shopping.
You should know that dummy cards must not be used in an attempt to make actual purchases because it will be considered an illegal activity, and you can become subject to criminal prosecution.
What Is the DoNotPay Virtual Credit Card?

DoNotPay is becoming increasingly popular, and for all the right reasons. One of the best features of this fantastic app is their Free Trial Card that you can use to avoid automated subscriptions and hidden fees that tend to accompany the so-called free trials.
Although trial periods sound great, they often hide many fees that you are unaware of when you sign up for them. What's even more annoying is seeing a subscription fee on your bank statement after you've canceled the service.
Last, but not least irritating thing is the cancelation process that may feel like a trial of its own, and almost impossible to follow through. In case you experienced any or all of the above, the DoNotPay virtual card offers a perfect solution for your troubles.
The Free Trial Card is a virtual card number that appears like a valid credit card to service providers but has no connection to your bank account or regular credit card. Thus, it allows you to enjoy all the benefits of various free trials without the risk of ending up with an unwanted subscription.
How To Use the DoNotPay Virtual Card?
The best part is that the Free Trial Card is easy to use. The DoNotPay app will do all the work for you. All you need to do is:
Login via your
Select the Credit Cards option
Generate the card
Use it when registering for a free trial
DoNotPay will provide the card number and all the necessary details that will allow you to sign up for the free trial of your choosing. Once the testing period is over, the card will no longer be valid, and providers won't be able to charge you for any subscriptions or cancelation penalties.
During the trial, no automated services can be triggered, and your card will be connected to a new email, so you will be safe from spam. DoNotPay will block all providers whose free trials come with any kind of agenda.
Check the benefits of the Free Trial Card in the table below.
| | |
| --- | --- |
| Regular credit card | DoNotPay virtual credit card |
| Discloses your financial details | Keeps your account data hidden |
| Is linked to your email | Is connected to an independent email address |
| Doesn't protect you from charges | Blocks all charges |
Which Providers Accept the DoNotPay Virtual Card?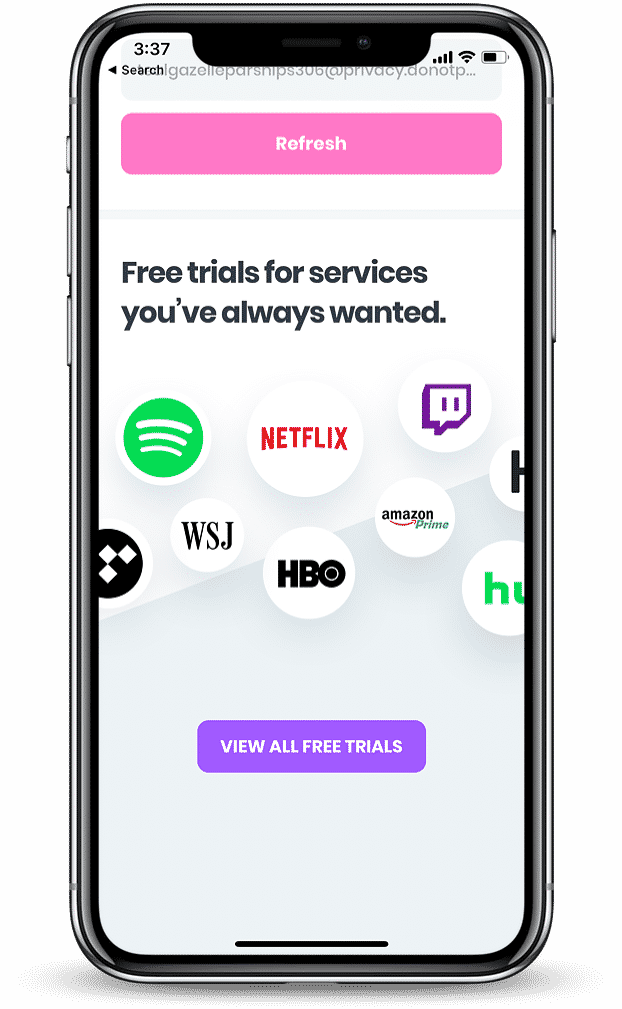 You can use the Free Trial Card for all major service providers and more. The streaming giants are among the most popular when it comes to free trials, and you can use the DoNotPay VCC for any of the following:
What Else Can DoNotPay Assist With?

DoNotPay uses AI to help everyone who requires the services of fancy lawyers and unaffordable consultants. The world's first robot lawyer can become your free advisor if you are struggling with any of the following:
Disputing traffic tickets
Fighting speeding tickets