How To Find an Inmate in Texas
in No Time
If your incarcerated loved one is held in one of the correctional facilities in Texas, but you are not certain which one, you will have to put in a bit of work to locate them. You can embark on this mission on your own or turn to DoNotPay for a simple solution.
How To Find a Texas Inmate
on Your Own
The only information you have about an inmate you want to connect with could be the state they are located in. That would be problematic because you can't write letters to inmates or visit them without the correct address of their correctional facility.
Locating a prisoner in Texas is also troublesome, considering the size of this state and the number of facilities.
If you decide to look for a prisoner in Texas on your own, you should use only reliable resources. The best source of information is the Texas Department of Criminal Justice (TDCJ) website.
How Do You Find an Inmate on the TDCJ Website
You can use TDCJ's resources for finding an inmate in various cities across Texas. This institution offers three ways to obtain information about a prisoner in Texas. Take a look at your choices in the table below:
| | |
| --- | --- |
| Can You Find an Inmate in TDCJ via | Yes/No |
| Phone | Yes |
| Email | Yes |
| Company Website | Yes |
| Letter | No |
| In Person | No |
How To Find an Inmate Over the Phone
To find out an offender's location in Texas, you will have to call one of the following numbers: 
The lines are open from 8 a.m. to 5 p.m., Monday through Friday. You will also have to provide the inmate's TDCJ or SID number. In case you don't have that info, you must provide the offender's date of birth.
How To Find an Inmate in TDCJ via Email
You can also find out about an inmate's location in Texas by contacting the TDCJ by email. To learn about where they are being held, do the following:
Write the inmate's full name as the subject line

Specify what info you need—

Offender Location

Write the inmate's full name and seven-digit TDCJ number

Send the email to

classify@tdcj.texas.gov
In case you don't have the prisoner's TDCJ number, you will have to provide their date of birth, the county of conviction, or their approximate age.
How To Find an Inmate on the TDCJ's Website
You can look for an inmate on the TDCJ's website via their online offender search. To successfully find the prisoner, you are going to need:
The inmate's last name and the initial of their first name

The prisoner's TDCJ number

Their state identification number (SID)
You can also include filters to search for an inmate according to their gender or race. The TDCJ database includes the list of offenders who are held in the TDCJ facilities at the moment.
How To Find a Prisoner in Texas
City and County Jails
City and county jails hold individuals who serve short sentences for misdemeanor offenses. City police departments are in charge of city jails, and sheriff's offices are accountable for county jails. You should visit the city's or county's website to look for these inmates.
If you cannot find any information on the website, you should find the contact details and call or email the facilities to locate the incarcerated person. In some cases, you can visit the jail and find out more about the convict's location in person.
How To Locate an Inmate in Texas
With DoNotPay
The fastest and easiest way to find an inmate in any state is with DoNotPay. You will need to follow these simple steps to find a prisoner in Texas:
Open DoNotPay in your

web browser

Find the

Connect With an Inmate

category

Choose the

Locate Someone

feature

Write the full name of the inmate you are looking for

Provide us with the name of the state they are located in (in this case, Texas)

Click on

Proceed
DoNotPay can locate the incarcerated individual without their ID or unit number. Our extensive database includes various correctional facilities such as state, county, federal, or ICE detention centers.
How To Send Personalized Letters to Texas Inmates With DoNotPay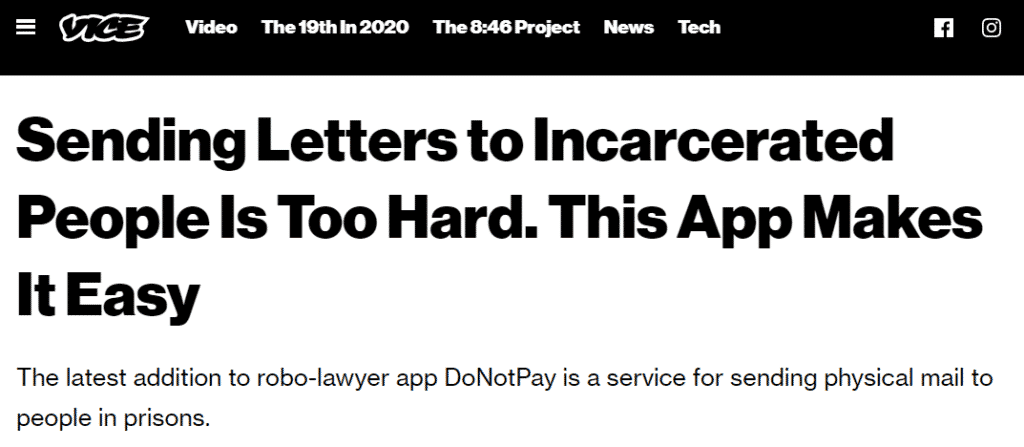 Once DoNotPay provides you with their exact address, you will be able to write to the prisoner and visit them in jail. If you want to write a letter to an inmate, we've made sure you don't have to trouble yourself with addressing the letter to the prisoner properly. We can do it for you.
The process of sending letters to inmates with DoNotPay is simple, and you only need to do the following:
Find and select the

Connect With an Inmate

category

Choose the

Send a Personalized Letter

feature

Enter the inmate's personal info, such as their full name or ID number

Write your message to the innate

Upload photos and attach them to your letter

Choose one of our customized letter templates if you are not sure how to compose a letter
We will take care of everything else and make sure the inmate receives the letter.
How To Receive Letters From Texas Inmates With DoNotPay

DoNotPay understands that just sending words of comfort to an inmate isn't enough, so we have another neat feature, making it easy for you to get a response from your incarcerated loved one. This process is equally simple:
The inmate should send the letter to our address

DoNotPay will make a digitized version of the letter

We will send that version to you
You can look for the mail from your prison pen pal in your Virtual Mailbox.
Other Awesome Features DoNotPay Has in Its Offer

Whatever trouble you might have with getting in touch with an inmate, DoNotPay has got your back. Whether you want to find an inmate in any other state or meet them, we can help you out.
Your virtual assistant can provide you with all the info about calling inmates, sending them books or pictures.
We can even tell you everything you need to know about writing to a female prisoner and how to compose the best love letters. Who knows, our advice might even lead you to look up prison marriage rules and regulations.
The world's first robot lawyer is capable of doing much more than helping you connect with your incarcerated loved ones. If you want to check out what else we can help you with, Open DoNotPay in any web browser and let us simplify any of the following tasks :
Fighting speeding tickets

Disputing traffic tickets