UPS Out for Delivery but Not Delivered? DoNotPay Has the Answers You Need
Is your package from UPS out for delivery but not delivered? This article will answer all of your questions regarding the issue. It will also explain how to get a refund for late deliveries from UPS using DoNotPay's handy product that will save you time and effort.
If a Package Is Out for Delivery, Will It Arrive Today?
The UPS 'out for delivery' shipment status means that your package has reached the hub that's closest to your location and that the courier will pick it up either today or the day after. That doesn't necessarily mean that your package will arrive today, though.
UPS Package Out for Delivery but Not Delivered? Here's Why
You should familiarize yourself with some of the most common causes why your package is late before you take any further action. It may be late because:
You mistakenly misspelled your street name, and your package got delivered to the wrong address. UPS will charge you $15.90 for a redelivery
Your area is facing bad weather conditions
The retailer forgot to attach a commercial invoice or packing list, and your package won't be provided clearance
The courier made an error during the delivery
What Can You Do if UPS Says Out for Delivery, but the Package Never Came?
In case UPS says that your package is out for delivery but it never came, you will have to track it down. By doing this, you will know whether the courier made a mistake or if your package got stolen or delivered to the wrong address. Here's how to track your UPS package:
Go to the UPS Tracking page
Enter your package tracking number
Hit the Track button
If you've lost your tracking number, you can track your package through:
Reference number
UPS My Choice
UPS InfoNotice
Tracking With Reference Number
Before placing an order, UPS will offer to assign a reference number to your package. It can either be:
A description of the product
The order number of your product
To track your order using the reference number, you will have to:
Go to the UPS Tracking page
Click on Track by Reference Number
Choose the shipment type
Input the reference number and shipper account
Fill out the dates
Enter your ZIP code
Click on Track
How To Track Your Package With UPS My Choice
UPS My Choice allows you to set where, when, and how your package will be shipped. You will be able to see where your parcel is in real-time, and you'll be notified via email or text message if anything changes.
Tracking Your Order With UPS InfoNotice
In case of an unsuccessful delivery attempt, the courier will leave you a UPS InfoNotice—a paper containing all the important information about the delivery.
You can then use it to locate your package and change the delivery date and shipping option. Here's how you can do so:
Go to the UPS Tracking page
Enter the 12-digit number found on the UPS InfoNotice
Find Tracking Summary
Select Change Delivery
Choose another delivery option
What To Do if the UPS Out-for-Delivery Package Was Not Delivered
If your UPS package wasn't delivered, you could do the following to solve the problem:
Solution
Explanation
Explain your problem

Dial 1-800-742-8577 (1-800-PICK-UPS®) and talk to UPS customer care
Explain your problem in an email and send it to customer.service@ups.com

Request a refund
If you want to request a refund, you can do so in the following ways:

Call 1-800-PICK-UPS® (1-800-742-5877) and say Refund
Log in to your UPS account and:

Go to the UPS Billing Center page
Select Request a Refund

and use our Late Delivery Refund product to submit a refund request in minutes
How To Get a Refund Swiftly With DoNotPay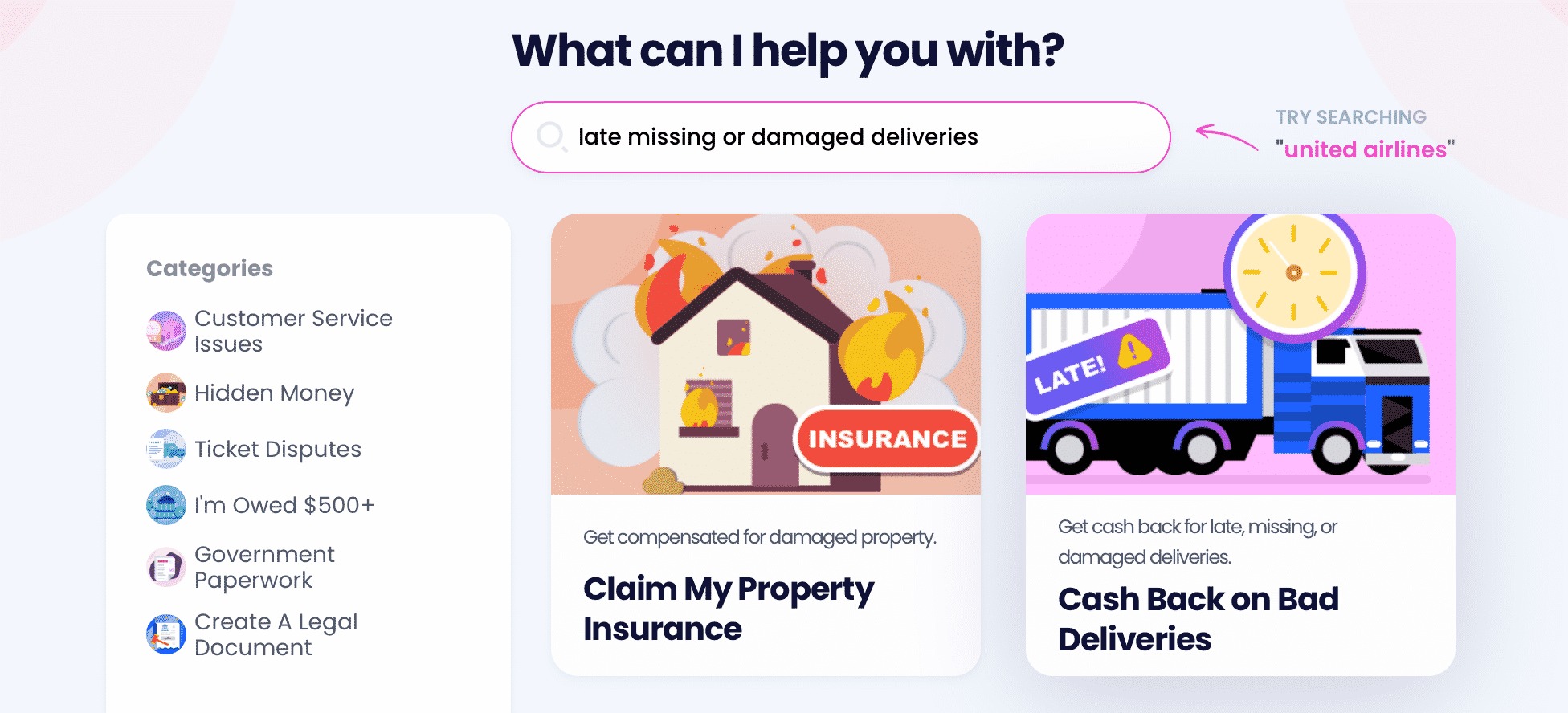 Do you want to avoid explaining your problem to UPS customer service? Use DoNotPay instead and request a refund in a matter of clicks.
Here's how to submit a claim with our AI-driven app:
Find our Late Delivery Refund product
Answer a few questions about the delivery
Submit the request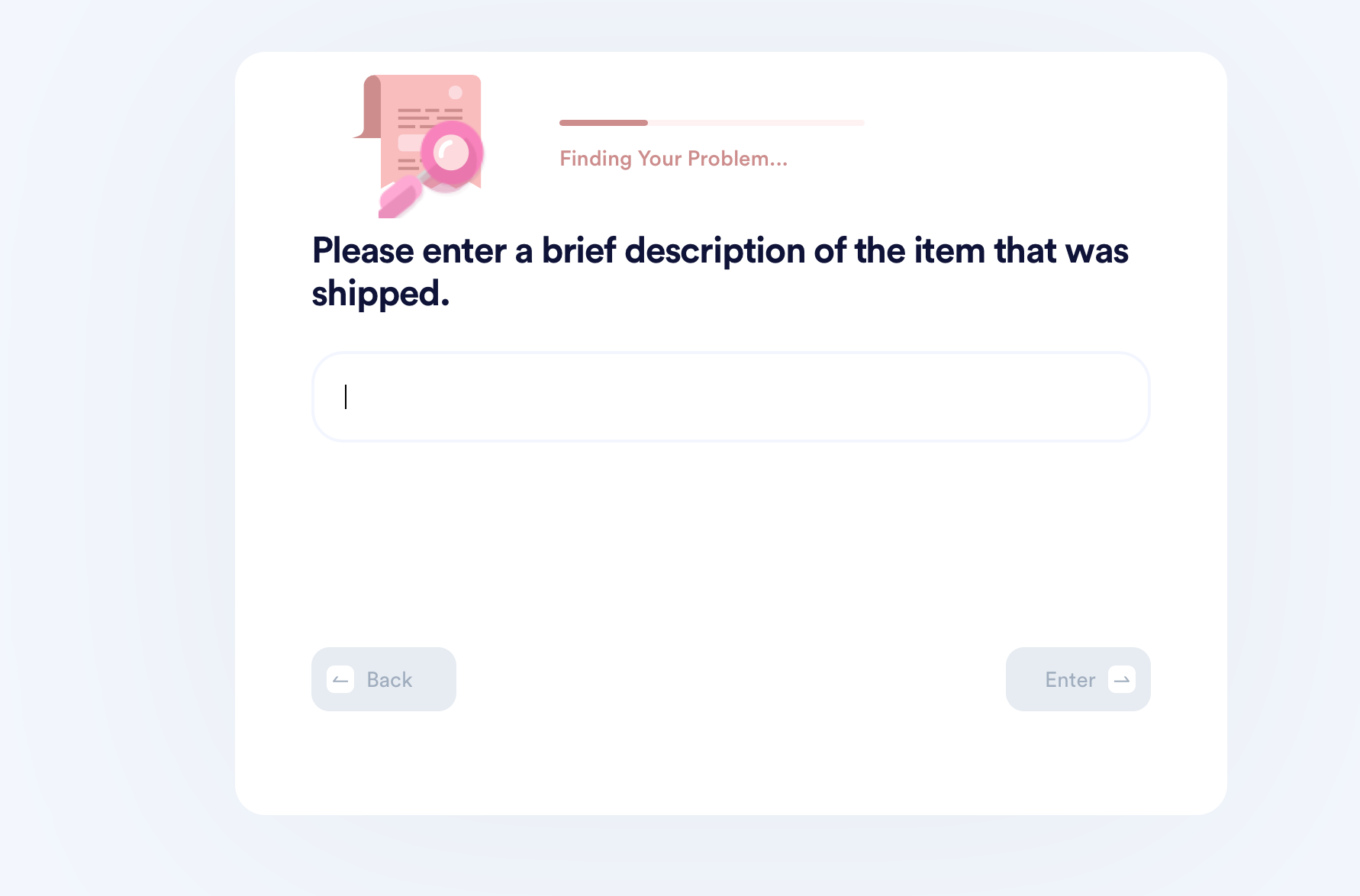 That's not everything DoNotPay can help you with! We have a plethora of articles prepared for you in case you ever face other delivery-related issues, such as:
Check Out the Scope of DoNotPay's Services
DoNotPay is capable of way more than handling late or missed deliveries. We are experts in securing refunds and chargebacks, gift card cash backs, airline compensation, as well as making returns on unsatisfactory purchases. We have a way of dealing with hard-to-reach customer services and hard-to-get-out-of mailing lists.
If you need to deal with important paperwork, our app can assist you every step of the way. We can draft legal documents for you and show you how to write them yourself; we can connect you with a remote notary who can notarize your documents 24/7; we can also help you send the docs to any recipient using our convenient online fax functionality!
For a full scope of our services, check out our learning center.
Stay Safe at Home and Enlist DoNotPay To Do Your Bidding
It's not easy to keep tabs on your obligations during these trying times ridden with uncertainty. That is why DoNotPay has developed numerous features to help you cross tasks off your list while staying safely in your home. Here's what else you can get done from the comfort of your armchair through our app: