Learn How To Transfer Ubisoft's 2-Step Verification to a New Phone
With all the potential online threats that accompany your subscriptions and accounts, companies keep developing security measures to protect you as much as possible. One of the most popular ways is the two-step verification process, and Ubisoft offers the option as well.
This widely-used safety precaution can also end up backfiring and complicating your life if you change your device. Find out how to deal with Ubisoft's two-step verification issue.
Why Does Ubisoft Require You To Take the Two-Step Verification Process?
Ubisoft offers you a two-step verification as a security measure for your account. You should know that this step is optional when creating your account, and you can skip it unless you wish to play Ranked Mode in Rainbow Six: Siege (that's the only case when you absolutely need the 2-step verification).
If you decide to use the 2-step verification protection, you should know what you're getting from it. According to Ubisoft, this safety precaution ensures:
Protection if someone else tries to access your account because you are the only one who has the verification code

Notification about suspicious activity happening on your account, so you know someone might be messing with it
You can get the verification code in one of the following ways:
Email

Google Authenticator App
If you wish to receive this information via the latter option, you will have to access the Google Authenticator App from your mobile device. In this case, you must provide Ubisoft with a valid mobile number.
How To Transfer Ubisoft's 2-Step Verification to a New Phone
In case you decided to protect your account using Ubisoft's 2-step verification process, you'll see that the generated codes stay connected to that device. This can lead to an issue if you change or lose your phone.
How to transfer your 2-step verification to a new device? This is where the plot thickens. You cannot just transfer the codes to a new device. Ubisoft requires you to first disable the 2-step verification using the recovery codes. This is what you'll need to do:
Log in to your

Ubisoft account

Select the

Security

tile

Scroll to the

2-Step Verification

section

Hit the

Deactivate

button
Only when you finalize this process can you enable the same safety measure on a new device.
How To Enable Ubisoft's 2-Step Verification on Your New Mobile Device Using Google Authenticator
You will need to provide Ubisoft with a phone number to enable the 2-step verification on your new device. This is what you'll need to do:
Log in to your account

Select the

Security

tile

Find the

2-Step Verification

section

Select

Activate

Hit the

Google Authenticator

tab

Select the

Choose

option

Enter your phone number in the

Recovery Phone Number

field

Select the

Add

button

Enter the six-digit code that Ubisoft sent to your phone

Click on the

Got It!

button when you see it in the pop-up

Open the link you'll get in your email

Log in to your account once again

Follow the rest of the instructions to complete the verification
Once you finalize these steps, you will receive six recovery codes you'll need to store somewhere safe.
This way of transferring Ubisoft's 2-step verification to a new device should work provided that you still have access to your old device. In case you don't, you should contact Ubisoft's customer service and ask them to help you with the process.
Should You Give Your Phone Number to Service Providers?
Giving your number to service providers comes with benefits, but there are risks you should consider too:
Pros
Cons

Good backup if you forget your password

If someone is trying to access your account, you'll see a text immediately

Another piece of personal information available online

Becoming a target of robocalls and spam texts

A company might misuse your data

Other personal info located on your phone may get compromised
Can You Avoid Giving Your Phone Number to Companies?
Yes, you can avoid giving your personal number to companies. In case you'd rather protect your privacy, you can go around this step. There are a few ways to achieve this, but not all of them are effective.
People usually choose one of these options:
You will hardly get satisfying results from any of these options. Buying a burner phone is not exactly cheap, and googling fake phone numbers will probably lead you to a scam, and the number won't work.
If you care about your friends and family, then you probably don't want them to deal with the issues you are trying to avoid, so it's better to avoid that if you can. What is the solution then? A proper and legit app called DoNotPay can help you sign up for any service without a phone number.
Use DoNotPay To Sign Up for Any Service Without Phone Verification

You can count on DoNotPay to provide you with a phone number to sign up for different services without any issues. Follow these steps:
Access DoNotPay in your

web browser

Locate and click on the

Burner Phone

section

Enter the name of the company

Select

Create a Temporary Number
We will send you a temporary phone number along with a verification code you can use to sign up for a service. You will have to use this info within ten minutes because it will disappear automatically.
In case the company requires you to provide them with a credit card number when signing up for a free trial, you can use our Free Trial Card.
Use DoNotPay's Virtual Credit Card To Sign Up for Free Trials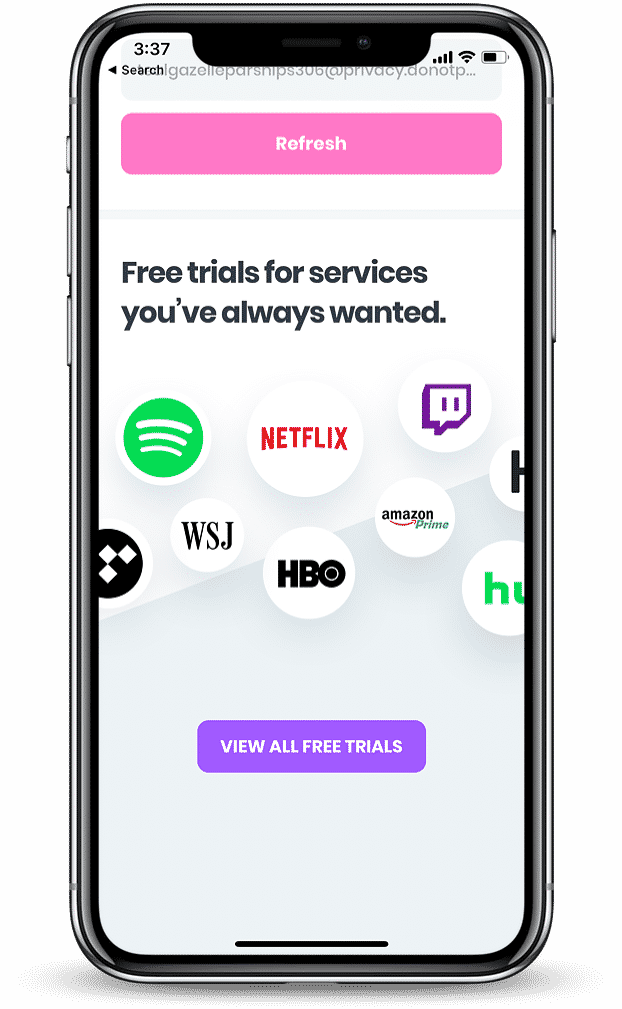 In case you don't want to share your personal information with various companies, you can count on DoNotPay to help you out. Avoid leaving your credit card number to a service provider by using our virtual credit card.
We can help you sign up for free trials without worries of getting charged once they end because our card is not linked to your bank account. Enter the DoNotPay card number when prompted to use your credit card info. It'll look like a regular payment method to any online merchant, so you can enjoy your free trial without stress.
Say Farewell to All Your Administrative Troubles With DoNotPay

In case you want to find out all the tips and tricks of dealing with Ubisoft's customer service, you should turn to DoNotPay for help.
If you wish to get your money back from other game developer companies and distribution platforms like Blizzard, Steam, Origin, GOG, or Uplay, you can count on our assistance.
We can help you get refunds from Xbox and PlayStation as well.
DoNotPay can help you with numerous other problems if you open it in your web browser and choose one of the following tasks:
Disputing traffic tickets

Fighting speeding tickets