Request a SCAD Application Fee Waiver in a Few Simple Steps
Savannah College of Art and Design (SCAD) is a private college that offers fine art degrees. The college has locations in Savannah and Atlanta, Georgia, but also in Lacoste, France.
SCAD college fee is 29% more expensive than an average private four-year college tuition. Its application fee isn't exactly on the cheap side either. If you're planning to apply to multiple colleges, application fees might cause serious damage to your finances. The amount you'll end up paying for your applications can go up to several hundred dollars.
Don't worry if you can't manage all your college application fees—DoNotPay can help you avoid unnecessary expenses by applying for an application fee waiver in a few clicks.
How Much Is the SCAD Application Fee?
Every student who applies to Savannah College of Art and Design has to pay a non-refundable application fee of $60.
Many students find the application fee too high, which discourages them from applying. You can try to get an application fee waiver and ease the financial burden.
How To Get a SCAD Application Fee Waiver on Your Own
SCAD isn't clear about fee waivers. There's a vague statement on Tumblr about fee waivers that are only available for alumni of SCAD.
Since you can apply for SCAD via the Common App, you should be able to get a fee waiver using this method.
There's also a general rule that students who have the SAT or ACT fee waiver should automatically get an application fee waiver, but SCAD isn't clear on this point either.
How To Obtain a Fee Waiver via the Common App
Follow the steps below to apply for a SCAD application fee waiver via the Common App:
Open the Common App

Log in to your account

Tap on

Submission & Fees

Click on

Common App Fee Waiver

Fill out the fee waiver request form

Submit the form
Getting a fee waiver Using SAT or ACT Fee Waivers
You can contact the Admissions Office for more information about getting a fee waiver if you already acquired the SAT or ACT fee waiver.
You may contact SCAD Admissions Office in two ways:
To contact SCAD via phone, call 800-869-7223. You can also write an email with all your questions and send it to contact@scad.edu.
| | |
| --- | --- |
| Can You Apply for a Fee Waiver Via | Yes/No |
| DoNotPay | Yes |
| SAT/ACT Fee Waiver | N/A |
| The Common App | Yes |
| School Visit | No |
| Formal request | N/A |
| Email request | No |
There's no guarantee that the Common App will be able to get you the fee waiver, but you can always try to apply for one using our app—DoNotPay.
Do You Qualify for a SCAD Application Fee Waiver?
Since it's possible to submit your application to SCAD using the Common App, this platform's eligibility criteria for requesting a fee waiver should apply.
To meet the Common App eligibility criteria, students need to:
Have the SAT or ACT fee waiver

Be a U.S. military veteran or depend on the U.S. military veteran

Have their high school counselor confirm their financial need

Be an orphan or a ward of the state

Have a family income corresponding to the

USDA Food and Nutrition Service

eligibility criteria

Participate or be eligible for the free lunch program at their school

Be homeless, live in a foster home, or public housing

Prove that they receive public assistance
How Can DoNotPay Help You Get a SCAD Application Fee Waiver?
DoNotPay created the College Application Fee Waiver feature because we wanted to relieve future students of the unnecessary financial burden.
DoNotPay can help you get three types of college fee waivers:
New Student Application Fee Waiver

Transfer Student Fee Waiver

Enrollment Deposit Fee Waiver
When you choose which type of fee you want waived, DoNotPay fills out the request form on your behalf and sends it to the financial aid office of your potential university. You can even get your high school counselor's signature with DoNotPay if you need it.
If the counselor's signature on your fee waiver request form is necessary, then DoNotPay first sends the form to the counselor. Once we obtain the signature, we submit the request to the university.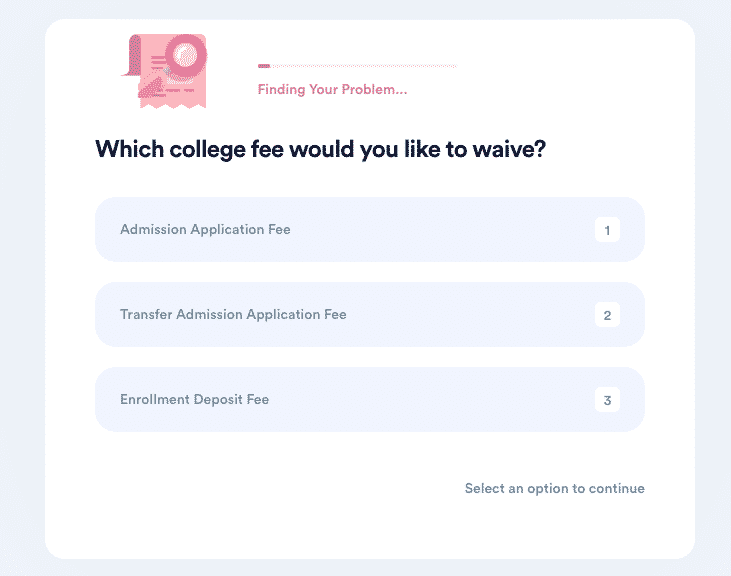 How To Submit Your College Fee Waiver via DoNotPay
You will need to follow a few short steps to send your fee waiver request with our help. They're as simple as they come, and you'll be able to do everything on your phone or computer.
Open DoNotPay in a and do the following:
Log in to your DoNotPay account and open the

College Application Fee Waiver

Select which type of fee you would like to avoid

Enter the name of the college you're applying to and tell us a little bit about your financial situation

Specify if you want DoNotPay to get your counselor's signature

Submit your request
We will fill out your request form immediately. Our AI bots will either send the form to your high school counselor to obtain a signature or to the financial aid office at the university directly, depending on what you choose.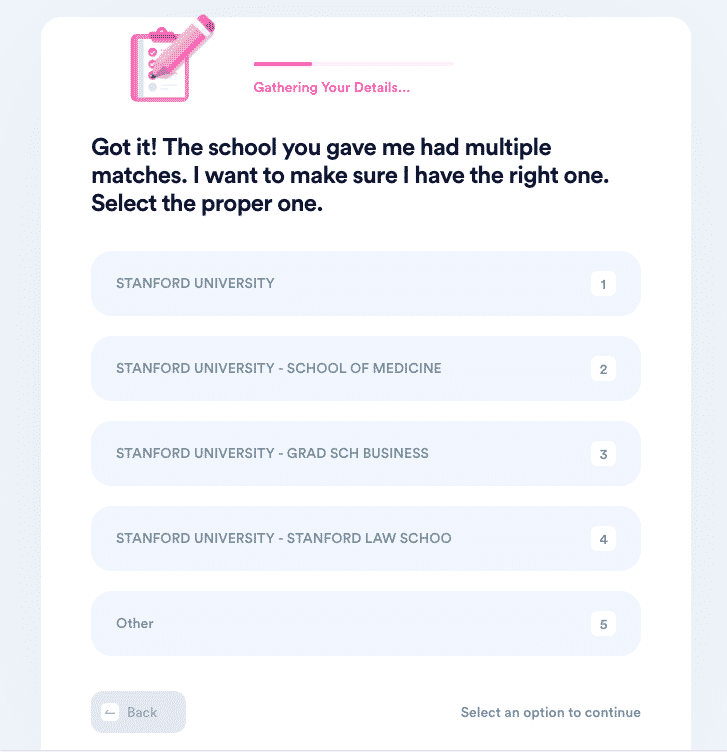 Other Fine Arts Colleges You Might Want To Apply To
When you're passionate about what you want to do in life, you won't stop at one college application. Most future students apply to more than three colleges.
Check out other fine arts schools you might want to apply to:
What Else Does DoNotPay Have To Offer You?
DoNotPay can help you obtain fee waivers for other colleges in Georgia, such as GSU, UGA, or Georgia Tech.
Helping our users get fee waivers isn't all DoNotPay can do! We know student life can be expensive, so we want to do everything in our power to make it easy for you. If you get a parking ticket in Savannah, DoNotPay can help you dispute it. Our platform can provide you with light bill assistance in Georgia.
DoNotPay can help you get a free trial without leaving your credit card information for various apps and programs you might need for your art—Adobe Creative Cloud, for example. If you don't need the whole package, check out how to sign up for InDesign, Photoshop, and Lightroom free trials individually.
Another useful feature includes protection from copyright violation—we'll show you how to copyright your design.
To access more of our features, open our app in any . We will provide you with the most helpful resources to:
Avoid traffic citations

Dispute speeding tickets