Fast and Easy Robocall Lookup
According to YouMail's nationwide robocall data, over three billion robocalls have been placed in May of 2020. This means that each day, Americans are fighting upwards of 95 million robocalls!
Last year, the president signed the TRACED (Telephone Robocall Abuse Criminal Enforcement and Deterrence) Act into law, in an effort to expedite the process of stopping robocalls from tormenting American citizens.
Understanding Robocalls and How They Work

For a call to be classified as a robocall, it has to be placed by using an autodialer. Regardless of whether a real person is on the line or you are hearing a pre-recorded message, as long as the caller used an autodialer to contact you, you are dealing with a robocall.
Thanks to the advanced technology that spammers have at their disposal, they can now place as much as one million robocalls in an hour.
Because the majority of people do not fall for scam calls, fraudsters have to rely on various manipulative techniques and tricks to compel more people to take the bait. One of these techniques is called "neighborhood spoofing." Scammers often spoof their numbers to make them similar to their victims'.
One great way to fight back against robocalls is to turn down calls coming from numbers too similar to yours!
Robocalls Cannot Be Legal, Can They?
Robocalls are complicated to sort out from a legal standpoint. The Federal Communications Commission (FCC) cannot forbid charities and politicians to use robocalls for their campaigns.
Companies and telemarketers can legally place robocalls as well, as long as they abide by the rules issued by the FCC and the Federal Trading Commission (FTC).
What companies cannot do is demand permission to autodial you so that you can purchase goods and services from them.
These are the rules legal businesses have to adhere to:
Robocalls cannot be placed before 8 a.m. and after 9 p.m.
You have to be offered to opt-out of their calls
The caller must provide full identification
Companies cannot dial numbers found on the Do Not Call list
Businesses have to receive express written consent from you
You Must Be Offered to Opt-Out
If you are dealing with a legal business, they will make sure to provide you with an option to opt-out of their calls. Pre-recorded messages usually allow you to press a certain number to opt-out, whereas voicemails leave you with a toll-free call-back number that you can dial and put yourself on the company's do not call list.
No Identification—No Business!
Robocallers are legally obliged to identify themselves properly when they contact you. At the beginning of the call, the caller has to:
Reveal his or her identity
Reveal the identity of the company on whose behalf the call is being placed
At the end of the call, the caller must:
Reveal the company's phone number
Reveal the company's address
The Purpose of the Do Not Call Registry
The FTC's Do Not Call Registry serves to protect you from spammy marketers who use robocalls to contact their customers. You can check if your number is already on the Do Not Call list. If it is, marketers do not have the legal right to contact you unless you have provided them with written consent to do so.
Check out the FCC guide to robocalls for more information on how to deal with annoying scam calls.
You can contact the FTC to learn about the Do Not Call list expiration and Do Not Call list exceptions.
The Intent Behind Express Written Consent
In case you have already placed your number on the National Do Not Call Registry but still want to receive calls from certain companies, you can provide them with the express written consent to contact you.
These consents are defined by the E-SIGN Act and can appear in multiple forms, such as electronic signatures or checkboxes on online forms.
Advanced Robocall Number Lookup With the TRACED Act
To put a definite end on annoying robocalls, president Donald Trump signed the TRACED (Telephone Robocall Abuse Criminal Enforcement and Deterrence) Act into law. While this act will not immediately terminate America's war with spam callers and scammers, it will certainly deter a lot of malicious individuals from engaging in illegal activities.
To understand why the TRACED Act is so important, let us delve deeper into its key provisions:
A new forfeiture penalty for violating the prohibition has been introduced
TCPA fines for robocall violation have been increased and can go up to $10,000 per call
The FCC has to promulgate rules that will protect Americans from receiving calls from unauthenticated numbers
The FCC and the Department of Justice have to formulate a working group that will study and report on the implementation of the robocall prohibition
The FCC has to promulgate rules that will establish the process of a provider blocking a call based on the call authentication framework results
The FCC has to revise its policies on the accessibility of numbers resources
Phone providers have to develop and implement better call authentication technologies, and they cannot charge these services to customers
Forget Robocall Number Lookup, Sue Scam Callers With DoNotPay!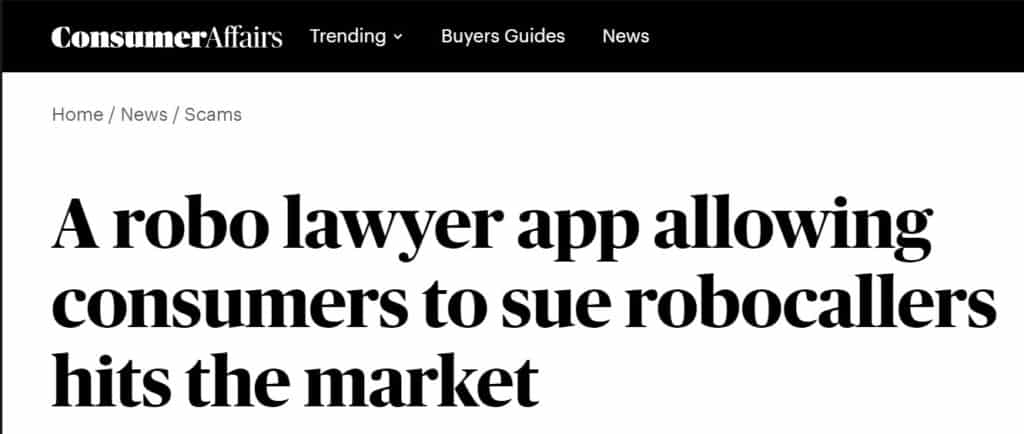 DoNotPay has helped thousands of Americans sue companies in small claims court and get the compensation they rightfully deserve. You can use our app to lower your bills, get help paying bills, cancel unused subscriptions, and a plethora of other things.
With our new feature called Robocall Revenge, you can now track down robocallers, file a robocall lawsuit against them, and get up to $3,000 in settlements!
To start using our services, all you have to do is access DoNotPay through a .
Here is how DoNotPay deals with fraudulent robocalls:
You receive a scam robocall
The fraudster tries to take your money or personal information
You open DoNotPay and select Robo Revenge
Our app provides you with a free virtual credit card
You share the fake card details with the scammer
We track them down based on the transaction details
Our app generates a dispute letter and files a claim on your behalf
Why a Fake Credit Card?
We use DoNotPay's Free Trial Cards to help you protect your identity and money. These virtual credit cards also allow us to track down the scammers when they try to charge your fake account.
Keep in mind that we can only access scammers' information if they are operating domestically. To file a claim against someone, we have to have their address, and getting a hold of that information with overseas scammers is impossible.
One More Thing About DoNotPay
As a precautionary measure, DoNotPay places your number on the National Do Not Call Registry. By doing this, we discourage legal spam callers from contacting you with their annoying robocalls.
In case you want to do this yourself, these are the steps you will need to take:
Select Report Unwanted Calls
Provide the required information about the spam call you received
Submit your request
Famous Robocall Scams to Keep an Eye Out For
For those of you who do not have an app that helps you identify spam and robocall numbers, here is a list of the most common robocall scams that have been pestering America over the past few years:
| | |
| --- | --- |
| Scam | How to Recognize It |
| Google SEO scam | If you are a small business owner, you should watch out for . Victims get a call from an alleged Google representative that threatens them to delete their Google listings if they do not pay additional SEO fees. Google went on record to say that they do not use autodialers to contact their customers. |
| IRS scam | IRS robocall scams are particularly scary because the callers tend to be fairly aggressive. Usually, the victims would get a call from a supposed IRS inspector threatening to issue an arrest warrant unless they pay their overdue tax bills. To make matters worse, IRS scams are extremely believable, especially when the alleged inspector provides a badge number. The government never approaches its taxpayers this way. If you had an overdue tax bill, you would receive a notice via U.S. Mail or have someone show up at your door! |
| Government Grants scam | Government Grants scammers try to sell you on the story that you have become eligible to receive free money from the government. Victims are only asked to pay small, one-time processing fees, and the money will get transferred to their accounts. If you were to receive a government grant, you would not have to pay any processing fee whatsoever. |
Most Common Spam and Robocall Numbers
Nomorobo keeps Americans up to date with the most active robocall numbers in the past 24 hours through their Robocaller Lookup service. is also available through the company's extremely user-friendly app. According to Nomorobo, these are the spam numbers that have most commonly appeared on America's mobile phone screens in the past few days:
| | |
| --- | --- |
| (202) 540-0954 | (951) 484-2884 |
| (202) 301-8251 | (908) 389-6187 |
| (769) 213-2576 | (844) 362-5478 |
| (202) 301-8257 | (202) 540-0958 |
| (202) 540-0952 | (973) 604-7510 |
| (202) 540-0946 | (205) 997-3246 |
| (424) 432-1011 | (201) 359-3918 |
States Most Affected by Robocalls
While robocalls have been plaguing the whole of America, certain states have gotten the short end of the stick. Among the most affected states by robocalls are:
| | | |
| --- | --- | --- |
| State | Monthly Robocalls | Complaints per 1,000 Residents |
| Maryland | 18.4 | 21.6 |
| Nevada | 16.5 | 21.9 |
| Colorado | 12.2 | 22.9 |
| Delaware | 15.9 | 21.3 |
| New Jersey | 14.1 | 21.3 |
| Arizona | 12.9 | 22.1 |
If you are tired of reporting robocalls for months on end, maybe you should consider moving to Alaska. Apparently, Alaska is the least plagued state by robocalls, where residents receive approximately 3.3 robocalls per month.
How Do Robocall Scams Work?
Robocall scams are not that hard to pull off. Given how advanced technology has become, scammers can easily access millions of phone numbers, get into America's phone network, and dial hundreds of thousands of numbers in a short amount of time.
These are the steps a fraudster needs to take to pull off a successful robocall scam:
Purchase leads
Get a phone carrier
Autodial millions of numbers
Operate a phone bank
Manage the income
Leads Are Cheaper Than You Think
A scam robocaller purchases lead lists in the same way a legal business would. Many companies sell phone numbers to telemarketers across the country, and for a few thousands of dollars, a scammer could get access to millions of Americans' phone numbers.
Small Phone Carriers Are the Key to Success
While the government closely monitors large phone carriers' operations, small phone providers are often left untouched by these controls. Because of this, if the scammers pay the right price, small phone providers are more than willing to let them into America's phone network.
The Endless Loop of Autodialing
To ensure that enough people take the bait, scammers have to rely on advanced autodialing technology. The new software allows them to dial millions of numbers each day. Since the conversion rate of scam calls is fairly low, quantity becomes of utmost importance.
Operating a Phone Bank
The only way a scammer can get a hold of your money or personal information is through a functioning phone bank. A voicemail or a pre-recorded message can only forward you to a real person who tries to seal the deal.
Converting the Income, Fast
To avoid getting caught by the authorities, scammers have to act fast when it comes to converting their income. They use various forms of money for these purposes, but gift cards are by far the most common one.
Tips on How to Avoid Getting Damaged by Scam Robocalls

While you may use a robocall lookup tool and call-blocking apps to prevent spam callers from bothering you, there are certain precautionary measures you should take to avoid getting damaged by fraudulent robocallers.
These measures include:
Not answering the phone
Putting your number on the National Do Not Call Registry
Refusing to provide your personal information
Simply Do Not Answer
Whenever you get a call from an unknown number, especially if it is too similar to yours, it is probably best to ignore it. While it can be extremely annoying to turn down a dozen spam calls every month, you will save yourself a lot of hassle by not answering them.
FTC's Do Not Call Registry Works
By placing your number on the National Do Not Call Registry, you put a lot of power in your hands. Telemarketers will abide by the rule of not contacting people whose numbers are on this list, so you will at least protect yourself from spammers trying to sell you stuff.
Keep Your Information to Yourself
Revealing your personal information to a suspicious and unknown caller is something you should avoid at all costs. Scammers often seek personal information more than they seek money because it allows them to pull off bigger identity or credit card frauds.
How to Block Robocalls on Your Smartphone
All modern smartphones allow you to block specific numbers or report them as spam. These features can come in handy with spammy marketers, but they will not be of much help with scammers as they tend to change their numbers frequently.
Blocking Robocalls on iOS Devices
If you are using an iOS device, you have the option to block a certain number or even silence all unknown callers.
To block a number on an iOS device, you need to:
Open the Phone app
Tap on Recents
Tap on the info icon next to the number
Select Block this Caller
Tap on Block Contact
To silence all unknown callers, you should:
Open Settings
Tap on Phone
Enable the Silence Unknown Callers switch
Blocking Robocalls on Android Devices
Android users can block specific numbers as well as block all unidentified numbers.
To block a number on an Android device, you have to:
Open the Phone app
Select Recent Calls
Tap the number and select block or report as spam
Confirm that you want to block the number
To block all unidentified numbers on your Android device, you should:
Open the Phone app
Tap on Settings
Turn on the switch for blocking all unidentified numbers
Need a Robocall Lookup Tool?
Robocall blockers have become must-haves in recent years. Though most major phone carriers provide number lookup and blocking services to their customers, there are plenty of third-party apps that get the job done as efficiently, and in some cases, even better.
Robocall Lookup Tool

About the Service

Free basic service
Free reverse phone lookup
$5.99 per month for YouMail Plus
$10.99 per month for YouMail Professional
Includes transcription service

Free basic service
Easy to navigate through
$2.99 per month
$14.99 per year for Hiya Premium
Phone lookup feature

Free 7-day trial
$2.99 per month for Android devices
$3.99 per month for iOS devices
Includes Answer Bots
Customizable Answer Bot messages
Text spam filtering

Free 14-day trial
$1.99 per month
Free number lookup service
A huge database of spam numbers
Free for VoIP landlines
No Better Way Than DoNotPay
Are you tired of waiting in queues? Have overdue bills led you into financial hardship? Have your subscriptions become too difficult to manage?
DoNotPay offers solutions to all of these problems and countless others. To start using our services, simply open DoNotPay in a . You can use DoNotPay to:
Fight speeding tickets
Dispute traffic tickets