Revolut Virtual Credit Card—Convenient, Secure, and Transparent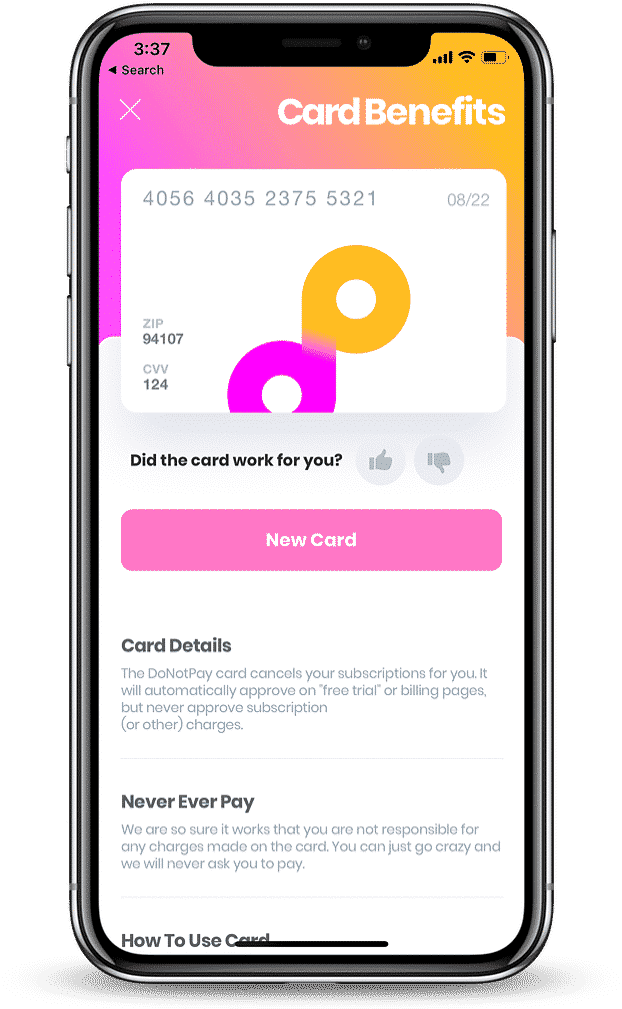 Revolut is a company that promises to provide you with one app that can take care of your money, whether you are sending cash, receiving cash, or using cryptocurrency. Just one of their services includes the .
It is a type of virtual credit card (VCC), but many people are curious about whether it can do what they need it to do. DoNotPay has this answer and so many more.
What Are Revolut Virtual Cards?
The Revolute virtual card works like a regular bank card. However, you will not receive an actual bank card. You simply get a number that is generated and ready to use immediately for over the phone or online purchases.
Are Revolut Virtual Cards Free to Use?
Revolut offers three membership packages. Each package offers a variety of features to make it worthwhile.
Packages
Cost
Inclusions
Standard
Zero Monthly Cost

Exchange Currencies Up to $1,000 Monthly
ATM Withdrawals Up to $1,200 Monthly
Crypto Up to $200,000 Monthly
10 Free International Transfers to Banks Monthly
Free Card
05% APY on Savings
Instant Access to Crypto Tokens
Revolut Junior Account for 5 Kids

Premium
$9.99 Per Month
All the Free Stuff Plus:

Overseas Medical Insurance
Global Express Delivery
Priority Customer Support
07% APY Savings
Premium Card with Designs
Disposable Virtual Cards
Free Lounge Access for Delayed Flights (You and a Friend)

Metal
$16.99 Per Month
All That Comes with Previous Packages Plus:

Free ATM Withdrawals
Baggage and Delay Insurance
Metal Cards
LoungeKey Pass Access
Free Lounges for Up to 3 Friends
If you choose to pay for access to get a virtual card and the other benefits, you can receive special pricing by paying upfront.
How Do Revolut Virtual Cards Work?
Everything that you will do on Revolut will need to be done through an app. If you read user reviews of the app, many say that it is slow to use because money transfers from the bank to the app can take days.
How Do You Get a Revolut Virtual Card?
To begin the sign-up process, you will need to first provide your phone number. This will allow them to send you a link to download and install the Revolut app on your smartphone.
After you install the app, you will need to create an account and input your bank information to get started using it.
Does Revolut Promise It's a 100% Safe VCC?
Revolut promises to be safe to use because your money is in one of their global banking partners until you use it. This protects you from fraud. As proof, they claim the FCA authorizes them.
If you are using the virtual card, you can lock it to prevent abuse. Since they also have disposable virtual cards, you can use them to make only a single purchase to protect your privacy if your number gets stolen by some company.
For many people, the downside is that you have to have your bank account listed on both cards. You cannot have one without the other. How do you know for sure that you are safe when all your money is in some foreign account?
If this is something that concerns you, DoNotPay has a better way of handling it. We have a virtual credit card that is automatically generated and deleted so that your privacy or banking information is never at risk.
DoNotPay Offers a Safer Free Trial Card

With DoNotPay's virtual credit card, you can save time and money without ever sacrificing your safety. It is a card that allows you to:
Take Advantage of Free Trial Offers that Require a Credit Card
Make Purchases with Online Merchants You Don't Fully Trust
Keep Your Banking Information Private
Are you curious about how to use the virtual credit card from DoNotPay? It is very simple to do. To start, you must log in to DoNotPay's website and locate the Virtual Card option.
Once you have done that, you will need to:
Request DoNotPay Generate a Credit Card Number
With just a click of your mouse button or fingertip, you can have a valid credit card generated quickly. These cards have:
A 16-Digit Number
Expiration Date
CVC Codes
A Credit Card Company Name (IE: MasterCard or Visa)
These credentials give you the appearance of an actual credit card, and online retailers will never know the difference.
Provide Any Name/Address You Want to Use
If you are signing up for a free trial, you may not want the company to have your name and address because of spam. DoNotPay allows you to input a real or a fake name, address, email, and phone number. They can even help you come up with a burner phone number!
Provide Your Bank Account Information
When making purchases, DoNotPay will need you to input your bank account for financial reasons. However, DoNotPay deletes your bank account information to protect your private information. If you are simply signing up for a free trial, you will not have to provide a deposit of any kind, ever.
Use Your Virtual Credit Card Number
The quickly approved VCC through DoNotPay should be used immediately since it, and all traces of it will disappear in just a few minutes.
Where Can I Use DoNotPay's Free Trial Card?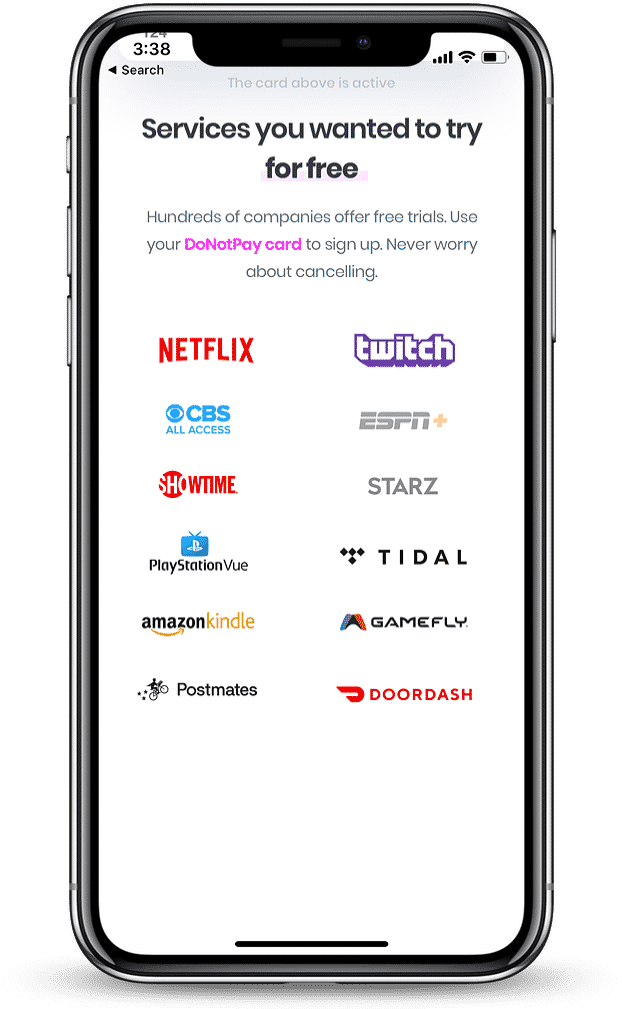 VCCs from DoNotPay are usable anywhere that accepts credit or debit cards as a payment option. You can use them to:
make online purchases
sign up for free trials
start subscriptions you aren't sure you want to keep
and more
Some of the most popular free trials are for services like:
No matter what service you want to try, DoNotPay's virtual credit card can help you do it safely and quickly!
What Else Can DoNotPay Do?
Helping you understand the and comparing it to the one offered by DoNotPay is just one of the many services available to you. DoNotPay can help you with:
Disputing Traffic or Speeding Tickets
Simply log in and tell DoNotPay what you need to do. DoNotPay will simplify it and make sure you are happy with the result.