Privacy Virtual Credit Card—Everything You Need to Know
If you've ever bought anything online, you have exposed yourself to potential cyber attacks and data breaches. Even if there were no fraudulent activities on your bank account, there's a chance your information was or will be compromised at some point.
Although online shopping is an excellent way to conduct most of your purchases, safety and privacy are major concerns. The solution to this problem comes in the form of virtual credit cards (VCCs) that allow you to subscribe to services and make purchases online without having to expose your banking information.
You can get this nifty service either from your bank or a specialized VCC issuer, like Privacy.com. Since you may still be unsure of how virtual credit cards work and if Privacy.com is safe to use, we'll explain the whole process in detail.
What Is a
Privacy Virtual Card
?
The Privacy card is a virtual credit card that you can use as a paying token with online retailers. Although a Privacy credit card has all the essential features of a real credit card that enable online transactions, it is a one-time payment method that does not disclose your data to merchants.
The underlying mechanism behind the Privacy burner card is a virtual credit card generator. VCCs have their own randomly generated credit card numbers, expiration dates, and CVVs (Card Verification Values). While a VCC needs to be connected to your actual credit card to fund the online purchase, it does not disclose your real bank account or credit card information. So, even if the merchant gets hacked, your details won't be compromised.
You can think of the Privacy virtual credit card as a token that is connected to a specific retailer, which ensures that your other funds remain safe from fraudsters and thieves. Privacy developed its virtual credit cards in an attempt to offer a secure and easy online payment method that allows you to buy products or services even from iffy online stores.
If you haven't been using VCCs, it's high time you started because cyber attacks are becoming a new reality. In case your bank does not offer virtual credit cards, you should consider applying for a Privacy.com credit card.
How does the Privacy VCC work?
A virtual credit card is a randomly created card number that you can get every time you are making an online purchase. You must link your Privacy VCC to your bank account or your debit card as the source of funds. The account data will not be visible or available to the merchant or anyone else.
When the time comes to pay with Privacy, you simply enter the virtual credit card details provided by the company. VCCs appear as regular card numbers to merchants, so the payment will go through in the same way as with your standard credit or debit card.
Your virtual credit card comes with all the required information:
Credit card number

Security code

Expiration date
The funds will be taken from the linked funding sources, and you will be able to view the details both on your Privacy account and on your bank statements.
How Do I Get the Privacy Virtual Credit Card?
To start using the service, you need to create a Privacy account following these steps:
Set up an account by entering your email and creating a password

Link a source of funds to your Privacy account (bank account or debit card number)

Select the option My Wallet on Privacy.com

Create a virtual credit card and use it as a paying token
Connecting your Privacy account with a funding source may seem unsettling to you, but the process is entirely safe. When you select your bank from the list, Privacy will establish a secure connection with it and ask for permission to draw funds every time you use your VCC to buy something. Your bank will ask you whether the purchase is legitimate, so you have full control of everything that is going on.
Privacy uses Plaid to communicate with your bank, so you can be sure that nothing dodgy is happening in that respect. All transactions are visible on the platform, and they will appear on your regular bank statements.
You can create cards via the Privacy website, or you can add the extension to your web browser. If you add the extension, the process gets a lot quicker because the extension will offer to make the card as soon as you are ready to pay. If you conduct most of your shopping on your phone or tablet, there is also the Privacy mobile app available.
Are There Different Types of
Privacy Cards
?
You can set up two types of virtual credit cards via Privacy. Both are valid for all online retailers, but they differ in the duration. When creating a new credit card number, you will be asked to choose from:
Single-use cards (burners)

Permanent cards
Burner cards
Burner cards are excellent for testing new merchants and figuring out their payment and privacy policies. With burners, you get a single-use paying token that expires as soon as the purchase is made. If you are not sure about a specific online store, or you simply wish to leave no trace whatsoever, create a burner card. You will be safe from any suspicious activities, and your details will be unavailable once you finish shopping.
Permanent cards
Privacy multi-use VCCs are useful for subscriptions and merchants that you are regularly conducting business with. They are designated to a specific service provider, and cannot be used for other online shops and establishments.
Privacy allows you to name the cards as you wish, so you can create a Hulu card or an Uber card that you use only for those providers. Even if the merchant system is breached, multi-use cards won't show any of your information, so they are quite safe as well.
Are
Privacy Virtual Cards
Free?
Privacy.com offers a Free Plan that allows you to create 12 cards and receive nifty bonuses by inviting friends to join Privacy. There are two more options that are upgraded versions of the main service—Pro Plan and Teams Plan.
Pro Plan gives you an opportunity to create 36 virtual cards, and get priority support if there is an issue with your account. You can also receive a 1% incentive after you spend $4500 through your Privacy account. Teams Plan allows for 60 virtual cards and is an excellent choice for businesses. There are no additional Privacy.com fees.
Here's a quick overview of Privacy.com virtual credit card plans
| | | | | |
| --- | --- | --- | --- | --- |
| Privacy | Membership fee | Number of VCCs | Incentives | Priority support |
| Free Plan | $0 | 12 | limited | no |
| Pro Plan | $10 | 36 | yes | yes |
| Teams Plan | $25 | 60 | yes | yes |
What Are the Benefits of Using Privacy Virtual Cards?
Apart from the most obvious benefit—data security—there are numerous advantages to using the services of Privacy. It allows you to:
Set limits to your VCCs

Shop at unknown websites

Cancel virtual cards on your own

Save money
Limiting Your Virtual Cards
Whenever you create a new Privacy card, you can set a limit to a particular amount. There is also a possibility of establishing a daily, monthly, or weekly limit, in case you are using the card for subscriptions.
For example, if you are paying a weekly membership of $9.99, you can set the card to a $10 amount per week (Privacy restricts limits to whole numbers). Only the chosen service provider and only the limited amount will be available on that card, so no funny stuff can happen to your account.
Shopping at New Online Stores
Even if the merchant is not fraudulent, it can be a victim of hack attacks and data breaches. This is a common problem with new and small retailers that don't have adequate security. If they fall prey to hackers, your bank account details can be exposed, and your money stolen.
Privacy cards don't disclose any of the confidential data to the merchants, so you can peacefully use the services of all service providers. You should be aware that Privacy does not check the credibility of the service provider, so the designated funds can still be stolen. The good news is that the theft will be limited to that amount only.
Canceling Privacy VCCs
Canceling your Privacy VCC is as easy as creating one, if not easier. In case you no longer need the services of a particular merchant, you can cancel the card through My Wallet. If there is any suspicious activity going on at a website you bought something from, just block the designated VCC, and there is nothing to worry about.
Although you can cancel the standard cards as well, with VCCs, you only have to block that particular number. Your bank account or debit card details can stay the same because they are not stored during registration and shopping.
Saving Money with VCCs
Privacy can help you save some money through referrals and cashbacks. Advertising this financial tool by inviting friends to use it gives you a $5 credit once your invitees make their initial transaction. They will receive the same amount by purchasing something via Privacy VCC.
Cashbacks will give you 1% of your monthly purchases, and you can activate the service after you get two or more friends to sign up for Privacy. Depending on the amount you spend online, this can be quite a money saver.
Are There any Drawbacks to Using Privacy Cards?

Privacy cards are not perfect for everyone or in every situation. While there is no denying that they are excellent when it comes to safety and privacy, there are a couple of drawbacks you should be aware of. Before you start using your Privacy VCC consider the following:
They are not valid for in-store shopping

They can only be linked to bank accounts and debit cards

They are not suitable for tickets and vouchers

They can be tricky in case you need a refund
Privacy Cards and In-Person Payments
The most significant disadvantage of the Privacy virtual card, and any other VCC, is that you cannot use it for in-store shopping. As you don't get an actual plastic card, only a number, you will not be able to use it anywhere except on the Internet.
VCCs are not mobile wallets, although many people mistake one for the other. Mobile wallets are apps that store your financial data on your smart mobile device, and you can use them instead of regular cards or cash with merchants that have smart payment terminals. Mobile wallets are designed for in-person payments, while VCCs are meant for paying online.
Privacy VCCs and Credit Cards
One of the significant disadvantages of the Privacy virtual card is that you cannot link it with your credit card. Only bank accounts and debit cards are valid sources of funds for your VCC. This means that you won't be able to receive any rewards on your regular credit card regardless of how much money you spend on your Privacy virtual card.
For some people, credit card rewards are a big deal because they save quite a lot by using them. Although Privacy can add credit cards as a valid funding source, the question remains: will using a virtual card allow you the cashback through rewards?
Privacy VCCs and Tickets
Buying airline tickets and holiday vouchers with your Privacy VCC may not be the best idea, especially if you are traveling abroad, or using a specific carrier for the first time. Some companies will ask you to show the card you used for purchase as proof of identity, which in case of any VCC won't be possible.
Refunds and Privacy Virtual Cards
In case you need a refund, Privacy VCC may be a tricky payment method. Some merchants can return the funds only to the card the purchase was made with. In case you used a burner card, or your VCC expired, this will be impossible.
As there is no connection to your actual financial details from the merchant's perspective, they will not be able to make a refund to your bank account or regular debit card. You should make sure that your VCC is valid before buying something you are not sure you are going to keep.
Does the Privacy VCC guarantee 100% safety?
Although they seem to be functioning flawlessly at the moment, VCCs still have funds attached to them, so hackers are probably working hard to crack them as well. It remains to be seen whether they'll manage to break through the security.
The funds that you made available on your Privacy virtual cards can be appropriated if the merchant is fraudulent, so in case you were trying to buy something expensive, the damage can be significant.
If you are not sure about a specific online store, you can use a dummy card to test the merchant. Dummy VCCs are not real cards, but fake card numbers that allow you to check what kind of a retailer you are dealing with. Privacy does not offer fake VCCs, but you can generate them yourself by using a virtual credit card generator.
The fake virtual card looks like a real card, and it will pass a verification test from the merchant. Since it has no funding source attached to it, you can be certain that your money is safe from theft. When you are sure that the online business is legitimate, you can provide your actual details and continue shopping.
You must not attempt to buy goods or services with a fake card because it is illegal to use it for anything else other than registration and testing purposes. Any attempt to make purchases with it will draw serious legal consequences.
What Is the DoNotPay Free Trial Card?

In case you need a virtual credit card that you can use to sign up for free trials without having to disclose your banking information— is the perfect solution. It's an excellent way to enjoy the benefits of various free trials without having to worry about automated subscriptions or missed cancelation deadlines.
Regardless of how great they sound, the so-called free trials are often not free at all. They usually turn into pricey automated subscriptions that cost you hundreds of dollars each month. It's not uncommon for the providers to make the cancelation process overly complicated, forcing you to waste time talking to half a dozen company representatives on live chat. Some sketchy online merchants outright refuse to cancel your subscription.
DoNotPay virtual card is designed to prevent those situations from happening. It is an instant approval virtual credit card that is not linked to your actual credit or debit card, and is valid only for free trials and registrations. This means that your banking information is 100% safe and secure and there's no possibility of getting charged at the end of the free trial period.
How Do I Get the DoNotPay Virtual Credit Card?

The process of getting the Free Trial Card is quick and easy. You need to log on to DoNotPay through your , and choose the Credit Cards option. The app will create a card number that will meet all the demands of a real credit card but will not endanger your funds or data because you will not link it to any real money source.
When you decide to start a specific free trial, use your details for registration. What is fantastic about the DoNotPay service is that it keeps you safe by:
Checking whether you are signing up for the free trial

Canceling the service if it is not a free trial

Blocking automated subscriptions

Linking the card to a temporary email address to prevent the merchant from spamming your real email
You should know that the DoNotPay virtual card is meant to be used only during the free trials. If you decide to go on with the subscription, you will need to use your real card. You will be notified once the trial period is about to expire, so you can provide your actual details to the specific provider.
Where Can I Use the DoNotPay Card?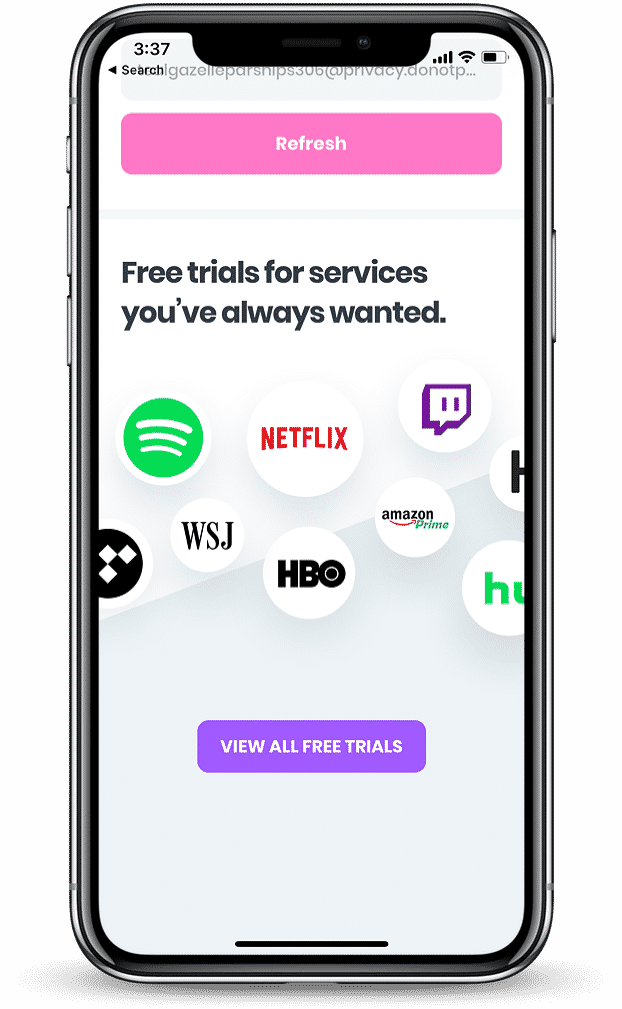 All major providers accept the DoNotPay virtual credit card for their free trials. Here are a few services that you can test out risk-free with our Free Trial Card:
ESPN Go

Doordash

Postmates

Jira

PlayStation Vue
Check out the benefits of the Free Trial Card from DoNotPay in the table below:
| | |
| --- | --- |
| Regular credit card | DoNotPay virtual credit card |
| Shows personal data | Keeps personal data hidden |
| Allows charges by merchants | Blocks all charges |
| Does not check for automated subscriptions | Does not allow automated subscriptions |
What Else Can DoNotPay Do?
In case you are struggling with problems that require help from lawyers and other specialized consultants, DoNotPay can do wonders to help you. It's a free app that uses the services of the world's first robot lawyer to assist you with extension letters, waiver letters, unfair fines, hidden subscriptions, and much more.
Feel free to contact us if you need assistance with:
Fighting speeding tickets

Disputing traffic tickets