Learn How To Report a Pedophile Hassle-Free
Pedophiles are some of the most dangerous sex offenders since they target the most vulnerable individuals—children. In this guide, you'll learn how to report a pedophile and keep your loved ones protected at all times.
We're here to provide you with all the info you need about searching a sex offender registry and send you weekly updates about newly registered offenders in your vicinity. , and learn how to recognize pedophiles and report them the easy way.
How To Report a Pedophile
Did your kids come into contact with someone you know is a sex offender, or has an individual been acting inappropriately around them? You should report them right away. We're here to explain how to do so easily.
You can choose one of the following options:
File a report online
Report them over the phone
How To Report a Pedophile Online
To report a pedophile online, do the following:
Click on Report It Here
Type in the required details
Select Submit
Once you finish the above-listed steps, your report will be forwarded to a law enforcement agency for investigation and action. You will get a response as soon as possible.
Pedophile Hotline—How To Report a Pedophile Over the Phone
You can report a pedophile over the phone by following these steps:
Call NCMEC at 1-800-843-5678
Explain the situation and your request
Follow the instructions you're given
NCMEC isn't the only available option. You can also call the U.S. Immigration and Customs Enforcement (ICE) hotline at 1-866-347-2423 or contact your local authorities and ask them what to do.
Find Out How To Recognize a Pedophile
To ensure you stay on the safe side, you should learn how to recognize a pedophile, but spotting one isn't the easiest thing to do. Statistically, pedophiles are usually 30-year-old single males who:
Try to spend a lot of time around children
Treat children like adults
Have childlike hobbies and interests
This doesn't mean that every person who fits the description is a pedophile. One of the ways to check whether someone could be dangerous is to find out whether they were convicted of pedophilia or other sex crimes in the past. You can do so by searching the sex offender registry and mapping the whereabouts of the offenders in your area.
What Is a Sex Offender Registry?
Every individual who commits a sexual offense—including tier 1, tier 2, and tier 3 sex offenders—is obligated to register with their local authorities and place themselves on a sex offender registry. If an offender avoids registering, they will get fined or even spend time behind bars.
While registering, offenders must share various personal info, such as their:
Name
Address
Committed crime
Driver's license number
Registered sex offenders face a variety of restrictions set in place in an attempt to keep the public safe. Consult the list below to see what pedophiles aren't allowed to do:
Move without notifying the authorities
Travel without registering with the authorities of the state they go to
Searching for Registered Pedophiles Near You
Ever since the passing of Megan's Law, all the info about registered sex offenders has been made public, which means that everyone has the right to search state and national registries.
You can perform a sex offender registry search in two ways, as shown in the table:
| | |
| --- | --- |
| Ways To Search the Sex Offender Registry | Explanation |
| Online | You can search the internet and use different websites to map out registered sex offenders. To initiate the search, you need to provide either your ZIP code or a sex offender's name. Keep in mind that these websites aren't updated regularly, which means that you might not be aware of the newly registered offenders in your neighborhood |
| With DoNotPay | With DoNotPay, you won't have to worry about a sex offender moving to your neighborhood overnight without you knowing about it. Once you subscribe to our app, you'll be able to locate registered offenders in a snap and choose to receive weekly updates |
DoNotPay Helps You Locate Registered Sex Offenders in No Time!
Not only can DoNotPay speed up the search and help you find registered sex offenders near you, but we can also keep you in the loop at all times! The best part is that the process is streamlined to a tee—all you have to do is complete our quick four-step instructions! Here's how it works:
Select the Sex Offender Search feature
Tell us whether you want to look for a specific offender or you want to get a list of all the registered ones near you
Set the search proximity radius (one, two, or three miles) and say if you would like to get updated weekly reports from us
DoNotPay will provide you with a full sex offenders report in a snap!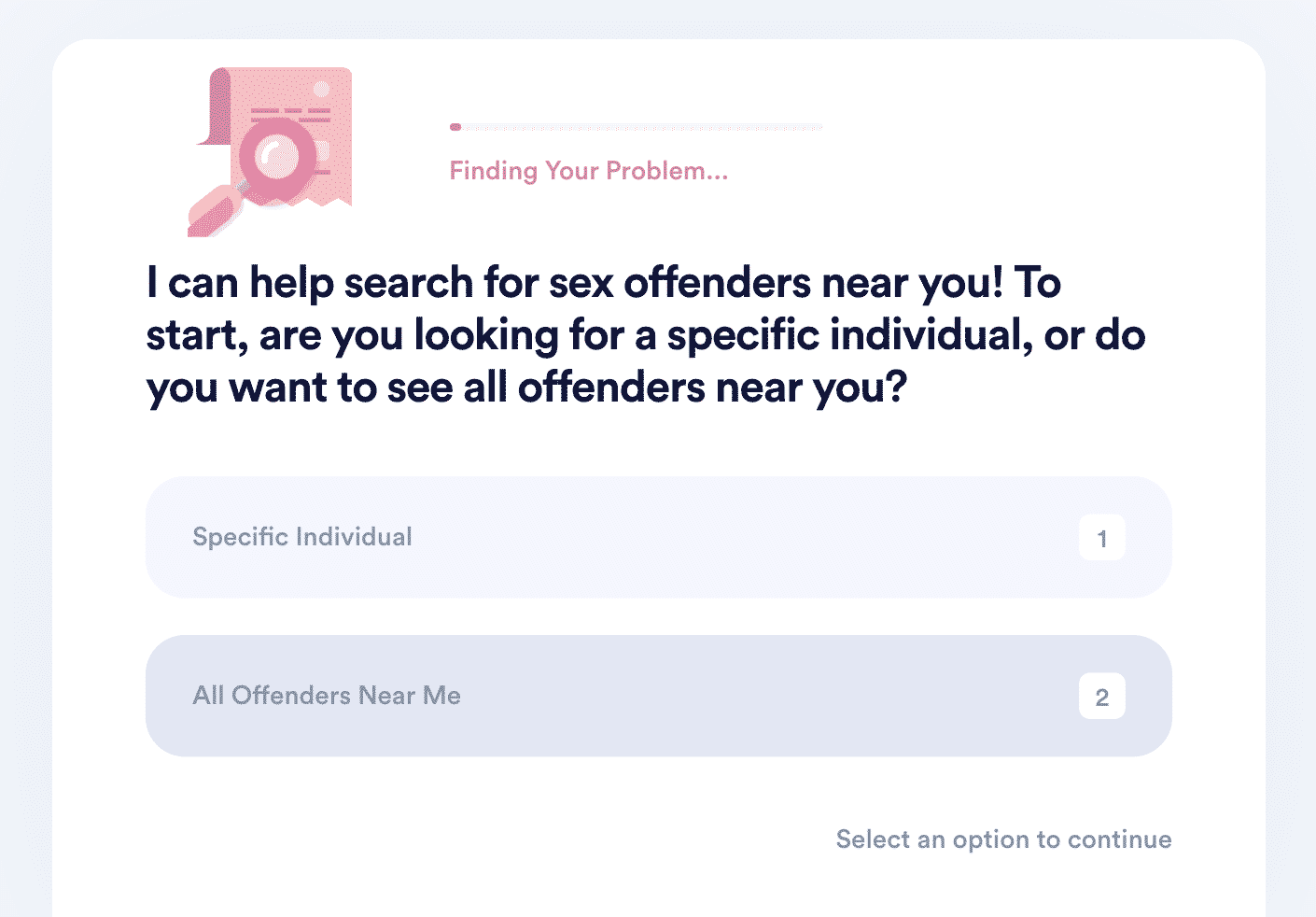 Want To Save Money on Lawyers? Use DoNotPay
Most people spend big bucks on expensive lawyers to overcome their bureaucratic obstacles. Don't waste your money on unnecessary fees—use DoNotPay and take care of any legal matter in a few easy clicks! Check out some of the issues the world's first robot lawyer can help you with:
DoNotPay Turns Your Everyday Hurdles Into a Piece of Cake
Did you receive a faulty or damaged item? Why not return it with your virtual assistant? We can also help you get a late delivery refund and jump the queue if the customer service phone keeps ringing to no avail. The list of handy DoNotPay features that make your everyday life easier goes on.
By subscribing to our platform, you won't have to worry about your tedious neighbors or parking tickets. We can do it all!