Cuyahoga County Sheriff's Sex Offender Registry—DoNotPay Gets You Regular Updates in a Flash
Would you like to have a constant overview of essential information on sex crime threats in your neighborhood? Then relying on Cuyahoga County Sheriff's Sex Offender list isn't the best choice.
Avoid endless browsing and unreliable emails the state's sex offender website is supposed to send. DoNotPay has a better solution—our Sex Offender Search tool.
and get weekly alerts about new sex offenders on your block. These reports are highly customizable and can't get lost, so you'll get all the info you need on time.
Sexual Offenders—Cuyahoga County Registry Laws
Following federal sex offender registration laws, including Megan's Law, Cuyahoga County authorities recognize a three-tier classification of sex offenders. Based on this system, all Ohio sex offenders must respect specific registration periods.
As long as they are required to register, the offenders must also verify their data with the authorities and abide by different restrictions.
If they fail to register after the release or become non-compliant in any way, the offenders can be prosecuted for offenses ranging from misdemeanor to fourth-degree felony.
Cuyahoga Sex Offenders Classification and Registration Requirements
Ohio sex offender law classifies sex offenders into tiers, depending on how likely they are to commit a crime again. Each tier has a different required registration period—the more dangerous the criminal, the longer the registration.
Here are all three tiers with an explanation and the mandatory registration period:
| Tier | Description | Registration Period |
| --- | --- | --- |
| Tier 1 | Low probability of another crime | 15 years |
| Tier 2 | Medium probability to reoffend | 25 years |
| Tier 3 | High chances of committing another crime | Lifetime |
Sex Offenders—Cuyahoga County Required Data Verification Practices
All sex offenders registered in Cuyahoga County must verify personal data regularly with all changes shared in the shortest possible time. This way, the authorities stay up to date on the whereabouts and daily routines of potential sex predators.
Here are the timeframes for reporting different types of data:
| Verification Period | Type of Data |
| --- | --- |
| Ten days | Change of address |
| 30 days from entering Cuyahoga County | Full registration for all transient offenders traveling from other states who plan to stay for an extended period |
| 90 | All personal data verification for Tier 3 offenders |
| 180 | Full personal data verification for Tier 2 offenders |
| One year | Complete personal data verification for Tier 1 offenders |
Cuyahoga County Sheriff—Sex Offender Community Notifications
Cuyahoga County Sheriff's Office has a duty to inform the community if a registered sex offender has verified his or her residence there. This rule applies only if the offender in question is a Tier 3 ex-convict.
Once the deputies confirm the address, the Sheriff's Office mails out notifications to all community members living within 1,000 feet of the offender. This letter will contain the offender's:
Address
Photo
Physical description
Conviction details
The Limitations Cuyahoga Sex Offenders Must Follow
Residential restrictions are the strictest limitations included in Cuyahoga County sex offender rules and regulations.
Sex offenders on parole aren't allowed to live anywhere within 1,000 feet of a school. This limitation won't end after the parole if the offender's sentence states it as a lifetime restriction.
Sex offender travel options are also limited because they cannot leave the state before notifying the authorities two weeks in advance.
How To Search the Cuyahoga County Sex Offender List
Cuyahoga County has the highest number of sex offenders in Ohio. It is followed by:
Franklin County
Unlike the other top-five counties, Cuyahoga doesn't have its local sex offender list. Instead, Cuyahoga Sheriff's Office website directs all visitors to the Ohio State Sex Offender Registry for further info.
You can search the state's registry using several criteria, such as:
Your address

Address
City
State
ZIP
ZIP plus

Offender's name
City
Non-compliant (browsing through the list of all non-compliant offenders based in Ohio)
Offender's online username or email
Offender's phone number
The search results will be shown both as an offender map and a list.
You can also sign up for email alerts for new offenders within your ZIP code area, and this parameter isn't adjustable.
Get Nearby Cuyahoga Sex Offenders' Names From DoNotPay in a Few Clicks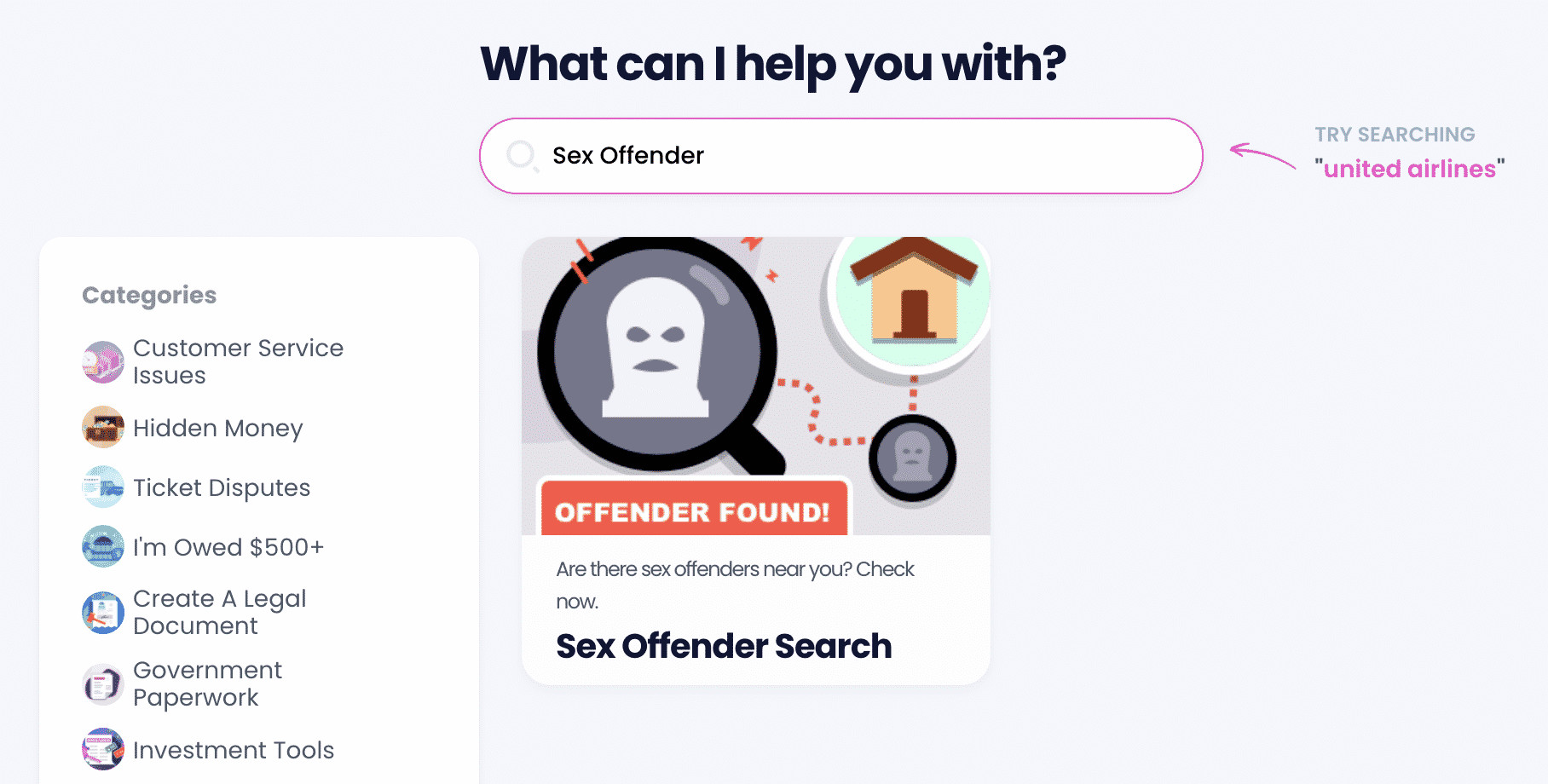 The state's sex offender registry website offers you to apply for new offender alerts, but you can't choose the search radius.
Our tool has a plethora of benefits, such as:
Quick results
Ease of use
Different search modes
Regular and detailed updates on sex offenders moving into your community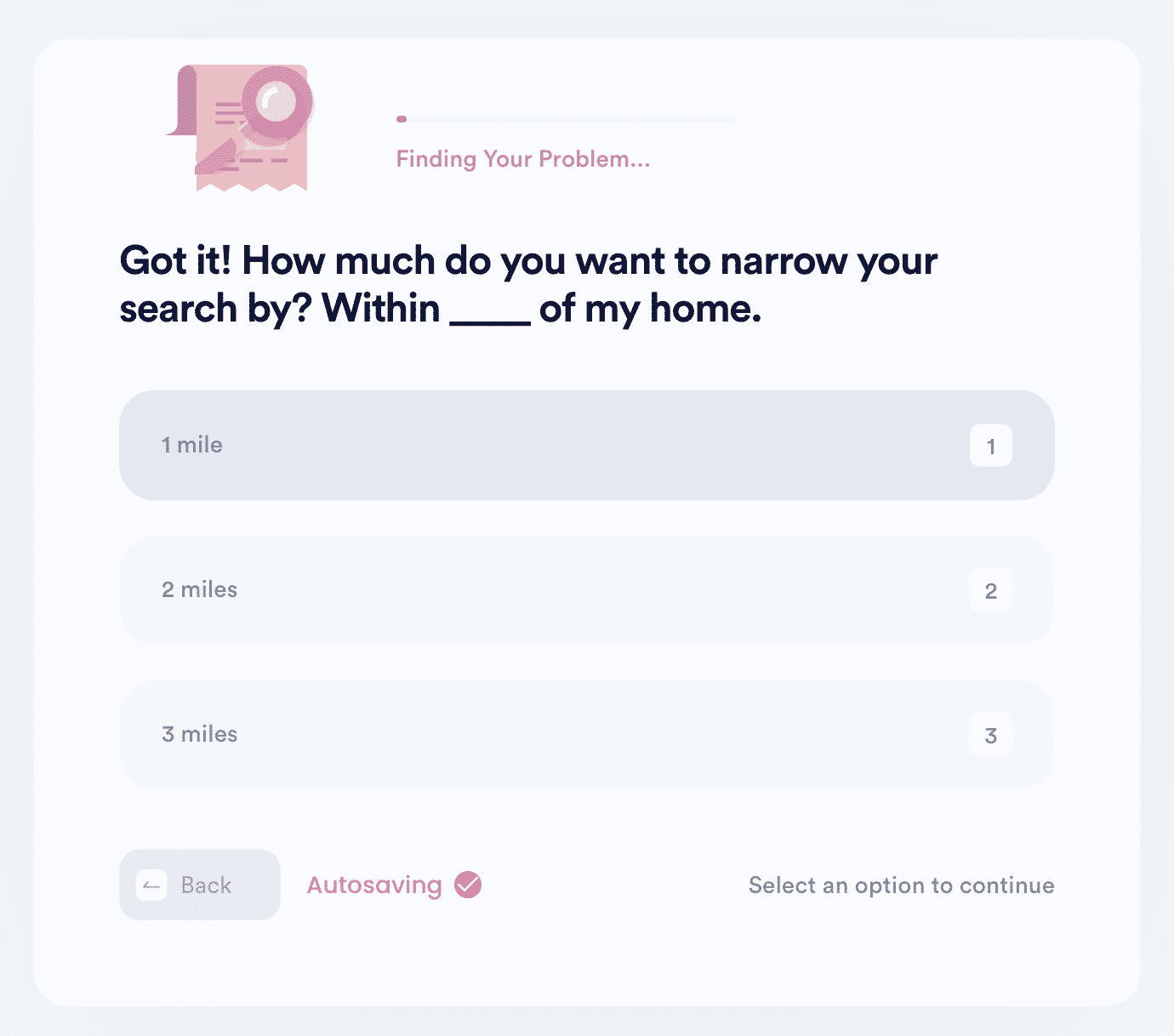 Setting up your personalized reports takes only a few steps. Here's what you need to do:
and opt for the Sex Offender Search tool
Choose between a search by name or address
Pick the search radius (one, two, or three miles)
Set up your customized weekly reports
Our app will run regular scans and deliver fresh results every week. This way, you can make informed decisions regarding your family's security.
Drowning in Paperwork? DoNotPay Comes to the Rescue!
Dealing with administrative procedures is never a fun experience. Not only is it time-consuming, but it's also extremely inconvenient and impractical. Luckily, we have a practical solution!
Use DoNotPay to cut through the red tape and handle any bureaucratic issue that comes your way stress-free! Check out the list below to see a fragment of tasks you can tackle with our help:
Draw up a plethora of legal documents
Explore DoNotPay's Other Services
DoNotPay provides you with a ton of other services you can find useful when completing your everyday tasks.
You can contact customer service support without waiting for hours, request refunds from various companies, file a missing package claim, and get compensation for missed or delayed flights in a few clicks!
If you want to earn some money, we can help you with: