How To Reach the Oakland Airport Lost and Found Office Effortlessly
Have you realized you've left a phone, wallet, or any other cherished item somewhere at the Oakland Airport? Don't despair—this happens to dozens of people passing through the airport daily.
Pinpointing the location of the missing item can be tiresome and challenging, but DoNotPay can help you simplify the reporting process! In this article, you will learn how to use our app to contact the Oakland Airport Lost and Found office or any other department that may have your object.
Steps You Should Take if You Lose an Item at the Oakland Airport
Here's the procedure you should follow if you leave a part of your belongings at the Oakland airport:
Try to remember where you could have lost the item—The Oakland airport is large, which is why remembering the exact area where you may have dropped the item is essential. People usually unintentionally leave their belongings at the following locations:

Aircraft
Security checkpoints
Airport terminals
Curbside
Airport parking lots

Contact the department in charge of the specific area where you lost the item—Depending on the particular office you want to reach, you can do it by phone, email, or fill out an online report form
Provide a thorough description of the lost object—This involves specifying the color and size of the item and mentioning specific marks it may have, such as the serial number or visible flaws
The procedure is exhausting and often involves waiting in a phone queue or speaking to multiple representatives. The department you have contacted will check if the object in question has been found and inform you about the outcome.
Useful Oakland Airport Contact Information
The following table contains the names and contact information of the offices you can reach out to if you lose something at the Oakland airport:
Department
Contact Them if You Lost the Item At/In
Contact Details
Oakland International Airport Lost and Found

Airport terminals
Parking lots
Curbside

Phone number: (510) 563-3982
Email address: oaklost@portoakland.com

Transportation Security Administration (TSA) Lost and Found

Phone number: (510) 563-3629
Email address: oak.lost@tsa.dhs.gov

Specific air carriers

Aircraft
Ticket counter
Store
Gate

Phone numbers of airlines that operate at this airport:

Alaska Airlines: (510) 577-5812
American Airlines: (510) 563-3688
Allegiant: (510) 563-3809
Delta: (510) 383-4485
Hawaiian Airlines: (510) 563-3902
JetBlue: (510) 563-3681
Southwest Airlines: (510) 563-1000
Spirit Airlines: (510) 430-8357
Volaris: (510) 563-3872
How To Minimize Chances of Losing Something for Good at the Oakland Airport
Here are a few handy tips on how to prevent your items from getting lost at the airport forever:
Mark your belongings by sticking tags on them where possible. Such distinctive features will enable the Lost and Found office representatives to locate your object more easily
Avoid placing valuable items on the airplane seat
Call the adequate department as soon as you notice that an object is missing. TSA and airport Lost and Found offices don't keep lost items forever. If you don't collect the object within the determined time frame, it will be deemed unreturnable, and you will lose it permanently
Avoid Waiting on Hold—Use DoNotPay To Contact the Airport
Whether you are trying to track a lost piece of luggage, a bag, or a smartphone, contacting all the offices that may have your item is too tiresome. DoNotPay can save you precious time and help you skip lengthy calls by getting in touch with the airport on your behalf.
Here's what you should do:
Click on the Find Lost Airport Items product
Complete a brief questionnaire with the essential details about

Lost item
Place you have potentially lost it
Not only can we offer you better chances of finding your lost objects, but we can also demand a refund for a canceled and delayed flight from any airline. Sign up for our platform, and learn more about getting this type of compensation or finding missing items at any U.S. airport!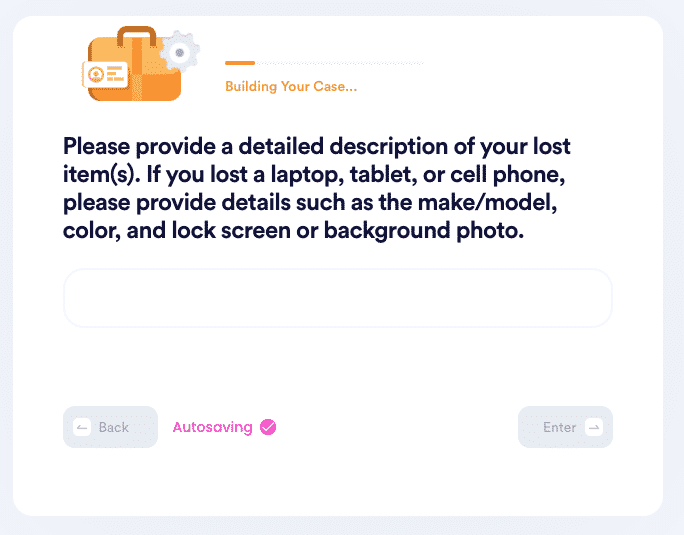 Choose From a Vast Variety of DoNotPay's Handy Services
DoNotPay boasts an enviable collection of various tools that help you cope with administrative matters more efficiently. Here is a small portion of the services we generously offer:
| We Can Help You File | We Can Create |
| --- | --- |
| | |
Be Safe Online With the Help of Our App
Keeping your details confident when using the internet is simpler with DoNotPay! Check out virtual credit cards our app can generate for you, and have fun with the free trials no one can charge you for! If you need a quick solution for phone authorization but don't want to use your actual phone number, we can create burner ones and keep your info private.
DoNotPay assists you in reporting defamation as well as stalking and harassment, prevents copyright violation, and helps you eliminate spammers and their annoying texts, emails, and robocalls.