Why You Don't Need To Get Documents Notarized by a Notary in Wilmington, DE
Do you need to get an affidavit, car title, or power of attorney notarized by a notary in Wilmington, DE? You can choose between visiting a notary in person or hiring a mobile notary since Delaware currently doesn't permit online notarizations.
If neither option sounds appealing to you, there is another way—hiring an out-of-state online notary. DoNotPay will explain what constitutes notarization in Wilmington and why getting your documents notarized online is the best choice!
When Do I Need a Notary?
Notaries public notarize legal documents by using a law-established procedure. Their job is to witness the signing and confirm that the signatures on a document are authentic.
While a notary's signature isn't mandatory for all legal documents, getting it is a good idea because of the added legal weight. If you end up in a legal dispute with a fellow contract signer, notarization provides an extra layer of protection.
Notaries can perform the following acts:
Take an

acknowledgment

Certify or attest a

copy

Witness or attest a signature

Administer an oath or affirmation

Take a verification upon oath or affirmation

Note a protest of a negotiable instrument
The Problem With the Current Notarization Process in Wilmington
Most people find the traditional notarization method in Wilmington tedious and time-consuming since it requires you to:
Find

a local notary

Schedule an appointment

Collect the necessary documents and bring a government-issued ID

Visit the notary's office at the agreed time

Pay a

fee

Prove your identity and answer questions to confirm you are aware of what you are signing

Sign the document in the notary's presence

Get a notarial certificate with a signature, stamp, and seal
Notaries public are notoriously overbooked, which is understandable considering they have limited working hours. On top of waiting to get an appointment, any mistake you make—such as leaving blank spaces in the document or forgetting to bring your ID—causes you to repeat the process.
Hiring a mobile notary to visit you may be a better option. To obtain their services, you should:
Find a mobile notary's contact info

Arrange a meeting at any time and place that suits you

Meet the traveling notary

Have the documents notarized
While hiring a mobile notary sounds like a more practical solution, you may reconsider that when you hear about their high travel fees. Since the State of Delaware doesn't put a cap on mobile notaries' travel charges, you can end up paying a significant amount.
Why Should Citizens of Wilmington Choose Out-of-State Online Notarization?
While Delaware doesn't permit its notaries to perform online notarization, you can still acquire services from an out-of-state online notary.
Getting documents notarized online is much more practical, considering you can finish the whole process without leaving your house.
Scheduling is also simpler—online notaries are typically available 24/7 and can accommodate your busy schedule. All you need is a digital device—such as your laptop, tablet, or phone—and a stable internet connection. You can get a document notarized in mere minutes!
The process generally requires you to:
Meet the notary via an online platform

Prove your identity online

E-sign the document while the notary witnesses

Get the document notarized with an electronic signature, stamp, and seal
Get Your Documents Notarized Online With DoNotPay
If you decide to use an out-of-state online notary service, DoNotPay can help you out. Our app streamlines the notarization process by connecting you with an out-of-state online notary. All you have to do is and click a few times.
Here is what you should do:
Find our

Notarize Any Document

product

Upload the document you'd like to have notarized

Type in your email address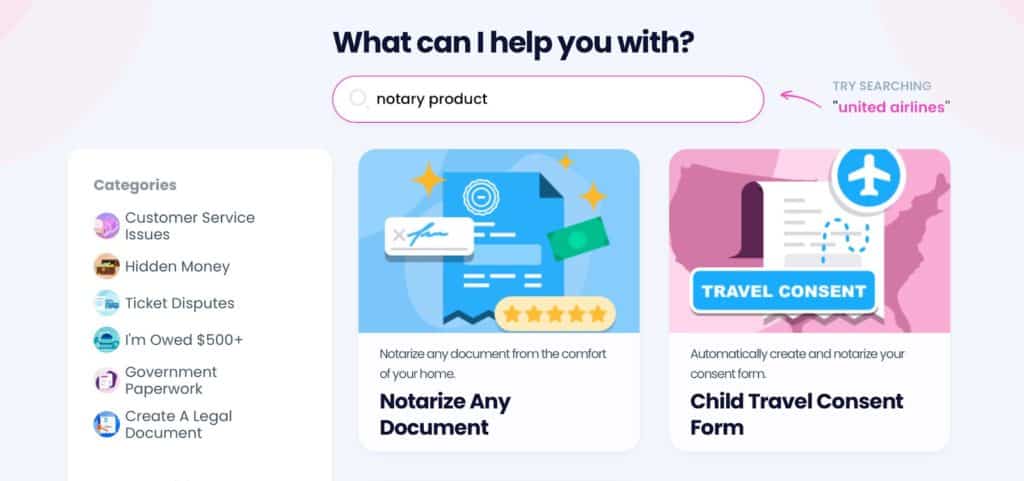 Check your email and click on the link we send you. You will be redirected to a webpage where you can schedule an appointment with an out-of-state online notary. All that's left to do is to meet the notary at the agreed time on a video call and complete the notarization process.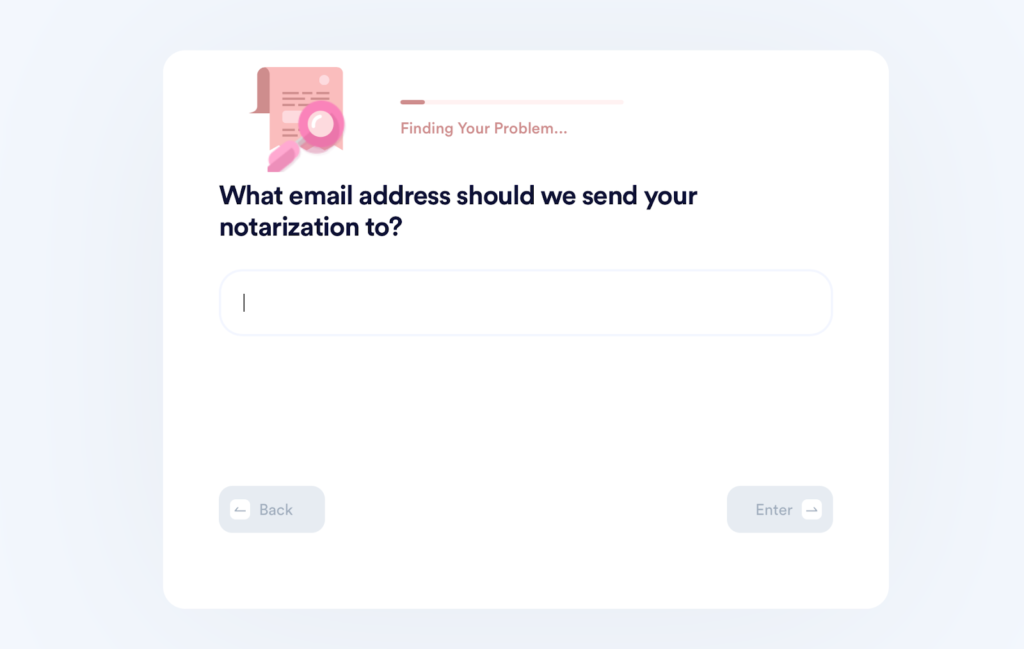 Use DoNotPay's Other Products for the Same Price!
By , you can access the rest of our nifty products, such as the Standardized Legal Documents one. Apart from notarizing, we can create numerous business, real estate, and other contracts for you! You can get a personalized, professional contract in mere minutes if you:
Type in the name of the agreement you want us to create

Answer a few questions

Download and print the document
The list of legal documents we can generate is extensive and keeps on growing! Check out various contracts and agreements you can currently draw up with our help:
Document Type

Documents

Business contracts

Bill of sale

General business contract

Non-compete agreement

LLC operating agreement

Independent contractor agreement

Non-disclosure agreement

Real estate documents

Quitclaim deed

Estoppel certificate

Residential

lease agreement

Intent to purchase real estate

Miscellaneous

General affidavit

Promissory note

Prenuptial agreement

Child care authorization form

Child custody agreement
Rely on DoNotPay To Solve Your Administrative Issues
Getting your documents notarized, drawing up legal paperwork, appealing parking tickets, and similar activities usually require a lot of effort. DoNotPay offers various useful products that can help you deal with administrative problems quickly and save a lot of time. We can assist you with:
Protect Your Consumer Rights With DoNotPay
Companies complicate cancellation and refund processes intentionally, hoping that consumers wouldn't want to spend hours trying to solve the issue they're having. DoNotPay knows how important consumer rights are, and that's why we created numerous products that can help you:
Many people forget to cancel their free trials on time and end up paying for the services they don't even use. To prevent that, DoNotPay has developed a nifty virtual credit card that will allow you to enjoy free trials risk-free. Our virtual credit card will also help you avoid spam email notifications by generating a random email address that you can use when signing up for a free trial.