Find a Notary in San Mateo the Easy Way
Notarization of legal documents is preferable and often required. If you want to get a notary in San Mateo, we are at your disposal! DoNotPay will show you all available options and help you get your documents notarized in record time!
What Does a Notary Public in San Mateo Do?
A notary public in San Mateo notarizes documents on request. His or her job is to:
Verify the signers' identities

Check the participants' willingness to sign

Determine the signers' awareness of the document's content

Witness the signing

Add their

signature

and a stamp
Which Documents Do I Have To Get Notarized?
While notarization is not always mandatory, you can benefit from getting most legal documents notarized. In case you get into a legal dispute, a notary's signature provides an extra layer of security in court.
In California, certain documents require a notary's signature to be enforceable.
Documents that enable the transfer of assets from one person to another, such as deeds and trusts, have to be notarized.
Under California law, an affidavit must be sworn to be true under oath, which means that a notary public or a judge needs to execute it.
A power of attorney is a document that allows one person to act on another person's behalf. It needs to have a notary's signature to be accepted by banks and courts of law.
How Can I Find a
Notary Public in San Mateo
?
You can use various online databases to locate a notary public in San Mateo. The most commonly used websites for finding notaries public are:
Many public institutions in San Mateo offer notarial services, including:
Libraries

AAA

stores

Photocopy shops

Law firms and offices

Colleges and universities

Accountant offices

Auto tag and license service centers

Real estate firms or offices
Before visiting any of the above-mentioned businesses, make sure to call ahead and check if they can notarize your particular document.
Ways of Notarizing Documents in San Mateo
San Mateo offers various methods of notarizing legal documents. Check out the most common options in the table below:
Notarization Option in San Mateo
Details

Notarizing documents in person

The traditional method requires you to schedule an appointment with the notary public and visit them to have your document notarized.

If you choose this method, you have to accommodate the notary public's business hours, which can be inconvenient

Hiring a

mobile notary

Mobile notaries provide a more practical method of getting your documents notarized. You can hire a traveling notary to visit you at any time and place convenient for you, such as your house or office. Mobile notaries are typically more pricey because they charge for travel expenses

Using an out-of-state

online notarization

service

California doesn't allow online notarization but permits using out-of-state online notary services. This means that notaries from other states can notarize documents of California citizens.

The process involves e-signing a document during a video call with the notary without leaving your house. You can schedule an appointment at any time and finish the whole procedure in minutes
Don't Waste Time Looking for an Out-of-State Notary in San Mateo—Sign Up for DoNotPay
Out of all methods, online notarization is the most practical and time-effective. If you live in San Mateo, you can still take advantage of the out-of-state online notarization with our app!
DoNotPay has created a user-friendly feature that enables online notarization. To get your notarized document in record time, you need to follow a few simple steps:
Select our

Notarize Any Document

feature

Upload the document you want notarized

Type in your email address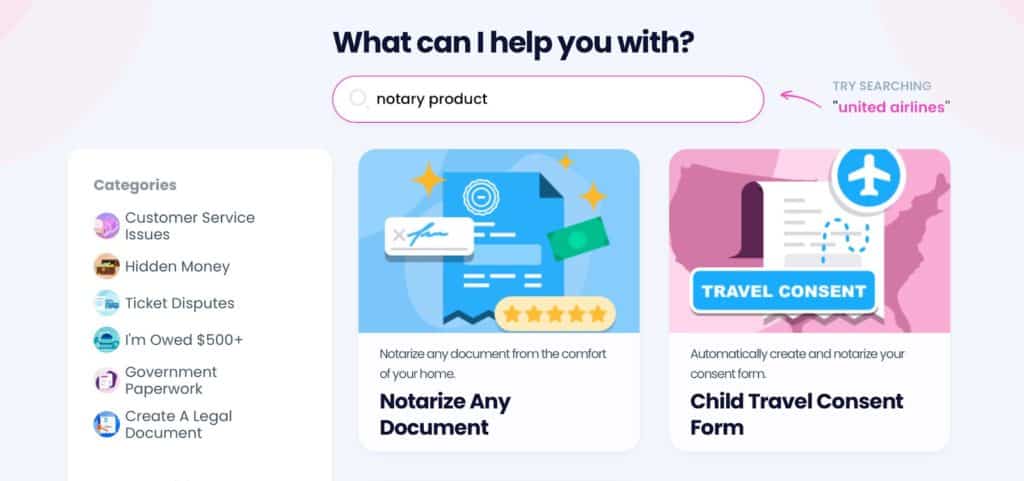 DoNotPay will send you a link via email that you can use to confirm your appointment with the online notary. The notary will witness you signing the document in a virtual environment and provide an electronic signature and stamp before sending it back. If you need to fax the document, you can do it using DoNotPay as well!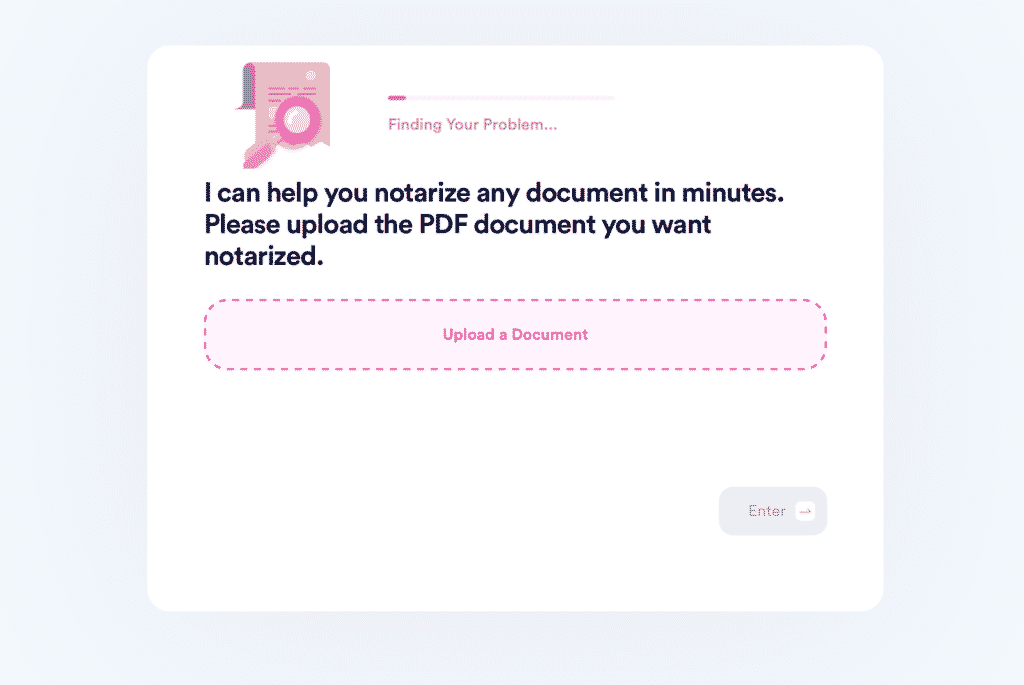 Draw Up Legal Documents With DoNotPay
Creating legal documents can be a drag. You can't always afford lawyers or rely on dodgy contract templates. That is where DoNotPay can help! Our Standardized Legal Documents feature is here to generate various business, real estate, and other documents for you!
Here's what you need to do:
Type in the name of the document you want to create

Answer our questions

Download, notarize, and fax the document to the recipient, if necessary
By paying a modest monthly fee, you can create any of the following documents:
Real Estate
Business
Other Documents

Quitclaim deed

Intent to purchase real estate

Residential lease agreement

Estoppel certificate

General business contract

Non-disclosure agreement

Independent contractor agreement

Bill of sale

LLC operating rules document

Non-compete agreement

Promissory note

Child care authorization form

Parenting plan (child custody)

Prenuptial agreement

General affidavit
DoNotPay Keeps Your Privacy Intact
DoNotPay can help you surf the web safely and securely. No need to provide your personal information to every company whose service you'd like to take for a test drive. Our Virtual Credit Card and Burner Phone products shield your data from prying eyes and dishonest merchants.
Feel like subscribing for a free trial? Make it truly free and avoid automatic membership renewals with our card. It can also help identify spammers and potential scammers who send bothersome robocalls and robo texts your way. As soon as they act on the virtual card number, DoNotPay will unmask them and demand compensation!
DoNotPay Can Help You Bring Any Business to Justice
Should a company refuse to grant you a refund or compensation, our app will help you take them to small claims court!
We'll help you cancel the service in question to avoid any future charges, and we'll call their customer service so you can get info on your denied request. We'll draft the relevant court documents for your jurisdiction and give you instructions on filing them.
More Nifty Features That'll Make Your Day
You may not have breach of privacy issues or reasons to bring someone to court, but you surely have ample motivation to save or earn a few dollars here and there—especially if we catch you unawares!
DoNotPay can show you how to reclaim funds that you didn't know were under your name or make a denied warranty appeal to any company. We streamlined the processes of requesting refunds, college fee waivers, airline flight compensation, parking infraction dismissals, as well as applying to clinical trials that pay!