Is It Necessary To Visit a Notary Public in Rockford, IL?
You don't have to look for a notary public in Rockford, IL, to get your documents notarized. can help you find an online notary, and you can handle the notarization process from your home!
How Can You Get Documents Notarized in Rockford, IL?
If you live in Rockford, IL, you can choose to get your documents notarized in a few ways. Take a look at the table below to see what notary types are available in Illinois:
Notary Type
What You Need To Do
Where You Can Look for Them

Standard notaries

Find a notary's office

Schedule a notary meeting

Show up in the notary's office with your document

Get the

notary's signature

Mobile notaries

Find a mobile notary

Choose a time and location of the meeting

Set up a meeting

Wait for the notary to visit you

Get a notary's signature

Online notaries

Find an online notary

Pick a time and date for your meeting with the notary

Show up for the meeting

Get your document notarized virtually

Same platforms as for mobile notaries

DoNotPay
What You Should Know About Different Notarization Types
You have the right to choose between the available notarization options in Illinois, but not all are equally convenient. Here is what you need to know before making up your mind.
Facts About Standard Notarization
Standard notarization is the most flawed method of getting documents notarized. It takes too much of your time and energy. You risk getting stuck in traffic and taking a day off to deal with this bureaucratic task. It also comes with the risk of exposing yourself to the dangers of the pandemic.
Facts About Mobile Notarization
Mobile notarization may seem like a better choice for people who are unable to go to the notary's office and need the notary to come to them. Having the notary visit you makes it more practical than standard in-person notarization.
The issue is that mobile notaries charge a lot for their notary services. You will need to pay for their travel expenses, and these costs can go up to $100.
Facts About Online Notarization
Online notarization makes the entire process easy. This is because it is simple and doesn't require nearly half the time or energy compared to in-person notarization. You have the opportunity to live the dream and tackle a bureaucratic task from the comfort of your home!
You also don't need to meet with anyone and can completely avoid human contact and the virus!
What Do You Need for Online Notarization?
You probably already have everything you need for your virtual meeting with a notary. Here is a list of requirements that can help your meeting run smoothly:
Good internet connection

Working computer with a web camera

A legal document in electronic format

Proper proof of identification (ID or any other document with your photo)

A reliable online notary who is up for the task
DoNotPay can help you with the last item on the list—we'll match you with a trustworthy online notary in no time!
DoNotPay Will Find an Online Notary for You in a Heartbeat
DoNotPay is at your service when it comes to the tedious part of looking for online notaries. We collaborate with reliable notaries who work 24/7, 365 days a year. DoNotPay can find you a match in no time, and you only need to complete these four simple steps:
in a web browser

Find the

Notarize Any Document

product

Attach the document that you want to get notarized

Write your email address in the provided field
Once you finish the steps, you'll receive an email from DoNotPay to confirm the time and date of your notary appointment.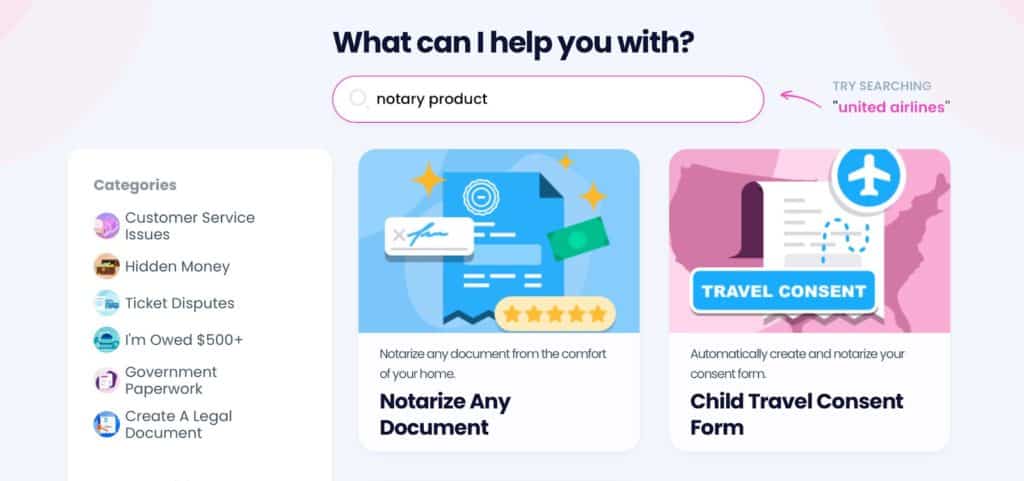 DoNotPay has another great feature that you'll find useful—creating legal documents! You can draw an affidavit, business agreement, or a consent form according to your needs with our help!
Creating Legal Documents Is Easy When Using DoNotPay
Our Standardized Legal Documents product will open the door to making various contracts and agreements in a few minutes and without paying for expensive legal help. Here are the documents you can draw up with DoNotPay's assistance:
Bill of Sale

Promissory Note

Prenuptial Agreement

Non-Disclosure Agreement

General Business Contract

LLC Operating Agreement

Quitclaim Deed

Residential Lease Agreement

Intent To Purchase Real Estate

Estoppel Certificate

Independent Contractor Agreement

General Affidavit

Parenting Plan (Child Custody Agreement)

Non-Compete Agreement
More Guides to Document Notarization
If you need more information about the notarization process, you can consult DoNotPay. Here are some of the conundrums we can help you crack:
Explore DoNotPay's Products and Save Both Time and Money
Are you sick and tired of spending ages on the phone with customer support trying to get more info about how to return a faulty product and get a refund? Maybe you'd like to cancel memberships you don't use but can't find that unsubscribe button anywhere? DoNotPay can help you sort out all of these issues in a jiffy!
Contest parking tickets, claim your car warranty and insurance, schedule a meeting with the DMV, and handle your other problems through the same app on your tablet or smartphone.
Getting access to public records or drawing up various legal documents with DoNotPay is child's play.
That's Not All!
The first thing you'll notice when you open DoNotPay is that you can use our app for almost anything.
Do you wish to enter raffles or sweepstakes? Are you interested in applying for paid clinical trials and earning some cash? Would you like to send mail without going to the post office? You're in the right place!
We will help you feel safe while browsing the Internet by assisting you in blocking and reporting spam emails, suspicious text messages, and pesky robocalls.