Find a Notary in Modesto, CA in the Blink of an Eye
If you are looking to get a document notarized in Modesto, you can count on DoNotPay for assistance. Our guide will help you find a notary in Modesto, CA, and tell you how to handle the notarization process the easiest way!
Notarization Options in Modesto, CA
Notarization rules differ across the country, and California has some specific requirements. For example, notaries in The Golden State cannot perform notarial acts online, but out-of-state online notarization is accepted.
For the overview of available notarization options in California, check the table below:
| | |
| --- | --- |
| Notarization Process | Explanation |
| In-person notarization | This option requires you to deal with the notarization process the traditional way. You will have to visit the notary and bring the documents to their office |
| Mobile notarization | You can have the notary come to your house and perform required notarial acts |
| Out-of-state remote online notarization | This option allows you to find a notary from another state to notarize your document online |
Where Can You Find a Notary in Modesto, CA?
You can find a notary in Modesto in various locations. Some of the popular options include:
Accountant offices

Real estate agents

Police departments

Public libraries

Office supply stores

Insurance agents

Tax preparation firms

Law offices

AAA

locations

Money transfer stores
You will be able to find a notary in Modesto at most of these spots, but using the internet to narrow down your search is an even more efficient way of dealing with this task. Some of the websites you should keep in mind are Notary.net, 123Notary, and the American Association of Notaries.
Visiting a
Notary Public in Modesto, California
A notary public is a public servant whose job is to witness the signing of legal documents and administer oaths. They need to be appointed by the state government.
The notary public needs to:
Identify the signers of the document

Make sure they are signing a document willingly
To request notary services from a notary public, you need to set up an appointment and visit them in person. You will need to bring the required documents and pay fees accordingly.
Notaries in Modesto have some of the highest notary service fees in the country. This is the case with all the cities in California. You will have to pay as much as $15 per notarization for jurats, verbal oaths, and acknowledgments.
What Documents Should Be Notarized?
There is no need to notarize every single legal document. Deciding whether you should take a document to a notary usually depends on state laws. Here are some documents that require a notary signature:
Power of attorney forms

Real estate deeds

Loan documents

Trusts

Consent forms

Business contracts
In case you'd like to save some time and deal with the notarization process with ease, you should consider online notarization. This method is much quicker and more convenient because you can finish the whole ordeal from your living room. This benefit is especially important during the global pandemic when each human contact is a potential risk to your health.
If you want to notarize any of these documents the fastest way available, you should choose DoNotPay! Even if the document doesn't have to be notarized, it's better to do it because it can help strengthen the contract.
Notarize a Document With DoNotPay in a Jiffy
Notarizing a document doesn't have to be complicated or time-consuming—you only need to turn to DoNotPay for help. Our app will provide you with a simple solution that includes only five steps:
in a web browser of your choice

Find and open the

Notarize Any Document

product

Upload the document you want to get notarized

Enter your email address in the provided field

Confirm your appointment with the notary
You will have a virtual meeting with a notary at the scheduled time. The notary will verify your signature during the meeting.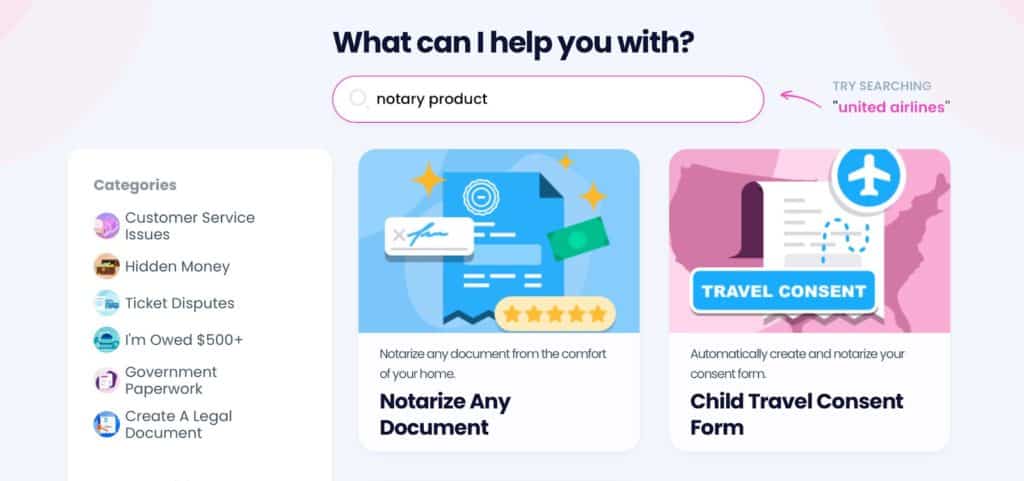 If you want to create a legal document before taking it to the notary, you can also do that by using DoNotPay!
DoNotPay Generates Legal Documents Easily
If you wish to draw up a legal document without having to deal with lawyers, you can use DoNotPay instead. Your virtual assistant will make sure you get a document tailored for your needs. The procedure is as simple as it gets, and you only need to and find the Standardized Legal Documents product.
Here are the documents you can create with DoNotPay's help:
General Affidavit

Promissory Note

Prenuptial Agreement

Parenting Plan (Child Custody Agreement)

Bill of Sale

LLC Operating Agreement

Non-Disclosure Agreement

Independent Contractor Agreement

Non-Compete Agreement

General Business Contract

Quitclaim Deed

Intent To Purchase Real Estate

Estoppel Certificate

Residential Lease Agreement
You may also use DoNotPay to inform yourself about a variety of other legal documents, such as a settlement agreement, postnuptial agreement, and confidentiality agreement.
DoNotPay Is Your Pocket-Sized Treasurer
To pay or to DoNotPay—that is the question! Our nifty app finds money where you didn't even know you had it.
With our app, you can avoid college application fees, cancel unused subscriptions, explore free trials, and get out of paying for unfair parking tickets.
We can also help you with high bills by composing due date extension letters or reducing property taxes, just as we can locate missing money that you can reclaim in any state you've ever lived.
To top it all, we'll even assist you in requesting compensation from any airline—whether it is for poor in-flight Wi-Fi, a delayed, or a canceled flight.
Can't Find Your Head in All the Paperwork? DoNotPay Sorts It Out for You!
You no longer have to cash out on pricy legal advisors to do simple paperwork for you—our app can draft legal documents for you in a matter of minutes!
We can write small claims court scripts, dispute letters for chargebacks and refunds, personalized letters to connect with inmates, DMCA takedown notices for copyright protection, and cease and desist letters for stalking and harassment protection.
If you need to get a DMV appointment before taking a driving exam or any other government test, we're there to schedule it in your stead!