The Simple Way To Report and Claim Norwegian Lost Baggage
Losing luggage while you're on a flight with Norwegian Air Shuttle can be frustrating, and the process of getting it back is even more so. Learn how you can report and claim Norwegian lost baggage in this article and !
How To File a Norwegian Lost Baggage Report
When you notice that your baggage is missing upon arrival, you must contact the airport representatives straight away. You will receive a Property Irregularity Report (PIR)—you need to give details of the following:
Flight code
Date
Name
Problem
Number of lost baggage
Color and type
Each PIR form comes with a unique combination of ten numbers and letters you can use to track your delayed luggage online. Keep this file reference code safe until the investigation process is complete.
Within the first five days of the incident, the airport will be the one in charge of coordinating the search for your lost bags. If you have any questions, you must contact them using the details provided on your PIR.
After five days, the Norwegian baggage department will take over the investigation, and can be contacted as follows:
| Country | Phone Number |
| --- | --- |
| Norway | +47 21 49 00 15 |
| Denmark | +45 70 80 78 80 |
| Sweden | +46 (0)770 45 77 00 |
| Finland | +358 (0)9 231 01 600 |
| Germany | +49 (800) 5895000 |
| Italy | +390 694 802756 |
| Spain | +34 902 848 080 |
| France | +33 (0) 97 07 38 001 |
| Other countries | +47 2149 00 15 |
All departments operate seven days a week at the following hours:
Mon–Fri (09:00–15:00 CET)
Sat–Sun (10:00–15:00 CET)
Once your luggage is located, you will be contacted to arrange delivery.
How To Claim Compensation for Norwegian Delayed Baggage
You can claim compensation within reasonable limits for replacing essential items such as toiletries and clothes or other crucial equipment that were packed in your delayed bag. Here's what you can do:
Contact the relevant Norwegian baggage department
Provide the original receipts of your purchase and your PIR form
The Norwegian airline will assume you have access to the things you need if the bag in question is delayed on your trip home. In that case, you will not be compensated for essential purchases.
If you qualify for a compensation claim, be sure to submit it within 21 days of reuniting with your lost baggage. Haven't received your luggage after 21 days? You can proceed to submit a missing baggage claim.
How To Submit a Norwegian Lost Baggage Claim
Under the Montreal Convention, the liability of the aviation industry is limited to 1,288 Special Drawing Rights. As such, the Norwegian airline can only compensate missing or damaged luggage up to € 1.414 (around $1635 USD) plus additional expenses such as clothes or taxis if necessary.
Travel insurance may provide better coverage, but if you don't have one or prefer to claim compensation with Norwegian, you can fill out the claim form. You must submit the claim with the original (not photocopied) PIR and proof of purchase, if available. All inquiries can be directed to the contact provided on the form.
File a Norwegian Lost Baggage Claim With DoNotPay Hassle-Free
Losing an item at the airport, whether it's a phone, a ring, a wallet, glasses, keys, or suitcases, can be frustrating. What's more, the process of retrieving the item in question can take a long time.
You may need to file several missing item reports and perhaps contact multiple departments to get things done. DoNotPay offers a hassle-free solution to file a missing or lost baggage report in the fraction of time it typically requires. All you need to do is:
from any browser
Type Find Lost Airport Items in the search bar
Give us the airport name, description of the items, and date of the incident
Let us take it from there! Our app will write a personalized report on your behalf and send it to the airport or the relevant airline representatives within minutes.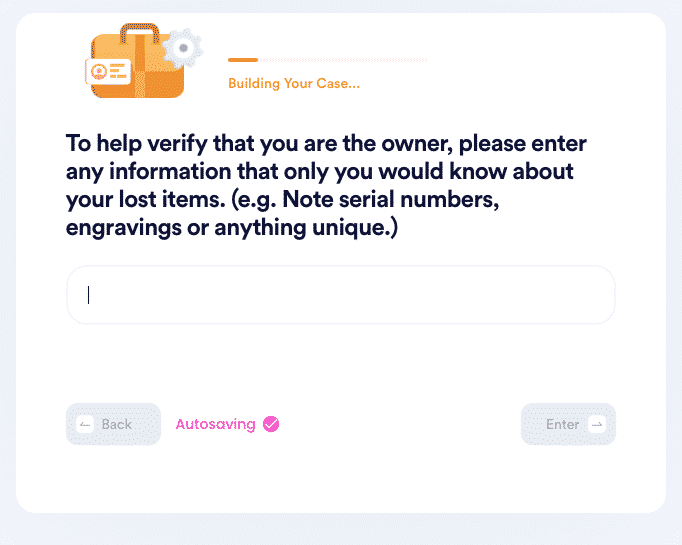 DoNotPay Is Your Ultimate Money-Saver
Don't spend your hard-earned money on subscriptions you don't use—cancel them with our app in a few simple steps! The best part is—that's not all we can do to help you save some coins. DoNotPay can also reduce other expenses by helping you:
Reduce property taxes

Create legal docs without hefty attorney fees
Kiss Spammers and Harassers Goodbye for Good With DoNotPay
Our app offers handy features that can assist you with blocking irritating robocalls and getting rid of pesky spam texts and emails. It also gives you peace of mind by helping you fight workplace discrimination, stalking and harassment, annoying neighbors, and defamation.
With DoNotPay, you will always be able to maximally protect your safety by searching updated sex offender databases and avoiding unpleasant situations. Suppose you have already been a victim of harassment or any other crime. In that case, we can help you get compensation with no difficulties!