A Comprehensive Guide To Sending Nevada Inmate Packages
If it feels like writing letters to your imprisoned friend and calling them from time to time isn't enough, there's no better way to fix this than sending a care package.
Every correctional institution is covered by a third-party package supplier, which enables people to purchase goods and send them to inmates. The Nevada Department of Corrections (NDOC) facilities are supported by Access Securepak, one of the most prominent package suppliers in the USA. If your loved one is imprisoned in this state, you need to get acquainted with the way this company functions and the services it offers.
How To Get a Precise Location of Nevada Inmates With DoNotPay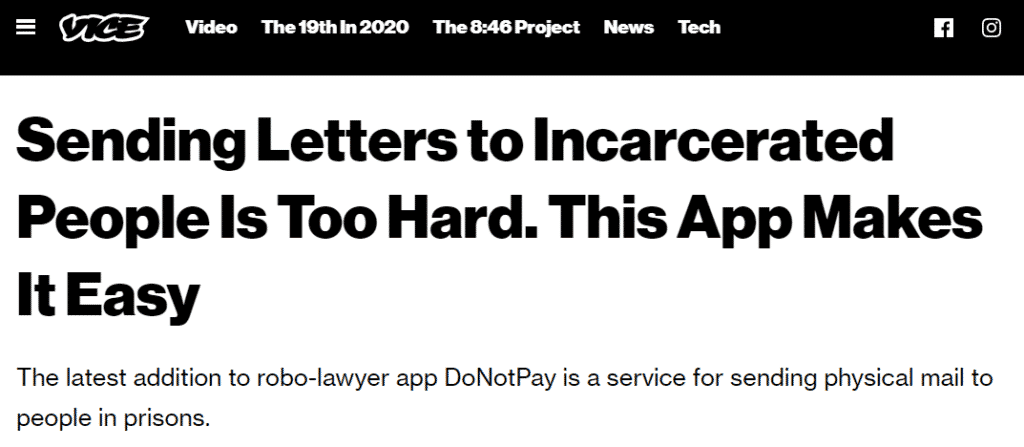 The Nevada DOC has 11 conservation camps and 11 detention centers under its jurisdiction. Let's suppose that the only thing you know about the inmate is that they are located somewhere in the state. The last thing you want is to flip for hours through each institution's records.
Knowing how hard this task might be, DoNotPay developed a handy search tool that can pinpoint the facility where your incarcerated friend, pen pal, or relative is being held.
To locate the prisoner with our help, follow these instructions:
Log in to DoNotPay using your

Find the

Connect With an Inmate

feature

Proceed to

Locate Someone

Enter

Nevada

as the state and the full name of the inmate
As soon as you obtain the right info, you will be ready to write and address letters to the inmate correctly, arrange visitation, or send care packages.
What Kind of Programs Does Access Securepak Offer?
Access Securepak's department in charge of the Nevada correctional facilities has created several inmate package programs. Each program offers predetermined product categories. A full list of the ones currently available includes:
Elko County - NV

Carson City County - NV

Nevada DOC Media Program

Nevada DOC Package Food Program

Nevada DOC Package Clothing Program

Nevada Southern Detention Center Food

Nevada Southern Detention Center Non-Food

Nevada Southern Detention Center Shoes

City of Las Vegas Detention Center

CoreCivic Food Package Program

CoreCivic Non-Food Package Program

CoreCivic Shoe Package Program
Are There Any Limitations Regarding NDOC Inmate Packages?
Nevada inmates who don't have any mail restrictions can get a single parcel from Access Securepak per quarter. If you purchase a clothing package, it shouldn't weigh more than 50lbs, and you can't spend more than $250 on it. Food packs shouldn't exceed $100 or 59lbs.
Certain transitional housing centers allow one package per month with a maximum value of $100 for food or $150 for clothes. In case you want to know whether the housing center where the inmate is located offers these perks, you should phone or email the institution and check.
How To Order Nevada Packages for Inmates
Access Securepak offers multiple ordering options. The table below explains all available methods and their benefits:
Method
Instructions
Pros and Cons

Online

Log in to your account

Go to

My account

Choose

Nevada

from the drop-down menu and pick the package

Enter the inmate's ID number and confirm the info

Click on

Start Shopping

and choose the products

Complete the required steps and add the payment method

Pros:

Quick method

Safe procedure

You can see what the products look like

Cons:

Potential bugs

Not the best option for less tech-savvy users

Printed Form

Go to the official Access Securepak website for Nevada

Log in to your account

Go to

My Account

, choose

Nevada

as your state, and pick the package

Click on

Download Order Form

Print out the downloaded form and tick the products you want

Fill in the rest of the form

Mail the completed sheet to:

Access Securepak (NV)

P.O. Box 50028

Sparks, NV 89435-0028

Pros

Great for people who don't like using computers

The list of all products from the package in one place

Cons

Mandatory processing fee

It takes some time to complete the form

Phone

Dial

1-855-768-0788

Provide the agent with the codes of the items you want to order and all other necessary details

Wait for the confirmation email to make sure the order was successfully placed

Pros:

Cons:

Over-engaged lines

It takes some time to complete the process
What's the Estimated Arrival Time for Access Securepak Deliveries?
Access Securepak delivers the goods to the correctional facilities weekly. Your order might need a couple of days to get shipped and, depending on your order date, up to seven days to reach the chosen institution and the inmate. Note that this deadline might be extended due to the mandatory inspection of the goods.
Keep in Touch With an Inmate by Sending Them a Letter via DoNotPay

Another way to show an inmate you are thinking about them is by starting a written correspondence. Aside from being a regular and (usually) unlimited option, letters can give prisoners valuable insight into the things happening outside the prison.
Striving to make writing to your loved ones less challenging, DoNotPay designed a feature that lets you compose and send your letter online. This hassle-free option allows you to focus on the contents of your message and forget about the bureaucracy that follows regular mail procedures.
Here are the instructions you should follow:
Log in to DoNotPay

Find the

Connect With an Inmate

feature

Proceed to

Send a Personalized Letter

Answer the chatbot questions

Write your message in the required field and submit it
DoNotPay creates a printed copy of your letter and sends it in your stead. Other perks this feature offers include several customized templates and the possibility to get responses to your messages.
If you allow the replies, here's what happens next:
The prisoner writes a letter manually and forwards it to us

We digitize the message

We send it to you
All the responses go to your Virtual Mailbox, so you can check them anytime via our app.
What Else Can DoNotPay Do?

Our learning base doesn't cover only Nevada inmate packages. We have much more in store, including package services in Georgia, Tennessee, Wisconsin, New Hampshire, South Carolina, and many more. If you want to make new inmate friends, we have tips for finding pen pals in Ohio, Texas, Florida, or California and some special advice on searching for male and female pen pals all around the USA.
Our offer isn't limited to prison issues. Open DoNotPay in your , and we can also help you with the following:
Disputing traffic tickets

Fighting speeding tickets