Female Prison Pen Pals—How To Find Inmates & Send Them Letters Stress-Free
Inmates often feel detached from the real world and appreciate receiving letters or having visitors.
If you'd like to make an offender's life less lonely, consider looking for an inmate pen pal, whether for a friendly chat or romantic relationship.
Finding women in prison who are available for sending and receiving letters is easy, and writing a prisoner pen pal doesn't have to be a struggle with DoNotPay's help.
How To Find Female Inmate Pen Pals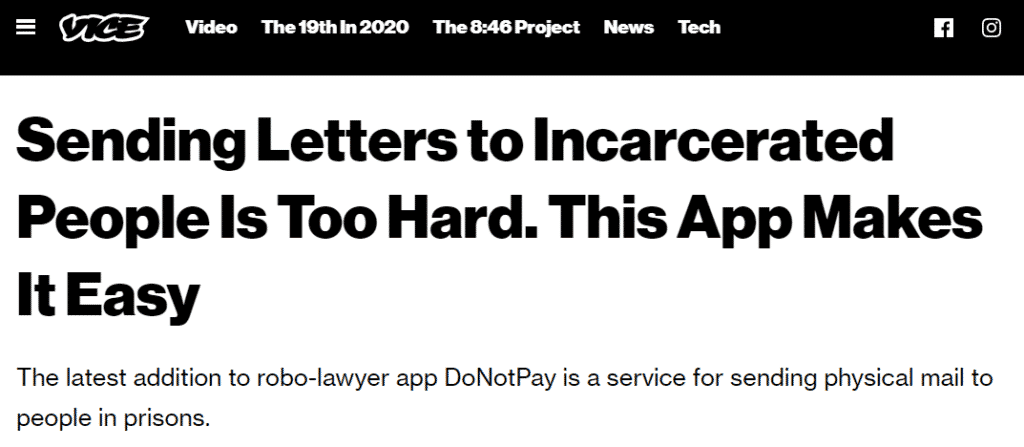 If you want to write a female prisoner, you can visit one of the numerous websites dedicated to helping you find female inmates available for correspondence. There you'll find their names, photos, and addresses of the facility they're held in.
Most websites also enable the offenders to specify if they're interested in a romantic/sexual relationship or only seek friendship and letter exchange.
These are some of the most popular websites for finding female prison pen pals:
While most of the websites are free, some might require a small fee in exchange for the address of an inmate you're interested in.
Offenders don't have internet access, so friends and family are usually those who set up their accounts.
If one of your loved ones is in prison, consider making a profile on their behalf if they agree to it. Someone will be interested and start sending letters, which will help offenders feel less lonely.
Should I Write to Female Prisoners?
Absolutely! Not all inmates are lucky enough to have supportive friends and family. Most of them get rejected and suffer from depression caused by isolation and loneliness.
Even though they made a mistake, they deserve a second chance, and receiving kind words can help offenders change their life once they get out of prison. Who knows, maybe you'll meet a friend for life when browsing for an inmate pen pal.
Once you exchange a few letters and you feel comfortable enough, you should also consider visiting your inmate pen pal or at least giving them your phone number so that they can call you.
What To Bear in Mind When Sending Letters to a Female Prison Pen Pal
Some people find risky situations thrilling, and that's why they decide to start writing to prisoners. While it can be fun to get out of your comfort zone and make someone's prison days easier to handle, you should be extra careful when writing to inmates you have never met.
Even if you're a thrill-seeker and love taking risks, sharing one too many details about your personal life can be dangerous, especially when writing to serious offenders.
Not all prisoners represent a threat, but you should be more mindful about the info you share in your letters, at least until you get to know your inmate pen pal a bit better.
Avoid sharing the following info with people you don't trust and who can potentially be dangerous for you and your loved ones:
Your phone number

Home or work address

Family members' names

The exact name of the school you went to, and similar
Do's and Don'ts of Writing to Female Prison Pen Pals
Following the extensive list of mail rules and regulations when writing to prisoners can be challenging. Here's a quick overview of things you should and shouldn't share with or send to inmates:
What To Send to Prisoners
What Not To Send to Prisoners

Words of encouragement

Funny jokes to raise their spirit

Inspirational quotes

Softcover books

Fun magazines

Holiday cards

Up to five photos

Handmade drawings

Sensitive info that can compromise your safety

Hardcover and spiral-bound books

Money

Contraband

Glitter, confetti, stickers, and similar

Explicit photos

Gang-related items

Adult magazines
How To Send Letters to Female Prison Pen Pals Fast and Easy

Once you find out the address of an offender you're interested in, you can rely on DoNotPay's convenient tool and write without worrying about how to address the letter, which envelope to choose, and similar.
Access your DoNotPay account in a and follow these steps:
Pick our

Connect With an Inmate

tool

Choose the

Send a Personalized Letter

option

Provide us with the inmate's name, ID or booking number, and address

Compose your letter or upload a file from your PC

Attach a few photos if you want

Select one of the numerous letter templates
We will print out the letter, address it and send it to the facility your female inmate pen pal is held in.
DoNotPay follows the rules and regulations of each facility to ensure inmates receive your letters.
Locate Inmates With DoNotPay

Has your female inmate pen pal been transferred? Are you unable to locate your incarcerated friends or family members? DoNotPay is here to help you find an inmate! We can find out the latest address of your prison pen pal in no time.
This is what you need to do:
Log in to your account from a

Click on

Connect With an Inmate

Select the

Locate Someone

option

Type in the inmate's name and last known state
Receive Letters From Female Prison Pen Pals Online
We will make your communication with prison pen pals as simple as possible by helping you not only write, but also receive letters in digital form.
If you're worried about offenders knowing your address, DoNotPay can receive letters for you, scan, and send them to your virtual mailbox. You will need to set up the virtual mailbox by clicking on the Create My Mailbox option, and we will do the rest.
Can I Get in Touch With Prison Pen Pals Over the Phone?
It's possible to receive calls from prisoners, but you can't call them yourself. Prison regulations are super strict, and most facilities have complex rules when it comes to everything, phone calls included.
Prisons require their inmates to provide a list of approved numbers they plan on calling. This list can be updated over time, but any number that a prisoner wants to call in the future needs to be on that list first.
Friends and family members of inmates need to register their phone numbers online to receive calls from prison.
If you meet inmate pen pals, make sure you trust them enough to give them your phone number. Visit the website of the facility or give them a call to find out whether or not you need to register your phone number online.
DoNotPay Offers an Array of Useful Tools

Besides helping you write letters to inmates without worrying about regulations each prison has, DoNotPay can help you navigate other complex everyday issues.
When you sign in to your account from a , you can find answers and help whenever you need to:
Dispute traffic tickets

Contest speeding tickets